Cochabamba
Cochabamba
, or simply
Cocha
is fourth largest city in central
Bolivia
, in a valley with the same name, in the
Andes
mountain range. Its name is from a compound of the
Quechua
words
q'ucha
, meaning "lake", and
pampa
, "open plain". It is known as the "City of Eternal Spring" and "The Garden City" because of its spring-like temperatures all year round. It is also known as
La Llajta
, which means "town" in Quechua.
Comunas
Comuna Tunari |
North of the Circunvalación Beijing Avenue and Simón López Avenue, based on the water recharge of the valley, has ditches (torrenteras) that run water in the rainy season from mountain range in the Tunari National Park. In the Tunari National Park there are many paths for hiking or mountain cycling and waterfalls, ideal for outdoor activities |
Comuna Molle |
West of the Melchor Perez de Olguín Avenue and Rocha River from the bridge 14 de Enero (aka Puente Quillacollo) |
Comuna Adela Zamudio |
Historic center and east uptil to the Serranía de San Pedro |
Comuna Alejo Calatayud |
Southeast of 9 de Abril Avenue, Independencia Avenue and Siglo XX Avenue until to the Serranía de San Pedro |
Comuna Valle Hermoso |
Southeast of Sajama Avenue, Independencia Avenue and Siglo XX Avenue until to the Serranía de San Pedro |
Comuna Itocta |
South of the Arquímedes Avenue and Tamborada River |
Understand
Orientation
The main thoroughfare in Cochabamba is Avenida de las Heroinas, which runs east-west, with its north-south counterpart Avenida Ayacucho. The intersection of these two is known as El Correo (the post office is located on that intersection). Plaza 14 de Septiembre is considered the center of the city. Avenida Ballivian, commonly called El Prado, is a tree-lined boulevard running north from Plaza Colon, with many of the city's better restaurants and hotels nearby. Generally, neighborhoods get more affluent towards the north, and poorer to the south. Avenida América north of La Recoleta runs east to west is also a major avenue with many restaurants and shopping.

Get in
By bus
The terminal is some 10 blocks south of the center, just north of the market called La Cancha. From the north, you can catch several trufi lines to get to the bus terminal. For example, the green 101, the 102, the 103, the 109, all travel along Av. Ayacucho, passing the bus terminal. At the north end of the terminal, there are radio taxis associated with the terminal. These are much more convenient to get to your destination. If you are traveling with a lot of luggage, it is not recommended that you exit the main terminal to catch a bus. It's quite hectic making you an easier target for pickpocketing. It is also not recommended walking from the terminal especially late at night.
Most bus companies will charge around the same amount for a ticket, but there are different seat classes. Weirdly enough, even though it is a poor country, the amount of "leito" seats (aka cama) is far higher than that of semi-cama or regular seats.
Bus times are generally quite accurate, because the station is so busy that buses cannot wait forever at a platform. Arrive about 1 hr before the bus leaves to get the best price.
Always be aware of roadblocks while traveling in Bolivia. If companies know of existing roadblocks, many of them will halt their services, while others will take you as far as the roadblock, and you'll have to pay again after crossing the roadblock. It's always recommended to wait for a roadblock to be lifted before traveling, even if a bus will take you that far.
Destinations
From/to La Paz – It is at least eight hours by bus. Buses leave approximately every hour starting at 06:30, with the last bus leaving around 23:00. Regular seats tend to be at around Bs. 30, semi-camas typically will max out at Bs. 60., and camas will typically max out at Bs. 90.
From/to Santa Cruz – It is at least ten hours by bus, longer in the rainy season. Buses leave in the mornings and in the evenings, with the last bus typically leaving around 22:00. Regular seats tend to be at Bs. 40., semi-camas typically will be at Bs. 70., and camas will typically be at Bs. 110.
From/to Sucre – It is at least ten hours by bus. Buses only leave in the afternoons and evenings, with the last bus typically leaving between 21:00 and 22:00. Much of this road is unpaved, and it can be a quite uncomfortable and cold ride. Expect to pay maximum Bs. 60. for this trip.
From/to Oruro – It is a relatively quick four to five hours. Buses leave throughout the day and are relatively inexpensive. Bs. 20-30 will get you there on a semi-cama.
From/to Potosí – It is at least 10 hr by bus. Buses only leave in the evenings, with the last bus typically leaving between 20:00 and 21:00.
From Tupiza – At least three daily buses at 10:00, 18:30, and 21:00.
Other, less-frequented direct services: Buenos Aires, Iquique, Arica
If you're planning to go to any other cities not listed, it's typically advisable to not go directly from Cocha. Rather, first travel to one of the intermediary cities above and take another service once you arrive.
By plane
Jorge Wilstermann International AirportConnects well to other large cities in the country. If flying from La Paz, sit on the left side to get a stunning view of Mt. Illimani just off the wingtip.
A taxi to the center of town from the airport ranges between Bs. 25-35 (approx. US$3.50-5.00) depending on the distance. When exiting the airport, there is a sign with the fixed costs depending on the boundaries. You may want to snap a picture of that sign in case the driver wants to charge you more. There is also a public bus "B" line that eventually makes it way to the center of town.
Get around
By bus
Cochabamba has buses (micros), mini-vans (trufis) and shared cabs (taxi-trufis) that run along fixed routes. There are no set stops and in order to get off, you must say "me bajo" (I want to get off) or "esquina" (for stop at the corner). Fares are Bs. 1.90. (Many drivers do not have adequate change, so do not be surprised if you do not receive change).
By taxi
Most cars honking at you are cabs. Ask and negotiate the fare before entering a cab. According to regulations that aren't very well publicized (
some mentions in the local press
), the price should be Bs. 6 for one person within the city center (inside the boundaries of the river). Crossing the bridges, adds another Bs. 2. Adding additional passengers should cost between Bs. 1 and Bs. 2/person. Downtown to Quillacollo is Bs. 25-30 There is no standard fare, and most taxi drivers will try to overcharge tourists.
If you are in a radio taxi (with a company logo on the side of the car), you can ask the driver to call into the dispatcher to quote you the official price. There is a municipal governmental toll-free phone number to report overcharging - 800-14-0201
It's recommended to take radio taxis in the evenings. There is no additional charge to call a taxi to come pick you up.
Radio taxi companies
phone: +591 4 4241111

address: Uyuni Avenue #731

Ciudad Jardín typically feature more modern cars, and have placards inside of the vehicle with the driver's name and ID number. Recently, launch an app for mobile devices to request services.

Renacer

phone: +591 4 4200555

address: Papa Paulo Avenue #491

Renacer operates primarily out of the Muyurina area.

Jacarandá

phone: +591 4 4200136

address: Lucas Mendoza Street #612

Jacarandá operates primarily out of the Cala Cala neighborhood.
See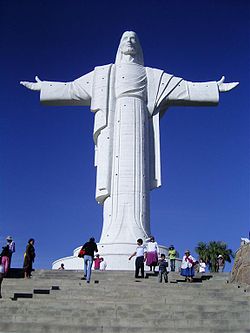 Cristo de la Concordia. The statue is just a bit higher and larger than the one in Rio de Janeiro, making it the world's largest statue of Jesus until 2010, when a larger one was completed in Poland. It offers a great view of the city. Walk Calle Colombia until its eastern end, then a swift right: This park/playground is where the cable car goes from, Bs. 6.50 each way. You can also walk. The stairs are safe during the day. After sunset it is better to go in a group of 4 or more. However, the warning displayed at the cable car station, not to use the stairs, is obviously just there to make more money. The cable car is often under maintenance. There is no good way to know before heading out to the station, but the local newspaper is pretty good about updating any changes.

Simón I. Patiño Cultural Center

address: Av. Potosí 1450

Includes the Palacio Portales mansion, gardens (Jardines), and an art museum (Centro de Arte Contemporáneo). The mansion was built by Patiño, a tin magnate who controlled over half of the nation's output in the 1930s.

Museum of Natural History

address: Calle Potosi, Recoleta

Medical MuseumThe main hospital in Cochabamba, Hospital Viedma, has a cute little medical museum attached, with some amazing old x-ray machines. The museum is near the corner of Venezuela and Oquendo.

Museo Archeologico

address: Jordan esq. Aguirre

Awesome archeological museum with mummies, deformed skulls, amazing pottery and other artifacts. Well worth a visit.
Do
CinecenterThe biggest cinema in town features a handful of showrooms mostly flashing the latest Hollywood fare, and a food court.

address: Ollantay esq. 27 de Agosto

a great arts and performance center based in an old slaughterhouse. They have rotating art exhibits, music performances, and other interesting stuff.
Sports
Cochabamba has two first division football teams, Jorge Wilstermann and Aurora, which play at Felix Capriles Stadium located on Avenida Libertador Bolívar (at the end of El Prado crossing the Cala Cala bridge). Matches usually take place on Sunday afternoons, as well as some weekday evenings. Matches rarely sell out, and one can buy a ticket the day of the game choosing among different seating sections. "Preferencia" is the most expensive, around Bs. 50-80 per match (depending on the rival), but for afternoon matches its location has the most shade. The supporter groups for Wilstermann are seated in the middle portion of both endzone (curvas).
The city is Bolivia's paragliding capital. Several agencies offer tandem flights (Bs. 300) and courses. A typical beginner´s course will take minimum 10 days (2 hours theory and 4 hours practice every day, 12 solo flights) and cost about Bs. 3,000. Among the cheapest on the continent.
AndeseXtremoAndes Extremo is an excellent choice for paragliding and also offers other outdoor activities including rock climbing. You can book a tandem flight with a fantastic view on the Cochabamba valley for about Bs. 350. One of their rock climbing options is in Quarry Angostura, which will cost you US$45 per person for 1 day (half day) with a minimum of 2 people. The difficulty level is 5a-6c.
Beyond the city
There are some towns and places around Cochabamba worth visiting and even several day excursions:
Hot springsThere is a nice hot spring near Cochabamba. Travel time one way is around 1.5 hours, mostly due to roundabout trufi routes. To get there, take a trufi from the southeast corner of Plaza Sucre, near the University, to Quillacollo, 12 or so km to the west. Get off at the main plaza in Quillacollo, Plaza Bolivar, and walk one block west to Calle Santa Cruz. On the north side of the main road, you should be able to pick up a trufi on Calle Santa Cruz to the hot springs. You´ll have to walk the last 1.5 km. The trufi costs Bs. 5. Entrance fee is Bs. 4. Make sure you ask if the trufi goes to the "aguas calientes".

Laguna La AngosturaGreat with a paddleboat that you can rent, or a jetski, or be pulled by one. Just enjoy the lake and the view of the hills around. Bring vesper or go for a delicious grilled fish in one of the villages around the lake. See the sunset along Ruta 7 (Lat ).
Cerro Tunari (5,035 m)This mountain can be done without guide, but you need to take care and be aware of water, sun and height. It is a 4-hr climb one-way, so you need to start early. First you go to Quillacollo, where you transfer into further transport towards the mountain. Best ask you ho(s)tel which are the exact buses and destinations.
Punata – A market on Tuesday with a lot of indigenous people selling animals.
Tarata – Nice picturesque town that can make an easy day trip.
Quillacollo – Known for its Fiesta de la Virgen de Urkupiña (August 15).
Chapare Region – National Park Isiboro Sécure and local indigenous communities, you can stay with for several days.
Work
Volunteer
Some organizations charge a fee for volunteer or intern to cover logistical and organizational costs. Please ask each organization for their policy.
address: Calle Julio Arauco Prado 230

Sustainable Bolivia is an umbrella NGO that matches volunteers with local projects in Cochabamba. They typically have 15-25 volunteers working between the 25-30 local projects at any given time. They rent three houses that volunteers will live in, and also offer homestays. Most volunteers will confirm their projects several weeks before starting, and will commit to at least a month in Cochabamba. That means that their houses are sometimes full, and they cannot provide housing to walk-ins, particularly those who cannot commit to at least a month of time. Grants to organizations are administered by the volunteers themselves, so they know how the money is being used.

Instituto para el Desarrollo Humano

phone: +591 4 4118315

address: Humboldt 829

An excellent social justice organization which offers volunteers the ability to train and facilitate with required social issues affecting many underrepresented Bolivians. They offer a homestay with safe, respectable families as well as a social network to keep you in the loops of cultural events whilst staying safe.

phone: +591 71769493

address: Plaza 14 de Septiembre (weekdays only)

This is the only autonomous social center in Bolivia. You can take part in their brigadas (work camps) in rural areas or different kinds of workshops in Cochabamba.
Buy
One of the city's biggest attractions is
La Cancha
, the city market on the south side of town and the largest open-air market in South America. Clothing, food, souvenirs, or books, the Cancha has it all. The Cancha is generally bound in the area bound by: Av. Aroma, Av. Ayacucho, Av. 6 de Agosto, Av. República, and Av. Oquendo.
The best day to visit the market is on Saturday, on other days not all the shops are open.
Pickpockets
are fairly common in this area.
If you don't want to get knee-deep into the sprawling Cancha for your souvenirs, there is also a small pasaje behind the Post Office. You can enter from Av. Heroínas Avenue or Esteban Arze. Prices are comparable to La Cancha and you can pick up typical Cochabamba goods.
The Spitting Llama Bookstore & Outfitter, 615 Calle España Norte (between streets La Paz and Reza) offers offers a wide range of trekking, camping equipment and gear. website:
Eat
Lunchtime usually consists of a fixed menu at a number of restaurants or pensiones around time. The "almuerzo completo" consists of soup + main dish and often an appetizer and dessert. There are many options to find the menu displayed outside the door, usually consisting of your choice of two soups or 2-3 main dishes. This fixed menu varies in price depending on the part of town, and could run between Bs. 15-25.
Silpancho is traditional Bolivian dish that supposedly originates from Cochabamba.
Thanks to the city's origin as an agricultural center for mining communities, Cochabamba claims to have the best food in Bolivia.
Casablanca

address: Calle 25 de Mayo

Very happening place frequented by Bolivians and gringos alike. Large and varied reasonably-priced menu influenced by the Italian owner. Also good for snacks and a few drinks. Latté is 7B, ceviche 25B, sangria 12B, large servings of pasta for 28B, sandwiches 16B. Wi-Fi connection, though may be a little slow due to heavy usage by other customers.

Cristal

address: Av. de las Heroinas E-352

Very neat and clean.
Casa de Campo, Av. Uyuni 618, among other upscale restaurants in Recoleta. Large plates of food (even the half-plate was too much) and good pique macho and other local dishes. Price range is 37-50B. Probably one of the best restaurants in town. Highly recommended.
Sucremanta, Several locations: Plaza 14 de Septiembre, and on the Prado. Small but filling menu, -somewhat spicey. The Plaza branch, with live piano music on Sundays, is a great place for brunch. Try the hearty menudito.
Dumbo, Av. Heroinas E-0354, also El Prado 55. Bolivia's favorite family restaurant. The main joint on Heroinas is always packed, with four dining floors and enough dancers in animal suits to keep the entire juvenile population of Cochabamba entertained.

Meihua

address: SW corner of Plaza Colon

Standard Chinese. A bit greasy but cheap.
Bufalo Rodizio, A Brazilian churasco style restaurant where the waiters comes to your table with a good selection of freshly grilled meats. Delicious. Note that there is only the choice of a buffet style dinner in the evenings, priced at a very reasonable Bs. 85 for all you can eat! The entrance is through the elevator found on the right as you enter the shopping mall. Avenida Oquendo N. 0654
Paprika, North American style dishes and internationalized Bolivian classics. Yummy hot wings. The restaurant has the air of a place for the "see and be seens" in Cochabamba. Recommended. Avenida Ramon Rivero, on the corner of Lanza. Open in the evenings.

Jacaranda

address: Tadeo Haenke

Not near the city center at all, but it has the reputation of best charque joint in town. Some people say that you can't leave Cochabamba without trying the charque, though it does really just taste like fried beef jerky. Charque is llama meat which is dried, then baked in the oven, then fried for the ultimate crispiness. The half-plate at Jacaranda comes with at least a pound of dried llama jerky, 2 boiled eggs, and the tastiest choclo (oooh the cheese slab was so thick and crumbly). The half-plate was about a 5-inch high pile, ran 50B and feeds a normal-sized person for lunch and dinner.

Zhou

address: Av. Villarroel esq. Ciclovia

This place was recommended by a couple who'd lived here for 4 years, so I walked out of my way to find this place (fairly far away), and was a tad disappointed. The food here isn't the most authentic Asian either and not even a good P.F. Chang imitation. Needless to say, the couple wasn't Asian either. It's slightly pricey, with sushi (mostly trucha-salmon imported from La Paz. Part of my disappointment was that I couldn't find good cuts of fresh surubi, trout or other river-fish sashimi here in Cochabamba.) running 50Bs. I had a classic soba (30B) but the noodles looked suspiciously like they came out of a Maruchen ramen noodle package. And I felt slightly sick after the meal. My conclusion: La Paz has better sushi. Go to Ken-Chan, run by the Japanese society, and you will find excellent, more authentic Japanese food.

La Estancia

address: La Recoleta (Av. Uyuni)

Upscale and pleasant Argentinian steak place. Portions aren't of the legendary Cochabamba size, but rather of the normal steak-portion size. Word is that the salad bar is amazing. Cut of chicken breast fillet is about 35Bs and steak about 45-50B. You can get those skinny skinny chip-like potato fry crisps here.

Buenos Aires:

address: Ballivian No. 539 (El Prado)

Great airy location right on the Prado, next to Brazilian Coffee, and serves a decent almuerzo complete for 18B (25B on Sunday). Although the food is presented prettily, the quality is más o menos (quantity is certainly menos), but has the advantage of not being greasy and comes with an open salad bar. Latté 7B, salads 26B, steak (large portions) 30-40B. Accepts VISA.

Sole Mio

address: Av. América N° 826 entre Pando y Mechor Urquidi

An Italian joint, whose specialty is pizzas from the oven. Gael Garcia Bernal was seen here eating last year when he was filming a movie on location about Cochabamba's water wars. Pizza comes out remarkably fast but the service isn't. It's a decent quality, not as good as in the U.S. but better than Eli's. Pizzas run about 50B for a medium and 40B for a personal, though watch out for overcharging.
Fast Food
Eli´s

address: Corner of Colombia and 25 de Mayo, laso on Av. America

Inspired by North American joints.

Globos

address: S end of El Prado

Good icecream, many coffee-drinks, some cakes and burgers.
Vegetarian
Tulasi, Av. Heroinas 270, seemingly without regular opening times.
Gopal, Calle Espana, Hot and cold Buffet lunch bet. 10-20bs., the homemade jugs of juice are delicious. Ordering off the menu is possible in the evening, but not as good. Beautiful open courtyard to sit in.
Copal, Calle España 250 (Between Ecuador and Colombia) in the same courtyard as the Hostel Nawpa House
Drink
The best
chicha
, fermented corn (or peach) based beverage, is said to come from the Cochabamba region. The small town of
Punata
, some distance to the southwest, is especially well-known. Please note that not all chicherías have the same hygienic standards.
Most small bars are on 25 de Mayo and España close to Plaza Colon. Av. Ballivian (Prado) has bigger and noisier stuff. The joints grow fancier and more expensive has you head north into Recoleta, centred on Calle Pando.
Cafe Paris

address: NE corner of Plaza 14 de Septiembre

Parisian style café with both filling and sweet crepes as well as a good coffee. Very reliable WiFi available too.

Cocafe

address: Calle Venezuela

Small, cozy, well decorated. Leaves on offer.

Cerebrito

address: Calle España

After school hangout for 18-25s. Star Wars decor. Rock music. Cheap dinners. Probably the most colourful range of shots in the country. Bottoms up!

Panchos

address: Calle Mayor Rocha

Starts out as a bar, turns into a club. Mostly latin music.

Picasso´s

address: Calle España

Nice warm up venue. Tables, bar, play dice.

Marka

address: Calle Ecuador

A courtyard with electronic music and a very mixed crowd.

Lujos

address: Calle Beni

Full dance floor, mostly classics ie. reggaeton.

Café Fusión

address: Calle España

Small, cosy café-bar, with a very friendly Italian owner. Great place to start the night. Cocktails 13-25Bs. Beer 13Bs. Does very good Italian dishes.

Pimienta

address: Av America

Probably the most popular dance club with westerners, plays a mix of 90's and current hits. Gets full around 02:30.
Chernobil, Best place to drink Chicha in the Cochabamba region. It is in the town of Quillacollo just west of the city. Well know by the locals, the chicha is safe to drink and so is the food.
Sleep
Budget
Hostal Buenos Aires

phone: +591 4 425 3911

address: Calle 25 de Mayo 329

Excellent location. Very thin walls. In-house restaurant.

phone: +591 4 4250559

address: Calle España #449 casi calle México

Newer hostel, with a great location along c/ España. Pricier than most other options you'll find in town at Bs. 75-90 per night for dorms, but it seems to be much cleaner and better maintained than typical in Cochabamba.

Hotel Los Angeles

phone: +591 4 450-0800

address: Ave. Esteban Arze 345

Decent budget hotel in a passable location, a solid 3-4 dark blocks from many of the restaurants and bars on Calle España. Singles Bs. 70, doubles Bs. 120, with bath and breakfast. It competes with the Hotel Las Vegas (similar prices and standard) across the street for the cheesiest norteamericano decor.

Hostal Jardin

phone: +591 4 4525356

address: Calle Hamiraya N-0258

Fairly quiet, some long-termers, popular among Brazilians. You might share water pressure with you neighbours and the rooms smell strongly of cleaning fluid everyday. Small breakfast consisting of bread and tea included. Safe parking. And, yes, there is a garden here. If you stay for 10 days in a row, you can get a discount to 25B per day for a single with shared bath.
There are dozens and dozens of hotels and
hostales
between the bus terminal and the center (Plaza 14 de Septiembre). This area is not very safe late at night, however, and these options should only really be considered if none of the above are available. Always take a cab back to these locations after dark.
Hostal Elisa

address: Lopez S-834

Small, but neat rooms, around a cozy courtyard. Expensive internet.
Hostal Kanata, Ayacucho 941, has clean doubles for Bs. 60 (Bs. 20 more for a TV), though a not too friendly staff.

Residencial Cristo de Concordia

phone: +591 4 4257131

address: Av. Aroma E-437 casi San Martin

Not such a good location, can be very dangerous at night and is recommended to take a taxi to and from hostel, laundry service, helpful staff.
Mid-range
The upper end hotels are mostly concentrated within a block or two from Plaza Colon. Expect to pay upwards of Bs. 200 for a single. Also many classy hotels in Recoleta.
phone: +591 4 423 4217

address: c. España Nro. 636

The Apart Hotel Regina, offers both rooms and apartments with kitchens. It is close to El Prado and many popular night spots. However, noise isn't a problem while sleeping. Staff at the reception desk speak English, and are friendly. The room decor is outdated and the carpets need to be replaced. There is hot water and good water pressure. All the rooms have free Wi-Fi. On-site parking is available. The buffet breakfast is 07:00-10:00.
Stay safe
Cars rarely give preference to pedestrians, even at crosswalks. Don't assume they will stop.
Roving gangs of supposed glue sniffers (cleferos) are known to attack and rob people, especially at night. Stay on streets with ample pedestrian traffic. They tend to hang out under the bridges at night and rob people crossing.
The hill of the Coronilla (behind the bus terminal) is particularly not safe because this is where many of them hang around and camp. Generally, anywhere south of Calle Aroma be very cautious.
Robbers also operate from cars, particularly cabs, late at night. Stay alert if one stops right in front of you. Cross the street!
When getting into a cab late at night, it is best to call a radio taxi which you can get from friends, a local family, or the hostal you are staying at. If you cannot call a radio movil to pick you up, make sure to take a taxi with a company name on the side and remember that company in case anything happens so that you can report it to them. It is best to ask a hotel, restaurant, bar, or discoteca to call a taxi for you.
On the stairs of the hill Cerro de San Pedro have been robberies. The cable car provider uses it as an argument for you to use the cable car (Bs. 6.50). However, during the day it should be fine. At dusk and later, take a taxi or the teleferico (cable cars) to/from the top.
The plain-clothed police officer scam seems to be popular (but seldom) in Cochabamba. Read all about it under Bolivia#Stay safe and be aware.
Connect
If you have an unlocked phone, you can purchase an inexpensive SIM card from the three major telecoms, Tigo, Viva, Entel and top up as needed. All of have pre-paid data plans. You must register your SIM card with your passport.
There are fewer internet cafés than there were just 3-4 years ago due to the availability of mobile internet. The Punto Entel on the southeast corner of Heroinas and Ayacucho is probably the neatest and best equipped internet spot. The going rate is Bs. 2-3 an hour.
Calls to landlines in Europe and North America can be had as low as Bs. 0.50 a minute. Shop around!
The internet/callshop at Av. Heroinas E0151 (Near the corner of Ayacucho) is good for Skype.
Cope
Lavaya

address: Corner of Salamanca and Lanza

Same day laundry if you show up at opening time.

Lavanderia Brilliante

address: Av Aroma 118

Several others on the same block.
Laundry at Calle Junin, between Heroinas and Bolivar. Wash and Dry Bs. 7/kg. 08:00-12:00 & 14:00-19:00.
A few exchange bureaus at the SW corner of Plaza 14 de Septiembre.
Many street money changers are located near some bridges such as Cala Cala bridge, 25 de mayo and Sucre, and Plaza Colón. You'll get better rates than from banks, but also a little riskier. There are some money exchange businesses around the Plaza that are more reliable. Please note that some money changers on the street won't accept bills smaller than US$100 or will want to give you a less favorable exchange for US$20 or less.
For visa extensions, head to "Migración" located in the north part of Cochabamba at Av. J. Rodriguez between the streets Santa Cruz y Potosí (near Instituto Americano)
Consulates
The
Consulate of Paraguay
is located at Calle Ismael Céspedes #007 between Tadeo Haenke and Mejillones, parallel to Avenida Beijing. The phone number is 442-5902, and has been confirmed as of August 2, 2010. Keep in mind that visa applications at this consulate take a week to get filled, because the forms must be sent off to La Paz.
Go next
Torotoro National Park – Popular with travellers that head to Cochabamba for its dinosaur foot prints, large cave and hiking opportunities. The (mini)buses leave hourly or when full (06:00-18:00, +591 70786818) from the .
Iquique, Chile – There are direct buses, some with a transfer in Oruro. Keep in mind that the border to Chile opens at 08:00. So, it makes little sense to leave at 16:00 from Cochabamba. Waiting time at the border can extend this trip up to 23 hr(!). From Iquique you will have several connections to Santiago.