Cochem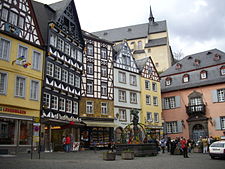 Cochem
is a traditional German town with half-timbered houses and an exceptionally scenic location on the Mosel river in
Rhineland-Palatinate
,
Germany
. The town is home to about 5,700 people, and has and a population of 8,700 in a 7 km radius.
Understand
Few towns in Germany can match the charm of Cochem. Cochem is rated as one of the prettiest villages along the Mosel, and it is a favourite place for visitors. Legend, folklore and a rich web of history is woven into every street. Little seems to have changed for centuries. The town has many fine buildings, quaint cottages, black & tan guild houses, and winding streets. The town square, lined with half-timbered houses, is particularly fine. Cochem Castle (
Schloss Reichsburg
) dramatically rises above the town.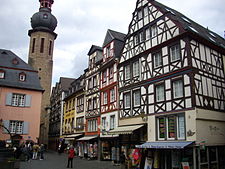 It is in an area of outstanding natural beauty in the Mosel river valley, between the Eifel and Hundsrück.
It is surrounded by high elevations, steep vineyards and typical wine villages, offering tastings, festivals and genuine hospitality. Cochem is the center of the Mosel wine trade. Fondly known for its regional wines due to the presence of the many vineyards and small family run wineries in the nearby towns along the river.
Early in the 19th century the first modern tourists came to Cochem. Mostly English artists. They recorded the romance and beauty of the Mosel Valley, in their drawings and paintings. The development of Cochem into the first tourist center on the Moselle came in the 1930s.
The Mosel river flows between the maintown and the Cond district, across the river by one of two connecting bridges. A wide boulevard runs along the river, with a number of river-view hotels, restaurants, bars and seating areas. From here you can take river tours at frequent intervals.
Weather
Cochem is in a valley and has an almost Mediterranean climate, with warm sunny days over a 9-month season. Summers are mild to hot.
Get in
Cochem is on the Mosel river route B49, 92 km (57 miles) northeast of
Trier
, 51 km (32 miles) southwest of
Koblenz
, 90 km south of Bonn, and 170 km (106 miles) west of Frankfurt.
By car
Cochem is between Trier and Koblenz. You can either follow the B49/B53 road along the Moselle River (most scenic option), or take the E44 (A48/A1) motorway between the two cities, until exit 2, then go down the hill on the B259 road.
There are direct local trains from Luxembourg (1h45min), Trier (50 min to 1hr 10min), Koblenz (40-55 min), Bonn (1hr 20min), and Cologne (1hr 45min).
By plane
The closest airports to Cochem are:
By train and local bus
IC trains
, (
Koblenz
-
Saarbrücken
). The train travels mostly along the left bank of the river Mosel. The train-station of Cochem is in the east-end of the town, less than 500 meters from the center. From the train-station and the centre of town, you can take frequent bus and less frequent river boat connections to most of the villages along the Mosel-valley, that have no train-connection.
Get around
You can easily walk all through town and the districts of Cond and Sehl in a very short time. On the other hand the climb to the Castle and the upper town is quite steep.
You can take the trolley tour or
Rent bicycle at many locations.
There are frequent and regular bus and rail service to and from nearby towns with the Verkehrsverbund Rhein-Mosel.
See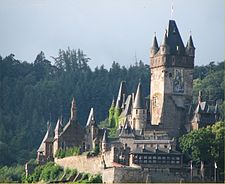 Cochem CastleAt a high elevation, it overlooks the area, dominates the town, and is an impressive feature. A restored 10th-century ruin, the result is a mixture of styles that make it a pleasant and interesting building.

SenfmühleThe historical mustard mill, built around 1810, is the last one of its kind in Europe. Mustard miller Wolfgang Steffens produces various types of outstanding gourmet mustard according to choice, time-honoured recipes and processes at one of the oldest mustard mills in Europe, established in 1810.
Do
Stop at the tourist office first on Endertplatz 1. They have loads of information to orientate you to Cochem and are very helpful.
phone: +49 2671 221

address: Stadionstraße 2

Wine cellars tour and tasting

Seselbahn to the Pinnerkreuz mountain

address: Endertstraße 44

From there you may enjoy the very best view of the castle, the Mosel-valley and its surroundings. From the top of the mountain you can take several hiking-paths or spend some time in the restaurant with a perfect view on the castle.

Mosel-Wein-ExpressTake a tour with the small street-train. The tours starts on a regular basis in the centre. The ride takes about 30 minutes and costs €4 for adults and €2for children.

Stroll along the MoselleThe flower-bedecked Moselle promenade is a lovely place for a stroll, and there are plenty of benches when you're ready for a break.

Bicycle rentalAll along the Mosel there are bike paths. A day's hire costs about €8 a day. To rent a bicycle you need to show a valid ID and leave a €20 deposit per bicycle. Fahrrad = bicycle in German Fahrradverleih = bicycle rental.

Golf. CochemGolf complex featuring 18 holes, 9 hole (executive) course, clubhouse, restaurants and vacation houses.

Cochem is a port of call on many cruises from Trier, Bernkastel-Kues and Koblenz. Many cruises start from Cochem daily. The cruise ships pier is on the beautiful boulevard of the town. The river is an important transportation waterway for cargo-ships between the river Rhine and Moselle-ports in France.
Hiking - Many walking opportunities
Valwig wanderweg
Swimming, indoor pool and recreation center in Cochem/Cond, across the North bridge.
Disco at the Youth-Hostel in Cond.
The town can get a little quiet, after 18:00, when most of the tourist day trippers go home.
Cond, across the bridge, afternoon sunny terraces with a great view across the river of the Cochem architecture, the castle and the steep slopes as a background. Recreation centre, hiking paths, camping-grounds, large shopping centre, medical centre/hospital.
Sehl, in short walking distance south along the Boulevard, has a small historic village atmosphere. Offers good accommodations and hiking paths. Ebernach Kloister and winery, is also located here on the edge of town and well worth a visit. Beside the winery, it has an arts centre and shop, extensive gardens and a chapel for quiet contemplation.
Events
Throughout the year there are many events in the resort town of Cochem.
The season begins with the Easter Market two weeks before Easter. It continues with the Moselle Wine Week in mid-June. Over 300 wines are offered for sampling at twelve wine stands.
On the first weekend in August the Cochem castle invites "ladies and gentlemen, young and old, rich and poor" to the Castle Festival.
Popular events and fests all over the year from May to November
Wine tasting almost everywhere, especially in September and October
Christmas market (Weihnachtsmarkt) Nov. - Dec. most charming since it is small enough to be contained in a single tent.
Buy
Local wine and liqueurs.
Especially in the pedestrian area you may buy a big choice of wines from the Mosel-valley. Almost every 2nd shop is wine-store and depending on the year expect to pay about €3-5 0.7-litre bottle.
Shops
Weingut Göbel-Schleyer

phone: +49 2671 7444

Souvenir stoneware-bottle with 0.7 litres of Mosel-wine €4.40. smaller size 0.5 litre; €3.30. Wine tasting and many other local items.

Fleischerei/Metzgerei Hans Noss

phone: +49 2671 7778

address: Bernstr. 17

Fine meats, wursts, delicatessen for more than 150 years. Chef/Owner: Seigfried Schmitz.

phone: +49 26 71 73 77

address: Bernstr. 10

Large range of bakery products, natural breads, bio-products.
Eat
The area revolves around excellent wine and good food. A number of wineries have cosy restaurants where fine cuisine and regional specialties are served. While the town may only boasts a few churches, it makes up for it in the wealth of weinstübe, pubs, restaurants, bistros, cafes and hotels, offering traditional regional fare, in additional to dishes from many other regions exist.
The following is just a small selection of restaurants offerings. While exploring, you are sure to find many more.
Castle ThorschenkeDates from the 14th century?" Local theme, price: US$11–20

address: Moselpromenade 1

Local theme.

address: Moselpromenade 4

Fleischerei-Gaststätte.

Hotel/Restaurant Lohspeicher 'l'Auberge du Vin'

phone: +49 26 71 39 76

address: Obergasse 1

Top gourmet restaurant

San Christobal

phone: +49 2671 4199

address: Endertstraße 7

Mexican and International.

La Baia, Pizzeria

phone: +49 2671 8040

address: Josef-von-Stelb-Platz 1

Restaurant, sunny terrace.

Australian Homemade Ice Cream & Chocolate

address: Moselpromenade 9
Drink
Wine
tasting is possible everywhere in and around Cochem, many also serve good food.
Beer & cocktails
Murphy's

address: Endertstr.

A funky pub, good conversation, live music at night. Besides beer they serve cocktails, not famous for their food or wine. A few internet terminals.
Nite life, dancing, music
Königstheke `Tanz & Gasthause´

phone: +49 91101

address: Bruckenstraße 6

Tanzpalast Moselstern, `Live- und Disco-Musik´

phone: +49 981402

address: Uferstraße 13
Sleep
Cochem is the recognized centre of a geographical area especially well suited for tourism. There are over 3.300 beds, from budget to luxury, in area hotels, pensions, hostel, camping and vacation homes. Of the 350.000 annual overnight guests, 150,000 are foreigners.
There are three
camping areas
in Cochem.
For further area camping descriptions see
this site made by a Dutch friend of the Mosel river
.
B&B and Apartments
on family-owned vineyards.
Visitors wanting to stay longer than they intended, because the wines are so good, might consider a cosy guest room at the vineyard. A vineyard holiday is often one that is remembered fondly for years afterwards. Maybe you have already experienced helping with the grape harvest or walking and picnicking in the vineyards, where you are quickly caught up in the relaxed, friendly atmosphere and visitors soon become friends.
Apartments
(self catering) Price per unit usually between €35-50 per night.
Hotels
Usually includes breakfast, charged per person
Connect
Go next
The
RMV-Internet Agentur-Team
(Rhein-Mosel-Verlag In Alf on the Mosel) has a very expansive website, not only on the Mosel but with links to the wider Hünsruck, Eifel and the Rhine area.
Burg Eltz, what many regard as the most beautiful castle in the Moselle region, near Treis-Karden
Burg Eltz bei Karden
Above all the tiny village of Beilstein, which has provided a fairytale setting for several films.
Nürburgring You'll notice many motorcycle (and sports car) enthusiasts, during the March to November season, visiting the famous racing circuit.

Schlagkamp-Desoye Wine Museum

Senheim Sculpture Park