Cochrane (Ontario)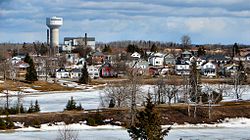 Cochrane
is a town of 5300 people (2016) in
Northern Ontario
.
Understand
The main industries in Cochrane are transportation, railway, tourism, and forestry. There is also marginal farming around Cochrane. Although the soil is considered to be of good quality, the growing season is too short to have substantial crop production.

History

Before Cochrane was founded, it was used as a summer camping ground by indigenous people, and a stopping place for fur traders travelling to Moose Factory.
In the early 20th century, the National Transcontinental Railway was built through the area, and in 1907, the place was selected as the junction point with the Temiskaming and Northern Ontario Railway. In November 1908, the lots were sold by auction and a railway town formed. It was named for politician and merchant Frank Cochrane, a former mayor of Sudbury and a federal Cabinet minister from 1911 to 1919.
The settlement was devastated by fire in 1910, 1911, and 1916, but rebuilt each time and became a transportation hub for northern Ontario.

Climate
Cochrane has a transitional climate sitting between the subarctic and humid continental climate zones with very cold winters and warm summers.

Get in
By road
Highway 11
If there is an accident, you won't be able to go anywhere but sit in traffic until the road is re-opened.
By train
There is no train to Cochrane from the south.
By bus
Ontario Northland bus service runs daily local service westbound to Hearst with connection in Driftwood to
Timmins
,
Sudbury
,
Parry Sound
, and
Orillia
; southbound to
Toronto
via
Temiskaming Shores
,
North Bay
, and
Barrie
. Special express shuttle to
Hearst
for the Northlander and to Iroquois Falls and Timmins for the Polar Bear Express. Bus service also operates from the train station (see above).
By plane
The town is served by the Cochrane Aerodrome, but it has no scheduled flights.
See
Tim Horton Events CentreIn honour of Cochrane's most famous native, Tim Horton, a Toronto Maple Leafs player who (with businessperson Ron Joyce) founded the Tim Horton's doughnut and coffee chain in Hamilton (Ontario) in 1964.

Tim Horton Memorial Museum

address: 7 Tim Horton Dr.

Opened 2008 in the Tim Horton Event Centre, photos, books, jerseys and 568 pucks - one for each goal scored.

Polar Bear Conservation and Educational Habitat and Heritage Village

phone: +1 705 272-2327

address: 1 Drury Park Rd.

The only captive bear facility in the world dedicated solely to polar bears. Four large outdoor bear enclosures. The Heritage Village has a train station with artifacts dating back to Cochrane's beginning. The Antique Snowmobile Museum is another popular feature; as well as the homestead, blacksmith shop and trapper's cabin. The best time to see our bears is in the morning when they are their most active.

Cochrane Public Library

phone: +1 705 272-4178

address: 178 4th Ave

It houses a large collection of books, DVDs, puzzles, video games and other material. Downstairs there is an art gallery.
Do
In the winter, Cochrane is famous for its world-class snowmobiling

Northern Ontario Tri-Culture Festival

phone: +1 705-272-2088

address: Hwy 11 West

Three-day event celebrating French, English and First Nations culture, mid-June.
Buy
phone: +1 705-272-1369

address: 180 6 Ave

Discount department store, grocery, clothing and housewares.

phone: +1 705-335-2062

address: 25 Brunetville Rd, Kapuskasing

One of 60 stores in a regional chain, is to Giant Tiger what Giant Tiger is to Wal-Mart.
Eat
JR's Barbecue Ranch

phone: +1 705 272-4999

address: 63 3rd Ave

Famous for ribs.

Kaylob's Kafe

phone: +1 705-272-4025

address: 282 8th Ave

Diner.

Golden Flower Restaurant

phone: +1 705 272-3211

address: 99 6th Ave

Chinese and Canadian food.
Drink
phone: +1 705-272-4777

address: 105 3rd St

Large screen TVs with a range of sporting events. Wings, burgers, pasta, vegetarian choices.
Sleep
Connect
NorthernTel
offers 4G HSPA+ (max 21 Mbps) and 1xRTT coverage in Cochrane. An analogue cellular service (AMPS, band B) had been provided by Ontera, but that company's GSM footprint now covers
Moosonee
and Moose Factory only.
Go next
Ontario Northland Railway

address: 200 Railway St.

Runs one train from Cochrane: The Polar Bear Express to Moosonee stopping at Clute, Fraserdale, Coral Rapids, Moose River, and any point on the line to pick up/drop off hikers, campers, canoeists, fishermen, outdoor adventurers, and locals. This is one of the few "flag stop" trains in operation in Canada. Operates five days a week year round. During the summer months, there is an additional train on Sundays. No train service on Saturdays or on Sundays during the rest of the year. There is a special canoe car that can hold up to 18 canoes. Canoeists are responsible for unloading and loading their own canoes. No reservations are required. Cost an additional $54 plus GST to train fare. Snack car service and a special family car are available year round. Summer trains also feature: full dining car service, a dome car, and an entertainment car with live music.