Cocos Island National Park
Cocos Island
is a nationally protected jungle-covered island and national park off the coast of
Costa Rica
. It's also a
UNESCO World Heritage site
.
Understand
Cocos Island is in the Eastern Tropical Pacific approximately southwest of Cabo Blanco, Costa Rica. A rugged and incredibly beautiful island, today Cocos Island is the most sacred National park in Costa Rica's extensive park system.
Among Cocos Island's many attributes is a startling degree of biodiversity. This island's world-renowned waters explode with life, including innumerable white tip reef sharks, schooling hammerhead sharks, dolphins, mantas and marbled rays, giant moray eels, sailfish, and of course the occasional whale shark. Other common encounters are large schools of jacks and tuna, silky sharks, silver tip sharks, marlin, Creole fish, green turtles and octopus. On the Island you will encounter a lot of pigs and not much else besides the usual vegetation.
History
The island is supposed to hold three of the largest treasure troves of all time. From pirates to the entire horde of Lima which was hidden there from Simon Bolivar and his troops in 1821.
Landscape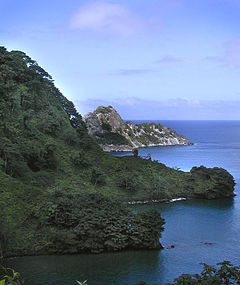 Cocos Island is a very hilly, dense tropical jungle with over 200 waterfalls and averages over of rain a year. It has three bays and is 24 km² of land.
Flora and fauna
Climate
Is hot and very humid. It rains just about everyday between March and December for a couple of hours.
Get in
As tourists are allowed ashore only with permission of island rangers, there are very limited ways to be able to step foot on the island but one of the best ways to experience this natural beauty is through a dive trip. There are two fully equipped dive boats that do week and a half trips out to the island and back, they are the
Okeanos Aggressor
and
Undersea Hunter
.
Fees and permits
In order to set foot on the island with the intent of treasure hunting requires a permit from the Costa Rican Government. This is because of the large numbers of treasure expeditions that have been seen come through the island over the last 50 years. Over 400 large scale expeditions have been assembled along with tens of thousands of smaller and independent searches.

Get around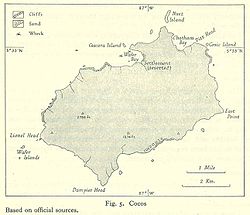 Getting around the island is a little tricky. The main types of transportation are by foot or bike usually used for hikes and sight-seeing tours. The few locals who live here mainly use foot, or bike, or small motor bikes and dirt bikes.
See
Since this is an island you will see a lot of ocean, but if you ever get the chance to step foot on the island and are somewhat physically fit, hike to the top of the island with a guide. It is a magnificent view.

Do
The main attraction for Coco island is its unbelievable scuba-diving with its schooling hammerhead sharks. On the island hiking and biking to the top of the island for the spectacular view is an almost must. Other main activities include snorkeling, island hopping, and fishing the waters surrounding the island. Many people go to Cocos just to relax on the beach and enjoy the scenery.

Sleep
Tourists and are not permitted to stay on the island.

Stay safe
Cocos island is a completely safe place with the only threats really being the attractions in the water. That is, the sharks, eels, and other creatures that might be seen while diving, snorkeling, boating, or fishing.