Coimbatore
Coimbatore
is a major industrial city in
Tamil Nadu
, often likened to being the
Manchester
or
Detroit
of
Southern India
. It's famous for the manufacture of motor-pump sets and varied engineering goods.
Understand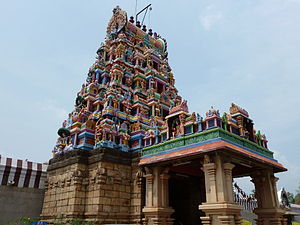 Coimbatore, also known as
Kovai
is known for its various industries, engineering goods, textile mills, educational institutions, health care facilities, pleasant weather, friendly culture and hospitality. There is a significant minority of people of North and West Indian origin in Coimbatore, making it cosmopolitan. The
Tamil
spoken here is called Kongu Tamil. Other languages spoken include English,
Malayalam
,
Telugu
and
Kannada
. The citizens are friendly and courteous. Except for early summer, it has a pleasant climate throughout the year, similar to a resort town. It is an information-technology hub with new initiatives from the state government.
Coimbatore is an orthodox city. It has developed in terms of wealth, however the general populace is still down to earth. People here don't have a flashy lifestyle. Most of all the Coimbatoreans are known for the respect displayed in language towards everyone.
Talk
Tamil is the mother tongue of majority of the people in Coimbatore though there are people who speak Telugu, Malayalam, Kannada Hindi and Urdu. Unlike other cities in India, few people in Coimbatore can speak Hindi. English is usually understood and spoken.

Get in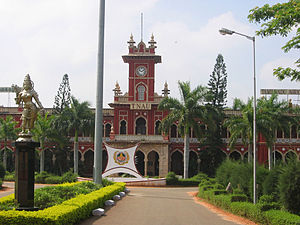 The city has six major arterial roads and three National Highways, NH-47 (Kanyakumari-Salem), NH-67 (Nagapattinam-Ooty) and NH-209 (Bangalore-Dindigul) passing through the city. The city has a civil airport at Peelamedu and an Air Force base at Sulur. Broad-gauge trains connect it to all parts of India. A bypass tollway was built to avoid unnecessary traffic into the city.
By plane
Coimbatore International AirportThe airport has two operational terminals one for departure and one for arrival. Coimbatore airport has regular flights from many Indian cities and some international destinations like Singapore, Colombo and Sharjah.
style="vertical-align:top;width:50%;" |
By train
Coimbatore Junction, the major station in the city is well connected by trains to
Ahmedabad
,
Bangalore
,
Chennai
,
Hyderabad
,
Mumbai
,
New Delhi
and
Thiruvananthapuram
. Other train stations in the city include Podanur Junction and Coimbatore North Junction.
Indian Railway reservations
By bus
There are five major bus stations in Coimbatore from where bus services are available to all major places in Tamil Nadu, Kerala, Karnataka, Pondicherry and Andhra Pradesh. All bus stations are inter-connected with local bus services throughout the day.
Central Bus station at Gandhipuram (for buses going to East and North East to Erode, Gobichettipalayam, Tirupur, Salem, Sathyamangalam and surrounding areas)
Singanallur Bus station (for buses to Madurai, Trichy, Karur, Tanjavur and nearby towns)
Moffusil Bus Station at Gandhipuram (for express buses to other states and Chennai, Bangalore, Hydrabad, Pondicherry and Tirupati)
Ukkadam Bus station (for buses to Palakkad, Trichur, Cochin, Trivandrum, Palani, Pollachi, Udumalpet and other nearby places)
MTP Road Bus station (for buses to Mettupalayam, Ooty and Gudalur)
Get around

Getting around Coimbatore is easy. There are public transport buses, auto rickshaws and plenty of taxis available. The minimum charge for cabs is ₹40 and ₹16/₹12 per kilometre for different operators. Public transport is available through buses operated by the state-owned TNSTC and other private operators.

See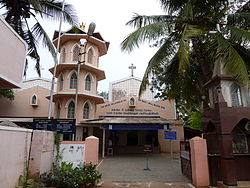 Athar Jamad MasjidA famous hundred-year-old mosque.

G.D. Naidu MuseumInteresting collection of inventions by G.D.Naidu, who is also referred as the Edison of India. Interesting science experiments. There are the History of Industrialisation in Coimbatore and an old motor bike which G.D.Naidu learned to assemble from a British officer after which he became interested in engineering. A gift shop is attached with the museum, where one can buy interesting toys from Germany. It is appropriate for children.

VOC parkThe park includes a zoo and a children's park. Evening is the best time to visit the park. Fee: Adult - ₹3, Child - ₹2. Nehru Stadium is situated nearby and also there are few small playgrounds for basketball, tennis, badminton, etc.

Infant Jesus Church

address: Kovaipudur

Here, devotees throng on Thursdays to attend the Novena.
Temples
Temples in and around Coimbatore are:
Anjeneyar Kovil

address: Esso Bunk, Peelamedu

This temple was constructed in one of the calmest localities. It is peaceful and is open in the morning till noon, and opens again from 5PM for public. Don't miss the various alangaarams done for the God.

Anubhavi Subramaniar Temple

address: Chinna Thadagam

This temple has a natural outflow, which spouts water all through the year. For this reason, the temple is quite popularly known and people never fail to make their visit. There are hundreds of steps to get to the temple, and no mechanical help available. This place is frequented by elephants and hence do not plan to visit the temple during evening hours. Don't forget to visit the Lalithambikai temple situated at its foothills.
Asia's biggest statue of Lord Ganesha temple in Puliakulam.

Eachanaari Vinayaga Temple

address: Pollachi road

phone: +91 422 2422490

address: Arulmigu Subramaniyaswamy Thirukoil

A huge temple complex, at least 1200 years old, on a picturesque hill.
Perur Pateeswarar Temple (Tamil: அருள்மிகு பட்டீஸ்வரர் திருக்கோயில்) is a Hindu temple dedicated to Lord Shiva at Perur.
Sri Naga Sai Temple in Sai Baba colony Matupaliyam Road (the oldest Sai Baba temple in south India)
Sri Ranganathar temple in Karamadai,
Then Thiruppathi is near Mettupalayam.
Velliengiri hills and temple are famous and historic, which is also known as South Kailash.
Other temples are Ayappan Pooja Sangam in Ramnagar and Ayyappan temple in New Siddhapudur, Sringeri Saradha Koil, Shirdi Sai Baba temple in Saibaba colony, Koniamman temple and Ramar temple in Ramnagar near Gandhipuram bus stand. Isha Yoga Center's Shiva temple - worth visiting -20 km from city.
Do
There are three good water theme parks Black Thunder (near Ooty foot hills), Kovai Kondattam (en route to Siruvani Dam), and Maharaja Water Theme Park (near Neelambur, Avinashi Road). The entry fees are ₹300 to 350 for adults, while children get a discount of ₹50-100 per head.

phone: +91 83000 83111

address: Velliangiri Foothills, Ishana Vihar Post

This ashram, founded by Sadhguru Jaggi Vasudev two decades ago and administered by the Isha Foundation, is on 150 acres of lush land at the foothills of the Velliangiri Mountains. Surrounded by thick forests and situated next to the Nilgiri Biosphere Reserve, the ashram is the site of the Dhyanalinga Yogic Temple and the Linga Bhairavi Temple and hosts several yoga programs every month.

phone: +91 422 251 5345

address: 15, Govindasamy Naidu Layout, Singanallur, Coimbatore, Tamil Nadu 641005

meditation and yoga
Buy
ATMs are available throughout the city, with most concentrated in the commercial areas like R.S.Puram, Trichy Road and Avanashi Road.
Shopping in Coimbatore is concentrated in the areas of RS Puram, Cross-Cut Road and the Town Hall Area (Oppanakara St, Big Bazaar St, Raja St). Coimbatore, known as the
Manchester
of South India, is famous for textiles. Shops sell Kanchivaram, Benares and designer sarees at Cross-Cut Road. Coimbatore is also known for its numerous jewelry stores situated along Cross-Cut Road and Town Hall Area. Lee, Arrow, United Colors of Benetton, Levi's, Reebok, Adidas, Puma, Crocodile, etc. have retail outlets in D.B.Road. There are several huge textile showrooms in the city (RmKV, Pothys, The Chennai Silks, Shree Devi Textiles, Sri Ganapathy silks, Kalyan Sarees, PSR Silks) that sell ethnic wear for the whole family.
Brookefields Mall
in Brooke Bond Road is the biggest shopping mall in Coimbatore has branded shops for cloths, apparels, foot wears, eateries (including KFC), cloth showrooms (RmKV), etc. It has a six-screen multiplex cinema.
Nilgiris
is South India's leading chain of retail stores. They have an outlets in R.S. Puram and at Trichy Road. They stock most of the up-market food items like frozen and tinned foods, offering a wide range of grocery, general merchandise and personal-care products. They also offer Gouda, Colby, Monterey Jack, Cheddar, Havarti, Feta, Haloumi and Camembert cheeses made by
Acres Wild Cheesemaking Farm
, which is in Coonoor.
Sri Krishna Sweets specializes in Indian sweets and is famous for its Mysurpa (a sweet made from lentil flour and ghee).
Eat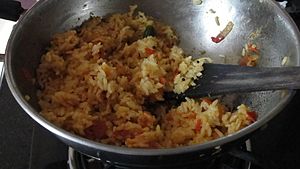 When visiting Coimbatore, taste the Food & Siruvani Water. Coimbatore is an ideal stop to rest while on the way to
Ooty
,
Bangalore
or
Kerala
. Sample the best of South Indian Idlis, Dosas, Vada, Chutney and vegetarian rice meal from the
Annapoorna Chain of Veg Restaurants
,
Shree Anandhaas Chain of Veg Restaurants
,
Aaryaas Veg Restaurant
and non-vegetarian food from
Kovai Biriyani Hotel
, Angannan's, Anjappar, Sampoorna, Rayappas and Thalappas restaurants. Try Krishna Sweets, too, the sweets chain started in this town. Western coffee pubs and fast food outlets Subway, Domino's, Pizza Hut, Baskin Robbins, Marry Brown, Barista, Cafe Coffee Day, and Boomerang are present, too.
Ajmir

address: Near TownHall ManiKundu

Serves excellent mutton (beef) and chicken. Don't forget to taste their mutta poriyal and chicken fry that is great. It offers beef and chicken dishes.

Brookfields Plaza

address: Brookbond road, R.S.Puram

Has everything from dresses to food like KFC, Rmkv, lifestyle, reliance Trends.

China town

address: Nehru staduim in the road between the park gate

Serves excellent Chinese items like chili pork, dragon chicken, and their lumpfu soup

DhabasDhabas are famous in Coimbatore. They have a variety of foods and attached bars. There are many dhabas in Coimbatore. There was a dhaba near Maharaja World and one near Ramani's Mayuri, Chinnavedampatti. Most of the bars have individual huts accommodating about ten patrons apiece. They are evening hangouts.

Four season

address: Non sakthi highway at karattumedu

Serves vegetarian and non-vegetarian food and beer; it is nice for parties. Try the Kerala chicken kudal.

FUN Republic

address: peelamedu, near krishnamal college

Has Coimbatore's first McDonald's restaurant.

Hari Bavan

address: RTO Road & Gandhipuram 4th Street & SO Bunk, Peelamedu

Serves nonvegetarian food. At lunch there are four types of gravy (fish, mutton, chicken and Nattu Kolli). Try the karandi (omelette) and their side dish. Available only for lunch.

Hotel Blue Berry

address: Opposite VLB Arts College, Kovaipudur.

Specialist in biriyani (mutton, chicken and fish). Serves a variety of nonvegetarian curries. Takes function orders and entertains home deliveries. Chettinad and Chengudu Chicken are standouts.

Hotel Muthu Rowther

address: Athupalam, Ukkadam (Fort)

Excellent place for nonvegetarians. The best dishes are Beef Biryani and Beef Chukka.

Kentucky Fried Chicken (KFC)

address: R.S.Puram

This is crowded. There is a branch in Brooke Fields Mall, also.

Paati Amma Dosai Kadai

address: Near Gem Hospital or Archana Darchana Theater Gandhi Park

Serves a wide variety of dosas and sevai like chola,kambu, tomato, ragi, cauliflower, mushroom, babycorn, panner dosai and seva. Don't forget to order butter appam yummy.

Seasons

address: under SKC, R S Puram

Offers cheap, healthy vegetarian food. The corn and spinach sandwich and all fruit juices are good. It's usually crowded. The ice cream is so nice.

The Village

address: Near Gem Hospital or archana darchana theater GandhiPark

Serves a wide variety of dosas and sevai like chola, kambu, tomato, ragi, cauliflower, mushroom, babycorn, paneer dosai and seva. Order the delicious muttai chappathi.
Drink
Liquor cannot be found in the department stores or malls. It is regulated by the state government of
Tamil Nadu
and available through retail outlets controlled by state-owned body TASMAC and in some star hotels and bars. These shops usually close around 22:00, and it is hard to find an overnight party house in the city.
Siruvani water in Coimbatore is considered one of the tastiest natural unprocessed waters on the planet.
Sleep
Budget
There are many budget hotels near the railway station and bus stand with single rooms between ₹150-350/day.
Dunag Springs Service Apartments

phone: +91 4399031-32, +91 9952431081

address: 12/24 Dunag Springs, Padmanabha Nagar, Civil Aerodrome, SITRA

29 furnished apartments at three locations (Airport, Nehru Nagar, Ramanathapuram) in town on daily rental. Wifi enabled 25-seat, air-conditioned conference hall & gym facility available with in-house pantry service.

address: Sivaram Nagar, Sungam bye pass road,Coimbatore

15 fully furnished rooms with free wifi & gym. Guestlines is just about 1.5 km from the Coimbatore railway station.

address: 56 Sivasamy Road

Kanimani lodge

phone: +91-0422-2526343, +91-0422-3042525

address: 427, 100 Feet Road Gandhipuram Coimbatore

Near bus stand, five minutes walk to cross cut road. Well maintained and good service.

Railway Retirement Room

address: inside railway station
Splurge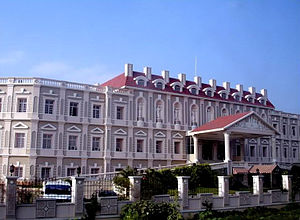 There any many 4 and 5 star hotels in Coimbatore, including:
Stay safe

Coimbatore is safer than other cities in Tamil Nadu. Beware of pickpockets at bus stands. While travelling by bus, keep your valuables safe.

Go next
Picnic spots
Coimbatore is surrounded by hill ranges and hence several picnic spots for day trips exist. Some of them are: Kovai Kutrallam waterfalls (45 km), Monkey falls (75 km), Athikadavu stream (40 km), Kallar river banks (55 km), Topslip town (90 km), Malampuzha dam (60 km), Thirumurthy waterfalls near Udumalpet(65 km), Dhyanalinga Yogic temple and Isha Yoga centre (35 km), Velliangiri hill temple (37 km), Marudhamalai hill temple (20 km), Vydehi waterfalls (35 km), Bhavani Sagar (55 km), Kodiveri (75 km) and Karunya (32 km). Most of them are not very well known to outsiders and if you go on a working day, the tranquility would be an added advantage. And most of these roads are good, compared to Indian standards.
Other places
Mysore A city of palaces and gardens
Botanical Garden opposite to Tamil Nadu Agricultural University, Coimbatore, on the way to Marudhamalai temple.
Crocodile Park in Amaravathi is near Udumalpet (65 km). There is also a dam nearby.
Hill stations are Ooty (80 km), Valparai near Pollachi has sightseeing and picnic spots, Kodaikanal (180 km).
Sanctuaries are Mudumalai Wild Life Sanctuary(150 km), Anamalai Wildlife Sanctuary(100 km), Top Slip.
Silent Valley national park inside Kerala is just one hour's drive from Coimbatore.