Colico
Colico
(
Colic
in lariano-colichese) is a city in
Lombardy
. Located between the two Montecchios, at the border of the provinces of Lecco, Como and
Sondrio
, it's
Lake Como
's fifth largest town by population with 7,809 inhabitants. The town is well-known for the famous
Piona Abbey
, a sublime architectural complex of the first Romanesque. Colico is also cited by the illustrious writer Alessandro Manzoni, as the first place hit by the plague. Furthermore, it is well-know with others for its monuments like
Fort Montecchio
and
Fort Fuentes
. The town recently played host to the famous musical event
Musica sull'Acqua
(Music on the Water).
See
phone: +39 0341 940331

address: Via Abbazia di Piona, 55

A real monastery with 11th-century church, 14th- and 15th-century frescoes in the cloister.
Do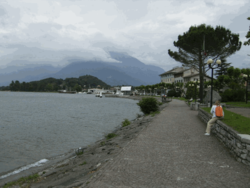 Windsurfing & Kite Surfing
There are two windsurf- and kitesurf-spots in Colico. The best is north of Colico train station. A small creek deliminates the windsurf- from the kitesurf spot. Until around 1PM there is gentle breeze from the south without any waves, excellent for beginners. In the afternoon there is good north wind. There is good infrastructure (toilets, showers, restaurants and a gelateria). The beach itself is big with some shady places under the trees. Although the place gets crowded especially during the weekends, there is always enough place for everybody, even with all their equipment. For renting equipment see next section under Sun of a Beach.
The much smaller surfspot is at the Lido, south of the pier. For more information about rentals go to Bit of Salt in the next session.
Rent Windsurfing equipment
Son of a Beach (owned by Nautica & Sport SNC) offers windsurfing lessons for beginners in the morning (09:30). Price for 3 hours in groups of 4 to 6 including all equipment (including board, sail, wetsuit, lifejacket) is €55.
Please be aware the price listed on the website does not include the almost compulsory insurance of €5. Unfortunately the staff is not very friendly. The equipment is rather old.
The cheaper option is Bit of Salt, which is located in the Lido. They have less equipment, but most of it is very recent. The staff is very supportive and extremely friendly.
Buy
Grocery shopping
There are several small shops in town.
A big supermarket, Iperal Fuentes, including approx 50 shops are in the industrial zone. The supermarket can either be reached by private car or with a shuttle bus leaving Monday and Wednesday at 15:55 at Colico trainstation and returning 18:00 from Iperal Fuentes. At Thursday and Friday the bus leaves at 14:55 and returns 17:00.

Go next