Collingwood (Ontario)
Collingwood
is a town of 22,000 people (2016) in
Simcoe County
,
Ontario
.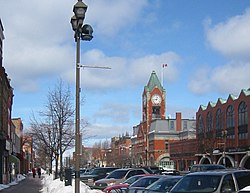 Understand
Collingwood sits on the southern shores of Georgian Bay close to Blue Mountain, a promontory of the Niagara Escarpment. The town is a major recreation area for the southern part of the province. Blue Mountain is noted for skiing, and also for its scenic caves. The town is a short distance from the popular Wasaga Beach Provincial Park, a destination that received the title of Biosphere Reserve in 2004.

History
The land in the area was first inhabited by the Iroquoian-speaking Petun nation, which built a string of villages in the vicinity of the nearby Niagara Escarpment. They were driven from the region by the Iroquois in 1650 who withdrew from the region around 1700. European settlers and freed Black slaves arrived in the area in the 1840s, bringing with them their religion and culture.
Collingwood was incorporated as a town in 1858, and was named after Admiral Cuthbert Collingwood, Lord Nelson's second in command at the Battle of Trafalgar, who assumed command of the British fleet after Nelson's death.
The area had had several other names associated with it, including Hurontario (because it lies at the end of Hurontario Street, which runs from Lake Huron — of which Georgian Bay is a part — south to Lake Ontario), Nottawa, and Hens-and-Chickens Harbour, because of one large and four small islands in the bay.
In 1855, the Ontario, Simcoe & Huron (later called the Northern) Railway came into Collingwood, and the harbour became the shipment point for goods destined for the upper Great Lakes ports of Chicago and Port Arthur-Fort William (now Thunder Bay). Shipping produced a need for ship repairs, so it was not long before an organized shipbuilding business was created. In 1883, the Collingwood Shipyards opened with a special ceremony. The shipyards produced Lakers and during World War II contributed to the production of corvettes for the Royal Canadian Navy. Shipbuilding was one of the principal industries in the town, employing as much as 10% of the total labour force. However, overseas competition and overcapacity in shipbuilding in Canada led to the demise of shipbuilding in Collingwood in 1986.
The creation of government incentive programs and a fully serviced industrial park made it possible for Collingwood to attract new manufacturing firms to the town in the 1970s and 1980s, but it's industrial base had since eroded.

Get in
By car
Collingwood is easily accessed by taking Highway 400 North to Barrie and following Highway 26 West for about an hour directly into Collingwood. There are also other routes that avoid having to drive through Barrie and also more direct routes from Toronto's west end.
By plane
Collingwood Airport (CNY3) is a medium-sized airport about 4 miles (7.4 km) south of the town.
By bus
Get around
By bus
Colltrans
, Collingwood's transit service that operates daily. Its three regularly scheduled transit routes pick up every thirty minutes at the terminal on the corner of Second Street and Pine Street adjacent to the municipal parking lot at 100 Pine Street. It also has hourly service to Blue Mountains 7AM-8PM) and Wasaga Beach (6AM-8PM) from the Colltrans terminal.
Bus service operates on all days except statutory holidays. Buses are fully accessible and can be used for wheelchairs, motorized scooters, and strollers. The buses are all equipped with a passenger side access ramp which is available for use upon request as well as Q-Straint securement. All buses are outfitted with bike racks.
Fares: adults $2.00, seniors/students $1.50, children (5 & under) free.
Collingwood/Blue Mountains link and Collingwood/Wasaga Beach link: $2.00 (all riders).
See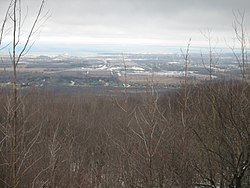 Historic Downtown Collingwood is a great place to go for a stroll in the summer and have breakfast or lunch at one of the many outdoor patios available.
Collingwood Harbour was a major shipping port in the 19th and early 20th centuries. Most of the shipping traffic from the west ported in Collingwood where cargo was loaded onto trains and transported to Toronto. It was also a major site for manufacturing of ships up until the late 20th century. Since the demise of the shipping industry in Collingwood, the harbour has been turned into a great park and the original grain elevators are still standing.

address: 45 Saint Paul St

It documents much of Collingwood's history including the settlement of the area and the importance of the shipping industry. Popular curiosities include a razor-sharp bill from a sawtooth shark and a twisted piece of metal recovered from the Halifax Explosion. There are paintings by local artists who trained under the Group of Seven, and a 140-year-old statue carved by Sir Sandford Fleming's brother. Exhibits range from the evolution of local business and industry to the region's First Nations people. Photographs of Great Lakes vessels, Collingwood's historic homes, downtown, and early industries are amongst the most popular items.
St. Mary's Church, 63 Elgin St, was built in 1858. Fully wheel chair accessable.
Do
Blue Mountain, an all seasons resort located within a 10-minute drive east of Collingwood. Blue Mountain is a popular destination for skiing and snowboarding in Ontario. There are also activities available during the summer, including a water park and golfing.

address: 260 Scenic Caves Rd, Blue Mountain

A labyrinth of caves and two zip lines open May to late October. Ontario's longest pedestrian suspension bridge. Hiking in the summer, skiing in the winter. Log cabin for rent.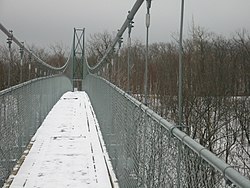 Snowmobiling: there are many great spots to snowmobile in and around Collingwood. Trail maps are available.

Theatre Collingwood at the Gayety Theatre

address: 161 Hurontario Street

An old-style theatre in downtown Collingwood. A variety of plays, comedy acts, and musical performances are held at the theatre year-round by .
Golfing: there are many golf courses in and around the Collingwood area including Monterra golf course at Blue Mountain, Cranberry golf course at Cranberry resort, Osler Brook golf and county club located just south of Collingwood, Batteaux Creek, and Duntroon Highlands.
Biking: there is a great network of trails that runs throughout the town, many are along the old rail lines. The Bruce Trail runs along the entire waterfront and continues west for many kilometres. A great bike trip is to bike west along the Bruce Trail to Thornbury and back (approx. 50km) or to Meaford and back (approx. 70 km). The Bruce Trail runs right through downtown Thornbury and downtown Meaford where a great waterfront is available for picnics or to take a rest before heading back.
Sunset Point is a beach at the northeast end of town and is a great place to sunbathe, swim, and relax in the summer. Sunset Point Park is adjacent the beach and is great for kids.
A rail trail runs along the former Barrie Collingwood Railway section of what had been the Ontario, Simcoe and Huron Union Railway, connecting Collingwood to the towns of Owen Sound and Barrie, with a spur heading north through the town's central business district, to the large grain elevators at the downtown wharf, where trains would load and unload onto ships.
Collingwood is also known for its annual week-end Elvis Presley festival, which attracts Elvis impersonators from the world over in late July of each year.
Buy
Skiis and Biikes, The Ski Shop, and Fathom are specialty ski and snowboard shops along First Street in Collingwood where equipment and clothing can be rented or purchased.
Sanfilippo's wholesale fruit and vegetables is on Peel Street and has been in business since 1953. It is open all year and is a great place to pick up fresh fruit and vegetables for barbecues, parties, or get-togethers.
Little Ed's Bike Shop is a good place to buy biking equipment or to stop in for a tune up.
Eat
Drink
Molly Blooms and Moguls are two bars frequented by locals and visitors. They are across the road from each other on Second Street near the main street and are always hopping.

address: 139 Hurontario Street

Baristas serving espresso, latte, cappuccino, etc. Freshly baked goods made daily on-site. Panini lunches too. All in a registered Heritage Building, Collingwood's first brick post office.

phone: +1 705-293-5511

address: 200 Mountain Road

Canadian Brewing Awards & Conference 2016 Brewery of the Year.
Sleep
address: 796468 Grey Rd

Luxury suites offering full kitchens, Jacuzzi tubs, fireplaces and private decks, which provide affordable luxury for a business meeting, holiday, family vacation, romantic getaway, spa retreat, or weekend getaway. Amenities include heated year round pool, hot tub, tennis court, and ski-in/ski-out mountain access in winter time.
Cranberry Resort is a large resort development at the west end of Collingwood. A main inn has rooms available for reasonable rates, or for a longer stay, many privately owned condominiums are available for rent. Cranberry golf course and driving range are adjacent the resort, and on the north side of Highway 26, Cranberry Marina is on the shoreline of Georgian Bay

phone: +1-705-444-1880

address: 15 Cambridge Street

Free Wi-Fi, free breakfast, onsite parking, indoor pool, fitness centre.

phone: +1 705-441-2235

address: 29 Findlay Dr

Findlay House has a private tavern style bar, media room and a stone fireplace. Shared bathrooms.

address: 796468 Grey Road 19

This four-seasons resort offers a variety of fully furnished vacation rentals including ski-in, ski-out condos, luxury chalets, townhomes, suites, and cottage-style accommodations in the Blue Mountains/Collingwood, Ontario area.
Go next

Highway 26 will take you east to Barrie or west to Owen Sound. Highway 124 or Airport Road (via Stayner) will take you south to the Toronto area.