Collinsville (Illinois)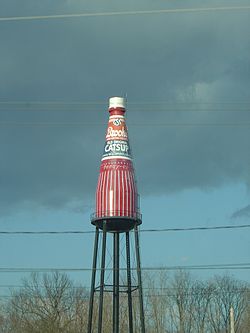 Collinsville
is a city in
Southern Illinois
in the
Saint Louis Metro East
area. It is the "Horseradish Capital of the World": 85 percent of the world's horseradish is grown in Collinsville and the surrounding area. It is also the home of
Cahokia Mounds State Historic Site
, a
UNESCO World Heritage
.
Understand
Collinsville is a small city and is a suburb of St. Louis in the Metro East. It is roughly in the middle of a string of towns extending from Edwardsville to Belleville. The city consists mainly of the original town on the river bluff and an expansion built up around I-70 at the base of the river bluffs. This part has all/most of the major restaurant chains, hotels, and several "big box" stores. You will also find the
Gateway Conference Center
in this area.
Up on the bluff you will find the older part of the city. It is largely a white, blue-collar midwestern town. It has more of a small-town feel than a suburban feel. The original downtown is called
"uptown"
to differentiate it from the newer commercial area by I-70. Although it was run-down for the past few decades, "uptown" is being revitalized.
Collinsville is located at longitude 90W, making it one quarter of the way around the world from Greenwich.
Climate
The
Mississippi River
makes this area humid, though temperatures are generally moderate. Storms can occur at any time of the year. July and August are hottest and most humid, and January and February are cold, with occasional snow. Average temperatures range from 21°F in the winter to 90°F in the summer (-6°C to 32°C), but summer highs of 100°F and winter lows of 0°F are not uncommon (38°C and -18°C).
Get in
Most people will arrive by car via I-55/70.

Get around
Most people will get around by car.
MCT
provides bus service in the city.
See
phone: +1 618-344-8775

address: 800 S Morrison Ave

Collinsville is home to the world's largest catsup bottle. At 170 ft (50 m) tall, it would hold 100,000 gallons (over 375,000 L) of catsup, or water. Souvenirs available downtown at Ashmann's Pharmacy, 209 East Main, Collinsville and online at catsupbottle.com.

phone: +1 618 345-4300

address: 9301 Collinsville Rd.

Horse race track. Live racing several days a week during season, usually late April through August. Simulcast racing from other tracks year round.

City Museum
Do
Collinsville has a variety of festivals throughout the year including:
Horseradish FestivalHeld in early June each year. Events include a root toss, a horseradish-eating contest, horseradish recipe contest, Bloody Mary contest, and Little Miss Horseradish.

Italian Festival

World's Largest Catsup Bottle Festival

address: 800 South Morrison Ave

Held annually in July. Events include catsup taste test, hotdog eating contest, Little Miss Tomato and Sir Catsup.
Buy
There isn't much in the way of shopping in Collinsville. There are a handful of retail stores in "uptown" and a couple of big box stores in "downtown". Most people in Collinsville will drive to
Fairview Heights
to shop.
Eat
address: 4 Commerce Dr

BBQ.

Bob Evans

address: 600 N Bluff Rd

American cuisine. Friendly staff, plenty of light, lots of ice tea: a good place to relax and recover after touring Cahkia Mounds.

Ramon's Eldorado Restaurant

address: 1711 Saint Louis Road

Traditional Mexican. Visiting archeologists eat here.

Smoke Pit Bar-B-Que
Most major chain restaurants and fast food franchises are represented in Collinsville, primarily in "downtown" around I-70.
Drink
There are several bars mainly concentrated in "uptown" Collinsville some are more upscale and some are dives.
Some of the better establishments are:
The Fifth Quarter - a sports-themed bar & grill.
Friday's South - a bar & grill.
Johnny's Sidebar - a wine bar.
Sleep
You'll find most major hotel chains around the Gateway Conference Center.
Doubletree Hotel

address: 1000 Eastport Plaza Dr

Formerly Holiday Inn.

Drury Inn

address: 602 N Bluff Rd
Go next
Cahokia Mounds State Historic Site, site of the largest Native American city north of Mexico from centuries ago.

phone: +1 618 482-2400

address: 700 Raceway Blvd, Madison, Illinois

Hosts automobile, truck, and hot rod races sanctioned by NASCAR, ARCA, USAC, and NHRA.