Cologne
Cologne
(German:
Köln
, Ripuarian:
Kölle
) is a city on the Rhine river in
North Rhine-Westphalia
. It is the fourth largest city in
Germany
with around one million residents. It is one of the nation's media, tourism and business hotspots, and is considered one of the most liberal cities in Germany.
Cologne has a rich history, reaching back to the time of the ancient
Roman Empire
, when it was founded. It has remained a constantly inhabited important regional centre since. Compared to other German and European cities, the ancient and medieval Cologne was relatively large, covering most of the modern-day city centre. A wealth of architectural heritage can therefore be found across the city ranging from pre-Christian times to strikingly modern buildings, with a high concentration of Romanesque and Gothic architecture, culminating in the magnificent cathedral (
Dom
).
Cologne is, however, not only a tourist destination, but on an equal note a major economic centre, a globally important trade fair location, a culture and media hotspot and a major transportation hub. This equal mix of roles and functions is permeable throughout the city and provides it with a constant inflow of various visitors, as well as a very diverse population mix. This all culminates during the traditional Karneval, and makes Cologne one of the most-visited destinations in Germany.
Understand
Orientation
Cologne lies on both sides of the river Rhine, which flows through it in a northerly direction. The left hand, or western side, is Cologne proper with the Old Town (
Altstadt
), the famous cathedral and most landmarks and museums. The right side, or eastern side, used to be a separate town called
Deutz
- now
Deutz
is a neighbourhood of Cologne.
Cologne is divided into 9 districts (
Stadtbezirke
), numbered from 1 to 9.
Stadtbezirk 1
, called
Innenstadt
("inner city"), is probably the one most tourists will spend all of their time in, as it contains most of the city's points of interest. It is also the only district that lies on both sides of the Rhine, as it includes Deutz. Districts 2, 3, 4, 5 and 6 are on the western bank of the Rhine, and districts 7, 8 and 9 on the eastern bank, surrounding the Innenstadt.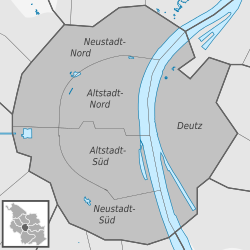 Every
Stadtbezirk
is further divided into
Stadtteile
(literally "city parts", or "neighbourhoods"). The
Innenstadt
includes
Altstadt-Nord
and
Alstadt-Süd
, two parts of the historic Old Town of Cologne facing the Rhine, divided by the
L111
thoroughfare running from east to west (with the street names Cäcilienstraße – Neumarkt – Hahnenstraße), starting at the
Deutzer Brücke
(bridge over the Rhine). The Altstadt is surrounded by a ring of wide avenues running over the former city walls of Cologne. They all have street names ending with the word
Ring
.
The part of
Innenstadt
lying on the outer side of the ring is the
Neustadt
, or "new town". Neustadt is further divided into
Neustadt-Nord
and
Neustadt-Sued
, also separated by
L111
(
Aachener Straße
). Both parts of the Neustadt form a crescent embracing the Altstadt and reaching the Rhine on either side thereof. Finally, facing the Altstadt and Neustadt on the other (eastern) side of the Rhine is the
Stadtteil
of
Deutz
, which completes the
Innenstadt
.
History
Cologne is one of the oldest cities in Germany, having been founded and established in the 1st century AD, as the Roman
Colonia Claudia Ara Agrippinensium
. "Cologne" is the French version of the city's name, which has become standard in English as well. It has a traditional, strong rivalry with the neighbouring city of
Düsseldorf
, the capital of North Rhine-Westphalia, although this is mostly manifested by a number of jocular references made to one another in both cities and constant bickering as to whose local beer is best (in Cologne, it is obviously
Kölsch
). It was Germany's largest city at several points in history and for most of the Middle Ages it was the only place that would even register as a major city population-wise by modern standards. Today it is the fourth biggest city in Germany (after Berlin, Hamburg and Munich) and the biggest that is neither city state nor state capital. Its population is around one million people.
Climate
The climate of North Western Germany is changeable, with seasonal changes and day-to-day weather often comparable to that of the
England
or
Northern France
. Travellers to Cologne can expect the hottest time of the year to be late July/early August, the coldest is January (temperature hovering around the freezing mark) and the month with the most rainfall is June.
Tourist office
phone: +49 221 2213-0400
address: Unter Fettenhennen 19
The Cologne Tourist Office offers a wealth of information for the traveller who wishes to fill their itinerary with activities around the city. Ask about guide books that are available, most of which provide information for free.
Talk
The distinctive flavour to the city of Cologne is often linked to the city's inhabitants, or
Kölsche
, who take an enormous amount of pride in their city. Cologne is a traditionally Ripuarian-speaking city, though this has mostly been replaced by standard German, which is now the main language of the city. English-speaking guides and information are available for many of the landmarks of the city. For tourists who speak German and wish to practice it, the citizens usually have a lot of patience with those trying to come to grips with the language. Cologne's citizens are very friendly and jovial people, welcoming tourists of all types and with all interests.
German
is of course the language of this city but it is very easy to find information in
French
and English, also sometimes in
Spanish
and
Japanese
. Due to a large number of immigrants,
Persian
,
Turkish
,
Polish
and
Russian
are also widely spoken. Announcements in the main train station (
Hauptbahnhof
) are in German, French and English. Like many German cities and areas, Cologne also has a local dialect, called
Kölsch
, however all speakers will also be familiar with German.
Away from the landmarks, workers of the Deutsche Bahn (German railways) often speak English reasonably well, and ticket machines have a language selection feature. In general, older people in Cologne tend to have little or no knowledge of English, while younger Germans and those working in the business world tend to be more proficient. Language is rarely a strong barrier, so this should not be much of a worry for the average tourist. Just approach a friendly native with a smile on your face.
Get in
By plane
Getting there:
# The airport is approximately 15 minutes by
S-Bahn
S13 (local train) to the centre of Cologne. S-Bahn fare (ticket zone 1b) is €3 one-way (Jun 2019). To get to the airport take lines S19 (Düren Bf), RE6 (Minden Hbf), RE8 (Mönchengladbach Hbf).
# Alternatively, get
bus #161
which departs from Porz Markt (main Rail station) every 30 – 60 min from 04:59 to 23:30, travel time is 15 min and costs €3.
Düsseldorf International Airport (DUS), The Düsseldorf airport offers many intercontinental connections. A train ride from the airport train station to Cologne central station takes about 40 minutes. IC and ICE trains on this route cost €16-€23, but offer no real time savings over the humble Regional Express (RE) trains, which require only a regional transit ticket (Price zone / Preisstufe 5; €11.90 as of Oct 2019). The Deutsche Bahn journey planner will show you your options.
Frankfurt Airport (FRA), is the largest airport in Germany, served by all major international airlines. ICE (InterCityExpress) high speed trains connect Frankfurt Airport and Cologne central station in less than one hour. Standard one-way fare is €67 by ICE. However there are many reduced fares available if you order in advance with prices starting as low as €19. If you pay full price you do not have to take a specific train, but discounted tickets are restricted to the train on your reservation. Trains via Koblenz, which use the slower, yet extremely scenic route along the Rhine Valley are also 30% cheaper. The ICE train takes about one hour, the slower more scenic route takes about two hours.
By train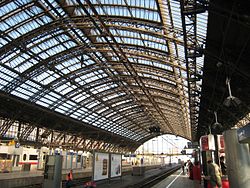 Cologne is served by two major train stations:
address: Ottoplatz 7, 50679 Köln
Cologne is linked with
Amsterdam
,
Brussels
, and
Paris
by
Thalys
and ICE
high speed trains
.
The
Frankfurt
airport (
FRA
) has direct service to Cologne and is within one hour by ICE trains.

By bus
Long-distance buses cannot stop in the center of Cologne. The main long-distance bus stations serving Cologne are at the train station Leverkusen Mitte (20 minutes by S-Bahn from/to Cologne Hauptbahnhof, check if you need to pay a fare on top of your long-distance bus ticket) and at Köln Bonn Airport. You can compare travel time and costs for various modes of transport on various websites.

By car
Cologne requires all cars to have a "Low Emissions" sticker in order to drive around in the city centre Low Emission Zone ("Umweltzone"). Information on obtaining a sticker (which must be done at least several weeks in advance) is available here. There are very few exceptions and even electric cars or foreign cars have to get the sticker.
Autobahns A1, A4, A3, A57, A555 lead to Cologne. During rush hour the streets are heavily congested, also due to massive construction of a new subway tunnel Nord-Süd Stadtbahn, crossing half the city centre.
For cheap parking, with quick connections to central Cologne, use park and ride ("park und ride"). At some stations, parking is free when you present a validated transit ticket on exit.

Get around
By public transport
Cologne has an excellent public transport network consisting of trams, local trains and buses. Bicycles are also available for hire on the northern side of the
Hauptbahnhof
. Local transport systems rarely provide announcements in English, but network maps are commonly available to assist with your journey. Those wishing to explore areas away from the central city should plan their journey and potential connections before leaving. The
KVB (Kölner Verkehrs-Betriebe) website
is a good source of public transport information.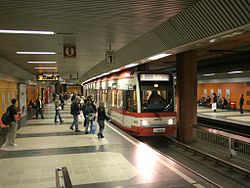 Tickets
are valid for subway, tram and regional train within the VRS-network. Trips within the city limits require zone 1b tickets (2019: single €3, 4-trip-ticket €12, day ticket €8.80, day ticket for up to 5 people €13.40), week ticket €26.30. For short trips of up to 4 stops on subway, tram or bus there is also the slightly cheaper "Kurzstrecke" (short trip ticket, 2019: €2.00). They offfer
mobile app
, which allows buying tickets with 10% discount. A map of the network can be found at most stops, inside all vehicles (check ceilings, back entrances) and
online
.
Cologne's
subway and tram-system
, or U-Bahn, is a mixture of systems: a subway line can go on street-level and end up as a tram or vice versa. There are vending machines or ticket-offices at larger stations The trains and buses also have vending-machines. See the public bus, tram and subway-company
KVB
for printable maps of the bus/tram/subway system and
here
for their official street map (
also found here
) of Cologne.
Regional trains
are known as "S-Bahn", "Regional-Bahn" and "Regional Express". Most of them don't have ticket vending-machines so remember to buy a ticket at the station.
Student travel:
Student travel (age 20 or less) can be very cheap to and from Cologne, as well as around the
Land
of North Rhine-Westphalia. The German rail company (DB: Deutsche Bahn) offer a 'SchöneFerienTicket NRW' during student holiday times and allows free travel throughout North Rhine-Westphalia on local buses, trams, U-Bahn, S-Bahn and regional trains. Prices range from around €54 for summer holidays to €25.50 for Easter holidays, but prices and times change from year to year.
These tickets are available to anyone with valid student identification (student union card, enrolment card, etc.) and personal identification (passport, driving licence, etc.) The ticket is only valid for the student holiday dates of North Rhine-Westphalia and the ticket is not valid for high speed express trains. Visit/contact
Deutsche Bahn
for more information before travelling to Germany.
By bicycle
Cologne has, like
Berlin
,
Munich
and
Frankfurt
, a
Call A Bike
- system. After you register for an account on-line, it will charge your credit-card a per minute fee. You can pick up or drop off one of the silver-red bikes anywhere in the city. It is also possible to rent a bike at many places; by bike is maybe the best way to go around in the city.
By foot
But, on the whole, the centre of Cologne is not
that
big for a city of one million. It is entirely feasible to walk from one end of the centre, say, the Rudolfplatz, to the other end, say, the Cathedral, in half an hour.
See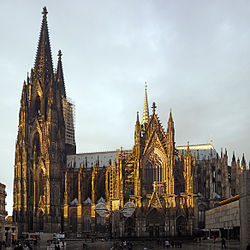 Historical attractions
Kölner DomA UNESCO World Heritage site. It took over 630 years to complete this monumental cathedral. In 1880 the cathedral was finally consecrated. Cologne's Dom is the first sight you will notice when taking the main exit from the central station. (If you don't see it, you've taken the back exit.) If you are in good shape, take the 509 stairs to the top of the south tower. It takes about an hour, so wear comfortable shoes, but it's worth the hike. Touring the cathedral is forbidden during Mass.
Basilica of St. CunibertWonderful stained glass windows.

address: Im Ferkelum 29

The oldest Christian foundation in Cologne.

St. Maria Lyskirchen

Basilica of the Holy Apostles

address: Gereonsdriesch 2

The originality of this church lie in its elliptic floor plan and the addition, in 1220, of a decagon between its towers

Basilica of St. Ursula

address: Am Panteleonsberg 2

address: Marienplatz 19

address: An Groß St. Martin 9

St. George's Church

St. Cecilia's Church

address: Cäcilienstraße 29

today Museum Schnütgen
phone: +49 221 921-5600

address: Roonstraße 50

The synagogue is notable for its architecture that looks, well, right out of Gotham City. The Torah within the synagogue was rescued by a Catholic priest from another synagogue as it was being burned during Nazi rule. In August 2005 Pope Benedict XVI visited the synagogue; he was the second pope to ever visit a synagogue.
Historisches Rathaus

PraetoriumAn accessible archaeological site with the ruins of the ancient Roman Praetorium of Colonia.

Gürzenich dance hallThe Gürzenich is a municipal concert hall and multi-purpose festival hall
Remains of city walls and fortifications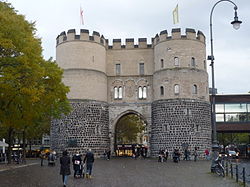 ruins of Roman city walls and two towers

NordtorRuins of Roman city wall gate

Ruins of Middle Ages city walls and towers
Eigelsteintorburg

Hahnentorburg

Ulrepforte

Severinstorburg

Bayenturm
Ruins of a small gate
Malakoffturm
Veedel - City Quarters
Cologne is well known for its "Veedel" or traditional neighbourhoods.
Agnesviertel – Here, most notably in the bohemian Agnesviertel, you can find independent designers, bookshops, bars, and art galleries. There are also historical monuments, such as the North City Gate or Eigelsteintorburg in the Agnesviertel, very near to Fort X, built to protect the city from French attacks, and Agneskirche, a late neo-gothic church on the boulevardesque Neusserstraße. Neusserstraße also has a yoga school, an Aikido school, a Japanese restaurant, a well-stocked bookshop, and a range of pubs. Nearby you will find the Alte Feuerwache, where there are regular exhibitions on political topics and a surreal flea market every four weeks in summer. Opposite Alte Feuerwache is the Artclub, with regular exhibitions of contemporary art, and on Ebertplatz there is a cinema (Metropolis) which shows films in the original (mostly English, but sometimes also French or Spanish). On nearby Lübecker Straße, you will find the uncompromisingly Arty Filmpalette cinema. To round off a trip to the Agnesviertel, you might like a kölsch in the Lapidarium (right beside the North City Gate) or a coffee in Cafe Schmitz, Cologne's grooviest poser hangout (they also do a great breakfast.) All of these great places are within a short walk of Ebertplatz U-Bahn.
Eigelstein – around the Eigelsteintorburg, U-Bahn "Ebertplatz"
Martinsviertel / Altstadt – Old town between Rhine, Heumarkt, Alter Markt and Dom, (Cologne Cathedral), U-Bahn "Rathaus" or "Heumarkt"
Severinsviertel and Südstadt – around the Severinstorburg, U-Bahn "Clodwigplatz"
Kwartier Latäng – This student neighbourhood takes it name from the Parisian Quartier Latin. It is centered around the Zülpicher Straße and provides ample nightlife opportunities, ranging from a night shop with dancefloor and toilets (Späti), to grimy indie bars. Middle Eastern food is also easy to be found here, including the famous and very popular Habibi. The neighbourhood can be accessed throughStadtbahn "Zülpicher Platz"
Belgisches Viertel – Stadtbahn "Moltkestraße"
Ehrenfeld – U-Bahn "Körnerstraße"
Other attractions
Hohenzollern BridgeAlso called the Locking Bridge. If you walk to the back of the Kölner Dom along a straight path, there is a bridge on the Rhine to your right that is covered in padlocks. The locks are placed there by couples to show their loyalty to each other. Couples often have their names and a significant date inscribed on the locks. There are other places around the world that have "love padlocks".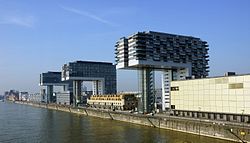 RheinauhafenThis completely rebuilt area combines modern extravagant architecture with historical harbour buildings. The old Rheinauhafen opened in 1898 and became necessary due to increasing amount of freight traffic. The new Rheinauhafen is a mix of office buildings and apartment buildings and gastronomy. On a peninsula of the Rhine (1 km southern of Heumarkt) it is an invitation for a beautiful walk along the river or for having lunch or dinner. Also see the separate itinerary article for a walking tour.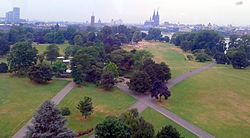 Parks: Cologne has two park areas (Grüngürtel) encircling the city (immediately outside the medieval city limits) and nearly the entire town, respectively, which were set aside as public recreation areas after World War I. The inner Grüngürtel is probably more easy to reach for tourists who only stay a few days. Most notably are Volksgarten, Rheinpark, Hiroshima-Nagasaki- (colloquially known as Aachener-Weiher-) and Stadtgarten parks where thousands of people come together to enjoy the sun, play and barbecue when the weather is fine. All these parks have an associated beer garden. Dispose any packaging, charcoal, etc., into the waste bins (which are few and far between), as the city has begun to employ anti-littering patrols that will levy a stiff fine on anyone seen littering. Metro: Eifelplatz for Volksgarten, Universitätsstraße for Hiroshima-Nagasaki-Park, Hans-Böckler-Platz/Bahnhof West for Stadtgarten, Bahnhof Deutz for Rheinpark.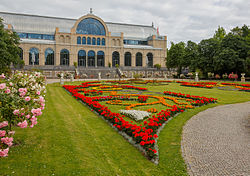 Flora and Botanical Garden

address: Riehler Straße
Museums and galleries
Cologne has one of the world's best collections of museums and galleries for a city of its size. As well as world class museums of art and archaeology, Cologne boasts two museums of ecclesiastical art, both housed in architecturally stunning buildings. There is also an ethnographic museum, a chocolate museum, the German Sport Museum and an abundance of Roman remains.
One can purchase a
MuseumsCard
from one of the municipal museums (such as the first five listed below). The single card cost €18, the family card, which costs €30, entitles 2 adults and 2 children (under 18) free admission to each of the municipal museums during two consecutive opening days. On its first day of validity, it can also be used as a ticket on all buses and trams on the Cologne transportation system VRS. Card is valid in the following museums: Museum Ludwig, Museum für Angewandte Kunst Köln, Wallraf-Richartz-Museum & Fondation Corboud, Museum für Ostasiatische Kunst, Museum Schnütgen, Rautenstrauch-Joest-Museum - Kulturen der Welt, Kölnisches Stadtmuseum, NS-Dokumentationszentrum.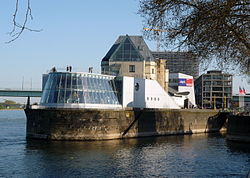 Südstadt
OverstolzenhausOne of the oldest houses in Cologne, built between 1220 and 1225, with an impressive romaneque façade. Built as a residence for a local patrician, today it houses the Academy of Media Arts.

Kunsthaus LempertzThe famous German art merchants and auctioneers, founded in 1845 (although the building is from 1952, reconstructed after the Second World War).

Postamt

address: Dreikönigenstraße 23

The former post office built from red brick in 1906 is now used as a theatre.

WasserturmThe former water tower built in 1868-1872 is now used as a luxury boutique hotel. The 11th floor (at 35 metres) houses a terrace and glass covered dining/meeting room, which can be rented out for private functions.

WolkenburgThe baroque estate was built in 1734 for a benedictine convent, but is used today by the 190-man choir Kölner Männer-Gesang-Verein Cäcilia Wolkenburg. It is also an event centre.

SeverinsbrückeCompleted in 1959, the cable-stayed bridge provided a relief for the Deutzer Brücke. Although not outstanding visually as such, it provides a nice view of both banks of the Rhine if you care to walk it.
Churches and other religious buildings
KartäuserkircheThe church belonged to the local charterhouse (a monastery of the Carthusian order) until 1794, when the monastery was closed and the church was used variously as a warehouse or a military hospital until the 1920s, when it was restored to its religious function by a local protestant community, whom it serves as a church until today. After reconstruction, it features an impressive pipe organ array with glockenspiel.

DreikönigenpförtchenOne of the best-hidden gems of Cologne, the small yet ornate gothic gate once led to an "immunity" belonging to the convent based at the St. Maria im Kapitol.

St. Gregorius im ElendNeobaroque church from the early 19th century.

St. Johann BaptistThis Catholic church is one of the oldest in Cologne, predating even the famous romanesque churches, as it was founded in 948. It has seen many additions and reconstructions throughout the centuries, and was almost totally destroyed during the Second World War. Its current form is an eclectic reconstruction finished in the early 1960s.

Former franciscan convent with St. Marien churchNested inconspiciously between contemporary residential buildings is this impressive complex with gothic-inspired decorations

St. Peter church

address: Leonhard-Tietz-Straße 6

The lesser-known next-door neighbour of St. Cäcilien

St. Maria vom Frieden church and conventBaroque convent complex from the 17th century.

Trinitatiskirche

address: Filzengraben 6

This 19th-century evangelical church provides both regular religious services and serves as a venue for various cultural, especially musical, events.
Deutz
Dominated by two very utilitarian land uses, the fairgrounds in the north and the actually functional freight harbour of Cologne in the south, Deutz is not without long history and much heritage and charm in its built environment as well. While the left Rhine bank is clearly the dominant one in Cologne, Deutz is where you can get the best views of it across the Rhine, and this is a reason alone to cross the river and get there, but by far not the only one.
phone: +49 2234 9921-555

address: Ottoplatz 1

The Köln-Triangle is a high rise building in Deutz, immediately by the waterfront. It is a part of a building complex fronted by the Rhine-facing Hyatt hotel and is hard to miss due to its prominence and quite easily accessible from both Deutz and the left bank of the Rhine (simply cross the Hochenzollern bridge from the Altstadt). On its 29th floor, it has a viewing terrace called Panorama, which is publicly accessible via a lift for a relatively reasonable fee. The terrace has glass all around it for both safety purposes and for exhibiting the names of various landmarks you can see from it. If you want to take really good photos, you may want to have a piece of cloth with you to clean the glass of fingerprints and such. The viewing terrace is closed during bad weather (like storm or hail).

Tanzbrunnen

Rheinpark

Alt St. Heribert

Neu St. Heribert

Jewish Cemetery

maxCologne

Lanxess Arena

Koelnmesse

Rheinhallen

Messeturm Köln

Bahnhof Köln-DeutzThe historic building of the station now known as Köln Messe/Deutz is an interesting piece of architectural heritage many visitors to Cologne miss as they exit the station on the fairgrounds side.

St. Johannes church

Düxer Bock

Cuirassier Monument

Deutzer Drehbrücke

ESSO Station An der KölnarenaYou may wonder what's so special about a gas station, but you will understand once you see its 1950s architecture with the unique structured roof and learn that it is the oldest gas station in Cologne in continuous operation.

Deutzer FreiheitThe main shopping street of Deutz, with not only retail opportunities but also many historic buildings along the way.
Itineraries
Do
Cologne's strong side is its cultural life. For latest information on what is happening around in town, get the
StadtRevue
for €2,
Kölner
for €2 or
Live
for free.
Karneval The biggest festivity in Cologne is the Winter carnival (or Fastelovend) in February. According to the official Cologne tourism website, "Its highlight is the street carnival taking place from Weiberfastnacht (the Thursday before Ash Wednesday, traditionally the day on which women take control of the city) to Karnevalsdienstag (Shrove Tuesday). On Rosenmontag (Shrove Monday) more than one and a half million people line Cologne's streets to watch the parade with the mad triad – the prince, farmer, and virgin – every year."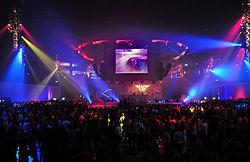 Cologne Gay Pride– Cologne Pride is a large gay pride festival held in Cologne annually on the Heumarkt square. The event showcases music, a candle light vigil remembering those with HIV/AIDS, and on the final day of the festival a large parade is held. Up to a million people have attended the events.

Kölner Philharmonie Central concert hall. Opened in 1986. Main season September to June. Special summer shows.
Oper Köln Operas are performed in the Staatenhaus while the opera building is being renovated. Season starts in Mid-September.

address: Venloer Straße 42

Concert centre for jazz and contemporary music, with a cafe and restaurant inside and a large beer garden outside which dates back to at least the 1950s. (Also the site of a great Christmas market.)

Kölner LichterA fireworks display on the Rhine lights up the sky between the Hohenzollern and Zoo bridges.

phone: +49 221 547-4183

address: Riehler Straße 180

Take a ride with the Aerial tramway across Rhine river.

address: Riehler Straße 173

PhantasialandBerggeiststr. 31-41 in the town of Brühl; Phantasialand is a fun place for children and has some fun rides for adults too. Even the Colorado Adventure roller coaster was sponsored by Michael Jackson. Bring passports for proof of age.

phone: +49 221 722436

address: Ebertplatz 19

If you want to go to the movies while visiting Cologne and you don't know German, this small cinema is for you. It shows movies in their native language, but mostly English. (However, most other cinemas will also show English versions several times a week, so check the listings.)
Aqualand
Fishing in the Rhine
Watch football, i.e. soccer, at 1. FC Köln. They were promoted in 2019 and now play in Bundesliga, the top tier of German football. Their home ground is the RheinEnergieStadion (formerly Müngersdorfer Stadion), capacity 46,000. It's 4 km west of city centre on Aachener Strasse; take a tram or bus towards Müngersdorf.
Tours
address: Frankenwerft 35

Departure times: Daily: 10:30, 12:00, 14:00, 18:00; Köln-Düsseldorf offers cruises of the Rhine river around the Cologne area with an explanation of landmarks.

Stattreisen e.V.This non-profit organization offers excellent tours of Cologne, led by volunteers. The prices are moderate and there is a huge list of tours, including (besides the more regular tours) Koelsch tours (for testing the breweries) or language lessons in the local dialect (again, in a brewery). Ask for English tours, some guides are willing to conduct a normally German tour in English.

Rickshaws: environmentally friendly city toursRickshaws are exotic and environmentally friendly tricycles, that bring slowly and safely their passengers to their destination. By Rickshaw you will discover Cologne's points of interest in a comfortable way.
Spa and massage
Beauty and spa treatments are popular in Cologne.
In typical German style, all sauna areas (referred to as
Saunalandschaften
, i.e. Sauna landscapes) are mixed (apart from the odd
Damentag
) and that bathing costumes are banned from them for hygienic reasons. Yup. Starkers, everybody.
Do take a bathrobe (to keep you from the cold outside the saunas) and a large towel (to put under you in the saunas, no sweating on the wood, please) with you, though.
Do not draw hasty conclusions either: mixed nudity does not make those places dens of sin, quite the contrary. Nudity is considered as the only appropriate outfit in saunas, and it all happens in a disciplined, wholesome, safe and respectful atmosphere. Possibly one of the highest forms of German civilisation one can experience.
Gawkers and bathing costume-wearers will be expelled by the staff without qualms, so don't even think you can get away with playing the tourist who didn't know, it won't make a difference.
That very matter-of factly, unerotic approach to mixed nudity may well turn out to be a revelation to many visitors open-minded enough to give it a try and go with the flow.
Sauna
:
Massage
:
Ananda Tantra Massage and Coaching

phone: +49 221 6086585

address: Frankfurter Str. 40

Tantra massage, coaching and workshops, an open minded and liberal attitude essential because the massages include sexually sensitive body parts, however, no sexual services are given by the team of 30 female and male employees.

Sukon - Thai Art Of MassageTraditional Thai massage institute, in the city center. Thai native massage therapists practise in the 160m² Thai-styled studio: original royal massage, aroma oil massage and foot massage. This place does not offer any erotic massages.
Buy
The main shopping street of Cologne is the
Schildergasse
, extending from the
Neumarkt
. The Schildergasse, Neumarkt, and pedestrianized side streets extending from them (in particular the
Hohe Straße
leading towards the Dom) host department stores, boutiques and other high-profile (and, often, high-price) retail establishments. For young fashion, also try
Ehrenstraße
.
Department stores
Galeria KaufhofGermany's largest department store chain and direct descendant of the mighty Leonhard Tietz AG has its flagship store in Cologne, where it is headquartered (although the headquarter offices have now moved to a different, modern building in Altstadt-Sued). The original 19th-century Tietz department store on the Schildergasse has been expanded with a "modern" part in the 1950s, including a multi-storey parking, facing the Caecilienstraße and now fills the entire huge block. You can find everything there, from apparel to groceries.

KarstadtKaufhof's main competitor situated themselves in a modern shopping centre north of Neumarkt, over the Zeppelinstraße.
High-end fashion
Although it is Duesseldorf that brands itself as the German capital of fashion, Cologne's
Altstadt
also features a wide range of high-end fashion stores with a selection of top German and global brands.
Franz Sauer

address: Minoritenstraße 13

Apropos

address: Mittelstraße 3

Features a Gucci brand store.

La Belle Modehaus

address: Mittelstraße 20

Modehaus Elscheidt

address: Benesisstraße 36

Boutique 69

address: Pfeilstraße 31-35
Records
There is an abundance of record stores in Cologne, but most are hidden in non-tourist quarters.
For a mainstream record store, go to Saturn, which opened in 1961 and certainly has the largest CD (and DVD) collection in the region. To pre-listen a record, hold it under one of the scanners spread throughout the shop. Always worth a visit. Subway and Regional Train from central station: Hansaring. The (office) building is from 1925 and was briefly the highest house in Europe (65 meters). A smaller Saturn shop is on the top floor of Galeria Kaufhof (listed above).
Independent record stores are spread around Saturn: Cross the street for 2nd hand and punk, follow the "Ring" (boulevard) north, and you will find Jazz, Electro and HipHop at Schallschock record store. Famous alternative music-store Normal is south of Saturn, as well as Underdog Record Store (specialized in Alternative Rock, Emo, Garage and related matters) Subway and Regional Train from central station: Hansaring
For electronic music, get off at Friesenplatz, and go to groove attack in Maastrichter street. Also famous is Kompakt record store. Both are connected to a label sharing the name, and putting out fine German electronic music. Subway: Friesenplatz
Books
phone: +49 221 203070

address: Neumarkt 2, 50667, Köln

The largest bookstore in Cologne; they stock a huge selection of books including sections in English and other languages. Also a wide selection of postcards.
On "Ehrenstraße", you will find cheap and arty books, take a look at "Buchhandlung König" at the eastern end, buy art books at well known "Taschen" at the corner of Ehrenstraße and the Ring. Taschen was founded in Cologne in 1980 and is headquartered here.
Travel books are bought best at "Gleumes", between Zülpicher Platz and Rudolfplatz. They have only maps and travel books, but these from around the world.
Books in English - "English Books and Tea", Auf dem Rothenberg 9a, in the old town, stocks a wide range of new and secondhand books in English. It also offers a choice of teas and conversation and invaluable tourist orientation - all in English.
Honorable mention: "Cafe Goldmund" in Ehrenfeld. A very cozy corner-café with all walls lined with bookshelves. You can buy every (second hand) book after you finnished flipping through it while you enjoyed your drinks for a small tip. Also hosts small music and poetry events. Glasstraße 2, right next to the S-Bahn station "Ehrenfeld".
Eat
Cologne has a wide variety of restaurants, German and otherwise, as a glance in the colored pages of the local telephone book will illustrate.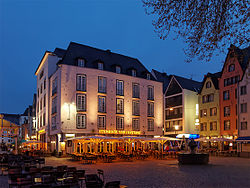 Traditional scene
One can eat pretty well in most traditional-style Kölsch restaurants, and in fact as a visitor, you should try some of the local food, which is quite rustic, but tasty, hearty fare.
The brewery taps (Früh, Sion, Pfaffen, Malzmühle, etc., in the old town south of the Dom) are worth taking note of to that respect, although they tend to be expensive for what you get.
Places out of the way such as Schreckenskammer and
Max Stark
(north of the train station, the former being within crawling distance of the Station Backpackers Hostel), Päffgen (Friesenstraße) and both of Cologne independent brewpubs (
Hellers Brauhaus
on Roonstraße and
Braustelle
in Ehrenfeld) offer cheaper, better food that the old town tourist traps. Besides, most of these places have tons of atmosphere, which doesn't hurt!
You may also experience the deadly dry wit of the
Köbes
(traditional name of the blue-clad waiters) in most of those places. If it happens to you, don't get upset, just enter the game, send the Köbes packing with a dig and a smile and you'll be all right.
You'll mostly find typical Rheinland dishes in those traditional Kneipen. Classics include:
Halver Hahn: nice big slab of Dutch gouda with a rye roll (Röggelchen)
Himmel und Äd mit Flönz: fried black pudding with mashed potatoes ("earth"), apple sauce ("heaven") and fried onions.
Soorbrode/Sauerbraten: joint marinated in vinegar with raisins, usually served with red cabbage and a kloss (potato dumpling). The joint may be beef or horsemeat, so you may want to ask first.
Dicke Bunne mit Speck: boiled white beans with hefty boiled bacon slices on top.
Schweinshaxe (grilled); Hämchen (cooked): pig's leg, usually a bit of a monster (ranges from 600 to 1400 g, including the bone)
Rievekoochen/Reibekuchen: flat fried potato cakes usually on offer once a week, and served with a variety of sweet or savoury toppings, which may include apple sauce, Rübenkraut (the beet-sourced equivalent to black treacle) or smoked salmon with horseradish cream.
Ethnic scene
If you are looking for a snack, you can either head for one of the Middle-Eastern or Asian places, or you can make use of the traditional fast food places like McDonald's, and Burger King. Italian restaurants in Cologne seem to attempt to aim for a higher quality than in the UK, though it is debatable whether they achieve it, and whether their prices (often 150-200% of UK prices) are justified. There are several Indian restaurants across the city, which serve a fair fare, though the visiting Brit may be slightly disappointed to find that German 'curry culture' is rather akin to that of the UK in the 1960s: menus are neither large and varied, nor regionalised and specialist, and although ingredients are fresh, the food without exception appears to be tamed-down for the conservative German palate and the cooks are rather hesitant to spice it up even if you ask for it. "Clay Oven" (Luxemburger Straße near Südbahnhof) and "Bombay" (near Eifelstraße tram station) do make a vindaloo that will satisfy the most hardy customer, though. More recently, Japanese and Thai restaurants have become more common; both are quite expensive.
Budget
Hauptbahnhof - the ground floor of the central train station has a good number of cheap eateries, which include Pizza Hut to kiosks selling sausages.
Falafel Habibi on Zülpicher Straße. They have two stores, which serve the same food (though sweetmeats may vary).
There is an abundance of Döner Kebab and similar takeaways around the town. Generally a lot of Turkish snack bar-style places can be found just north of the main station at Eigelstein, around Zülpicher Platz and in the Belgisches Viertel, with some excellent Lebanese and Persian takeaways further down Zülpicher Straße towards Südbahnhof. Probably best now (though expensive) is Oruc Döner on Kyffhäuserstraße (near Barbarossaplatz); while the kebab is quite good though not outstanding, their freshly baked pide bread is famous all over town. There are lots of Turkish restaurants and takeaways within Kalk, Mülheim and (mainly restaurants) in the Belgisches Viertel.
Borsalino, an Italian-style restaurant on Zülpicher Straße close to Zülpicher Platz. Very affordable prices.

Don Camillo

address: Hildeboldplatz 1a

A small Italian tabula calde style restaurant. Coming from Hohenzollenring, head into Breite Straße/Ehrenstraße and take the first road to the left.
Mid-range
El IncaGörresstraße 2, near Rathenauplatz. Latin-American restaurant, open 18:00-24:00.

Johnny Turista

address: Rathenauplatz

Easy-going pub/restaurant offering snacks, hot dishes and a daily changing selection of tapas; prices are lower than in most tapas bars.

SelamEhrenfeldgürtel 91 (tram station Venloer Straße/Gürtel) Ethiopian restaurant, opens Tu-F at 17:00 and on weekends at 16:00. Good selection of mild and spicy Ethiopian dishes served on the traditional plate of injera bread.

Farmer'sSteakhouses with several branches on the Ring (near Friesenplatz), Wallrafplatz (near the Dom, off Hohe Straße), Kreuzgasse (off Schildergasse shopping street). At lunchtime they usually have a special, that will give you a square meal for €6-7.

address: Antwerpener Straße 63

Spanish style food, tapas and cocktails. Cool crowd, usually booked out after 19:00, make a reservation by phone or e-mail the day before.

phone: +49 221 4210102

address: Luxemburger Straße 319a

"Unsichtbar" is a play of words. Literally it means "invisible", but the suffix "bar" also refers to being a bar. You will get your private butler, who is a blind person, and you eat in total darkness. You can choose your meal in a showroom and then your personal blind butler will lead you to the dark room where you have to smell, feel, maybe touch and of course eat your meal, but you won't see it. You'll have to refer to your butler about everything, whether going to the bathroom or refilling your glass. You are not allowed to smoke, use a cellphone or do anything else that could lighten up the room. The food on your plate is explained to you by using a clock-like system (e.g. "beans are on three o'clock"). It's an excursion into the world of blind people, who are supported this way, and a really good restaurant, too. For weekends you have to book around 13 weeks in advance, but during the week you'll get a free table (with a little luck).
Splurge
address: Olympiaweg 2

Exquisite German, but also international meals.

Fischers Weingenuss & Tafelfreuden

address: Hohenstaufenring 53

Exquisite French-like and modern food, great arrangements of wine and cheese. After noon you can get (quite) cheap 2-way dishes of the day including water or a glass of wine. You have to book (quite early) in advance and a menu will be created on your wishes.
Drink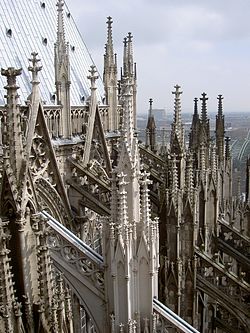 Typical Cologne beer is called "Kölsch" and served in bars around town in small glasses, called "Stangen", of 0.2 L. That way the beer is always fresh and cold. Don't worry, waiters will be fast to bring you a new one once your old one is (almost) finished. In more traditional bars and especially the breweries, the waiter (called "Köbes" in local language) will even hand you a fresh Kölsch without being asked, so it is easy to lose track of how much you drank. He will put a pencil line on your coaster for each beer that you drank, this will be the basis for your bill, so do not lose it! To stop the beer from coming, leave your glass almost half full until you have asked for the bill or put your coaster on top of your empty glass.
If you buy bottled Kölsch, take either Reissdorf, Früh, Gaffel or Mühlen, which are rated highest by Cologne citizens. Those looking for a beer with a little more bitterness might like to try Küppers (there are about 30 more brands).
There are so many bars and pubs to choose from that you could spend most of the night going from one bar to the next. A really great bar is the Irish Pub, Flanagan's, in Altstadt down below a building. Almost everybody speaks English in there if that's what you are looking for, and they have a really great Karaoke night on Sundays. The clientele is very friendly.
For a comprehensive list, see
this website
, bars listed on the right.
For traditional breweries, head to the Altstadt around the Dom, where the Früh Kölsch brewery is the most famous with visitors and locals. You will find a younger crowd at Hellers Brauhaus on Roonstraße, near metro station Zülpicher Platz or Brauhaus Pütz on Engelbertstraße close to Rudolfplatz. Furthermore the Päffgen, on the all-bar street Friesenstraße close to the Friesenplatz, and the Mühlen near Heumarkt are traditional brewery pubs but less touristy than the "Früh". Also recommended is Sion, which is a lesser known brand, but hailed to be very good, although some beer enthusiasts have found it lacking character since 2007. Most Altstadt pubs are somewhat scorned as "tourist traps" by locals, however: prices here are usually higher than e.g. on Zülpicher Straße.
There are a lot of modern bars and lounges all around town. More mainstream ones are on Zülpicher Straße. For something more independent and funky on this street, try Umbruch (funky) or Stiefel (punky). The Low Budget on Aachener Straße next to Moltkestraße metro is a nice, unassuming, punky bar which features a fine selection of drinks and often hosts concerts, poetry or cabaret sessions.
A lot of stylish places are in the so-called Belgian quarter between Aachener Straße and the Ring, e.g. famous M20 or the Hallmackenreuther.
A secret Tip are the Bars of the alternative Szene in Cologne. Those you may find the most in Ehrenfeld, like the "Sonic Ballroom", and in the Südstadt, for instance the "Tsunami Club" and the little pub "Lotta", but also in the famous Kwartier Lateng, which is near the University of Cologne, around the Barbarossaplatz, at the Zülpicher Straße and the Kyffhäuser Straße. If you are searching for something more rough, you may find some nice places to rock and roll, on the Schäl Sick in the cityparts Kalk, east from the Kölnarena, like the little Trash Chic bar in the Wiersbergstreet, and in Mülheim, north from the Kölner Messe the little St. Pauli fanszene pub called "Limes", at the Mülheimer Freiheit street, near the Wiener Platz. But, this places are better to be known visited by the younger and not so rich people. So take care of your pockets.

Cafe Oscar

address: Hohenstaufenring 25

Awesome Italian restaurant that has a long running special of cheap cocktails after 17:00 most nights, and pizza and pasta dishes for €3-4 daily before 18:00. Great place for lunch or an early dinner, and also a good base to kick off a night out. Staff are very friendly and generally speak English, and the food is excellent, as are the cocktails.
Kölsch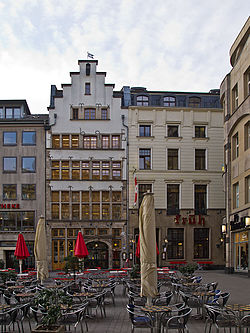 address: Am Hof 12 – 14

Früh am Dom is a great place to try the local Kölsch brew.

address: Alter Markt 20-22

address: Unter Taschenmacher 5

address: Friesenstraße 64-66

address: Heumarkt 6

Visited by Bill Clinton.

Lommerzheim

address: Siegesstraße 18

Ausschank Pfaffen Brauerei Max Päffgen

address: Heumarkt 62

phone: +49 221 17940777

address: Große Neugasse 42, 50667 Köln

Only local music is played in the Jeck.
Club
Alter WartesaalNifty bar and disco beside the central station: various events & exclusive parties.

Club Bahnhof Ehrenfeld & YUCA ("Your Urban Club of Arts")

address: Bartholomäus-Schink-Straße 65/67

Club complex in Ehrenfeld. Parties and concerts. Devoted to a variety of international styles including hip-hop, jazz and Latin music.

address: Auenweg 173

Serious clubbing. In an old harbor storage facility, but very modern inside. One of Germany's top clubs.

address: Deutz-Mülheimer Strasse 127

Concerts. International flavor. Alternative crowd. Quite popular. Inside a defunct factory site on the right bank of the river.

Die WerkstattHouses clubs and concerts in an industrial area in Ehrenfeld.

SubwayVarious parties from Hip Hop, Electro to Indie music with a hip but laid back audience (Moltkestraße metro - next to Rudolfplatz).

address: Luxemburger Str. 32

Small old dance and night club, loud and crowded. Rock concerts, music contests, poetry slams, parties, bar sounds.

address: Ehrenfeldgürtel 127

Ehrenfeld club. Not a great building but the clubbing area is fine. Club books good DJs and artists. In walking distance of Club Bahnhof Ehrenfeld.
Bar Orange - on Sudermannplatz, near Ebertplatz. Great atmosphere and great cocktails, or just a beer and a lively chat with Milan, the resident philosopher, or Rainer and Arash, experts on local goings on.

Blue Lounge PartyEvery third Saturday, at the Bürgerhaus Stollwerck in Dreikönigenstraße 23. Starts at 22:00, tickets €5. Percussion, Brazil, balearic and deep house, techno, trance. A must for people who like this kind of music.

#TAUSEND BarAachener Straße 57 (Moltkestraße metro): various events & music, nice bar styled by design students from the Köln International School of Design (KISD).

3KlangOn Ehrenfeldgürtel 127, metro station Venloer Str./Gürtel. Every third Friday, 22:00-05:00.

Blue Lounge BarOn Mathiasstraße, lesbian bar. Off-shoot of the very successful party mentioned above.

Basswerk Session, bi-monthly, the second Saturday at Gebäude 9, Deutz-Mülheimer Straße 127-129 (tram 3 or 4, stop at KölnMesse/Osthallen), 23:00–05:00. Long-running and popular drum 'n' bass party in a defunct funky factory hall. Resident DJs often invite renowned guest DJs from the international d'n'b fringe. Alternates bi-monthly with the similar "Phonogenic" party in the same venue.

Art of House PartyOnce a month, the second or third Saturday at Stadtgarten in Venloer Straße 40 (Hans-Böckler Platz metro): nice and really crowded house party, guests around 25.

Funky Chicken ClubEvery Friday at Opernterassen next to the opera (Appellhofplatz metro): Cologne House Party in a beautiful venue, always crowded, good House and Electronic Music.

ApropoGood parties on Fridays and Saturdays with Soul, Funk, Disco and Hip Hop, a cosy venue in Im Dau 17 (Ulrepforte or Severinstraße metro) easy guests from 20 years on.

Sixpack In the vibrant Belgisches Viertel (Aachener Straße 33 - next to Rudolfplatz) you should be aware to wait long or even get rejected especially at a late hour. Mixed music from Electro to Indie with a huge variety of bottled beer.
Sleep
Cologne is an internationally important trade fair city, with expansive fairgrounds in Deutz. The hotel rates rise multi-fold
during important fairs
. If you do not have to, try not staying in Cologne during those. Alternatively, you can try finding accommodation in
Dusseldorf
, which is a short train ride away and is usually not affected by the rate hikes (but has its own trade fair calendar, so mind it as well).
For accommodation services the city of Cologne charges an extra 5%-levy
Kulturförderabgabe
, which is included in your bills.
Non-tourists, i. e. those who did not voluntarily chose to head for Cologne, can get the taxes reimbursed.
Camping
Campingplatz der Stadt KölnRhineside camping site with a view of the Dom and city centre, the low drone of the nearby highway bridge does distract from the otherwise peaceful locality. It is right by a cycle and walking trail into the city and is an ideal family site (although there aren't many activities for children), rates are very reasonable and the owner speaks English. Getting to the site is a little difficult, take the tram/train to Rodenkirchen and walk over the bridge, when on the other side turn downriver and the campsite is on the right, there is a restaurant nearby. Adult €6.50.

Camping BergerAnother Rhine-side camping site, nearer public transport. With 125 spaces, supermarket, playground and a restaurant. Rates are reasonable (€7.50 for adult per night).
Budget
address: Marzellenstraße 40-48

Basic rooms and facilities and the breakfast is extra but good value nonetheless. They also have storage lockers (deposit) if you want to keep your valuables somewhere safe.

address: Siegesstraße 5

address: Neusser Straße 404

address: Barbarossaplatz 1

Creative new hostel in the middle of nightlife - small breakfast included. There are female only dormitories, but no male only dormitories.

Weltempfänger

address: Venloer Straße 196

In a relaxed and bohemian neighbourhood, the hostel has got a nice bar and friendly staff.

phone: +49 0221 98593090

address: Richard-Wagner-Str. 39

16 rooms. Also has a busy, comfortable bar and a small theatre. Not far from two nightlife areas to the north (around Brüsseler Platz) and south (around Zülpicher Straße). There are female only dormitories, but no male only dormitories.

phone: +49 163-6610004

address: Heumarkt 59

30 m² newly renovated great bright rooms, bathroom and toilet are separated. There are 7 apartments available. 10 minutes to the fair and the Cologne main station.
Mid-range
Splurge
phone: +49 221 942220

address: Johannisstraße 76-80

A short walk from the railway station, the Cologne Marriott is surprisingly small, modern, and personal. Rooms are not huge, but they're immaculate and well appointed. Fou, the in-house "crazy brasserie", serves great breakfasts and casual French, while the excellent Executive floor lounge with breakfast, dinner and drinks is worth paying the extra for.

Hilton Cologne

phone: +49 221 130710

address: Marzellenstraße 13-17

Modern Hilton hotel in the centre, convenient for sightseeing. Prices go through the roof during trade fairs in Deutz.

address: Kennedy-Ufer 2A

5-star hotel. 306 rooms and suites with views of the River Rhine. Host to gourmet restaurant "Graugans", 13 conference rooms and a spa.

address: Kaygasse 2

A luxury hotel built inside of a 130-year-old water tower. It has a designer interior and a rooftop restaurant with panoramic views. Price: €180-840 per night

Pullman CologneSome rooms feature Nespresso machines and a glass partition between bedroom and bathroom. The top-level bar George M offers sweeping vistas of Cologne from its 12th-floor location.

address: Messe Kreisel 3

Restaurant, bar, gym, spa.

SavoyA family-run 5-star hotel with a huge spa area and a very nice rooftop bar. It's very close to the main station (exit Breslauer Platz, turn left, ~100 m) and has very good weekend offers. Known as the place of choice for many (German and international) celebrities.
Stay safe

Criminal activity in Cologne is similar to other big cities. Tourists should take normal safety precautions, particularly in the city centre, where pickpockets are known to be active. Also, be careful on the Ring, which is full of clubs and night-time crowds in the streets. Day and night be careful in outlying neighbourhoods like Chorweiler, Porz, Seeberg, Ostheim, Bocklemünd, Ossendorf, and Vingst. In general, stay away from drunk people. At street crossings, watch the trams.

Connect
Wi-Fi access
hotspot.koelnSince 2014 free city Wi-Fi ("WLAN" in German) is available in many public spaces and in public buildings. To use it you must find a signal (for a map follow the link), tick a box and click past two messages.

Free Wi-Fi is also available in many bars, restaurants and cafes.
The free Wi-Fi on ICE trains and at the station identifies itself as "Telekom".

Telekom HotSpotCommercial (fast) Wi-Fi service. A "HotSpot Pass" costs €4.95 a day.
Cope
Religious services
Holy mass in Catholic churches near to the central station:
Dom, Domkloster 3 (next to the central station). Su 07:00, 08:00, 09:00, 10:00, 12:00, 17:00, 18:30; M-Sa 06:30, 07:15, 08:00, 09:00, 18:30
St. Andreas, Komödienstr. 8. Su 09:00, 11:00, 18:00; M-F 12:05; Sa 09:00, 17:00
St. Mariä Himmelfahrt, Marzellenstr. 26. Su 11:00; W Th 10:30; Sa 17:00, 18:30
Minoritenkirche, Kolpingplatz 5. Su 09:00, 11:00, 16:00; Tu-F 99:00
Go next
International
Due to Cologne's proximity to the German-Belgian-Dutch border, weekend trips to foreign destinations are easy to arrange.
Thalys
operates high speed trains to
Paris
and
Brussels
, and Deutsche Bahn to
Amsterdam
, making each city only a few hours away. You can also travel to
Maastricht
(a city in the Netherlands with a beautiful city centre where the Maastricht Treaty of the European Union was signed in 1992) for a low cost by taking a train to
Aachen
then by bus to Maastricht – See:
Aachen#From The Netherlands
for details. (Direct buses are available to the same destinations but will take longer.)