Colombian Islands
Colombia has several
island territories
in the
Caribbean
and in the Pacific.
Destinations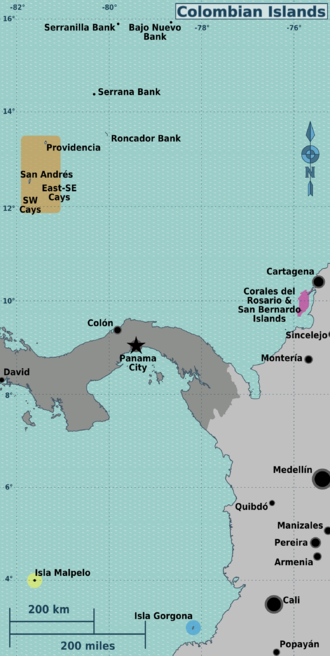 Caribbean
Pacific
Understand
Northeast of
San Andrés
and
Providencia
are several uninhabited shoals, banks, and atolls (some of which are wholly submerged either all the time or during high tide), which are administered by Colombia. They are nearly all mired in territorial disputes with various
Central America
states as well as the
United States
, and are not tourist destinations.
Talk
The main language spoken is Spanish, but many speak English as well. The actual natives from the island speak "patua", which is a mix of English, Spanish, and French.

Get in
By plane
Daily flights serve various Colombian cities (
Medellín
,
Cali
and Bogotá) to San Andres's Gustavo Rojas Pinilla International Airport (
ADZ
). All flights to Providencia (PVA) are originated in San Andrés.
Direct flights also depart from San Jose, Costa Rica and Panama City, Panama to San Andres.

By boat
The closest mainland area to Sand Andrés and Providencia is Caribbean Nicaragua, particularly Bluefields. There are sometimes cruises or ferries, but they are rarely advertised online and just going to the port and hoping you get lucky will likely not work.

Get around
Bus is the main form of transportation on the island. It is cheap and convenient. Most buses connect the main city of San Andres with other parts of the island. Also there are many places to rent everything from cars, to motorcycles, to bikes.

See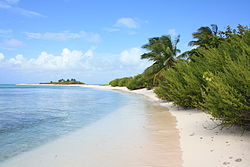 Do
Scuba Diving is amazing here, as is snorkeling. There are many places that offer jet skis, kayaks, wind surfing, kite surfing, horseback riding, submarine tours and many other options. There are also many people that come here mainly for the great duty free shopping and cheaper electronics.

Stay safe
San Andres is perfectly safe Caribbean island to visit, that is many many miles away from some of the problems found on the mainland.