Colombo
Colombo
(
Sinhala
: කොළඹ,
Tamil
: கொழும்பு) is the largest city and commercial capital of
Sri Lanka
. Former capital of the nation, Colombo is still perceived by many as the capital of the nation and is located just beyond the suburb of Sri Jayawardenepura Kotte, the official capital.
Due to it being on a strategic route in the Indian Ocean, Colombo hosts one of the busiest ports in South Asia, and was known to ancient traders 2,000 years ago. Today, the city is the central point of the country's activities and is home to the majority of country's restaurants and entertainment venues. Just like another typical South Asian big city, Colombo is congested, noisy, busy, and vibrant with a mixture of modern life and colonial buildings. It is the financial centre of the island and a popular tourist destination.
Understand
Colombo is the commercial and financial capital of Sri Lanka after the administrative capital was moved to
Sri Jayawardenapura Kotte
, a suburb east of the city. "Colombo" could refer to either the city proper, or to Greater Colombo that includes the areas of
Sri Jayawardenapura Kotte
and Dehiwala-Mount Lavinia.
For the best weather, visit during the north-east monsoon season, including the driest months December to March. There's also a shorter dryer period in July and August.
Get in
By plane
There is air service to and from Colombo, provided by the national airline Sri Lankan Airlines. Flights are available from origins throughout Europe, United States, Southeast Asia, Australia, China, Japan, the Middle East, India, and Pakistan. Other airlines, include Malaysia Airlines, Qatar Airways, Singapore Airlines, Cathay Pacific, Etihad and Emirates.
phone: +94 11 2 252861

address: Canada Friendship Rd

Sri Lanka's 1st international airport, on the coast north of Colombo. The journey to Colombo will take about an hour by taxi.

Ratmalana AirportFlights from Hambantota-Mattala, Jaffna, Trincomalee

phone: +94 47 203 1000

address: Airport Road, Mattala

An international airport that opened in 2013 is on southern part of the country, approximately 250 km away from Colombo.
Ground transportation from Katunayake Airport (Bandaranaike International)
.
The international airport is closer to Negombo than to Colombo, so if you're arriving late, it might be a better option to head to
Negombo
for the night instead. Confirm the cost of any mode of transport before using it.
By taxi
Airport taxi
: immediately after leaving customs there's a taxi counter on your right. Tell them your destination and they will print you a voucher with the price. An A/C van from the airport to Colombo 1 (Fort) cost Rs 2904 (2013).
Other popular taxi services
:
Kangaroo Taxi
and
Airport Taxi booking
. Most 4- or 5-star hotels have their own counter just outside the arrivals hall.
You can also take a
tri-shaw aka tuk-tuk
from the bus depot (get there by free airport shuttle bus), it takes about an hour and Rs 1500 (2011) from airport to Galle Road.
By bus
This is the cheapest way to get into Colombo, but will take some effort and time. The public bus #187 to Colombo Fort leaves from the airport
bus depot
, where you can get by catching a
free shuttle
or walk for about 10-15 mins. To catch a free shuttle bus, come out of the airport, turn left and walk all the way to the end of the building. You will not find any signs, so be sure to ask airport personnel. You will see an old white bus with a sign that says main terminal. Get on this bus and ride for 5 minutes till the bus depot. From the bus depot, catch bus #187 to Colombo at a cost of Rs 40 (although the bus collector may try to make tourists pay more 'for luggage' etc., the typical luggage a tourist may carry is not supposed to be accommodated in public transport, thus be prepared to not even be allowed in the bus if there is a crowd waiting to take the bus) to
Colombo Fort
station. Beware that only the big white buses (similar to the airport shuttle) will be Rs 40, the smaller buses with aircon will charge foreigners definitely more, like Rs 70-100. The personel in minivans are often cheaters; if they are asking more than 150 Rs, refuse to pay and just walk away.
The journey into
Colombo Fort
could take anything between an hour and fifteen to two hours. Once you reach Colombo Fort, you can get a three-wheeler (tuk-tuk) to get to your destination, it should not cost more than Rs 150 to go to hotels near Galle Face. Or catch a bus to Galle Face, less than Rs 10.
By train
This is probably the most unknown way to get into Colombo, but completely possible. Take either the free Airport to the bus station and then follow the road (Canada Friendship) to the Katunayaka South station (around 1 km, if you don't have luggage) or, if you've luggage, best just to take a Tuk Tuk right from the airport to the train station. Should be 100 Rupees, if you're good at haggling you might get them down even a bit more.
Then, at the train station, get a ticket to Colombo Fort, you'll be arriving right next to where the buses drop people off. Cost is Rs 30. Trains are sometimes delayed, but driving relatively frequently, around 1 per hour, more during rush hour. It will take around 1 hour to get to Fort station, so definitely quicker than by travelling by bus, if you manage to just catch a train without much waiting. Check
online timetable
(look for Katunayake, as "Katunayake Airport" station is not in use) on one of the free computers in the terminal when arriving about the next train, if it suits you, it's an easy way into the city for very little.
By train
Long-distance train services are starting to improve after decades of neglect due to the civil war.
Sri Lankan Railways
resides over an increasing network with the central station
Colombo-Fort
as main hub. There are daily services from
Badulla
and
Kandy
as well as over-night trains from Batticaloa and
Trincomalee
. As of early 2013 there are still no services from
Jaffna
or any other northern cities.
Apart from the government-owned SLR there's
ExpoRail
with a high-end service on the Badulla-Kandy-Colombo stretch. Prices are about twice as much as the government trains but still affordable for a tourist, the ticket includes an onboard meal.
Fort Station is in the heart of the city, located next to Colombo Fort and Pettah and close to the meeting points of the A1 and A4 highways. The station provides access to businesses and offices in Colombo Fort, as well as the markets at Pettah. - - Maradana Railway Station is a major rail hub in Colombo, Sri Lanka. The station is served by Sri Lanka Railways, with many inter-city and commuter trains entering each day. It is the terminus of several intercity trains. - Maradana is home to the suburban-Colombo network's centralised traffic control centre.
Slave Island Railway Station

address: Station Passage

Coastal Line. Platforms 2. - Tracks- 2. (also known as Kompanna Vidiya Railway Station) is a railway station in Colombo, Sri Lanka. It serves the Slave Island area in the centre of the city. It is served by commuter rail. The station building is significant for its historic architecture.

Colombo Terminus StationIt was the primary railway station in Colombo, 1865-1908. It was retired from service at the beginning of the twentieth century and replaced by Maradana Station. The preserved building is now home to the National Railway Museum.

Fort Railway Station

address: Olcott Mawatha Rd

A major rail hub in Colombo, the station is served by Sri Lanka Railways, with many inter-city and commuter trains entering each day. Fort Station is the main rail gateway to central Colombo; it is the terminus of most intercity trains in the country.
By bus
The Sri Lanka Transport Board
is the nationalized bus service. Buses are the principal mode of transport in the country. If you cannot speak or understand Sinhalese, however, travelling by bus might prove more difficult than train travel but is entirely feasible and may be much quicker. Prepare for severe over-crowding and make sure to confirm your destination with the driver and conductor of the bus.
The three primary bus terminals — Bastian Mawatha, Central, and the Gunasinghapura Bus Terminals — are in Pettah.
Bastian Mawatha Bus Terminal

address: Olcott Mawatha (A1 Highway)

handles long distance services whereas

Gunasinghapura Bus Terminal

address: Colombo 11, Saunders Pl.

Central Bus Terminal

address: Prince St

handle local services
By boat
Passenger services with India have to
Tuticorin
are out of operation probably to never return at least not on this line. As a pricey alternative
Indian Ocean Cruises
operates a cruise liner to Colombo as part of its itinerary along the West Coast of India and the
Lakshadweep
Islands.
Get around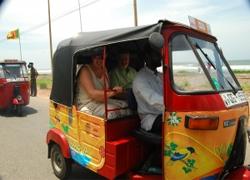 Getting around by
Tri-shaw
(
Three wheeler
,
tuk-tuk
) is most convenient. Most three-wheelers do not have any meters fitted with them and so you have to always negotiate and agree on a price before you take a trip. But it's best to hail a meter taxi (identified by the words "Meter Taxi" on its windshield) that is traveling in the direction that you need to go instead of hiring one from the parking area or the tuk-tuk stand. The meter taxi, costs Rs 50 for the first kilometre and Rs 30 for every additional kilometre plus waiting fees.
Colombo has an extensive network of buses going around the city/region. It's fairly easy to find the right one by asking locals or your accommodation. Fares depend on the type of bus and distance. Prices start usually at 10 LKR. Traveling by bus is an adventure itself!
The Sri Lankan Tourist Development Authority also operates its own fleet of 'tuk-tuks' around Colombo which are tourist friendly and metered to ensure that travellers are aware of the price being paid. Tourist board tuk tuks are distinguishable by their unique paintings. These three-wheelers can be booked 24 hours a day by calling 0712 500 800 or 0772 299 299.
Taxis
are also a good mode of transportation. There are 'Tata Nano' cars in service nowadays and the charges start from Rs 40 per kilometre with air-con and it is also a safe and convenient way to travel. Taxis are much safer than a three-wheeler. The tuk-tuks also offer their service for a fee of Rs 30 per km and do not forget to go for the ones with the "Metered Taxi" name board in front. Others may not have the meters running. Uber is available in Colombo with options for smaller cars (Go and Zip), as well as UberX, but XL is not available. A local ride-sharing app called
Pick Me
allows to order everything from a tuk tuk to a van, although there have been reports about the app not working for all users.
Car Rentals
is also a possible for travellers to hire car with or without a driver. Many companies based in Colombo offer such services.
See
Holy Places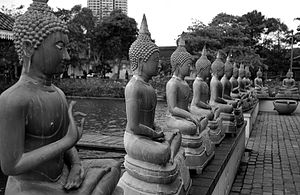 Basilica of Our Lady of Lanka

address: Lankamatha Road, Ragama suburb of Colombo

A Roman Catholic church with basilica status. The church is home to the venerated statue of Our Lady of Lanka.

St Luke's Anglican Church

address: Borella district of Colombo-8

The church plays an important role within the history of the Church Missionary Society on the island.

St Michael and All Angels Anglican Church

address: Polwatte (159, St Michael's Road, Colombo 3)

It was dedicated on the 29 September 1887 and is a landmark in Kollupitiya, a suburb of Colombo, the commercial capital of Sri Lanka. A magnificent building of stone, mortar and wood.

St Andrew's Scots Kirk church

address: No. 73, Galle Road, Colombo 3

It was founded in the late 19th century, and prospered during the colonial and post-colonial periods, it was a centre for the Scots element in Colombo, the capital city of what was then Ceylon.

St Lucia's Cathedral

address: St Benedict's Street and St Lucia Street, Kotahena

The seat of the archbishop of the Roman Catholic Archdiocese of Colombo in Sri Lanka.

St Paul's Church (1853)

address: Galle Rd, Milagiriya district

It is one of the oldest churches in Sri Lanka. Built by the Portuguese as a Roman Catholic church, and was known as Nossa Senhora dos Milagres

Buddha Jayanthi Chaithya stupa

address: Colombo Harbour

A Buddhist shrine, built with reinforced concrete.

phone: +94 11 2 435169

address: 61, Sri Jinarathana Road, Colombo 2

One of the most important temples in Colombo. The temple's architecture is an eclectic mix of Sri Lankan, Thai, Indian and Chinese styles.

Sri Bala Selva VinayagarHindu temple in Colombo 10. Devoted to Shiva and Ganesh.

Sri MuthumariammanHindu temple in Colombo 13

Shiva Subramania SwamiTemple on Slave Island

Sri Ponnambalam-Vaneswaram templeIn Koch-chikade, 3 km north of Fort.

Kalani Raja Maha Viharaya.Located about 9 km away from Colombo, the Kelaniya Raja Maha Viharaya is one of the most significant Buddhist temples in Sri Lanka. The temple had been built more than 2,000 years ago and contains images of reclining and preaching Buddha along with frescoes depicting incidents from his life.

Memm HarnafiMosque founded by C.W.W. Kannangara Mawatha.

Church of St AnthonySituated beside the sea where Sea Street and St Anthony's Mawatha meet.

Jami-Ul-Alfar Mosque

address: Second Cross Street in Pettah

This historic mosque is a popular tourist site in the city. Jami-Ul-Alfar Mosque was built in 1909 by the Pettah Muslim community to fulfill their required five-times-daily prayer and Jummah on Fridays. It is one of the oldest mosques in Colombo.

Victoria Masonic Temple

address: Galle Face, Colombo 03

It is the meeting place for the Masonic Lodges. It was built in 1901 during British rule and designed by E. Skinner, an associate of the Royal Institute of British Architects, and built by the Colombo Commercial Company. The building was built in neo-Georgian style mixed with elements of Eastern architecture.

Wolvendaal church

address: 363, Galle Road, Colombo 06

One of the oldest churches built during the Dutch era in 1749. The interior is decorated with Dutch furniture with the wooden carved pews, chairs, pulpit and lecterns.
Museums
The National Museum of Colombo

phone: +94 11 2 695366

address: Cinnamon Gardens, Colombo 7

Department of National Museums. Also known as the Sri Lanka National Museum, it is the largest museum in Colombo. Among its exhibits, it contains regalia of the 17th century Kandyan Kings.

phone: +94 11 269-1399

address: Sir Marcus Fernando Mawatha, Cinnamon Gardens, Colombo 7

This museum features Sri Lanka's floral and fauna in dioramas.

phone: +94 11 244-8466

address: 95 Prince Street, Colombo 01

Nice but very small museum documenting Dutch colonial rule in Sri Lanka. Houses Dutch-inspired artifacts.

address: Independence Square (formerly Torrington Square)

is a national monument in Sri Lanka built for commemoration of the independence of Sri Lanka from the British rule with the establishment of Dominion of Ceylon on 4 February 1948. It also houses the Independence Memorial Museum.

Central Bank Currency Museum

address: 58, Sri Jayawardhanapura Mawatha, Rajagiriya

Established on 20 April 1982 at the Central Bank Head Office in Colombo Fort. The museum is open to the general public. - The Central Bank Currency Museum traces the history of the usage of coins and notes in Sri Lanka since 3 BC and has on display a large number of ancient coins and notes which were used in the country dating back to 3 BC. Foreign coins and notes received from other Central Banks are also on display at the museum.
Galleries
The Sapumal Foundation

phone: +94 11 269-5731

address: 32/4 Barnes Pl

Colombo 7. The Sapumal Foundation was once home to the late Harry Pieris. Visitors are able to see his studio and art materials that have been left undisturbed over the years. This gallery also contains 200 paintings that follow the development of Sri Lankan art. Special art classes are also available at the gallery.

The Lionel Wendt Memorial Art Centre

phone: +94 11 269-5794

address: 18 Guilford Crescent, Colombo 7

The Art Centre has exhibitions, art shows and stage events. Visitors also able to purchase various antiques as well as paintings and crafts by contemporary Sri Lankan artists.
Mansions
address: Thurstan Rd

Clare House

India HouseThe official residence in Colombo for the Indian High Commissioner in Sri Lanka. Built in 1926-27 for the Imperial Bank of India and taken over by the Government of India in 1956. It is a colonial style villa/bungalow, with large gardens located along Thurstan Road. It is guarded by personnel from the Border Security Force.

Jefferson HouseThe ambassadorial residence in Colombo for the Ambassador of the United States in Sri Lanka. It was built in 1914 in the Cinnamon Gardens a suburb of Colombo.

Lakshmigiri MansionA bungalow at 102, Thurstan Road in Colombo.

Modera HouseA large bungalow. A 19th century stately home, located in Mutwal north of Colombo. Now it is part of the De La Salle College.

Morven Mansion

Saravasti Mansion

Storm Lodge.

address: 142 Galle Rd, Colombo-03

A mansion, owned by the Colombo Swimming Club.

Rock House Colonial era Mansion

Sirimathipaya Mansion

The Lighthouse.A large bungalow. Owned by the Sri Lankan Government and houses the Lakshman Kadirgamar Institute of International Relations and Strategic Studies. Located in the Cinnamon Gardens a suburb of Colombo, it was built by D. Peiris.

Whist BungalowA large bungalow. A 19th century stately home modelled on Neoclassical style, located in Mutwal north of Colombo on the cost where the Kelani River used to meet the Indian Ocean. It is now used as a reception hall for weddings.

Winyatts Mansion
Do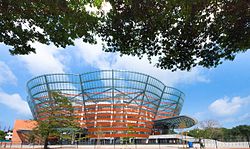 Galle Face Green Promenade

address: Galle Road, Colombo 03

Visit at sundown for a spectacular view. The ½km long promenade stretches between Galle Road and the Indian Ocean; it tends to attract children, teenagers, vendors, lovers, kite flyers, merrymakers, and families. Usually on Saturday and Sunday evenings, the land is filled with day-trippers, food vendors, and people picnicking which make it very crowded. It is also the only largest open space in the city.

address: Anagarika Dharmapala Mawatha, Dehiwala

Colombo's zoo has a wide variety of animals, birds, and reptiles from all over the world. See lion show, every day 16:00 – 16:15; elephant show, every day 16:30 – 16:55.

phone: +94 11 2587440

address: 122 Havelock Roa, Colombo 5

The gallery is a purpose built space, designed to exhibit a diverse array of art, photography, sculpture, video installations and craft. It focuses on contemporary and traditional arts and features the work of local and international artists.

Viharamahadevi Park

address: Cinnamon Gardens

It is the largest, oldest and most colourful park situated in the heart of Colombo, just opposite the colonial style Town Hall building.

Attidiya Bird SanctuaryA beautiful marshland. The wet land is rich with natural biodiversity and is a resting place for many types of birds. The vegetation of this wetland is dominated by sedge and grasses including Rhyuchospora rubra and Panicum repens. Around 43 species of waterfowls live in the area. Most common among them are Indian Shag (Phalaerocorox fuscicollis), the Blue breasted Banded Rail (Rallus striatus) etc. If you are an enthusiastic bird watcher or an eco friend, then it is worthwhile to spend sometimes in the Attidiya bird sanctuary during one of your leisurely evenings during your stay in Colombo.

address: Bauddhaloka Mawatha, Colombo 7

Established in 1965. English shows on the last Saturday of the month at 14:00.

Gordon GardensAbout 16,000 m². The Gardens have an amazing variety of trees.

Colombo Racecourse

address: Cinnamon Gardens, Philip Gunewardena Mawatha, Colombo 07

In 2012 it was redeveloped as the Colombo Racecourse Sports Complex to become the first International Rugby Union ground in Sri Lanka to host all the national rugby union sides home macthes.

Ceylonese Rugby & Football Club Grounds

address: Malalasekara Mawatha, Colombo 07

Royal College Sports Complex

address: 10, Sri Lanka Foundation Mawatha, Off Independence Avenue, Colombo 07

address: 223, Model Farm Road, Colombo 08

Sugathadasa Stadium

address: Arthur de Silva Mawatha or Prince of Wales Ave, Colombo 14

Colombo Cricket Club Ground (CCCG; Sinhala: කොළඹ ක්‍රිකට් සමාජ ක්‍රීඩාංගනය, Tamil: கொலோம்போ கிரிக்கெட் கிளப் கிரௌண்ட்)

address: Maitland Crescent

Nelum Pokuna Theatre

phone: +94 11 2 669024

Performing Arts Theater
Buy
phone: +94 11 2589305

address: 706 Galle Road, Colombo 03, Kollupitiya

This handicraft shop has a wide range of good quality souvenirs and handmade items: clothes, bags and children toys, from some of the most beautifully-coloured fabric you've ever seen. While the biggest outlet is at Galle Road, there is smaller outlets at the Dutch Hospital and 41 Pedlar Street.

Crescat Boulevard

address: 89 Galle Rd

Colombo 3, Kollupitiya. An up-market shopping mall. Though it is fairly small, it contains a food court on the basement floor.

Lakmedura

address: 113 Dharmapala Rd

Colombo 07, Cinnamon Gardens.

address: 14 Reid Ave

Colombo 07, Cinnamon Gardens. A non-profit organization run by the craftsman association of Sri Lanka with assistance from the government. Offers all handicrafts and gemstone jewellery. Unique metalware, wood carvings, silver jewellery, batik, textile products and other crafts.

Liberty Plaza

address: RA de Mel Mawatha, Colombo 3, Kollupitiya

Similar to Majestic City but smaller. You can find various items such as clothing, CDs and DVDs.

Majestic CityIn Kollupitiya on Galle Road has a wide variety of clothing outlets- including a sub-branch of Odel- at very good prices, as well as various electrical goods and toy shops. It's pleasantly air-conditioned and includes a food court on the ground floor.

address: No 5, Alexandra Place, Colombo 7, Cinnamon Gardens

A stylish department store, with its very own Delifrance outlet, clothing, houseware, sporting goods, books and movies, as well as Delight – for sweet indulgences from chocolates to exotic nuts.

Paradise Road

phone: +94 11 268 6043

address: 213, Dharmapala Mawatha, Colombo 7, Cinnamon Gardens

A shop with a small café in a British colonial style building where antiques, home décor items and art can be viewed or purchased.

The Pettah MarketFruits to clothes to electronics at wholesale prices. You have to bargain extensively and it is recommended that you take a local you trust along with you. Even if you don't buy anything, Pettah, or Colombo 11 is an experience in itself being a very typical, loud and crowded oriental market place full of all sorts of odds, ends and junk. Each street in the market has its own speciality, for example, in 1st Cross Street you can find electrical items, 2nd Cross Street has jewellery and so on. In the Pettah Market area, some street vendors actively ask passers-by, foreigners and locals to view products they are selling though polite refusal is generally accepted.

phone: +94 11 2587440

address: 122 Havelock Road, Colombo 5

The boutique showcases a wide range of traditional and modern creations to enhance the art of living. Some are practical, some are useful, and some are just beautiful souvenirs.
Eat
Hansa Sri Lanka Speciality Coffee

phone: +94 773116579

address: 24 Fife Road, Colombo 5

An exceptional gourmet coffee, made from Sri Lanka coffee beans. The coffee can be purchased at several shops including supermarkets and is served in hotels and cafes throughout the island. Their retail outlet is at 24 Fife Road, Colombo 5, where they also serve several coffee drinks. Telephone: 0773116579.
Budget
Available everywhere are small bakeries selling rotis (either flat or folded into triangles filled with egg, vegetable or fish), hoppers (bowl shaped pancakes made with coconut milk), and other "short eats" (bread based snacks or fried foods). The price of individual items range from Rs 50-100.
A cup of coffee and some goodies for lunch at D'Cafe at No. 15A, Cambridge Place, Colombo 7.
Buy a "lunch packet" from street stands practically anywhere in the city. Typically, it will be a filling meal of rice and vegetables for about Rs 180.
The New Yarl Eat House is located in Station Road, Wellawatte, just off the Galle Road, on the sea side. It serves traditional Jaffna style rice and curries with excellent value for money crabs. A lunch for one including a full crab costs around Rs 400
Mid-range
The Cricket Club Cafe

address: 34 Queens Rd

Kollupitiya, Colombo 03. This cafe is a must for any cricket lover. The walls are covered in autographed memorabilia and photos with sports (usually cricket) being screened on all the TVs scattered throughout the rooms. They serve authentic Aussie cuisine and a wide variety of drinks. The bar is named after Donald Bradman.

The Gallery Cafe

address: 2 Alfred House Rd

Off Alfred House Gardens, Kollupitiya, Colombo 3. Wonderful atmosphere in beautiful building - designed by famous Sri Lankan architect Geoffrey Bawa. Large food menu featuring many international dishes, decadent desserts and extensive cocktail menu.

The Lagoon

phone: +94 11 243-7437

address: The Cinnamon Grand Hotel, 77 Galle Road, Kollupitiya, Colombo 03

This restaurant focuses primarily on seafood with colourful Sri Lankan flavours. The friendly, professional staff create an enjoyable dining experience.

Mango Tree

phone: +94 11 537-9790, +94 11 537-9791

address: 82 Dharmapala Mawatha, Kollupitiya, Colombo 03

One of the finest restaurants in the city. North Indian Cuisine, full of innovative dishes. Service is occasionally slow.

The Palmyrah Restaurant

address: 328 Galle Rd

Kollupitiya, Colombo 3. Serves excellent Sri Lankan dishes and has an international menu.

Roadhouse Cafe

address: 335 Galle Rd

Kollupitiya, Colombo 3. Serves Sri Lankan and Western food. Meals range from Rs 180 - 380. The food is excellent, but the service is a little slow. Try the mango milkshakes or one of their speciality coffees.

168 Seafood PalaceJust off Galle Road, near Hotel Renuka, Kollupitiya, Colombo 3. Serves excellent Chinese food and seafood dishes. Prices start at Rs 250. but some prices depend on weight (e.g. crabs). The service is very good.

UK Urban Kitchen

phone: +94 11 7219169

address: 69 Hyde Park Corner, Union Place, Colombo 2

Serves Western, Asian and Middle Eastern cuisines at relatively reasonable prices. Also specializes in wood-fired pizzas and coffee. Next to Arpico supermarket.

Thalis Restaurant

phone: +94 112 507 788

address: No 155 Park Road, Colombo-05.

Vegetarian restaurant, serves South Indian cuisine.
Splurge
Nihonbashi Main Restaurant

address: 11 Galle Face Terrace, Kollupitiya, Colombo 3

There are three Nihonbashi outlets in Colombo. A Sushi Bar at ODEL and an outlet at the Hilton Colombo Residence are the other two. The main restaurant is an airy and spacious restaurant with a blend of modern and traditional in design consisting of 8 private dining rooms also a dine-in wine room. Nihonbashi is owned and run by Tokyo-born Dharshan Munidasa, a self-taught chef.

SpoonsColombo Hilton, Echelon Square, Fort, Colombo 1. Is the flagship restaurant of the Hilton Hotel. It has a show kitchen, and an impressive collection of wine and chocolates.

Ginza HohsenColombo Hilton, Echelon Square, Fort, Colombo 1. This is one of the Japanese restaurants in Colombo. They have a sushi bar, the tatami rooms and ever teppanyaki.

Chesa Swiss

address: 3 Deal Pl

Kollupitiya, Colombo 3. Representing the best of Swiss cuisine, this restaurant has all your favourites from fresh garden snails to Chateaubriand for two to steak Café de Paris style. The wine list is exclusively Swiss.

The London GrillCinnamon Grand Hotel, Galle Face, Colombo 3. As the name suggests this restaurant is very British. It probably has the best ambiance of all, and the food is just great.

California GrillGaladari Hotel, Fort, Colombo 01. This is a fine dining restaurant on the rooftop level of the hotel. It offers panoramic views of the Galle Face marina. The food, mostly US-style grills and premium seafood, is excellent too.

Royal Thai

address: 115 Sir Chittampalam A. Gardiner Mawatha,Slave Island, Colombo 02

Located at the Cinnamon Lakeside Hotel (refurbished and rebranded September 2009), is an authentic Thai restaurant hosting the usual favourites, such as Tom Yam and Chicken Pandan leaves.

The Ministry of CrabOld Dutch Hospital, Colombo Fort. Located in the historic Dutch Hospital, The Ministry of Crab serves the best crabs in Sri Lanka. Crabs are priced by the size and a kilo of crab costs around Rs. 6500. They also serve their house speciality sweet tea with soda. One of the most expensive restaurants in Colombo, but it is definitely worth it.
Drink
Thembili තැබිලි (Orange Coconut juice) is safe, since they cut it open in front of you (uncontaminated).
Spring water with SLS certification are safe to drink.
Mount Lavinia
is a great place to be. The beach and the friendly people always draw visitors there and keep them for a while. Unlike the South of the island, Mount Lavinia is about 20 minutes away from the city and entertains a good deal of nightlife. Along the beach are a variety of restaurants that serve liquor alcohol have great food catered to suit every budget. The variety of the beach spots themselves are interesting, from nice little coves for a quiet chat a and a drink to well lit, busy places with dance floors, music courtesy of a live DJ and well stocked bars. Try
Jo Jo's
, a quiet little place where they serve pretty decent food and drink and has a nice homey feel to it. The owner Mr Jo, Jo, (Mr Nihal) better know, is a nice person. Buba, on the other side of the Mount Lavinia Hotel which divides the public beach is also popular.
Mount Lavinia also serves as the gay district of Colombo. Although not home to any gay bars, it is a very gay friendly town and always plays host to Colombo's Gay Pride week in June. Do not be surprised if some bars have the rainbow flag flying on the beach.
For those night owl's Colombo's nightlife is on par with most other Asian destinations and feature a number of nightlife establishments, that offer decent music and drinks, served in a pleasant atmosphere. The major hot spots as of February 2013 include the Amuseum and My Kind of Place at the Taj Samudra, Kama (near the Ramada Hotel), Silk (near independence Square) and R&B on Duplication Road.
Expect the music to range from 80s retro to modern chart toppers as elegant partygoers dance the night away sipping the poison of their choice. Most clubs close around 04:00, R&B perhaps a little longer after.
Popular watering holes include Whitehorse (Nawam Mawatha), Inn on the Green (Galle Face Hotel), Rize Bar (Dharmapala Mawatha), Seven Degrees North (Cinnamon Lakeside Hotel) and Cheers (Cinnamon Grand Hotel)
Most nightclubs may charge admission and smart/casual dress is encouraged with longs/shoes a must.
After a night out, some people will end with a late night snack, try e.g., Hotel de Pilawoos along the Galle Road in Kollupitiya to enjoy a Chicken Roti (chicken and cheese wrapped in a roti) followed by an iced Milo (sweet chocolate and malt flavoured drink)
Sleep
Colombo's cheap accommodations in the centre of town apart from the famous YMCA (containing a gay bathhouse) are mostly concentrated along the road opposite the Colombo Fort Railway Station. Many rooms are available but with shared bathrooms. These, however, tend to be dirty and dingy affairs that even seasoned travellers are unlikely to tolerate.
Moving south along Galle Rd., one can find a lot of more reasonable housing. Around Kollupitiya, you will still be dealing with air-conditioned concrete boxes where a sleazy clerk will tell you that they have a "budget single room for only 57 dollars". Further down south, prices and people will get more reasonable. There are quite a few small hotels in the side streets off Galle Rd. in Wellawatte area. If you continue south and get as far as Mount Lavinia, there will be hundreds of small guesthouses, some of them very affordable, in a quiet old-fashioned area with a lot of greenery and right by the sea (the only problem being that it's far from the centre). As of May 2014, typical costs were Rs 1,000-2,000, depending on the room quality. Buses 100, 101 and perhaps some others go down Galle Rd. from Colombo Fort station (Rs 20 to get to Wellawatte).
Budget
Hotel Nippon

address: 123, Kumaran Ratnam Road, Slave Island, Colombo - 2

Decent rooms fitted with air-con, cable TV, etc. It is located in a prime location in the city close to all essential sight seeing spots. Some of its facilities and services are restaurant, and bar.

Hotel Janaki

address: 443, Fife Rd, Havelock Town, Colombo 5

This 3-star hotel offers its guests rooms with air-conditioning, cable/satellite tv, and a room safe. There is a restaurant and bar on site, with 24-hour room service.

Cosy Lanka Restaurant and Hotel

phone: +94 11 2581359

address: 25 Wellawatte Station Rd

A small establishment run by friendly people. Rooms are functionally clean, but far from shining. Meeting facilities as well. Rs 1500-2000.

Parisare Homestay

phone: +94 11 2694749

address: 97/1 Rosemead Place, Cinnamon Gardens (col 7)

This is a lovely home with a wonderful hostess, but they have only 3 rooms which are frequently occupied by long term guests, which makes prior reservation essential. It is also a bit far from the city centre (Fort).

Hotel Ranmuthu

phone: +94 11 243-3986

address: 112, Galle Rd

Hotel Ranmuthu has 54 rooms, which are available in single, doubles, or suites. The hotel is located 45 minutes away from the airport. Rooms are air-conditioned, and there is 24-hour security on the premises. The hotel also offers currency exchanges and room service.

YMCA

address: Bristol Street, Colombo 01

Also a reasonably priced restaurant. Rs 700 to 1150 per night for a single room. There are dormitories which start at Rs 300 per night. The dorms however are not available to foreigners. You must be from Sri Lanka.
Mid-range
phone: +94 11 254-1010

address: 2 Galle Road, Kollupitiya, Colombo 3

A famous, old fashioned colonial style grand hotel. Most rooms come with a view of the ocean or the Galle Face Green. The hotel also has a variety of restaurants on site to choose from, including: The 1864 and Verandah. Spa and butler services are also available for guests.

Garden Guest House

phone: +94 11 269-7919

address: 7 Karlsruhe Gardens, Borella, Colombo 8

This three-room guest house offers its visitors attached bathrooms, free internet services and laundry facilities. The staff at the guest house can also arrange island tours and airport pick-up.

phone: +94 11 479-5114

address: 262, Old Colombo Road, Uswetakeiyawa (Hendala)

Located close to the airport, has 50 air-conditioned rooms with either a balcony or a terrace. A restaurant and bar are located on the hotel grounds. There is also a jewellery and souvenir shop.
***
phone: +94 38 2293306
address: Kindelpitiya, Welmilla Junction, Bandaragama.
Air-conditioned and non air-conditioned rooms with hot water, restaurant, can cater to wedding parties, nearby to Nachchimale meditation centre. 24 hr room service.
Splurge
phone: +9411 2911579

address: 103, Kandy Road, Kiribathgoda

All rooms equipped with air-conditioning, TV with cable channels and wheelchair accessible. Some of its facilities and services are 180 restaurant, fitness centre with steam room and business centre.

phone: +94 11 254-4544

address: 4, Lotus Road, Fort, Colombo 1

Has 446 rooms, including 23 suites. There are special executive level and handicap rooms. There are a variety of dining facilities in the hotel to suit different palates. Als has spa and fitness facilities.

phone: +94 11 258-5191

address: 6-8, Havelock Place, Havelock Town, Colombo 5

A boutique hotel, consisting of two restored colonial homes. Tastefully decorated using antique colonial furniture. Provides wireless Internet, pool, jacuzzi, restaurants.

phone: +94 11 5673000

address: 20 Park street, Slave Island, Colombo 2, Sri Lanka

Near major shopping centres and business establishments. Decked with colonial touches, like antique furniture and high ceilings. Rooms are equipped with Jacuzzi, DVD player and refrigerator.

phone: +94 11 4602122

address: 65 Rosmead Place, Cinnamon Gardens, Colombo 7, Sri Lanka

Situated in Rosmead Place. Once a stately home to the political Bandaranaike family. The 10 elegant suites have high ceilings and timber floors. They open to a private courtyard, balcony, or separate lounge area. Each suite also has king-size beds with Egyptian cotton sheets, and a bathroom with a rain shower and bath.

phone: +94 11 452-0130

address: 231, Galle Road, Colombo 4

Boutique hotel with 12 suites.

Ceylon Continental

phone: +94 11 242-1221

address: 48 Janadhipathi Mawatha, Fort, Colombo 1

Has 250 rooms, all with views of the city or Indian Ocean. Various onsite restaurants and cafes on site. 24-hour room service, fitness facilities and spa services.

phone: +94 11 243-7437

address: 77 Galle Road, Kollupitiya, Colombo 3

Has a spa and meeting facilities.

phone: +94 11 244-6622

address: 25, Galle Face Centre Road, Kollupitiya, Colombo 3

A variety of rooms; they range from standards with views of the sea and pool to presidential suites with separate dining and dressing areas. Also equipped with a fitness centre, book shop and swimming pool. There are also a variety of restaurants ranging from casual in dress to fine dining.

phone: +94 11 249-1000

address: 115, Sir Chittampalam A.Gardiner Mawatha, Colombo 2 Sri Lanka

As of Dec 2012, the rooms were quite tired and are in need of renovation. The price they ask does not reflect this. Despite this, the service is good and otherwise is a reasonable place to stay.

Colombo Courtyard Boutique Hotel

phone: +94 114 645 333

address: 32 , Alfred House Avenue, Colombo 03

Has a wine cellar, a rooftop café, cloud café, spa, pool side dining options. The Scarlet restaurant offers European, Mediterranean and Asian food.
Stay safe
Colombo is like most other South Asian capitals. Although it is not as dangerous as one would think, tourists should be very vigilant. Many first time visitors to Colombo find themselves falling victim to scams and touts; however, seasoned visitors to Sri Lanka are rarely scammed and it is very simple to avoid being a victim of scammers as long as you take precautions such as:
Being on guard for anybody trying to help you by giving you unsolicited directions or travel advice. Take any advice from taxi and auto drivers with a grain of salt, especially if they tell you the place you want to go to is closed, dangerous, non-existent etc. If you are unsure, check a map.
Not engaging in business with people who have to actively approach you for business such as Tuk Tuk drivers, street vendors, etc. If people have to approach or make overtures to you for business without you seeking them on your own volition, then they shouldn't be considered for business dealings. Because, you will likely be overcharged, as you have been denied the option of shopping around for the best price.
If you have been told your hotel is closed or full, give them a call. If you are a first time visitor to Sri Lanka, don't admit it as it will make you a target for the scam artists.
Once you are past the scammers, Colombo is a far more welcoming destination than other South Asian cities. Certainly single women, although not advised to explore every nook and cranny of the city on their own late at night, will not find the pestering attentions of leering men. Sri Lankan women are also very "western" in their dress sense, so it is very normal to wear skirts, tank tops, etc. You may get a few whistles and hellos from bored school boys, but they are more friendly and not meant to be threatening, so just ignore it and they will leave you alone.
The civil war that once raged is now long over, with much development occurring since. The country is now free from terrorism and tourists needn't be afraid of that aspect.
Respect
Seemingly innocuous public displays of affection between lovers such as kissing and/or hugging are not culturally acceptable in Sri Lanka as it is considered to be secluded behaviour (this does not apply to private functions or establishments designated for adults such as nightclubs, casinos and beach parties). Much lenience is given to foreigners and holding hands and public affection between parents and their children is not frowned upon.
In most buses, it is local etiquette to provide or give up the very front passenger seats to members of the clergy, such as monks or priests if they are present.
Do not turn your back to (or be alongside) a Buddha statue when within a reasonable distance (observe what others are doing). This includes posing for photos. It's OK to photograph a statue, but all persons should be facing it.
Public nudity is illegal in Sri Lanka. Nude/topless sunbathing and skinny dipping should be avoided at beaches, except in the few private beach resorts which allow it.
Cope
Embassies
phone: +94 11 246-3200

address: 21, Gregory's Rd, Colombo 7

phone: +94 11 522-6232

address: 33A, 5th Lane, Colpetty, Colombo -03

phone: +94 11 268-8610

address: 381-A Bauddhaloka Mawatha, Colombo 7

phone: +94 11 2639400

address: 89, Rosmead Place, Colombo 7

phone: +94 11 2580431

address: 40 Alfred House Avenue, Colombo 3

Greece

phone: +94 11 230-6767

address: John Keells Holdings Plc, 130, Glennie St, Colombo 2

phone: +94 11 2327587, +94 11 2422788, +94 11 2421605

address: 36-38, Galle Road, Colombo 3

Tourist visas for India can be obtained there. The cost of a six-month visa depends on your nationality, and you'll need to supply two photos. It takes at least five days to process a tourist visa, but only one day if you are a foreign resident in Sri Lanka. Lines tend to be very long. You can also obtain an Indian visa in Kandy at the Assistant High Commission of India (081-222 4563; ahciknd@mailandnews.com; Box 47, 31 Rajapihilla Mawatha). Kandy makes a good alternative to Colombo because it's not as busy.

phone: +94 11 267 43 37

address: 400/50 Sarana Road, Off Budhaloka Mawatha, Colombo 7

phone: +94 11 2588388

address: 55, Jawatta Road, Colombo 5

phone: +94 11 2693831

address: 20, Gregory's Road, Colombo 7

phone: +94 11 7557711, +94 11 7557712, +94 11 7557713

address: 33, Bagatalle Road, Colombo 3

Maldives

phone: +94 11-551-6302

address: 25, Melbourne Avenue, Colombo 4

Nepal

phone: +94 11-268-9656

address: 153, Kynsey Road, Colombo 8.

phone: +94 11 2510200

address: 25, Torrington Avenue, Colombo - 7

phone: +94 11 2469611

address: 34 Ward Place, Colombo 7

phone: +94 11 2573555, +94 11 2574959

address: 62, Sir Ernest de Silva Mawatha, Colombo 7

phone: +94 11 2302500-3

address: 46/46 Nawam Mawatha, 9th Floor, Green lanka Towers, Colombo 2

phone: +94 11 5390639

address: 389 Bauddhaloka Mawatha, Colombo - 7

phone: +94 11 249-8500

address: 210 Galle Road, Colombo 3
Connect

SIM cards for unlocked phones may be purchased upon arrival at the international airport.

Go next
Delhousie— town at the foot of Adam's Peak which is considered a place of worship and pilgrimage by many religions. The 2,224 metre peak, also known as Sri Pada, is home to a foot imprint on a rock at its summit. Depending on the faith, the foot print has been considered that of Buddha, the god Shiva, St Thomas, and even Adam, after he was expelled from the garden of Eden. The stairway to the top is believed to be one of the longest in the world. After reaching the top, climbers can ring the bell to mark the journey they just made. The panoramic view makes the journey well worth the effort. Reaching Delhousie from Colombo can be an adventure in itself, unless you are lucky enough to find a direct bus. The route is Colombo-Hatton-Maskeliya-Delhousie. The distance is quite short on the map but can take 6–8 hours.
Kandy, Located 120 kilometres (less than 4 hours away) outside of Colombo, Kandy is a small, tranquil town that holds the sacred tooth of Buddha, a sacred relic of the Buddhist faith. According to the legend, the tooth was taken from the Buddha on his funeral pyre and was smuggled into Sri Lanka hidden in the hair of a princess in the 4th century. The Dalada Maligawa, or Temple of the Tooth, is a main attraction for pilgrimages. Each July and August, the tooth is carried in a procession. Although one cannot see the tooth, the festivities are a sight to see.
Sigiriya, located 160 kilometres northeast of Colombo, is a very important Buddhist site in Sri Lanka. The remains of the ancient fortress and city date back to 477 AD. Legend has it, King Kasyapa built it in order to protect against attacks from his brother, whom he had stolen the throne from. The only way into the city is through the giant lion's jaws. The site is also famous for its 5th century frescos. Sigiriya is approximately 2–3 hours away from Colombo, and can be reached via train, bus, or car. It is open daily from 08:30 to 18:00. For foreign nationals the entrance fee is 2,000 rupees.