Colon (Panama)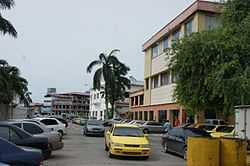 Colón
is a city in
Central Panama
. It's the Caribbean end of the Panama Canal.
Understand
Colon owes its existence to the Panama Railroad which opened in 1855 as the first rail link from Atlantic to Pacific, making travel from the East Coast of the Americas to the West Coast a lot easier. It has been the Atlantic endpoint of the Panama Canal since its opening and initially profited heavily from both transport links. However, the switch to container freight greatly reduced the demand for labor in Colon harbor and the town entered a decline from the 1960s onward. The town is in poor condition and notorious for its high crime rate, but it is worth driving around to look at the culture, people and architecture. In 2014 the Panamanian government started a rehabilitation and rebuilding effort aimed at revitalizing Colon and combating its negative reputation.

Get in
By train
The
Panama Canal Railroad
connects Colón with
Panama City
and the ride along the canal is very beautiful.
Colon Train StationThe Atlantic endpoint of the Panama Canal Railway served once daily on weekdays by a train to/from Panama City.
By ship
Colón is also a stop for many cruise ships as it represents one end of the Panama Canal.
By plane
Enrique Adolfo Jiménez AirportAnother U.S. built military surplus airport served only by domestic flights even though its 2,700-m runway could handle most modern airliners without major problems
See
Parks and Statues, most are by the shore area. The most notable is the one you see coming into Colón on Central Ave.
Christ Church by the Sea

Colón 2000

address: Paseo Gorgas

If tourists or businessmen for some reason have to stay overnight in Colón and need a SAFE place to eat, use an ATM machine, stock up on supplies, etc., their best best would be to go to the shopping plaza/cruise ship port Colón 2000. There are two restaurants there (Café Iguana and a Subway), a Super 99 grocery store, a Western Union branch, and an internet café. The main thing to emphasize is that it's 100% safe as long as you stay within the plaza area, there are both private guards and actual Panamanian police watching over it. Also in the back there are some halfway-decent souvenir shops and you can watch boats go by. How dangerous the city itself is so well-known there isn't much I could add to that, but Colón 2000 is at least one area you can breathe easy in and get some errands run if you need to.

Columbus CathedralBeautiful Catholic church that's worth a picture. Unfortunately the area isn't cared for. There is a lot of garbage in the streets.

Agua Clara Visitor Center, Panama Canal

address: 10 km south of Colón

From here you can see the ships enter and leave the canal on the Caribbean side. Also, in contrast to the Miraflores Visitor Center in Panama City, you can see the new, bigger locks from here and observe the bigger ships pass through them.

List of Monuments Not to MissChristopher Columbus statue, Christ statue and Virgin Mary statue (both near the Seawall), Shell Monument, Aspinwall Monument, and Monument of the Students' Revolution. Luckily pictures of these can be taken relatively easily, you can even leave your taxi briefly.
Do
Walking TourPark at the REY supermarket at Avenida Central/Calle 7. You can walk a little bit in the middle of the tree lined Avenida Central. The beautiful Cathedral is round the corner at Calle 9, but there is a lot of garbage on the streets. In order to visit the Washington Hotel you better go by car again. You can park at their parking lot. There is a nice old Presbyterian church next to it.
Buy
There is a well stocked and cared for REY supermarket at Avenida Central, corner Calle 7 in the city center. You can park your car there as well. It's a good starting point for exploring the city centre.
La Zona LibreA walled compound within Colón, and the second largest free trade zone in the world after Hong Kong. Unfortunately it is not aimed at tourists but to wholesalers, so it's not the shopping paradise you might imagine. Anything bought here is shipped to the airport and can be picked up only when you leave Panama, with the exception of small items you can carry out. If you're a foreign tourist and just buy a bottle of perfume or an iPod or something like that while you're in the Zona Libre, that's fine, but you will NOT be allowed to leave with big bags full of stuff.
Eat
Seafood soup
$4
, was a great treat with three or four different types of fish in a tasty tomato base. Have with rice and fried plantains with salsa. If you're not into seafood try the roasted chicken with rice or potatoes $1.65.
Sleep
New Washington Hotel

phone: +507 441-7133

address: Antigua Escuela de Las Americas
Overpriced and not great service but at least it's safe and has an interesting history. Plus it has a casino and a good restaurant.
Stay safe
Colon is considered dangerous city. If you want to visit the city center you should stick to the REY super market at the Avenida Central, corner Calle 7 and the Washington Hotel. Those places aren't more dangerous than other places in Panama. Avoid the city centre at night.

Cope
Consulates
Greece

phone: +507 445-0195

address: Apto. Postal 415, Colon, Panama, Cale 31 Av. FedericoBoyd 4041