Colonial Williamsburg
Colonial Williamsburg
is a "living-history museum" located in a historic district in
Williamsburg
,
Virginia
. Encompassing 301 acres, Colonial Williamsburg's Historic Area re-creates 18th-century Williamsburg as it appeared preceding and during the
American Revolution
. Throughout the city, sights, sounds, and activities help guests reconnect with America's past and become active participants in 18th-century life. The Historic Area is protected from modern intrusions by a 2,800-acre greenbelt.
Understand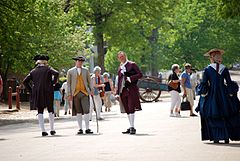 From 1699 to 1780, Williamsburg was the capital of England's oldest, richest and most populous mainland North American colony and the seat of power in the new nation's most influential state. Named in honor of William III, King of England, and designed by Royal Gov. Francis Nicholson, Williamsburg is one of the country's oldest planned communities.
In the late 1920s a project was started to recreate the town as it would have existed in the 18th century, led in part by John D. Rockefeller. In 1928 public land was transferred for the project, and thereafter 720 buildings that postdated 1790 were demolished. Reconstructions of colonial buildings were built on the original foundations using period illustrations, written descriptions, early photographs, and informed guesswork. In total, 500 buildings were reconstructed or restored, with 88 being labeled as original colonial structures.
Today the area is owned and operated by the non-profit Colonial Williamsburg Foundation, a foundation that was endowed by the Rockefellers. Visitation peaked in 1985 with 1.1 million visitors but declined thereafter, but has grown somewhat since bottoming out in 2004.
Get in
See
Williamsburg#Get in
for details on getting to the city. While it is free to walk through the historic district, to experience all of the sights within the historic district requires
purchasing a ticket
from the visitor center. Once you purchase your admission pass, you can either take the shuttle bus or walk to the Historic Area. The historic district is open 365 days a year.
Sampler TicketAllows use of the shuttle, entrance to two trade shops, entrance to the Public Gaol, and entrance to one family home.

Single-Day TicketAllows use of the shuttle, and access to all trade shops, homes, gardens, reenactments and other sites in the historic district. Also provides a 10% discount on tours, evening programs and carriage rides.

Multiday PassOffers everything included in the single-day pass but is good for unlimited repeat visits through December 31.

Annual PassOffers everything included in the multiday pass but is good for unlimited repeat visits for one year from the date of purchase. Also allows for exclusive tours and provides a 25% discount (instead of 10%) on tours, evening programs and carriage rides.
Get around

No cars are allowed in the Historic Area. Sites within the area are easily walkable. The Duke of Gloucester Street is one mile long, so wear comfortable shoes.
The Historic Triangle Shuttle provides transportation from the Colonial Williamsburg Visitor Center to nearby Jamestown and Yorktown.

See
Some of the sites in Colonial Williamsburg are reconstructions or were built after colonial times. Buildings that are original colonial structures are denoted below as "an original colonial building".
Many buildings are closed on certain days of the week, with hours varying seasonally, so be sure to check in advance that a desired destination is open.
Trade shops
The trade shops are staffed with individuals who wear costumes from colonial times and carry out the tasks that the shop owner of the time would have performed.
Community places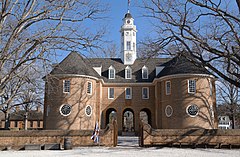 Family homes and gardens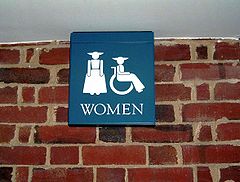 Art museums
Do
Historic Re-enactments
Historic re-enactments occur daily and present dramatic presentations of historic events. The "Storming of the Palace" re-enactment recreates the historic event in which colonials marched on the governor's residence to demand that powder removed from the town magazine be restored. The "Order in the Court" re-enactment allows visitors to participate in a trial in the courthouse. During re-enactments staff members in period costumes assume historic roles, and visitors are often encouraged to participate. Check the
daily calendar
for times and locations of re-enactments as schedules vary. Tickets may be required for visitors to be present when re-enactments are taking place.
Evening programs
take place every night, including ghost walks and witch trials. Separate tickets are required, and many of these events are not recommended for children due to the subject matter and sometimes intense emotion.
Tours
Tours are offered for everything from orientation to Colonial Williamsburg to guided walks through residences or other areas in the historic district. In the evenings there are ghost walks and similar tours. The
daily calendar
includes a list of some of the available tours.
Events
Special events are held throughout the year and are listed on the
special events web page
.
The Grand IlluminationA ceremony that began in 1935 and occurs on the first Sunday of December. During the holidays Colonial Williamsburg is decorated for Christmas, and the Grand Illumination is a ceremony in which thousands of decorative lights are activated simultaneously.
Other activities
Guests at Colonial Williamsburg's hotels also can enjoy swimming pools, tennis courts, lawn bowling greens, lawn croquet, shuffleboard, bicycling, and miniature golf.
address: 428 West Duke Of Gloucester

Offers current films and live performances. On any given day, you might see a Colonial Williamsburg interpreter portray Patrick Henry or enjoy a jazz ensemble of talented students from the College of William and Mary. Fall 2006 films include Wordplay, Who Killed the Electric Car, The Great New Wonderful, and A Scanner Darkly.

Golden Horseshoe Golf ClubGolf enthusiasts will find a sanctuary at Colonial Williamsburg's Golden Horseshoe Golf Club, a resort that offers 45 holes and was recently a top-100 resort golf course by Golfweek Magazine.
Buy
Recognized as one of the first planned shopping malls in the United States,
Merchants Square
is home to more than 40 shops and restaurants, including local and national specialty stores and a selection of restaurants.
The
Williamsburg brand
offers fresh, spirited designs in all categories of furniture and accessories for the way people live today. The WILLIAMSBURG products program includes 60 licensees producing more than 7,000 products in home furnishings, collectibles, and gifts. It operates 26 retail stores, a mail-order catalog, and an e-commerce site. Sales of products support the preservation, research, and educational programs of The Colonial Williamsburg Foundation, the not-for-profit organization that oversees the restored colonial capital.
Eat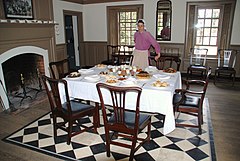 Additional dining options can be found outside of the historic district in the town of
Williamsburg
.
Historic dining taverns
Colonial Williamsburg's historic dining taverns feature food and drink of the 18th-century as well as period entertainment meant to provide guests with a sense of what dining in Williamsburg more than 200 years ago would have been like.
Contemporary cuisine
Sleep
The following lodging is operated by Colonial Williamsburg and can be found within or adjacent to the historic district. Other lodging can be found in the city of
Williamsburg
.
Go next
Busch Gardens Williamsburg - a few miles southeast of Williamsburg, this amusement park features roller coasters and other thrill rides and was voted the world's "Most Beautiful Park" for 20 consecutive years by the National Amusement Park Historical Association.
Newport News - about 20 miles southeast of Williamsburg on I-64, Newport News is home to the massive Newport News Shipbuilding, a shipyard that builds many American aircraft carriers, submarines and other military ships.
Richmond - about 50 miles west of Williamsburg on I-64, Virginia's capital city was settled in 1607, served as the capital of the Confederacy during the Civil War, and today offers a wealth of Civil War history.