Colonsay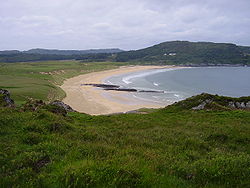 Colonsay
is a small island in the
Inner Hebrides
, about 8 miles long by 2½ miles wide, with Scalasaig as its main settlement and jetty. Colonsay is rocky yet fertile, with fine beaches, and is linked by a tidal causeway to Oronsay.
The name "Colonsay" (Gaelic
Colbhasa
) is said to derive from St Columba, who was banished from Ireland in 563 AD. He supposedly first landed here, but when he found he was still within sight of Ireland he sailed on to Iona. This story doesn't stand up, and the more credible legend has him landing near the Mull of Kintyre, along a natural sailing route and from which you can indeed see Ireland. But he founded churches and monasteries throughout the Hebrides and may well have visited here.
Get in
By boat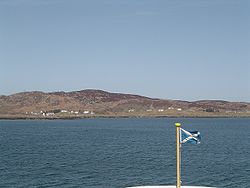 The usual route is the
Calmac
ferry from
Oban
, taking 2 hours 20 min. In summer this runs five times a week, most days with a 16:30 departure from Oban, returning from Colonsay at 19:00 to arrive back in Oban at 21:15 pm. In winter it runs three times a week, sailing mid-morning or midday from Oban.
Another ferry sails from Kennacraig in Argyll, calling at Port Askaig on
Islay
on the way, and taking about four hours. In summer there are two morning sailings per week. These enable a day-trip to Colonsay, as the ferry continues to Oban then turns around, giving you 7 hours on the island. So that trip totals 13-14 hours from leaving Kennacraig to returning, and then you've the onward travel to consider. In winter there's only one midday sailing on Saturday from Kennacraig and a day-trip isn't possible.
By plane
Colonsay AirportAn air service is operated by Hebridean Air between Oban and Colonsay with two flights on one day a week year round, continuing to Islay. It's basically an airborne school bus, using BNF Islanders, with a 10 kilo total baggage limit. Day-trips are possible Oban-Colonsay, Colonsay-Oban and Colonsay-Islay but not Islay-Colonsay.
Get around

Walk, cycle, or drive – the island is just about big enough to be worth bringing your own vehicle (not least for ease of luggage) and there's no car hire or taxi service here.


See
Colonsay House GardensGardens notable for rhododendrons and woodland species, and the 8th C Riasg Buidhe Cross. The house itself, which is Georgian, isn't open for visits.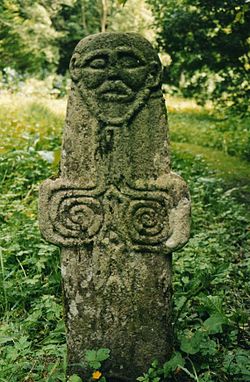 ==Do==
Stroll the many fine beaches, the best being at Kiloran Bay. Always be on the look-out for wildlife.
Tides permitting, walk across the causeway to Oronsay. Here find a ruined with 15th C stone crosses and richly carved 15th & 16th C grave slabs. The causeway is passable for about 90 mins either side of low tide, and you need most of 90 mins just to walk across and back. There are no facilities on Oronsay, so you really must get back. Tide times for 7 days ahead are available at Easytide, scroll across the map and click Scarasaig on Colonsay as your reference port. The hotel and post office also know the times.
Events
The Festival of Spring is a 3-week event held annually in May, the next being Mon 29 April - Sun 19 May 2019. It features local arts & crafts, food & drink, and nature, with local and guest speakers.
In previous years a similar event was held in autumn, called "Connect with Colonsay", but nothing has been announced for 2018.
Ceòl Cholasa is a folk music festival, usually held over the third weekend of September. The next event is Thurs 13 - Sun 16 Sept 2018.



Eat
phone: +44 1951 200325

address: Scalasaig

Serves light meals and snacks.
There's good dining at the Isle of Colonsay Hotel (see below) in their restaurant and in the bar.
Drink
Colonsay Brewery
produces its own beers. IPA, 80 Shilling and Pigs Paradise Blonde are their core products. They also distill "Wild Island" gin.
Wild Thyme gin distillery, a separate enterprise, is at Upper Kilchattan on the lane north of the lochs.
Buy
phone: +44 1951 200265

address: Scalasaig PA61 7YW

Well stocked grocer, will deliver orders free (including to meet your arrival) if ordered by email a few days in advance. Post Office and petrol and diesel pumps here.
Colonsay Bookshop (M-Sa 15:00-17:30), specialising in books of local interest, is next to the brewery. It's also the base for House of Lochar publishers, specialising in Scottish history.
Sleep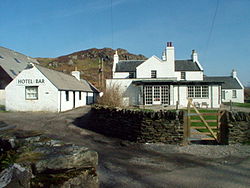 There's only the one hotel, and it's a fine welcoming place. The same management also runs 16 holiday lets across the island, ranging from crofters' cottages to Victorian farmhouses and estate mansions, and the Backpacker's Lodge listed. Contact for all of them is via the hotel website. Wild camping is allowed on Colonsay as with the rest of Scotland. There are mixed reports about wild camping on the RSPB-managed Oronsay.
phone: +44 1951 200316

Set in a charming 18th C inn, with an excellent restaurant.

phone: +44 1951 200312

address: Kiloran

16 bed hostel with private rooms and bothy bunks.

address: Ballarullin PA61 7YT

Family- and dog-friendly self-catering cottage, sleeps 8.
Go next
The usual route back to the mainland is the ferry to Oban.
The ferry to Kennacraig calls at Port Askaig on Islay twice per week in summer, once in winter. From there it's short ferry crossing to the Isle of Jura.
From Kennacraig either turn south to Gigha and the Mull of Kintyre, or north towards Tarbert (Loch Fyne) and the main road to Glasgow.