Colorado Springs
Colorado Springs
is the second largest city in
Colorado
, behind
Denver
to the north, and defines the northeastern tip of the
south central
region of the state. Attractive mountain scenery is nearby.
Understand
The
Colorado Springs Convention and Visitors Bureau
:
address: 515 S. Cascade Ave
Get in
By plane
Colorado Springs Municipal AirportThis is a full-service airport, but small enough to be able to get in and out quickly. Recent renovations, including free wireless internet, make it a very nice place to wait for an hour or two if you arrive early for your flight.

Pueblo Memorial Airport (PUB

) - Small full-service airport 40 miles south of downtown offering regional commercial air service.

Denver International Airport (DEN) - 80 miles north of Colorado Springs. Front Range Shuttle is the only shared shuttle service between Colorado Springs and DIA; it is also possible via a multi-stage bus ride.
By car
Interstate 25 is the only Interstate, running north-south through the city. Colorado Highway 83 provides a secondary route between East Denver and The Springs. US Highway 24 connects the city with mountain communities to the West and Limon, Colorado on the Eastern Plains.
Denver is 70 miles north on I-25.
Albuquerque is about 380 miles south on I-25.
By bus
Greyhound
runs bus services up to five times per day from
Denver
and at least once daily from other cities in Colorado and neighbouring states. The
Greyhound bus terminal
is located at 120 S Weber St in downtown.
Get around
Colorado Springs lies along the foothills east of the Rocky Mountains. It runs north-south along I-25, with the Air Force Academy to the North, downtown to the south, and Pikes Peak rising in the west.

See
phone: +1 719 634-6666

address: 1805 N 30th St.

A series of dramatic sandstone formations, enclosed by a city park. Excellent for hiking and technical rock climbing.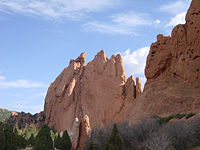 Pikes PeakThe most famous peak in Colorado, inspiring the song "America the Beautiful", dominates over the city to the west. Drive to the top, or ascend by Cog Rail. Feeling fit? Hike up Barr Trail to the summit, especially beautiful in the summer with all the wild flowers. Feeling really fit? Run up during the Pikes Peak Ascent or run up and down in the Pikes Peak Marathon.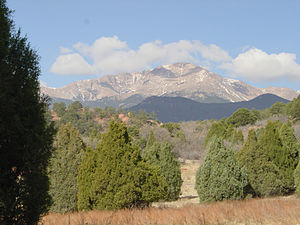 Do
Hiking, the Pike National Forest to the west, Pikes Peak, and numerous city parks offer ample hiking opportunities.
Horseback Riding
Academy Riding StablesEnjoy a ride through beautiful towering sandstone rock formations in the Garden of the Gods.

phone: +1 719 634-4173

address: 3254 Paseo Rd
Cycling
Rock Climbing, at Garden of the Gods and Red Rock Canyon (non-marking chalk only, register first at the Garden of the Gods visitor center), and in North Cheyenne Cañon City Park.
phone: +1 719 209-6649

Climb with certified, professional guides in the Garden of the Gods, Cheyenne Cañon, Red Rock Canyon, and more.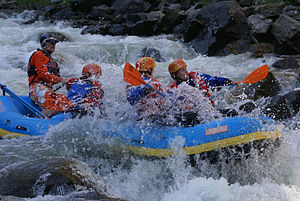 Volleyball
Card Games
phone: +1 719 634-7250

address: 901 N.17th St

Sanctioned duplicate games most afternoons and many evenings (except Sunday).
Buy
Eat
Il Vicino Wood Oven Pizza & Brewery

phone: +1 719 475-9224

address: 11 S. Tejon

Great gourmet pizzas.

phone: +1 719 328-1412

address: 702 S. Cascade

Funky.

Big Train

phone: +1 719 473-8218

address: 3050 N Nevada

Good place for chicken fried steak breakfast.

BiaggisGreat gourmet Italian food.

Jake and Telly's

phone: +1 719 633-0406

address: 2616 Colorado Avenue in Old Colorado City

Great Greek food; under $15 for lunch, over $20 for dinner. Sit outside on their second floor patio and enjoy the gorgeous Colorado Springs weather.

phone: +1 719 634-3106

address: 900 E. Fillmore

Hole-in-the-wall Irish-style pub, featuring some of the best burgers in Colorado Springs.

Colorado Bean

address: S. Carefree & Powers

Coffee, drinks, Mexican food. Reasonably priced. Excellent location for dinner when you're also seeing a movie. Tied with The Armadillo for hottest green chili in the city. (now closed)

phone: +1 719 574-4881

address: 945 Powers & Galley

Neighborhood bar/grill since 1984.Burgers and wings. Perfect for watching all the games.

phone: +1 719 495-8708

address: 7376 McLaughlin Rd, Falcon

Sports, spirits and food.

phone: +1 719 531-9368

address: 1760 Dublin, 3276 Centennial

Very good Japanese - Popular happy hour

phone: +1 719 632-7721

address: 324 N. Tejon

Wine, chocolate, coffee, tapas, and great music.

Pueblo Viejo

phone: +1 719 266-1999

address: 5598 N. Academy

Authentic Mexican food. Run by a family from Jalisco, Mexico who specialize in chile rellenos. Great salsa and atmosphere.

phone: +1 719 570-7656

address: 1665 N. Newport

Ok diner, and you can eat inside a KC-97 aircraft, lots of aviation decor.

phone: +1 719 599-0887

address: 204 Mount View Ln #16

Awesome breakfast and daily meat sandwiches or plates for lunch.

phone: +1 719 213 1097

address: 1169 N Circle Dr

Fresh pasta, made in the house. Pizzas, breads, focaccia, cured meats, etc

phone: +1 719 570-0543

address: 1825 Peterson Rd

O'sae offers authentic and delicious tasting Japanese cuisine and bistro in Colorado Springs, CO. O'sae's convenient location makes this restaurant a natural choice for dine-in or take-out meals in the Colorado Spring community. The restaurant is known for its variety in taste and choice of meals. Customers can state their personal taste preferences upon arrival and then take delight in the individualized maki, sushi, salad, and ramen creations. A true new way to do your traditional O'sae style meal.
Drink
phone: +1 719 633-2555

address: 1604 S Cascade Ave

phone: +1 719 635-2800

address: 2 E. Pikes Peak Ave

Wide variety of excellent brews made on premises. Also serves high quality food for lunch and dinner daily. Brunch is available Sunday only.

Jack Quinns Irish Pub

address: Tejon St

Great Irish and English beers, decent Irish food. Stay for the Irish band!

Trinity Brewing Co

phone: +1 719 634-0029

address: 1466 W Garden off Gods Road

Great micro brewery! Has 4-6 of their own beers on tap as well as an ever changing selection of 28 Plus other micro beers. Great food. Great crowd. Easy to find, close to Garden of the Park, Manitou Springs, Old Colorado city and the Air Force Academy. Free Wi-Fi.
Sleep
Stay safe
The town is about as safe as
Denver
, though be aware that Colorado has one of the highest death rates via automobile accidents in the US. So just remember to drive defensively and you'll be fine. Colorado Springs is infamous for speed traps also. Watch out for motorcycle cops (around 5 or 6) along with one or more cruisers waiting to catch you speeding.
The southern part of town is generally less safe than the northern part. Ft. Carson, on the southern edge of town, is a large Army installation bringing in thousands of young, energetic men and women. The businesses that these clients would frequent sometimes attract a rougher crowd. Stay north of Platte or west of Wahsatch, and all should be well.
Connect
Colorado Springs Post Office
Wireless Internet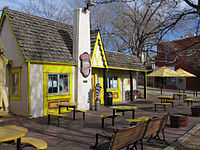 Colorado City Creamery, Rockrimmon & Delmonico. Network is secured, information available inside for how to connect.
The Daily Grind, 1200 S Tejon St. Free WiFi.
Einstein Bros. Café, 4325 Centennial Blvd (at intersection with Garden of the Gods Rd), +1 719 548-8408. Also at Woodmen & Academy. M-F 5:30AM-6PM, Sa 6AM-4PM, Su 7AM-4PM. Free Wi-Fi.
Mountain Perks Coffee, 5765 N. Academy. Free WiFi.
Oldeworld Bagel, 1670 E Cheyenne Mountain Blvd Suite A (in the same shopping plaza as Target, near I-25 and Circle), +1 719 527-9651. Free WiFi.
Panera Bread, 7344 North Academy Blvd, +1 719 522-1100; 1845 Briargate Parkway +1 719 266-9200; 3120 New Center Point +1 719 637-3500; 1832 Southgate Road +1 719 389-0808. Free wireless; however, after you connect your browser only directs you to Panera's portal until you click on the appropriate link agreeing to their terms of service.
Raven's Nest, 330 N Institute Suite #A (SW corner of Institute at Boulder), +1 719 632-3433. M-F 5AM-5:30PM, Sa-Su 7AM-noon. Free WiFi. "A neighborhood gathering place."
Rico's Coffee & Wine Bar, 324 N. Tejon St. Free WiFi throughout the cafe with seating in the adjacent bookstore.
Serranos Coffee Company, 7335 N Academy Blvd (at Falcon Landing, north of Woodmen on the east side), +1 719 266-0843. Free WiFi. Original store is in Monument.
The Summit House, (in the shopping plaza at the corner of Voyager Parkway and Middle Creek in the northernmost part of town, From the north exit I-25 at #156A, take Northgate Road east to Voyager Parkway, turn south; from the south exit I-25 at Interquest Parkway, turn north onto Voyager Parkway), +1 719 488-8893. M-F 6AM-9PM, Sa 7AM-6PM, Su 7AM-5PM. Free WiFi.
unwiredaccess.net. Has many customers downtown. They charge a $6 one-time ("lifetime") fee for an account. Then you can use their wireless hotspots with no further charges (until they go out of business). (Their pricing is different depending on location - the PikesPerk Coffee House on North Academy still uses unwiredaccess.net but does not require a fee. It's assumed the coffee house is paying for the access).
The towns of Monument and Palmer Lake, about 10 miles north of Colorado Springs, also have free wireless access.
Go next