Columbia (South Carolina)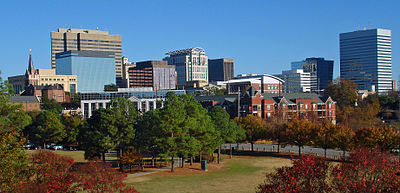 Columbia
is the capital city and second largest city in
South Carolina
. It is in the approximate geographic center of the state, and was one of the first planned cities of the United States. It is also home to the main campus of the University of South Carolina, and to the Army's Fort Jackson.
Located in close proximity to two seemingly forever-growing metros,
Atlanta
,
Georgia
and
Charlotte
,
North Carolina
, Columbia's recent rapid growth indicates South Carolina's capital city is beginning to blossom as other Southern cities have in the 21st century. As of 2018, estimates for the population of the city is 133,000, with an urban core population of about 550,000, and 833,000 in the metro area.
Get in
By car
Columbia is easily reached by Interstate 20, Interstate 26 and Interstate 77, or by U.S. Highway 1.
By plane
To get from the airport to downtown using public transport,
Comet Bus
Route #28 operates weekday-only service from the Midland Tech Airport campus, a few blocks from the airport. The bus leaves 3 times per day: at 7:39AM, 1:04PM, and 4:59PM. The journey downtown costs $1.50 and takes 30 minutes.
By train
An
Amtrak
station is located at 850 Pulaski Street in the Vista. Columbia sits on the main north-south line on the East Coast. Trains depart daily for Miami and New York; however, most of the trains pass though Columbia at night and are frequently delayed.
By bus
Megabus
. Service from
Atlanta
,
Athens
,
Fayetteville
,
Durham
,
Richmond
, and
Washington, D.C.
Buses stop at the Sumter Street Transit Station at the corner of Sumter Street and Laurel Street.
Get around
Most people use a car to get around Columbia, but more pedestrian-friendly areas of the city include downtown, The Vista, the University Hill/USC area, and Five Points. There is bus service around town provided by provided by
CMRTA
. It is generally geared towards locals rather than tourists. In 2017 however, the city began a free bus route called the Soda Cap Connector, which provides bus transit between downtown hotspots. Taxi service is also available 24/7 if you call in advance, and can usually be hailed on the street in Five Points and The Vista at night. Columbia also has an active Uber and Lyft population.
See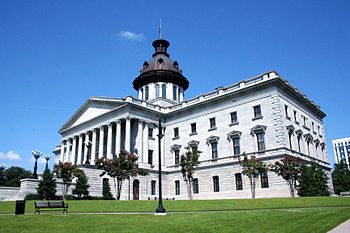 Siebels House and Garden One of the best gardens in the city. It's free to walk through and surrounds the oldest house in Columbia.
Fort JacksonFort Jackson is one of the major draws of visitors to Columbia. Essentially, there are three types of visitors to Fort Jackson: 1. the miserable private going through Basic Combat Training; 2. friends and family of graduating basic trainees; 3. A.I.T. (Advanced Individual Training) students. For those visiting for B.C.T graduation, graduation will be held at Hilton Field or, in the case of inclement weather, the Solomon Center. You should not surprise the soldier you're visiting, because he/she must report whether he/she is going home with a family member or by government expense. Failure to alert your soldier will cause him/her to be required to leave on government transportation. Furthermore, leave contact info with your soldier, so his/her drill sergeants can alert you to any changes in plans.

Hampton-Preston Mansion and Gardens

phone: +1 803 252-1770

address: 1615 Blanding Street

One of the few houses left from antebellum Columbia, it was built in 1818 and has many authentic furnishings.

phone: +1 803 734-2430

address: 1100 Gervais St

With a copper dome and bronze stars marking places where Sherman's cannonballs struck, the Statehouse is well worth the trip for fans of history and architecture alike. Though the Confederate flag no longer flies on the top of the dome, it stands atop a memorial directly in front of the building at the intersection of Gervais and Main. The grounds include several monuments and a small Italianate rose garden.

address: 500 Wildlife Parkway

Riverbanks Zoo has grown tremendously in the past decade. Recent additions include a gorilla habitat and koala bears donated from their native Queensland. Considered to be in the top ten US zoos, it has the added benefit of being small enough for those with difficulty walking to manage. Children will enjoy the petting zoo, pony rides, and demonstrations.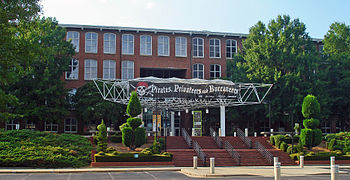 phone: +1 803 898-4921

address: 301 Gervais Street

This museum is often visited by South Carolina school groups, and tourists on rainy days. Children may enjoy the hands-on exhibits, but parents will note that this place is long on reproductions and short on explanations. Come prepared for lessons on history, geography, industry, and economics. The gift shop has many South Carolina themed items.
phone: +1 803-779-3100

address: 211 Gervais St

Lots of fun for those with small children.
phone: +1 803 799-2810

South Carolina's premier international art museum has 25 galleries of extraordinary collections of European, American and Asian fine and decorative art that span centuries. The museum's collection includes masterpieces of the Italian Renaissance through the 18th century from the Samuel H. Kress Collection, a strong collection of European and American furniture and decorative arts, as well as modern and contemporary art, art glass, and 20th-century design. Of particular interest are Sandro Botticelli's Nativity, Canaletto's View of the Molo, Claude Monet's The Seine at Giverny, and art glass by Louis Comfort Tiffany. The museum's collection of Asian art and Antiquities has grown through generous gifts to the collection, including an impressive collection of Korean and Chinese ceramics and Roman portrait heads. The museum also offers changing exhibitions from renowned museums and educational programs that include group and public tours, lectures, films, and concert series. The Museum Shop is open during museum hours.
Do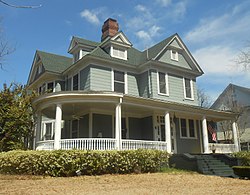 phone: +1 803 777-4274

address: Rice Athletics Center, 1304 Heyward St. (central ticket office)

One of Columbia's great institutions is University of South Carolina sports. The Gamecocks compete in 9 men's and 12 women's sports, almost all in the Southeastern Conference. As with most large schools, their hot-button sports are traditionally football and men's basketball, although their most nationally competitive have been women's basketball (in which they routinely lead the entire NCAA in attendance, and often outdraw the men) and baseball. Most athletic facilities are on campus, with the best-known venues being Williams-Brice Stadium (football), Colonial Life Arena (both basketball teams), and Founders Park (baseball).

Nickelodeon

address: 1607 Main Street

For independent film in Columbia, this is your place. Also has several film festivals throughout the year and is a comfortable movie theater.
Kayaking. Columbia has some of the best kayaking available in an urban area in the US. Put in the Saluda River at north end of the Riverbanks Zoo parking lot, get out in the Congaree just past the Gervais Street bridge, on either side.
St Patrick Day Festival An Irish celebration that is in Five Points. Features an elaborate parade. There's a wide variety of family entertainment like petting zoos and rides for kids. There's three stages of music by local and national musicians, and great food from local restaurants and caterers.

phone: +1 803 777-4180

address: 1429 Greene St.

The Melton Observatory is open to the public every Monday night when the sky is clear. Drop by to see planets, stars, nebulae, or whatever else is visible in the night sky.

Ganden Kadampa Buddhist Center

address: 1202 Main St. #200

Ganden Buddhist Center is a great place to learn about meditation and Buddhism. The Center is right across from the state capitol building and offers classes nearly every day of the week.

Three Rivers GreenwayThis series of trails is popular with joggers, dog walkers, bikers, skaters, etc. One can walk along almost the entire riverfront on the east and west sides of the river. Access via Laurel Street or Gervais Street. Beautiful views of the 3 rivers (Saluda and Broad combine to form the Congaree).
Learn
University of South CarolinaThe campus is just south of the Statehouse. The oldest part of campus, known as "The Horseshoe", survived the burning of Columbia and has lovely buildings dating from 1805.
Buy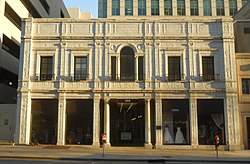 address: 532 Congaree Avenue

District of Columbia that features a wide selection of primairly locally-owned shops and boutiques, including a unique bookstore and music store. A must-visit for shoppers in Columbia.

address: 421 Bush River Rd

Older, smaller mall that is good for bargain hunters at stores such as Burlington Coat Factory.

Richland Mall

address: 3400 Forest Dr

Upscale shopping center including stores such as Belk, Barnes & Noble, and a Regal Cinemas.

address: 100 Columbiana Circle, 29212

Columbia's largest shopping mall, anchor stores include Sears, Belk, Dillard's and J.C. Penney

phone: +1 803 788-4678

address: 7201 Two Notch Road, 29223

Mid-market mall on Columbia's north-central side, including Sears, Burlington Coat Factory and the only Macy's department store in the region
Eat

Some of the most popular restaurants include, the Blue Marlin, which features seafood prepared in the South Carolina Lowcountry tradition; Dianne's on Devine, an upscale fine dining restaurant offering Italian dishes; the Hampton Street Vineyard, best known for its extensive selection in fine wines; and SakiTumi Grill & Sushi, which specializes in Pacific Rim cuisine. In all, Columbia offers over 450 dining options. Terra in the West Bank/State St. area in West Columbia is a new upscale eatery that has caught the attention of locals.


Budget
Passable regional chain restaurants have locations in and near town, including Five Guys Burgers and Fries, Mellow Mushroom Pizza, Moe's Southwest Grill, Atlanta Bread Co, Firehouse Subs and Sonic Drive-In (many 24-hr).
Other cheap eats include:


Mid-range
Splurge
Columbia has a diverse, extensive array of restaurants to choose from, most notably those in the historic Congaree Vista district, Five Points, and along Devine Street.

Drink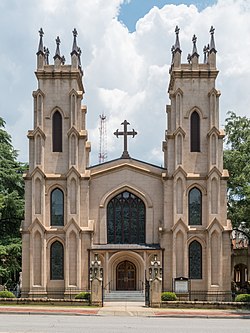 Five Points. Located around the intersection of Harden Street, Greene Street and Saluda Avenue, this neighborhood has numerous bars and eateries catering to the University of South Carolina students. It gets especially boisterous on Thursday nights. There are a few bars in this area that you'll find a more mature crowd and not so much the college scene. Places such as Speakeasy, BarNone, and Group Therapy generally cater to the recently graduated drinkers.
The Vista. For the more mature crowd, dozens of bars and restaurants centered on the corner of Lincoln and Gervais. Carolina Ale House Rooftop Bar and Wild Wing Cafe make for a great place to go and watch sporting events as well as some great live music. Blue Tapas Bar and Cocktail Lounge is a good place for a special occasion outing with great service and really good drink specials during the week.
Sleep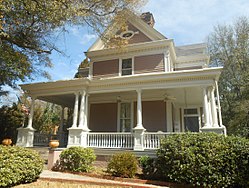 Go next
phone: +1 803 776-4396

address: 100 National Park Rd

Located about twenty miles south of the city, Congaree National Park, the nation's newest, doesn't even have admission gates yet, leaving you the pleasure of federally-protected landscape without the price. One of the last old-growth forests in the southeast, the swamp actually isn't a swamp at all, but a floodplain of the nearby Congaree River. Wild pigs, deer, turkey, alligators, and other wildlife abound; the largest cypresses in the world are located here. The cypress knees and tupelo trees create something that looks like a set of Lord of the Rings. The boardwalk is several miles long and handicapped accessible; the park contains great hiking trails and even the opportunity for canoeing (rent in Columbia). The visitor's center has useful information and a helpful staff, but if you're planning on returning to your car after five, be sure to leave it in the overnight parking lot near the entrance of the park.