Columbia River Plateau
The
Columbia River Plateau
is a region of
Washington
bordered by the Columbia River.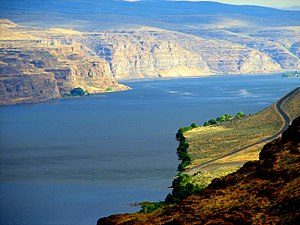 Regions
The "Tri-Cities Area" consists of
Kennewick
,
Richland
, and
Pasco
, set at the confluence of the Yakima, Snake, and Columbia rivers.
Interstate 82 follows the Yakima river. Interstate 182 crosses Columbia River. Interstate 84 follows the Columbia River to the south. Farmland consists of grapes, wheat, apples, and many other crops. The Rattlesnake Hills are to the south of the valley. Residents commonly use Highway 240, which is adjacent to the Columbia River, to quickly travel between Kennewick, Richland, and Pasco.
South of the Rattlesnake hills is the Columbia River Gorge on the border with
Oregon
.
Cities
Adams County
(county seat of Adams County)
Tri-Cities Area, Franklin County and Benton County
, near Pasco
(county seat of Benton County)
Douglas County
(county seat of Douglas County),
Grant County
- county seat of Grant County
- largest city in the county
- halfway betweeen Wenatchee and Moses Lake
- home of the Grand Coulee Dam on the Columbia River
- on the south end of Banks Lake, near Dry Falls
- a small town known for its healing mineral water springs
Klickitat County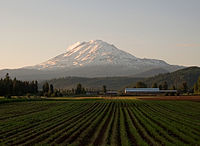 (county seat of Klickitat County)
Lincoln County
(county seat of Lincoln County)
Walla Walla County
(county seat of Walla Walla County)
, neighboring Walla Walla
, near Pasco
Yakima County
(county seat of Yakima County)
Other destinations
Whitman Mission National Historic Site

phone: +1 509 522-6360

address: (Visitors Center) 328 Whitman Mission Rd, Walla Walla, WA 99362

The 1847 Whitman "Massacre" horrified Americans and impacted the lives of the peoples of the Columbia Plateau for decades afterwards. See under Walla Walla#Go next..

phone: +1 509 664-6380

address: 1 S Daroga Park Rd.

Daroga State Park is a 90-acre camping park with 1.5 miles of Columbia River shoreline on the elevated edge of the desert "scablands." The park features camping activities and water-sport access in a unique and beautiful outdoor environment. Lots of sunshine combine with water activities to make this desert park a delight to visitors. Nationally recognized Desert Canyon Golf Course is just two miles away.
Norman A. Welch Memorial Speedway, in Connell
Palouse Falls State Park, 23 miles southeast of Washtucna

phone: +1 509 682-6262

address: 754 Silica Road N.W.

A 20,000 seat outdoor concert venue, located just off I-90, in the charmingly-named tiny town of "George, Washington". Beautiful sunsets.
Rock climbing at Frenchman Coulee.

Columbia River Gorge National Scenic Area

phone: +1-503 695-2372

The Columbia River cuts through the Cascade Mountains in this gorge, many km long. The Multnomah Falls are a particular attraction.

phone: +1 509 773-3141

address: 79 Highway 14, Dallesport WA 99617

A day-use park on the Columbia River, a great location for windsurfing. Between Murdock and Lyle.

phone: +1 509 767-1159

address: 85 Highway 14, Dallesport WA 99617

A park on the Columbia River's north bank, under Horsethief Butte. A short ways north-east of The Dalles, Oregon. Previously known as Horsethief Falls State Park.

phone: +1-509 337-6623

address: Waitsburg County Fairgrounds on East 10th St

Waitsburg

WA 99361

Sun Lakes-Dry Falls State ParkAt the foot of Dry "Falls. Offers camping and lakefront shoreline. During the last ice age, Dry Falls occasionally carried more water by volume than all the rivers of the world combined (known as the Missoula Flood).

Climb Steamboat Rock, and hike in Northrup Canyon.
Understand
The Columbia River Plateau region consists of Adams, Benton, Douglas, Franklin, Grant, Klickitat, Lincoln, Walla Walla, and Yakima Counties.

Talk
The primary language is English. With a high number of Hispanic migrants living in Yakima, Pasco, and the surrounding rural areas, Spanish comes as a second language for the region.

Get in
By plane
Seattle-Tacoma International Airport
and
Portland International Airport
have international flights and domestic flights with most major airlines. Both are about 2-3 hours from this region by car. There are two smaller airports in this region also have commercial air service (although limited):
Yakima Airport
and
Pasco Airport
.
By car
From Seattle: Take I-90 east to I-82, which leads into the heart of this region.
From Portland: Take I-84 east, then either take US-97 north (to Yakima and Topennish) or I-82 west to the Tri-Cities
From Boise and beyond: Take I-84 west to I-82 west.
From Spokane and beyond: Take I-90 west. If going to the Tri-Cities, take US-395 south and if going to Yakima take I-82 east at Ellensburg.
By train
Amtrak's Empire Builder stops in
Pasco
(on the Portland branch) and
Ephrata
(on the Seattle branch).
See
Umatilla National Wildlife Refuge

phone: +1 509 546-8300

address: (Administration office) 64 Maple St, Burbank WA 99323

a 14,000-acre wildlife refuge straddling the Columbia River in Washington and Oregon. The main refuge entrance, located on the McCormack Unit, is located 10 miles (16km) south of I-84 at the end of Paterson Ferry Road. Parking is allowed in designated parking areas only. The Boardman Unit can be accessed from the Tower Road Exit (Exit 158) off of I-84. The Whitcomb Island, Ridge and Paterson Units can all be accessed from Washington State Highway 14. Please access the refuge only from designated public access areas.

Crown Point Overlook State ParkThe best spot for viewing the Grand Coulee Dam.
Do
Tour the massive remediation projects and the historic B Reactor on the Hanford Site, formerly home to one of the United States' largest nuclear weapons production facilities.
Stay safe
The Columbia River Plateau is generally safe. The biggest risk in the Columbia River Plateau is rattlesnakes, don't touch them.

Go next