Columbus/Downtown
Downtown
is a district of
Columbus
,
Ohio
that includes the Arena district and Short North.
Understand
Downtown Columbus is primarily dominated by a few distinct neighborhoods, all of which are connected by High Street.
DowntownDowntown proper is the core of Columbus. The Ohio Statehouse lies in the center, surrounded by offices and cultural amenities, as well as other major public institutions.

The Arena DistrictThe arena district is dotted with major sports and entertainment venues.

The Short NorthA trendy neighborhood just south of the University district, and just north of the Arena District. The streets are marked with arches and nightlife hotspots. The short north also contains the historic Italian Village neighborhood.
Get in
By car
Downtown Columbus is intersected by High St. (SR 23), running N/S and Broad St., running E/W. Broad St., can be accessed from I-71 downtown.
By bus
phone: +1 614 228-2266

address: 111 E Town St
By plane
John Glenn Columbus International Airport

phone: +1 614 239-4083

address: 4600 International Gateway

Direct flights to most major American cities. Aside from rental cars, the airport can also be reached by the #92 bus, or by taxi. A taxi ride to downtown is only 10 minutes and will cost approximately $25. Depending on your schedule and where you are connecting to, it may be worthwhile to check flights to Dayton as well, as they are often cheaper.
Get around
By car
Downtown Columbus is intersected by High St. (SR 23), running N/S and Broad St., running E/W. Broad St., can be accessed from I-71 downtown. Roads are well maintained and traffic is usually not too bad except during "rush hours" when people are going to or leaving work. Rush hour can be avoided in your tavern of choice where they offer "happy hour" as an alternative to "road rage".
Columbus Commons GarageOne of the largest parking garages in Downtown Columbus. It's located a block from the Statehouse, and is usually a good option if an event has exhausted other parking options. Adjacent to Greyhound and COTA bus terminals.
By bus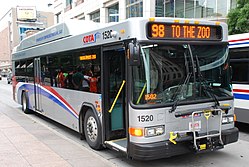 COTAThe COTA bus service, while not by any standard one of the greatest in the nation, can take you to most important places in the city, which should be about 5 blocks away from any conceivable location you need to go to.
By Bike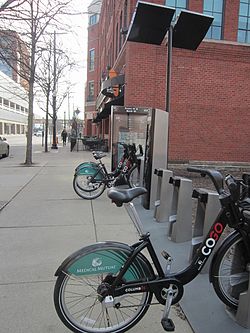 Downtown Columbus is fairly bike able
COGOA docked bike sharing program in Columbus.

.
By foot
Walking downtown Columbus should be considered safe before mid-night, it is mostly flat, with wide well maintained sidewalks. Bus stops are at regular intervals where you may encounter some homeless in the mix, who may approach you for money or maybe smokes. Usually they present no problem and should be ignored.
See
Architecture
Museums
Artwork
Do
Arts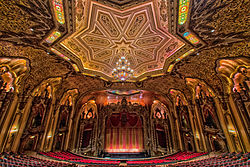 Lifestyle Communities Pavilion

phone: +1 614 461-5483

address: 405 Neil Ave

Popular concert venue that draws national acts, this venue has both an indoor music hall and an outdoor amphitheater.

phone: +1 614 469-1045

address: 55 E State St

The state's busiest performing arts facility. The theater was built in the 1920s, and is very ornate.
phone: +1 614 228-8600

address: 55 East State Street

phone: +1 614 229-4848
Palace TheatreIt's at the base of the LeVeque Tower on Broad St.; the theatre rarely has a dark night.
phone: +1 614 645-7047

address: 139 W Main St

Hosts art galleries, events, and classes. The building itself was built in the civil war as an armory.
Sports
Events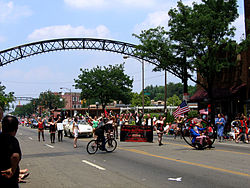 Parks and activities
phone: +1 614-653-8068

address: 421 W. State St

One of the largest makerspaces in the state.

address: 120 W Goodale St

Hosts Jazz in the park on Sundays in the summer.
Buy
Because Downtown Columbus is much more dense then the rest of the city, the strip malls and shopping malls that are common in Columbus begin to drop off as you get closer to the city core. Most shops in Downtown Columbus are boutiques and niche shops focusing on specific needs.
phone: +1 614-228-1852

address: 897 West Broad St

A nonprofit bike shop that specializes in bicycle repair and servicing.
Eat
Budget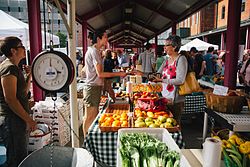 Mid-range
Splurge
phone: +1 614 469-0000

address: 679 W Spring St

Built directly at the confluence of the Scioto and Olentangy rivers. Stunning views of the rivers and skyline. American cuisine, steaks, seafood.

phone: +1 614 224-2204

address: 569 North High Street

Fine aged steaks and chops, fresh seafood and creative chef specialties.
Drink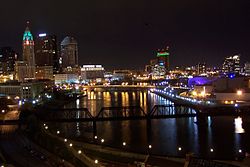 Sleep
Budget
Comfort Suites

phone: +1 614 586-1001
Mid-range
Residence Inn Columbus Downtown

phone: +1 614 222-2610

address: 36 E. Gay Street

A restored historic all-suite hotel. Guestrooms include kitchens. Free breakfast, Free Wi-Fi.

Courtyard by Marriott Columbus Downtown

phone: +1 614 228-3200

address: 35 West Spring Street

A comfortable downtown Columbus hotel in walking distance to Nationwide Arena District. Free Wi-Fi.

Drury Inn & Suites Columbus Convention Center
Splurge
The Columbus, A Renaissance Hotel

phone: +1 614 228-5050

address: 50 North 3rd Street

A comfortable hotel in the downtown area. Rooms are spacious and the beds are very comfortable. The hotel has an outside pool that is despite being heated open seasonally.

phone: +1 614 365-4500

address: 75 E. State St

across fromt the state capitol building.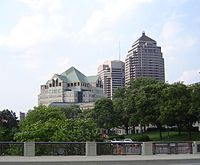 phone: +1 614 461-2663

address: 55 East Nationwide Blvd

The Lofts is a renovated urban apartment building tuned exclusive hotel. Beware that anyone under 21 cannot stay at the hotel or the sister Crowne Plaza hotel with out an accompanying 21+ year old adult.

phone: +1 614 461-4100

address: 33 East Nationwide Blvd

phone: +1 614 463-1234

address: 350 North High Street

phone: +1 614 228-3800

address: 310 South High Street

Hilton Columbus Downtown
Bed & Breakfast
address: 50 East Lincoln Street
Cope
Religion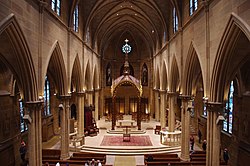 Connect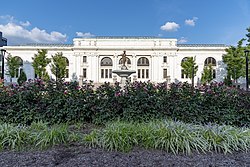 phone: +1 614 645-2275

address: 96 S. Grant Ave

Offers public computers and free WiFi