Columbus/Northeast
Columbus/Northeast
is defined as being North of Interstate 70 and East of Interstate 71, in
Columbus
,
Ohio
. Included in this area would be Westerville, Minerva Park, New Albany, Gahanna, Whitehall and
Reynoldsburg
. It is also where Columbus Int. Airport is located.
Get in
By car
By bus
phone: +1 614 228-2266

address: 111 East Town St

Hours: 24 hours a day.
By plane
John Glenn Columbus International Airport

phone: +1 614 239-4083

address: 4600 International Gateway

Direct flights to most major American cities. Aside from rental cars, the airport can also be reached by the #92 bus, or by taxi. A taxi ride to downtown is only 10 minutes and will cost approximately $25. Depending on your schedule and where you are connecting to, it may be worthwhile to check flights to Dayton as well, as they are often cheaper.
Get around
By car
I-270 circles Columbus with exits to Columbus areas. If you are arriving at Columbus International Airport, there is no lack of rental car agencies, nor is there a lack of long term parking at those rental agencies. Leaving the airport grounds, at the stop light, go straight to the I-71 ramps or 670 if you wish to go downtown. Once familiar with the road system, it is quite easy to navagate.

By bus
The COTA bus service , while not by any standard one of the greatest in the nation, can take you to most important places in the city, which should be about 5 blocks away from any conceivable location you need to go to. This service costs $2.00 for an express bus and $1.50 for a normal bus. Transfers are free; ask for one from the bus driver when you pay your fare. They are available at the Columbus Int. Airport.

By taxi
From Columbus Int. Airport +1 614-239-TAXI. Taxis are available in the ground transportation area of the terminal 24/7. An electronic meter will be activated to compute your fare from the airport. The approximate fare into downtown Columbus is $22.00

See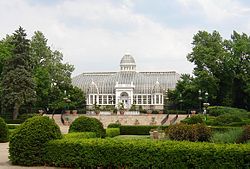 phone: +1-614-715-8000

address: 1777 E Broad St

Beautiful sculpted gardens and indoor biomes make up this spectacular site. The conservatory hosts various exhibitions (such as Blooms & Butterflies each spring with live releases) and has a collection of Chihuly glass. Civil War General William Tecumseh Sherman gave his famous 'War is Hell' speech here.
Do
address: 4640 Wyandotte Dr

Wyandotte Winery is a family run winery located in a cozy neighborhood setting in northeast Columbus. Wyandotte has produced fine grape and fruit wines on premises for over 30 years. Visit the wine shop and tasting room, enjoy a taste of the current wine offerings, and browse the wine related items in the gift shop.

614conAnnual hacker/infosec convention.
Buy
address: 160 Easton Town Center

A high end shopping mall. It is clearly modeled after the streets of European cities such as Paris, Venice, London, and Athens. Filled with a neighborhood atmosphere, upscale stores, restaurants and entertainment.
Eat
Food Safety – In Columbus, starting late May of 2007, all 6,000 local restaurants must post
color coded signs
that reflect the results of the most previous inspection by the Columbus Public Health Dept. Green = passing most recent inspection. Red, yellow or white suggests you probably may want to reconsider your options. The law applies to public pools, tattoo parlors, spas, campgrounds as well as food markets. The sign must be obvious, within of an entrance.
Budget
African Paradise Restaurant

phone: +1 614 476-2163

address: 2263 Morse Rd

African and Mediterranean cuisines, using goat, lamb, fish, chicken and other choices, vegetarian dishes and pasta.

phone: +1 614 416-8890

address: 108 S Stygler Rd

Gahanna. Beef brisket, pulled pork, ribs, chicken, homemade side dishes. Lunch and dinner: daily. Children's portions available; patio smoking at some locations; beer. Chain that is primarily in Columbus, with locations in a few of the suburbs. Incredibly good pulled pork, with tastes for anyone interested in BBQ cooking.

phone: +1 614 475-8004

address: 3764 Cleveland Ave

9 am to 9 pm daily. $7 to $22: Grilled goat, grilled chicken steak, curry goat.

Yanni's

address: Cleveland Ave. and I-270

Huge portions, cheap, good Greek food. Unbelievable desserts.
Mid-range
phone: +1 614 473-9144

address: Worth Ave. Easton Shopping Center

An extensive menu of Turkish and Middle eastern cuisine.

phone: +1 614 428-7427

address: 550 Officenter Place

Gahanna. Ribs, steak, seafood. Lunch and dinner. Children's menu. Cocktails. If you like ribs, this is the place. Several locations.

Hunan House or Hunan LionTwo of the best Chinese places in the Midwest. The Hunan House in the north side of town off SR 161/Dublin-Granville, was featured on the Food Network, though both rest restaurants serve mostly the same food.

Polaris GrillExcellent Sunday buffet. Good meals.

MCL Restaurant & Bakery Westerville

phone: +1 614 818-1700, +1 614 818-1777 (Carryout)

address: 60 Westerville Sq., Westerville

Milano's Italian Restaurant & Pub

phone: +1 614 861-1277

address: 6916 E. Broad St

How about four-layer lasagna ($9.50), which uses Romano, provolone and ricotta cheeses, with a meat sauce, in each layer.
Splurge
Drink
phone: +1 614 636-3825

address: 655 N James Rd
Sleep
Budget
Comfort SuitesNear CMH airport, 4270 Sawyer Rd. +1 614 237-5847.

Days Inn

Country Inn & Suites
Mid-range
Courtyard by Marriot

Best Western Port Columbus
Splurge
phone: +1 614 475-7551

address: 1375 N Cassady Ave

Embassy Suites Columbus Airport
Connect
phone: +1-614-645-2275

address: 310 Granville St
Cope
Religion
Temple IsraelThe oldest synagogue in Columbus, with the congregation dating back to 1846.
Go next