Columbus/South
Columbus/South
is defined as being South of I-70 in
Columbus
,
Ohio
. It includes German Village, Brewery District, New Rome, Valley View, Galloway, Urbancrest, Grove City, Obetz, Groveport and Brice.
Get in
By car
By bus
phone: +1 614 228-2266

address: 111 East Town St

.
By plane
John Glenn Columbus International Airport

phone: +1 614 239-4083

address: 4600 International Gateway

Direct flights to most major American cities. Aside from rental cars, the airport can also be reached by the #92 bus, or by taxi. A taxi ride to downtown is only 10 minutes and will cost approximately $25. Depending on your schedule and where you are connecting to, it may be worthwhile to check flights to Dayton as well, as they are often cheaper.

Rickenbacker International AirportA smaller international airport farther from the city core. A small number of passenger airlines and charter flights use this airport. This airport services a small number of General aviation flights. A former US Army, and later Air force base, it was named after WWI fighter ace and Columbus native Eddie Rickenbacker and still hosts a small military presence.
Get around
By car
By bus
COTANot the best bus service, but it can take you to most important places in the city, which should be about 5 blocks away from any conceivable location you need to go to.
See
phone: +1 614 486-4402

address: 1665 West Fifth Ave

Five major exhibitions each year.
Do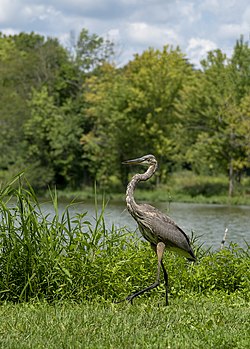 Culture
address: 1000 City Park Avenue
Sports
Nature
Three Creeks MetroParkLarge metropark.

phone: +1 614-949-1078

Offers fishing, kayaking, disc golf, and archery.
Buy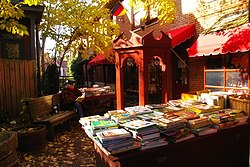 Eat
Budget
phone: +1-614-228-8854

address: 475 S Third St

Lunch WagonsCater to a Latino labor force, are becoming a common sight around town and are very popular with those in the know. Similar to the lunch wagons so popular in Hawaii, but with a Latino twist. They are subject to inspection by the health dept. and should not be feared but enjoyed.

Old Mohawk Restaurant

phone: +1 614 444-7204

address: 819 Mohawk St

Great pasta, burgers, turtle soup.
Mid-range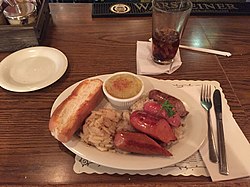 Splurge
Drink
The Brewery District is in South Columbus.

Stay safe
Hospitals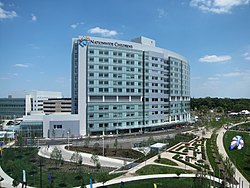 Nationwide Children's Hospital

phone: +1 614 722-2000

address: 700 Children's Dr

More than six square city blocks with 1.5 million square feet of space on its downtown hospital and research campus, and is regarded at the nation's 5th largest free-standing children's hospital.

phone: +1 614 486-5200

address: 1211 Dublin Rd.

Rheumatoid arthritis, Osteoarthritis, Fibromylagia, Systemic Lupus Erythematosus, Polymyositis, Sjogrens syndrome, Scleroderma, Vasculitis, Gout and Osteoporosis. Top and one of few Ohio facilitities!
Cope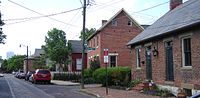 phone: +1 614 445-9668

address: 684 South 3rd St
Sleep
Budget
Comfort Suites

phone: +1 614 552-2525

address: 5944 Scarborough Blvd

Peaceful setting conveniently located off I-70 exit 110. All suite hotel with indoor pool and free continental breakfast bar.

Econo Lodge Brice Road

phone: +1 614 864-4670

address: 5950 Scarborough Blvd

Microtel Inn Columbus/Grove City

phone: +1 614 277-0705

address: 1800 Stringtown Rd
Mid-range
Splurge
Connect
Go next
Southern suburbs
Natural attractions