Columbus/University Area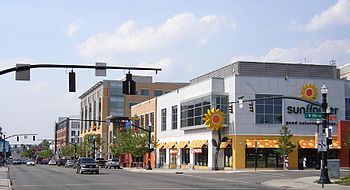 University Area
also known as the
University District
is the area around
the Ohio State University
in
Columbus
,
Ohio
. It also includes the OSU Hospital and The James Cancer Research Hospital.
Get in
By car
SR 23 (High St) runs N/S directly in front of campus, beginning at Lane Ave going S. and King Ave going N. on High.
SR 315 is west of the campus. Exit at W 12 St. takes you to the east side of campus and University Hospital.
I-71 Exit on 5th Ave. Go west, takes you directly to High and campus.
By bus
phone: +1 614 228-2266

address: 111 East Town St

Hours: 24 hours a day.
By plane
John Glenn Columbus International Airport

phone: +1 614 239-4083

address: 4600 International Gateway

Direct flights to most major American cities. Aside from rental cars, the airport can also be reached by the #92 bus, or by taxi. A taxi ride to downtown is 10 minutes and will cost approximately $25. Depending on your schedule and where you are connecting to, it may be worthwhile to check flights to Dayton as well, as they are often cheaper.
By foot
Columbus downtown is a relaxed one hour walk away.
Get around
By car
Driving in and around the University area, is not difficult, but you should use caution because of the number of students sometimes rushing to class or distracted by student responsibilities.
Parking
Once on the University grounds, parking is severely limited and being towed for improper parking, even for short periods is very common. Some areas require parking stickers and tow trucks cruise the area looking for offenders. Many spots just off the campus (High St.) are metered spots with a 1-hour limit. Perhaps the best deal for parking near campus is the South Campus Gateway Garage (corner of N. High Street & E. 11th Avenue) which charges $1 for the first 3 hours, and $1 per hour after that. There are also some spots in the area east of campus which don't require a residential permit nor are metered, however these spots are limited and they are also subject to seasonal street-sweeping restrictions.
Parking during Ohio State football games is a completely separate situation and you can except to pay a flat rate for parking in a garage or lot.
By bus
The
COTA bus service
, while not by any standard one of the greatest in the nation, can take you to most important places in the city, which should be about 5 blocks away from any conceivable location you need to go to. This service costs $2.00 for an express bus and $1.50 for a normal bus. Transfers are free; ask for one from the bus driver when you pay your fare.
By foot
Walking around the OSU area is more than common, many walkways exist (try to avoid alleys after dark), and the locals are very patient with those crossing streets. All in all, walking in the OSU area should be considered safe.
See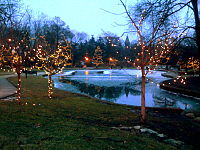 phone: +1 614 292-OHIO

address: 154 W. 12th Ave

OSU is the largest university in Ohio, and one of the largest universities in the USA.

Mirror LakeA small and pleasant lake on the OSU campus.

Ohio UnionThe student union at OSU. A large building with visitor information and dining. The Ohio Union often hosts events.

The OvalThe central park and heart of the Ohio State University campus.

William Oxley Thompson Memorial LibraryThe central library of OSU. Students and visitors often rub the bust in the library entrance for luck.

phone: +1 614-292-9248

address: 1224 Kinnear Rd

Offers 1- to 2-hour-long tours including a decommissioned supercomputer. It is possible to ask for a extended tour to see operating supercomputers, but this requires a security screening procedure.
Museums
phone: +1 614 247-5959

address: 2355 Olentangy River Rd

A 24,000-square-foot educational and historical facility, on the history of golf.

Billy Ireland Cartoon Library & MuseumOne of the world's largest public collection of cartoons and comic books.
Do
Sports

address: 411 Woody Hayes Drive

The home stadium for Ohio State Football. The stadium also hosts concerts and other events.

Ohio State Marching BandSports games often feature the top tier Ohio State Marching Band.

Value City Arena at the Jerome Schottenstein Center

address: 55 Arena Dr

OSU basketball and hockey, concerts, monster trucks.

Bill Davis StadiumThe baseball stadium of the Ohio State University.

address: 2450 Fred Taylor Drive, Columbus 43210

Hack OHI/OThe annual Ohio State University hackathon.
Arts
phone: +1 614 292-0330

address: 1871 N High St

One of the country's leading modern arts centers. The center, named after the Limited Brands founder Lex Wexner, features visual art exhibits, international films, live theater, and modern dance.

phone: +1 614 545-2255

address: 1550 N High St

Independent movie theater.

phone: +1 614 261-1581

address: 3055 Indianola Ave

Single-screen independent movie theater with bar. Commonly has events with beer tasting from local breweries with that evening's film.
Recreation
Jogging Olentangy trailYou can easily run up the Olentangy trail along the river. The greenway crosses huge zones of marsh. Running south leads to downtown

address: 390 Woody Hayes Dr. Columbus, OH 43210

Offers open skating to the public.

Olentangy River Wetland Research ParkResearch wetlands. Open to the public.
Buy
Lane Avenue Shopping Center

Lennox Town Center

address: Olentangy River Rd

Theaters, Target, Bath and Body Works, Barnes & Noble, restaurants, student-oriented shopping center for the needs of OSU students.

phone: +1 614-421-9455

address: 2500 Summit St

This used CD and record store has been a Columbus staple since 1986.

Volunteers of America

address: 3620 Indianola Ave

Used clothes and furnishings. Numerous Columbus locations.
Eat
Budget
Hound Dog'sGreat pizza.

The Blue Danube

phone: +1 614 261-9308

address: 2439 North High St

An Ohio State University institution, it's a cheap bar/diner with a wide variety of food and drinks, open late. Try the gravy fries.
Buckeye Donuts, North High St Open 24-7, this is another Ohio State University institution. As their name suggests, they have a wide selection of donuts and crullers, as well as inexpensive gyros and falafel.

Lavash Cafe

address: 2985 North High Street

Mediterranean restaurant with classic dishes like shawarma, humus, kabobs, and baklava as well as daily vegetarian specials.

El Vaquero Mexican Restaurant

phone: +1 614 261-0900

address: 3230 Olentangy River Rd
Mid-range
phone: +1 614 262-2414

address: 2931 N. High St

Clintonville. Mediterranean cuisine, shawarma, hummus, mujadara. Children's menu; beer and wine.

phone: +1 614 291-3663

address: 1299 Olentangy River Rd

University area. Diner favorites with an upscale twist, meatloaf, Romano-encrusted chicken, chocolate cake. Lunch and dinner: daily; Sunday brunch. Children's menu; patio smoking; cocktails. Entrees: $7.95-$24.95. Several Columbus locations.

Bistro 2110 at the Blackwell Hotel

phone: +1 614 247-2110

address: 2110 Tuttle Park Place

On the ground floor of the Blackwell hotel. The restaurant has a view on the historic Ohio Stadium and offers fusion cuisine with several vegetarian options.

phone: +1 614-421-2323

address: 2361 N High St

Indian and Pakistani cuisines. Children portions available; patio smoking; cocktails. No wheelchair access.
Splurge
phone: +1 614 291-3474

address: 1245 Olentangy River Rd

University area. Seafood, cedar-roasted salmon, hoisin-glazed yellowfin tuna, Maryland jumbo lump crab cakes. Lunch: Monday-Friday; dinner: daily. Children's menu; cocktails. Entrees: $15.95-28.95.
Drink
phone: +1 614 294-1659

address: 1722 North High Street

Popular music concert hall amongst college students. Newport Music Hall draws a fair number of national acts.

phone: +1 614-291-8856

address: 1151 N High St

A trendy, but unassuming bar in the Short North.

phone: +1 614 291-8313

address: 1978 Summit St

(Unrelated to the chain restaurant.) A dive bar in the north campus area. Often hosts small- to medium-popularity bands and has special theme nights, including a themed weekly Nerd Night, and frequent sports-watching gatherings, especially for soccer and Columbus Crew games. Cheap drinks (many domestics under $2, most imports under $4) and a relaxed atmosphere.
Sleep
Budget
address: 1445 Olentangy River Rd
Mid-range
phone: +1 614 267-1111

address: 3031 Olentangy River Rd
Splurge
phone: +1 614 247-4000

address: 2110 Tuttle Park Place

On Ohio State's campus, the Blackwell offers top amenities. The top floors over a nice view over the campus or the Olentangy river. Very clean and friendly staff. The rooms generally have a big working desk. The free Wi-Fi uses the Ohio State University connection.
Connect
Wi-Fi
Radio
WOSU-FMOhio State University's public news radio station on 89.7MHz

WOSAOhio State University's public radio station specializing in classical music on 101.1MHz
Television
WOSU-TVOhio State University's public television channel.
Cope
Newspapers
The LanternThe student newspaper of the Ohio State University. It can be found in and around the university's campus. The writing found in The Lantern is sometimes of questionable quality, causing some students to nickname it The Latrine.
Stay safe