Concepción (Bolivia)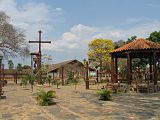 Concepción
is a town in the eastern
Bolivia
, north of
Santa Cruz
(Santa Cruz de la Sierra). Concepción is the capital of the Ñuflo de Chávez Province in the
Santa Cruz Department
.
Understand
Concepción is best known as one of the
Jesuit Missions of the Chiquitos
, a
UNESCO World Heritage site
.
Most streets are unpaved with the exception of some around the main square (these are paved with bricks and stones). Unpaved ones have predominantly red color, passing motorbikes and cars leave a lot of dust.
Get in
By bus
There are a couple of buses daily from Santa Cruz. They stop at San Javier, so you may jump in (i.e. at 11) there.

Get around
By foot
Concepción is small enough to walk on foot.
By moto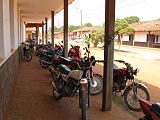 A lot of mototaxis are available.
See
The church, belltower and museumThe church is simply amazing. Station paintings inside are unique - along with the suffering of Christ they expose the modern devastation of Chiquitania nature. Belltower has thick carved wooden columns and winding staircase. Museum contains history photos (including the restoration of the church by the Swiss architect Hans Roth), church things, entry is required to see church patio. Buildings and structures painted with natural colors.

Wood workshopsCraftsmen making furniture, carvings from local wood. You can see the tools, style of work, try to buy something.
Do
Take a dip in a lake called Represa Concepción (earlier Represa Zapocó).

Listen to a concert in the church.Once in two years there is the international baroque music festival, which seems to be the best. There is yearly Festivales de Temporada as well. Check the shedules to see, if you can catch one of these.

Visit cascade of St. Isidor (cascada de San Isidro).This is a magic place between the trees and rocks to take a dip and admire the beauty of the nature. Talk to mototaxi drivers (younger ones usually don't know the place but will ask elder ones for help) to help to reach the cascade. Locals tell the place is best visited in January-March, because the greenery and water is the most abundant then.
Buy
Locals tell the surroundings of the road to Santa Cruz have become a new town "center" (after the road was paved). Most food and other shops, and petrol station are there.
Some nice wood artwork from shops around the main square or directly from craftsmen at workshops.

Eat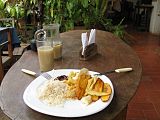 RestaurantServes good local food, the interior is natural, service is nice. There is a couple of parrots to talk with or listen to, some hammocks to take a nap and some toys for kids.
There are two little eateries at the marketplace some two blocks west and one north of the main square.
Drink
You can drink non-alcoholic chicha along with your meal.

Sleep
Hotel Patujú

phone: +591 3 9643133

Quiet place, nice service, has hammocks. Private bathroom, breakfast included.
Go next
If you want to continue with the missions clockwise, go to San Ignacio. There is a bus at 17:00 (some say at 18:00 or even 15:30 - check with the office which is some two or three blocks west of main square) costs Bs70 and takes 5 bumpy hours to make needed 150 km. There is a taxi option as well, but it is Bs700/person with 4 persons in the car.