Conception Bay South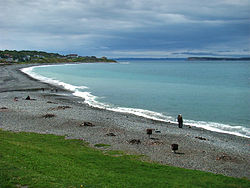 The town of
Conception Bay South
(
CBS
) is the third largest municipality in the province of
Newfoundland
, with 26,000 people (2016). It is 20 km southwest of the city of
St. John's
.
Understand

The town is on the southern shore of Conception Bay on the Avalon Peninsula. The town is part of the St. John's Metropolitan Area and most residents are employed in the nearby cities of St. John's or Mount Pearl.
Conception Bay provided ample fishing grounds for some time in its history. Lobster trapping is also a common sight.

History
Conception Bay South was formed in 1973 through the amalgamation of nine communities (Topsail, Chamberlains, Manuels, Long Pond, Foxtrap, Kelligrews, Upper Gullies, Lawrence Pond and Seal Cove) all of which follow the coastline of Conception Bay.
The early residents, mainly English but some Irish, were attracted by good growing land, abundant supplies of firewood and the more temperate climate as compared to other parts of the Avalon Peninsula. Good communication with St. John's was established by road in the 1830s and strengthened in the 1880s with the arrival of the railway. Residents of Conception Bay South grew crops and raised cattle for the St. John's market and St. John's residents established summer homes in Conception Bay South.

Get in
It is a 27 km drive from the St. John's city centre to CBS with easy access provided by the twinned Pitt's Memorial Drive highway which connects CBS to downtown St. John's.
There is taxi service from nearby St. John's, Mount Pearl and Paradise, but there is no public transit.
The town is 30 km from St. John's International Airport which receives flights from Canada, the United States, the Caribbean and Europe. The town's harbour is in the Long Pond area and hosts many cruise ships over the summer months.

Get around
CBS Taxi Ltd

phone: +1 709 700-4516
See
Topsail BeachOne of the nicest sunsets in the metro St. John's area can be viewed from this cozy suburban beach.

Manuel's River Hibernia Interpretation Centre

phone: +1 709 834-2099

address: 7 Conception Bay Hwy

Interpretation centre, walking trails, trilobites in the shaple. A portion of the trails are wheelchair- and stroller-accessible. French interpretation services by request — call ahead. The Manuels River Hibernia Interpretation Centre has an elevator.

Fishermen's Museum and Porter House

phone: +1 709 786-3912

address: Hibb's Cove, Port de Grave

The Porter House is furnished much as it was when it was built and is a typical fisherman's home of that period. Artifacts include fishing equipment, tools, kitchen utensils, and models of various types of boats used in the inshore fishery. Special events at the museum include slide presentations of old scenes of Port-de-Grave, demonstrations of carding and spinning wool, matting and net-making. Giftshop. Wheelchair accessible (museum only).
Do
phone: +1 709 834-5151

address: 108 Greenslades Rd

Learn to sail or dock your boat.

Manuels River Linear ParkThe trilobite fossil beds found in the park are similar to those found in southern Spain and Portugal and northern Africa, but different from those found in western Newfoundland. This was a key in establishing the theory of plate tectonics, or continental drift.

The Kelligrews SoireeThere are several full days of activities and events for the entire family, including the Kelligrews Soiree folk festival and garden party.

The Admirals' Coast scenic routeIt follows Route 60 along the western and southern shore of Conception Bay between Marysvale to Paradise, and provides excellent views over the bay.

phone: +1 709 722 7234

address: 17 Stanley's Road

Private boat charters, diving, kayaking, culinary tours, culture, history and adventure.
Buy
Shopping is limited to a Sobey's grocery store, a dollar store, some pharmacies, and a few other shops. Most are along Conception Bay Highway.

Eat
Berg's Famous Ice Cream

phone: +1 709 834-4674

Vio's Bistro

phone: +1 709 834-3339

address: 705 Conception Bay Hwy, Kelligrews

Pastas, steak, seafood, schnitzel, burgers, fish and chips.

phone: +1 709 834-2115

address: 187 Conception Bay Hwy

Chinese food, fish and chips.

phone: +1 709 834-9059

address: 2546 Topsail Rd

Fish and chips, chicken and fries, wings and fries, burger and fries.

phone: +1 709 834-4674

address: 29-57 Conception Bay Hwy

Ice cream shop that does not sell fish and chips.
Drink
Sleep
phone: +1 709 834-6221

address: 936 Conception Bay Hwy

Continental breakfast included. Family, group & senior rates (ID required for senior rates). On-site lounge.