Concord (Massachusetts)
Concord
is a town in
Massachusetts
. One of the first battles of the American Revolution was fought here at the Old North Bridge. Henry David Thoreau penned
Walden
here. The home town of Ralph Waldo Emerson and Louisa May Alcott.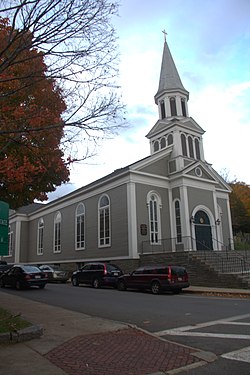 Get in
By car, from Interstate 95 take Exit 29-B Route 2 West.
MBTA
Commuter Rail has stops in Concord center and West Concord. The Concord stop is closer to the tourist attractions than the West Concord stop. $9.25 one way from
Boston
North Station.
Get around
Traveling by car is easiest, but many of the tourist attractions are within walking distance of each other.
Liberty Ride
is a seasonal trolley between
Lexington
and Concord that serves many of the tourist attractions.
See
North Bridge Visitor Center: Daily 11AM-3PM thru Mar. Daily 9AM-5PM Apr-Oct.
Minute Man Visitor Center Daily 9AM-5PM. Apr-Oct. Daily 9AM-4PM Oct-Nov.
Hartwell Tavern: Daily 9:30AM-5:30PM. June-Oct.
The Wayside: open by guided tour, Jun-Oct. Th 2PM & 4PM; F,Sa,Su at 11AM, 1:30PM, 3PM & 4:30PM. Nathaniel Hawthorne's home.
phone: +1 978 318-3233

Bedford St. Visit Nathaniel Hawthorne, Ralph Waldo Emerson, Louisa May Alcott, and Henry David Thoreau. The largest of the municipal cemeteries of the town of Concord; not related to Sleepy Hollow Cemetery in Sleepy Hollow, New York.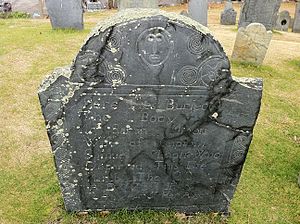 phone: +1 978-369-9763

Cambridge Turnpike at Lexington Rd, recording: +1 978-369-9609. $8 adults, $7 seniors and students, $5 under 16. Emerson, Thoreau and more.

phone: +1 978 369-3909

address: 269 Monument St

Mid Apr-Oct. $8/$5 under 16. Built in 1770 by the Reverend William Emerson. Later residents include his grandson Ralph Waldo Emerson, and Nathanial Hawthorne. Period furnishings and family memorabilia from the Emerson, Ripley and Hawthorne families. The grounds border on the Concord River, its neighbors include the Old North Bridge. Owned by Trustees of Reservations.

phone: +1 978 369-3254

address: 915 Walden St

(Rte. 126). 8AM-sunset. Walk, swim or fish where Thoreau did. See a replica of the Thoreau cabin. Parking lot closes if it reaches capacity. Parking $5.

Great Meadows National Wildlife Refuge

phone: +1 978 443 4661

A twelve-mile long river wetlands conservation area, in two major parcels, stretching from the towns of Billerica (downstream) to Wayland (upstream), along the Concord and Sudbury rivers. Considered by some ornithologists among the best inland bird observatories in the state. The original 250-acre Concord parcel that started the sanctuary has long been known as the "Great Meadows," and was donated by Concord resident Samuel Hoar in 1944. There are several trails for daytime wildlife observation and walks, with trail-side observation blinds and an observation tower. The Dike Trail, a 1.7 mile loop circles one of the marsh pools. In winter, as snow permits: walking, snowshowing and cross-country skiing. Access by car: travel from Concord center east on Route 62 toward Bedford. After about one mile, turn left onto Monsen Road. Continue to the refuge entrance road to the left. The federal Fish and Wildlife Service manages the refuge.

Orchard HouseFormer home of the Alcott family and the setting of Little Women. Open for tours at varying times depending on season.

Concord School of Philosophy. Founded by Bronson Alcott.

Wright Tavern

First Parish in Concord

Ralph Waldo Emerson House

phone: +1 978 318-3300

address: 129 Main Street

Houses a priceless collection of oil paintings, marble sculpture and original Transcendental Movement manuscripts.

Estabrook Woods

Hapgood Wright Town Forest

Concord Center A classic and historic New England town center, with small storefront shops.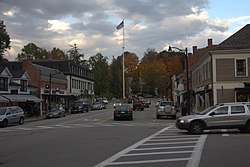 Do
address: 74 Walden Street

A community hall and home to local boy scouts and girl scouts. The Scout House is a regional center for New England folk dance known as "contra dance." Several groups conduct contra dance and square dance evenings to live music at the hall. Two weekly series, year-round: Monday evenings; and, Thursday nights the most popular night. For both series, there's a different band and dance caller each week.
Friends of the Performings Arts in Concord (FOPAC), 51 Walden Street, Tel: +1 978 369-7911, . At the FOPAC hall a diverse assortment of concerts and plays can be seen year round. The resident groups are The Concord Players, the Concord Band, and the Concord Orchestra.
Buy
address: 16A Walden St

European Flair Hair Salon

address: 1220 Main Street, West Concord, MA

I Came, I Saw, I Concord

address: 19 Walden St

Priscilla Candy Shop

address: 19 Walden St

The Grasshopper Shop of Concord

address: 36 Main St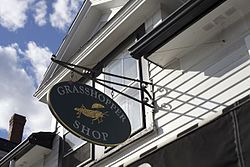 Eat
phone: +1 978 371-9030

address: 2 Church Street

Seafood market, restaurant

address: 17 Main St.

Breakfast, lunch and dinner daily.

Main Streets Market and Cafe

phone: +1 978 369-9948

address: 42 Main Street

Entertainment many evenings (no cover charge).

New London Style Pizza

phone: +1 978 369-7053

address: Thoreau Street

Greek style pizza

address: 58 Thoreau St.

Brick oven pizza

Chang An

phone: +1 978 369-5288

address: Sudbury Road

Upscale Chinese food

phone: +1 978 371-3280

address: 206 Fitchburg Turnpike

pizza/Italian food

address: 18 Commonwealth Ave.

Variety, reasonable prices
phone: +1 978 318-0008

address: 80 Thoreau St

Fine dining restaurant

phone: +1 978 776-6631

address: 105 Thoreau St

Asian fusion restaurant

phone: +1 978 369-9555

address: 33 Main St

Italian Restaurant/pizza

phone: +1 978 341-9999

address: 24 Walden St

Italian Restaurant

phone: +1 978 610-6111

address: 208 Fitchburg Turnpike

brewpub

phone: +1 978 254-1435

address: 24 Commonwealth Ave

Farm sourced organic fare

phone: +1 978 610-6020

address: 84 Commonwealth Ave

New American Restaurant

phone: +1 978 254-0710

address: 1200 Main St

Organic Mexican Restaurant

Club Car Cafe

phone: +1 978 371 9282

address: 20 Commonwealth Ave

Comfort food, breakfast, lunch, near West Concord train station

phone: +1 978 610-6633

address: 97 Lowell Road

Cafe, breakfast, lunch, dinner, bar

phone: +1 978 369-8114

Taiwanese/Chinese Restaurant with Hibachi (1st floor), Japanese (2nd floor)

phone: +1 978 369-4494

address: 11 Wheeler Road

Farm stand with bakery, prepared foods. open year around

phone: +1 978 610-6472

address: 1135 Main St

Pizza restaurant

phone: +1 978 369-6655

address: 92 Commonwealth Ave

pizza, pasta, subs
Bakeries
address: 59 Commonwealth Avenue

Nashoba Brook Bakery

address: 152 Commonwealth Av

Homegrown yeast and slow-rise breads.

phone: +1 978 369-4558

address: 73 Main St
Drink
address: 768 Elm Street

It's where the Kayakers go drinking on Friday afternoons.
Sleep
Go next