Constantine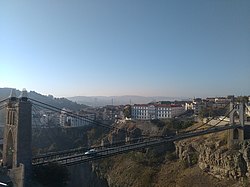 Constantine
is a city in
Northeast Algeria
.
Get in
By plane
Mohamed Boudiaf Airport (CZL/DABC). 9 km (5 miles) from city centre, provides several daily flights from other major European cities such as Paris, Geneva, Istambul, Marseille, Brussels, Lille and Lyon. From the airport it is fairly easy to rent a car or take a shuttle to the city center.
By train
Constantine Train Station. The train station is near the city centre and it connected to all Algerian network & Tunisian destinations.
By car
By bus
There are regular buses coming in from Algiers (5 hours) and Setif (2 hours).
By boat
Skikda port. 80 km from the city center; connected to Marseille (France).
Annaba port 150 km from the city center; connected to Marseille (France).
Algiers port. 450 km from the city center; connected to Marseille & Sete (France), Napolis (Italy),Barcelona & Alicante (Spain).
Bejaia port. 250 km from the city center; connected to Marseille (France)
See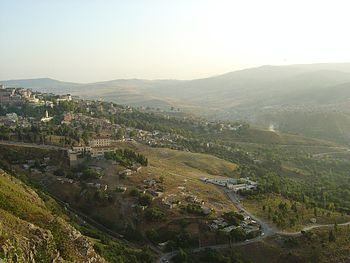 The city is framed by a deep ravine and has a dramatic appearance. The city is very picturesque with a number of bridges and a viaduct crossing the ravine.
The city center bridges: this city is very famous for 7 bridges, especially the Gantaret El Hibal bridge which is the 2nd highest suspended bridge in the world. It's a perfect place to do a bungee jump.
Gustave Mercier Museum (displays of ancient and modern art)
Ben-Badis Mosque
the Casbah
Emir Abdel Kader University & Mosque
Soumma Mausoleum, at Khroub
the Palace of Ahmed Bey
ruins of the Antonian Roman aqueduct
In the nearby are the Roman city of
Tiddis
and the megalithic monuments and burial grounds at Djebel Mazala Salluste.
Emir Abd Elkader Mosque & University: the monument located in city center.
Learn
Constantine is very famous for its universities:
1- University of Constantine 1 Mentouri
2- University 1 Annex Zerzara
3- Islamic University Emir Abdelkader
4- University of Constantine 2 Mehri
5- University of Constantine 3 Boubnider

Eat
Chekhchoukha.
Couscous.
Baklawa.
Bouzelouf.
Chewa. It's a variety of barbecue.
Local Pizza.
Budget
Mid-range
Splurge
Drink
Tea with ment.
Leben. A kind of heavy milk, itlooks like liquified yogourt.
Sleep
Budget
Hotel Marriott Constantine
Five-star hotel
Mid-range
Splurge
Hotel Cirta. Four-star hotel in city center. +213 31 219696 (closed for renovation as of February 2019)
Hotel Protea Marriott. four-star hotel in city center
Novotel hotel and Ibis Hotel are the closest accommodations to the "Casbah" or old city.