Coober Pedy
Coober Pedy
, (pronounced Coober Peedy) population 3,500, is a small town in
South Australia
, 846 kilometres north of
Adelaide
on the
Stuart Highway
.
Understand
It is self-described as the "opal capital of the world" and the opals are the only reason why there is a town. Located in the
Outback
, it is hundreds of kilometres from the nearest settlement. The harsh summer temperatures and the dominant industry mean that most residents live underground, that is, in caves bored into the rock of the hills around the town. There are houses and other buildings on the surface but the advantage of being in a cave is that the temperature remains fairly constant. Surface living requires air conditioning.
Get in
By plane
Regional Express
operates a daily return flights between
Adelaide
and Coober Pedy. Some days the flight goes via
Port Augusta
.
Budget car hire is available at the airport terminal, make sure you reserve in advance.
By bus
Greyhound Australia operates 365 days a year service to and from Coober Pedy.
Adelaide to Coober Pedy - departs 7:45PM arrives 6:15AM.
Alice Springs to Coober Pedy - departs 10:30AM arrives 6:30PM.
By car
The
Stuart Highway
The Painted Desert Road (The Kempe Rd) is a formed sand road linking Coober Pedy to
Oodnadatta
. Although only a days drive (200km), take the precautions for remote area driving. This road has very light traffic. Always carry adequate water. Check road conditions carefully.
By train
Coober Pedy can be accessed by rail via
the Ghan
route from Adelaide to Alice Springs. Transportation from Manguri Siding, 47 km from Coober Pedy, has to be arranged prior to departure from Adelaide or Alice Springs. Departs Adelaide on Sundays & Wednesdays and arrives at Manguri Siding on Mondays & Thursdays. If you are alighting at Manguri, especially in the winter months, make sure you have warm clothing at the train arrives very early in the morning.
Get around

Coober Pedy is small, with most shops on Hutchison St and everything else fairly close by. You can generally walk around town from hotels, as long as you can handle the heat.
Petrol costs around 30c/litre more than on the coast.

See
Some of the interesting attractions in Coober Pedy include:
Mines It is dangerous to wander among the diggings. You could fall down a shaft or be mistaken for a thief. Miners in Coober Pedy are a secretive lot and suspicious of interlopers. It is much safer to go to a worked out mine that has been opened as a tourist attraction. The owner collects bras and one of the attractions is his collection of bras together with photographs of the donors. Apparently the first bra in the collection was donated by Tina Turner when the mine was used as a set during the filming of Mad Max Beyond The Thunderdome.
One of the tours takes you to a mine dump where you can legally fossick for opals among the waste rock.
Graveyard This is a fascinating site where you will see headstones for a large number of nationalities. The town is a veritable "united nations" and the graves reflect this. One intriguing monument is an empty beer keg which acts as a headstone for a miner who left his fortune to his mates for them to have a drink on him. Unfortunately his debts exceeded his assets. However, his mates saw him off as he wanted and the keg serves as a reminder of the wake and the man.
Churches The Serbian Orthodox Church is bored out of solid rock and its beautifully ornamented interior is a must see. The Catholic Church is not quite as intricate or as large but is still a significant site.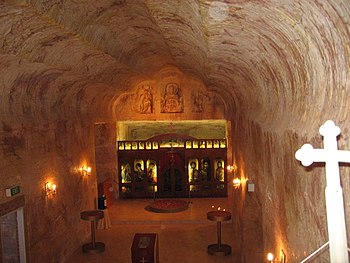 The stars The night sky in the Outback has to be seen especially on a moonless night. The stars and planets are awe-inspiring. At about 20km from town there is no electric light pollution and you can see by starlight. The constellations and planets appear to move across the sky and if you can get on a tour with a local expert it is a learning experience not to be missed.
Other The first tree ever seen in the town was welded together from scrap iron and sits on a hillside overlooking the town. The golf course is completely free of grass and golfers take a small piece of "turf" around to use for teeing off.
There are a number of shops selling opal jewelry and single stones.
The town of Coober Pedy is the setting for the film
Opal Dream
(2005) which tells the story of a young girl and her imaginary friends. The countryside around Coober Pedy has also featured as a backdrop to some movies including
Mad Max Beyond The Thunderdome
and
Priscilla Queen of the Desert.
Some of the film props from
Mad Max
are still to be seen in town.
Faye's Underground Home

address: Old Water Tank Road

The current owners will give you a tour of their interesting underground home, which was carved out by several intrepid women decades ago.

phone: +61 8 8672 5555

address: 1 Crowders Gully Road

Interesting self-guided tour of mine and homes.

Tom's Working Opal Mine

address: Lot 1993 Stuart Highway

The pick of the working mines.

Big WinchGood lookout in the middle of town. Belgian waffles & coffee available.
Do

The Opal mine tour is a great experience for all.

Buy

You can buy opals just about everywhere in Coober Pedy, however don't necessarily expect bargain prices. Sellers are not likely to rip you off but check a few places to be sure of appropriate prices.
A supermarket and bottle shop are in the centre of the main street.

Eat
Many restaurants are located underground. The
Opal Inn
serves many tourists with unique food.
John's Pizza Bar and Restaurant

address: Hutchison St

A classic "everything" eat-in and takeaway restaurant, with pizza, pasta, burgers, and many other foods done fairly well at reasonable prices for the outback.

address: 454 Hutchison St

This petrol station licensed restaurant, recently extensively renovated, seems remarkably popular for breakfast, lunch and dinner.
Drink
There is the Opal Inn, the Desert Cave Hotel, the licensed restaurants and bottle shops next to the both of the supermarkets, including
Cellarbrations bottle shop at the IGA Fresh Supermarket.
You are only allowed to buy one bottle of wine per person per day to take-away, and you will have to provide ID for scanning. Of course, you can buy unlimited beer (or maybe only a case, still a lot more than wine). You can also drink in the pub with no problem.

Sleep
phone: +61 8 8672 3003

address: St Nicholas Street, Coober Pedy

Made of rammed earth. The motel is small (28 rooms in total). Fast, reliable broadband internet available in most rooms. Dining area and bar.

Radeka Downunder Underground Backpackers & Motel

phone: +61 8 8672 5223

address: 1 Oliver St, PO Box 808, Coober Pedy, Australia

Underground hostel. Internet available. Courtesy pickup from bus or airport. Tour of underground mines can be purchased here and if you stay two nights in private a free stargazing is included if the weather permits it.

address: McKenzie Close

Reasonably-priced underground motel, with the bonus of a lookout on the hill above.
Connect
Telstra and Optus have mobile phone reception in town, but not Vodafone.

Stay safe

There are many signs in the area warning visitors to avoid falling into an abandoned mineshaft. Never walk backwards.

Go next
You can head north along the Stuart Highway to the
Red Centre
.