Cookstown
Cookstown
is a small town in
County Tyrone
.
Get in
By car
Cookstown is in the centre of Northern Ireland and is easily accessible from all parts of the country. It can be accessed by car via the M1 or M2. M1 travellers should follow signs for the west, followed by Dungannon towards the end of the motorway. Dungannon is 10 miles away and Cookstown is signposted from here on. Travellers on the M2 should follow the signs for Cookstown/Magherafelt. Once of the M2 follow the Toome ByPass until you arrive in Magherafelt, from here Cookstown is just 10 miles away and is well signposted.

By bus
Buses are available from all over Northern Ireland and also Dublin (the Portrush Express from Dublin makes a stop in the town). Some services may not be direct, but you can get on a bus to Magherafelt, Dungannon, or Omagh, from which there are regular bus services to Cookstown.

By plane
The three main airports of (BFS), (BHD), and (LDY) are all within an hour's drive of Cookstown.
Buses can be taken from these airports to either Derry or Belfast and from here you can hop on another bus to Cookstown. During some seasons buses can be got direct to the town.

Get around

Cookstown is a good-sized town and the best way to get around the town is to coordinate yourself around the longest street in Ireland, Cookstown's main street, which is approximately 2 miles long. It is situated on a north-south axis and forms the centre and the framework of the town.
If you wish to explore the surrounding villages, buses will leave the central bus station several times a day and take you to the local villages for about £2.50. Local taxis can be ordered at your hotel that will take you to the local sights and will happily return to collect you again as you please. Taxis are reasonably priced and the folk that drive them are very friendly.

See
Cookstown offers anyone who visits beautiful local scenery. Standing at the centre of the town, you can witness the beautiful Sperrin mountains overlooking the town while you shop at Cookstown's Saturday Market in the thriving main street.
Ardboe Old Cross and St. Colman's AbbeyA national monument dating from the 10th century. It is believed to be the first high cross of Ulster, standing at 18.5 feet high and 3.5 feet wide, with 22 panels depicting various Biblical scenes. There are also remains of a church and an abbey.
The Broughderg area is remote and peaceful and is renowned for its unique archaeological remains. The scenery includes the Coneyglen Valley and Davagh Forest with its walks and extensive blanket bog. Particularly well known sites are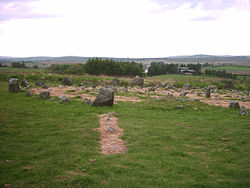 Beaghmore Stone CirclesArchaeologists believe that Beaghmore Stone Circles date back to around 1500 BC. There are 7 stone circles and alignments along with several cairns on this spectacular preserved site.

Derryloran Old Church and GraveyardBuilt in 1622 to replace an older church on the same site. Around 1820, a new church was built on a site closer to town. It was designed by John Nash (although this structure was substantially demolished and rebuilt to designs by Welland) and built from hewn stone in simple "First Fruits" Gothic style with a pinnacle tower, plain spire and vaulted vestibule. The interior is dignified but rather dour with little decoration. Some of the graves in Derryloran graveyard date back to the early 17th century.
Other churches in the town were mainly constructed in the latter part of the nineteenth century.
Roman Catholic Church of the Holy TrinityDesigned by the prolific Irish architect J J McCarthy and constructed between 1858 and 1860. Its soaring West Tower and spire are the tallest buildings in town and a local landmark. The interior of the church (much altered in 1981) is dominated by the huge eastern window manufactured by Hardman's of Birmingham. The Church was extensively renovated in 2010-2011.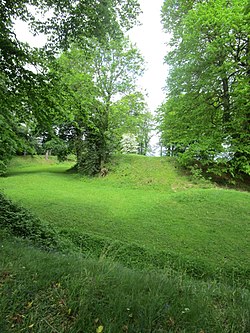 Tullaghoge FortOn an imposing hilltop encircled by trees some 2 miles south/south east of Cookstown and on the outskirts of Tullyhogue village is the site of the mystical Tullaghoge Fort, the royal inauguration site of Tyrone's O'Neill dynasty. From the 11th century to the end of the 16th century, successive kings of the Cenel nEogain (later known as the Uí Néill or O'Neills) were inaugurated in this hilltop enclosure on a stone, now destroyed, known as Leac na Rí. The O'Neills founded their headquarters at Tullaghoge early in the 11th century and it continued as the ceremonial seat of the kings of Tír Eoghain even after the O'Neills transferred their court to Dungannon at the end of the 13th century.

Coyle's Cottage

address: 57 Annaghmore Rd, BT80 0JA

A 250-year-old fisherman's cottage. Listed in 1991, restored and officially opened in May 1993. Muintirevlin Historical Society maintain the cottage and use it as a meeting place.

The Drum Manor EstatePicturesque all year round with shrub, butterfly and Japanese gardens, arboretum, ponds and mixed woodlands. Waymarked trails of varying length commence at the car park and form a circular route. A gentle trail has been adapted for the less able bodied visitor in mind. The ruins of the original Manor (1861) have been adapted to incorporate a Japanese garden.

Killymoon CastleSited on a raised north terrace slope overlooking the Ballinderry River, it is mainly quadrangular in design incorporating the rare early instance of the use of round headed, sub-Romanesque openings. It was built to designs of John Nash between 1801 and 1803 incorporating much of the ruins of the former Castle which had been burnt in 1801 for James Stewart, a local MP and cost the then unthinkable sum of £80,000. Having passed through the hands of several families after the demise of the Stewarts in 1851, it was purchased by the present owners in 1922 for the princely sum of £100. It remains a private residence and has no public access.

phone: +44 28 8674-8210

address: 20 Wellbrook Rd, Corkhill, BT80 9RY

The mill is in a picturesque wooded glen on the banks of the Ballinderry River. Beetling was the last stage in the manufacturing of linen, and Wellbrook is the last working Beetling Mill to survive in Ireland. The Mill, which was constructed in 1830, has a 16-ft water wheel which is powered by the adjacent Ballinderry River.

phone: +44 28 8674-8210

address: 20 Springhill Road, Moneymore, Magherafelt, BT45 7NQ

This beautiful manor house, built around 1680, was home to ten generations of the influential Lenox-Conyngham family. Considered to be the 'prettiest house in Ulster', this National Trust property with woodland walks and award-winning Costume Museum offers visitors entertaining and informative guided tours. A model village complements the attraction.

Lissan HouseUlster Plantation House with Georgian and Victorian additions
Do
Ballyronan Marina

phone: +44 28 7941 8399

address: 135A Shore Rd, Ballyronan, Magherafelt, BT45 6JA

The picturesque boating and tourist facility incorporates a picnic area, playpark and beach area.

Ballyronan Wood

address: 156 Shore Rd, Ballyronan, Magherafelt, BT45 6LS

A special Woodland Nature Trail with a variety of pathways, viewpoints and information signage, highlighting the natural beauty of the area.

Lough FeaSet in wild mountain scenery, is one of many delightful lakes dotted throughout the Sperrins Region. Covering 180 acres this natural beauty spot is an angler's dream and also supplies the entire area and beyond with fresh water. The 4.15 km (approx. 1 hour) walkway around Lough Fea is a haven for local walkers and tourists alike.
Buy
Cookstown has an abundance of high-street names and brands side by side with local retailers. There are also two superstores in the town, Asda and Tesco. The town also has various retail plazas and parks:
Station Square Retail Park

address: 48 Molesworth St, BT80 8PA

Including Argos Extra, Carpet Right, Lidl, and Harry Corry, along with the fabulous Paragon Chinese Restaurant.

Gortalowry Retail ParkBesides Asda, Turkingtons and Tile Market are the first to set up store here.

Broadfields Retail ParkTesco, Homebase, Next, Tempest, New Look, Peacocks, Marks and Spencer, Simply Food, Cafe Revive, Halfords, and B & M discount store.

Molesworth Place Shopping CentreThis shopping centre is a vibrant glass-fronted building built on the former market yard site. Heaton and Sports direct are the first to enter this the newest of Cookstowns retail parks.
The main street also features hundreds of shops, lining 2 km of the town. These include independent retailers as well as such high-street names such as InterSport, Boots, DV8, Subway, O'Briens, Heatons, GINO/nv, Menarys, Birthdays, and Tom Morrow.
The town also comes alive on Saturdays when the shopping market, established by Royal Patent of Charles I in 1628, is held in the town. This is one of the main shopping attractions in Cookstown as it is one of the few towns left in Northern Ireland to still hold a weekly market on this scale. There is always plenty of entertainment with jugglers, face painting, balloons and other free shows organised by Cookstown District Council to revitalise the market.
Eat
There are over ten take-away Chinese restaurants, two pizzerias, various Indian restaurants, a McDonalds, and restaurants in the hotels.
phone: +44 28 8676 5427

address: 26 Dungannon Rd

A rather charmless but nonetheless very popular restaurant. Offers great food in an intimate atmosphere at their riverside location, though table service is not available.

Mandarin Chinese Buffet

phone: +44 28 8676 1221

address: Unit 5 Station Yard Molesworth St

All-you-can-eat buffet for a great price, very popular restaurant with a great selection

phone: +44 28 8676 9378

address: 4 Burn Road

Indian restaurant.

Dragon Garden

phone: +44 28 8676 3311

address: 40-42 Loy St

Chinese restaurant relocated to the classic Gaslight premises.

phone: +44 28 8676 2664

address: 221 Orritor Road,

The Tilley Lamp

phone: +44 28 8673 7673

address: 111A Mullanahoe Rd

Great food in a lovely setting.

Cookstown Cafe

phone: +44 28 8676 7809

address: 19 William St

White Pheasant

phone: +44 28 8676 4249

address: 3A Burn Rd

The Courtyard

phone: +44 28 8676 5070

address: 56 William St,

The Drapers Arms

phone: +44 28 8674 7933

address: 2 Main Street, Stonard Street, Moneymore
Drink
phone: +44 28 8676 6676

address: 42 James St

Oldtown Inn

phone: +44 28 8676 3508

address: 12 Oldtown St

Nice food.

Martins Bar

phone: +44 28 8676 1888

address: 47A James St

Typical pub with approachable bar staff and good draught beer. Great for a breather from the shopping-nice to chill out.

The Railway

phone: +44 28 8676 3278

address: 63-67 Union St

Probably has one of the youngest crowds in Cookstown: avoid it if you're over 21.

phone: +44 28 8676 7575

address: 52 Drum Rd

Three floors offering different music styles from dance to chart. There is usually a live band on during special nights. Big names have included the likes of Cascada, Wretch 32 and Aggro Santos. This is the largest club in County Tyrone and one of the biggest in Northern Ireland. The night club is in Saturday, Sunday and Monday nights for students.

The Cellar Bar

phone: +44 7802 851517

address: 23 Molesworth St

Black Horse Bar

phone: +44 28 8676 3934

address: 23 Molesworth St

Very young crowd, great craic!

phone: +44 28 7946 8322

address: 116 Hillhead Rd, Castledawson

Offering a traditional Irish pub feel and a warm welcome to everyone.

address: 64-72 Old Coagh Rd

Dunleath Bar

phone: +44 28 8676 3344

address: Church St

phone: +44 28 8676 2255

address: 27 William St

The Cartwheel

phone: +44 28 8676 3672

address: 23 James St

The Belfast House

phone: +44 28 8676 9759

address: 3 Orritor St

Mulligans Bar

phone: +44 28 8675 8151

address: Chapel Street

Fantastic bar offering live bands and a great atmosphere, gets quite busy at the weekend with young and old alike. Great sports bar too with tributes to all the local sports.
Sleep
phone: +44 28 8676 4949

address: 52 Drum Rd.

On the drum road this outstanding complex offers the guests one of 62 en-suite bedrooms, some with balcony and river view, along with two great restaurants, three bars, a large nite club, weekly entertainment and a large leisure, health and beauty complex. The Cellar Restaurant offers a daily carvery lunch which, whilst uninspiring, is good value. Informal dinner is served in the evenings from a wide modern menu whilst on Sundays, the Sunday carvery is locally very popular. The Cellar has been renovated and offers a host of new dishes on their extended menu.

phone: +44 28 8676 2243

address: 57 Drum Rd.

On the drum road, this is an old Victorian house completely transformed into a bright and modern hotel with great facilities: two restaurants, two bars and a nightclub. Distinctly lack-lustre restaurant offering dinner from an often limited and always unoriginal menu. For those wanting something more cheap and cheerful they can choose the Loft upstairs in the greenvale for basic but nice food.

phone: +44 28 8676 2224

address: 64-72 Old Coagh Rd

On the outskirts of the town centre, offers the guests a choice of two great restaurants, superb location, a great bar and friendly staff. Restaurant offering lunch and dinner daily. The Squires Lounge also hosts a bar menu.

Tullylagan Country House Hotel

phone: +44 28 8676 5100

address: 40B Tullylagan Rd

On the southern outskirts of the town, this hotel is the perfect setting for visitors, set on a large privately owned site the manor house has been extended into a great hotel, with two restaurants, a wine bar, a normal bar and all the amenities you need for a great stay. the grounds are amazing, with gardens, manor houses, stables and a river. Choose from Harry's Bistro or the Wine Bar, both have won awards from the likes of Flavour of Tyrone and Taste of Ulster.

phone: +44 28 8676 2255

address: 27 William St

The Belfast House B&B

phone: +44 28 8676 9759

address: 3 Orritor St
Go next