Coolgardie-Esperance Highway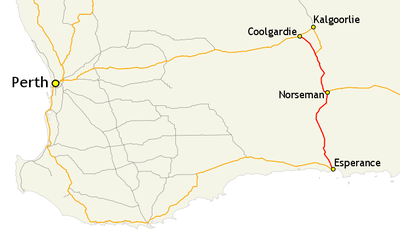 Coolgardie - Esperance Highway
is located in the
Goldfields-Esperance
region of
Western Australia
. It links the goldfields towns of
Kalgoorlie
and
Coolgardie
with the coastal town and port of
Esperance
.
Understand
The highway is a bit like the old narrow gauge railway alignment between Coolgardie and Esperance. It has surprise corners, rises and dips that are not expected. It can be very busy up closer to Coolgardie with mining trucks and other traffic. Not to be taken carelessly or without safe driving.
The myths and perpetuated stories about the Goldfields region, and its extension towards the Nullarbor is that it is treeless, and plantless. Nothing can be further from the reality of travelling the Esperance highway: Hardy drought-proof eucalypti and other vegetation make this whole route interesting in that the scrawny trees line the large salt lakes that are in view of the highway show how severe weather conditions have not daunted a range of trees from developing in this harsh climate.

Prepare
If you have got this far from Perth or Adelaide, there is not much to consider when travelling along this highway. There are some interesting side trips, and they will require a vehicle that is suitable for the rougher 'off-the bitumen' roads that lead to locations in the bush.
At all times, adequate extra fuel, food and drink if for any reason you have to stop for repairs or other unexpected stops, and if you have the equipment, either sat-phones or CB radios are always worth having if you are going off the beaten track where usual traffic might be one car or truck a week - which can be expected in some of the tracks of this highway.
For the really rough roads, extra spare tyres are always worth it.

Get in
Drive
Red Hill lookout
Lake Lefroy
Cowan Hill
Norseman
Cave Hill
Bremer Range
Beacon Hill
Dundas Rocks
Peak Charles National Park
Stay safe
Mining Trucks - the busiest is between Coolgardie and Norseman, always be on the lookout. Never overtake trucks.
Kangaroos - specially around sunrise and sunset
Speed - make sure you are within the limit in this area. Many surprise turns and crests are best taken carefully.
Fatigue - never drive tired
Go next
Going west, from Esperance, the South Coast Highway is an inland highway to Albany, despite its name.
Leaving the highway at Norseman - the Eyre Highway starts its journey to Adelaide.