Copán Ruinas
Copán
was one of the great centers of
Maya civilization
over a thousand years ago. The beautiful ruins have some of the most impressive pre-Columbian art anywhere. Near the ruins is the village of nearly the same name -
Copán Ruinas
, with clean hotels and other facilities for visitors. Due to their proximity, both locations are covered by this article.
Understand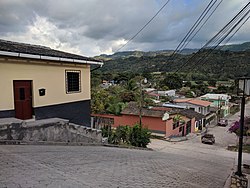 The ruins are quite substantial and a major tourist attraction in western
Honduras
. While less visited than the better known tourist attraction ruins like
Chichen Itza
, many people find them even more interesting.
Copán is in a fertile river valley and nestled among rolling hills, at an elevation so it is not so very hot as some of the Central American rainforest sites.
Get in
The modern village of Copán remains relatively remote today, as such the Honduran government hasn't prioritized high quality road construction in this area yet. There is technically an airport a few miles from here, but no commercial flights serve it. So however you get here, expect a bit of a bumpy ride.
By bus
Copán Ruinas is not well connected to the rest of the country. For local connections,
La Entrada
will be your destination of choice, and for most any other Honduran service you'll need to start at
San Pedro Sula
. Getting here from Guatemala is possible on local busses, but if you have the extra coin, it will save you a lot of time and headaches to book direct transit from Guaté or Antigua.
Almost every bus in town leaves from the ; it doesn't have any real amenities to speak of, it's just a small parking lot adjacent to the river on the east side of town. The only reason to not use this station is if you're boarding a luxury class Hedman Alas bus. The is much nicer, offering a waiting room, clean bathrooms, and a snack bar. Although — when compared to the station — these worn-out busses leave much to be desired. This station is located just down the hill from the village.
From Guatemala City
Take a bus from Centra Norte to
Chiquimula
(every 10 minutes, Q45, 4hrs). From Chiquimula, take a small bus to the very calm border El Florido (every 10 minutes, Q16, 2hrs with connection in Jocotán.) Across the border, buses go every 20 minutes to Copán Ruinas (L20, 30 minutes.)
From El Salvador
Cross the border at
El Poy
, and from there get a shared taxi to
Ocotepeque
(L20). Next, board a San Pedro Sula bound bus and get off at
La Entrada
(L90), finally switch to a minibus for Copán Ruinas (L40).
There are also direct shuttles between Copán Ruinas and many tourist spots in El Salvador, such as
Santa Ana
,
San Salvador
, or
El Tunco
. Any of which may be booked in advance through your hotel, or online.
By car
Your only option here is the same as the bus, driving down
CA-11
. This "highway" is riddled with potholes, and has certainly seen better days. To the west,
Guatemala
is right next door, while
San Pedro Sula
lies away to the east. Heading towards SPS, the quality of your trip
should
improve after an hour or so once you switch onto
CA-4
. However, road maintenance encountered during winter 2018 was just getting underway, and rendered CA-4 almost worse than CA-11. Pad a little extra time for your trip, and rent something with decent suspension and road clearance.
Get around

Copán is a small community, so don't worry about mapping sights before you get there. If you are a walker and sure-footed, it is safe to walk the cobblestone streets anywhere in town or walk to the ruins on foot. Streets are reportedly safe after dark, but standard precautions apply.
Mototaxis (Honduran rickshaws) will take you anywhere in town for a small fee (L10 around town, L20 to the Ruins/Macaw Mountain).
The Mayan Ruins are a short walk out of town and a further 20 minutes walk will take you to Las Sepulturas, a wonderfully open section of the ruins that many people fail to visit - don't! There is also a short nature walk at the main ruins that meanders around other smaller ruins.

See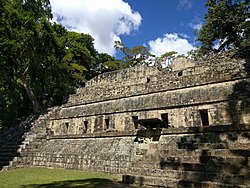 Las Copán Ruinas
(entry US$15/person) are the highlight of Copán. Although quite extensive, they are not as huge as
Tikal
in Guatemala or
Teotihuacan
in Mexico, but there is more sculpture here than any other Pre-Columbian city. The ruins are prized for the carved stellae of ancient rulers, and the well preserved hieryoglyphics including the hieryoglyphic stairway. Also in the archeological park is a marvelous Mayan museum (entry $7/person) with a reconstructed temple and fabulous artifacts. Fans of Maya art or ancient ruins can easily spend two full days between the two main ruins sites and museum. The tunnels are reportedly not worth the extra fee, and are not authentic, having been dug by archaeologists in the 1980s (these tunnels were originally dug for investigation and they show to the visitors the buried parts of older temples since the Mayans built on top of the older structures to make the new ones taller ). In July 2011 it was possible to visit the Sepulturas on the next day without purchasing a second ticket although the main ticket office may not tell you this.
It's recommended to be there when it opens at 8AM, as the site gets very hot by mid-day. Hire a guide at the entrance to the ruins for US$25 divided between however many people you can collect. Cesar (30s, good accented English) and Antonio (60s, few teeth, excellent English) are recommended if they're around.
Besides the ruins, the countryside is attractive. Slow paced local life is quite calm, and farming of corn, beans, coffee, and tobacco is the main vocation.
Sculpture Museum

Tunnels

Sepulturas
Do
Luna Jaguar Aguas Termalesis a natural hot springs spa under an hour's drive (25km) from Copán Ruinas. Several man-made pools of differing temperatures mimic Mayan structures and are fed by the hot springs. A variety of adventure tour companies will take you there for US$10/person plus $60/group, which is outrageous considering the alternatives. For cheaper transportation, pickups and minibuses congregate at the soccer field (right before the bridge on the way to the ruins). Gather a group together, and you might negotiate a pickup for $50. They may be willing to wait up to 3 hours for you. Even better, be patient, and a (tiny) seat in a minibus is only L35 each way. To get back to town, start walking, and a minibus will pass before long. The drive is very scenic, so enjoy it! One can easily spend the whole day at Luna Jaguar, but bring your own food. Massages available.

Macaw Mountainis an excellent bird sanctuary a short (L20/person) mototaxi ride from el Centro. The price may seem steep, but the sanctuary is commendable for its beautiful location, free tours in English, swimming hole, and obviously healthy, well cared-for birds. As of January 2011, the birds that are being rehabilitated are brought out for holding at 3PM. The ticket is valid for 3 days, so come back and swim for free.

Centro de Mariposasis a butterfly sanctuary located just outside town.

Canopy/zip lineCopán has one of the world's longest zip lines, including one about 1,000 meters (3,200 feet) long.

Horseback Ridescan take you to La Pintada, a Maya Chorti village, and to Los Sapos, which is a small ruin not included in the archaeological park. La Pintada is interesting but overrated, while Los Sapos, though very small, is fascinating with a good guide. It's a 10-minute walk down to the river where you can swim for free.

Casa K'inich Children's Museum

phone: +504 2651 4105

address: Fuerte Cabañas

The Casa K'inich Children's Museum (Museo Escolar) is a unique museum that was opened in 2002. To celebrate its tenth anniversary for 2012 the museum has been updated and new exhibits and interactive displays have been added. This museum is in three languages (English, Spanish, and Maya Chorti) and is the only children's museum of its kind situated at close proximity to a Maya Ruin. The museum's totally interactive exhibits will help the visitor (adults and children alike) understand the glyphs at the ruins, what happened to the Maya, and shows how the Maya built their buildings along with a description of the famous Maya ballgame among many other subjects. Not to be missed the museum only takes an hour or two to visit and the location has a beautiful view of the Copan Valley. Groups are welcome and student groups can call for and appointment or even have food set up during their visit. Ask for Londin Velasquez the museum's dynamic director.
Volunteer
There are numerous community-building projects in and around Copán Ruinas. One site to check out is
Mayatan Bilingual School
, a locally-founded independent, non-profit school that educates local children in Spanish and English. The school relies on foreign volunteers to teach its English language courses (Pre-K through high school), and it always welcomes visitors. Mayatan is located on the path to the Macaw Mountain bird park, about 1.5 km from the center of town, or a L15 (75¢) taxi ride. Contact for more information.
Buy
There is an unimpressive market near el Centro. On Sundays, fruit vendors line el Centro with their pickup trucks.
phone: +504 2651 4628

address: Ruinas de Copan

This shop has a really good variety of gifts, tshirts and souvenirs from the Copan area. Located inside the Visitors' Center of the Ruins of Copan they also sell water and soft drinks.
Eat
Most places offer a
plato tipico
de Honduras. This includes beef strips (or sometimes chicken or eggs), beans, fried plantains, tortillas, cabbage and sour cream.
Licuados
are either water- or milk-based fruit smoothies that for L30 should be enjoyed every day. Local meals run L80-L120.
Budget
Comedor MaryThe best local restaurant in town for delicious, cheap, clean Honduran food. Great tipicos and pupusas. Unpretentious and authentic.

Llama del BosqueSecond only to Comedor Mary for dependable local food. Larger and busier, but an excellent value and good service. The chorizo burrito and fajitas de res are huge and delicious.

La Casa de Todo RestaurantGreat food. Homemade bread, yogurt, organic coffee, etc. one block down from Banco de Occidente.

phone: +504 2651-4546

address: Ave. Centro America

Excellent coffee and panini sandwiches, but best known for their farmstead hand-made gourmet cheese, available nowhere else in Honduras.
Mid-range
Restaurant Glifos

phone: +504 2651-4071

address: In Hotel Marina Copan, Avenida Centroamérica, across Central Park

Local and international cuisine, the highest quality steaks, pastas, soups, salads, affordable buffet breakfast and delicious desserts.

PicameThis restaurant is small but excellent, offering a great value for your lempira. The proprietor is Jessica who speaks excellent English. Try the double cheeseburger or enormous breakfast burrito. Caddy-corner from the soccer field, it's an excellent place to get take-out sandwiches for a day at Agua Caliente.

Kymberly

address: Annapolis

Barcito- beautiful food, fun atmosphere. I got the jalapeño hummus with homemade bread, and the kebbhes (middle eastern meatballs), two margaritas and a pack of cigarettes for L225. A little more than US$10.

Carnitas Nia LolaA restaurant a little ways off the parque central that offers a wide variety of delicious food and has a good happy hour. Service can be either excellent or quite slow.
Splurge
Asados CopanA local "steakhouse" that offers the traditional carne asada in a variety of ways (with onions, jalapeño sauce, on a kabob, etc.) The restaurant is located up the hill from Picame, just one block behind the Banco Occidente on a large open-air wood deck. An entree runs L100-200.

phone: +504 6514533

address: Avenida Mirador

An open restaurant with garden patio and full service menu. The steaks are best known, but there is a large a-la-carte menu with special dishes and snacks.

Sol de Copan German Brewery & Restaurant

phone: +504 26514758

address: Barrio Buena Vista Ave El Mirador

Brewery, German beer on tap, German & Honduran cuisine

Twisted Tanya'sRun by an expat (Tanya) with a great balcony. 2PM-10PM. Closed on Sunday, Offering a Backpacker special every night, and dishes you would not find anywhere else, Tequila Shrimp, Filet Mignon, curries, and home made pasta's and breads and desserts all made in house.
Drink
Cafe Welcheztruly the best coffee to be had in Copan Ruinas, possibly in all of Honduras. On the corner of the town square, downhill from the Marina Copan. You can go on a coffee tour, just outside of town, to see where and how their coffee is grown and processed.

Espresso AmericanoThe Honduran chain, serving coffee roasted with brown sugar. Best coffee "chain" in Honduras

Cafe San Rafaelserving excellent gourmet coffee, grown from their own farms

La Casa de todo Cafein beautiful tropical garden... serve fresh roasted Organic Coffee

Twisted Tanya'sSurprisingly well-made cocktails for US$4 or $5. 2-for-1 from 3PM-6PM and drink specials all night, great balcony overlooking the mountains. Beer on tap and good wines.

sol de copan

phone: +504 26514758

address: Barrio Buena Vista

Very good German food, but the real attraction is the beer - excellently crafted, filtered, and some of the best you'll have, anywhere.
Sleep
The town of Copán Ruinas has all types of accommodations for all prices ranges. Most places are located within two blocks of Parque Central.
Budget
Full Monte

phone: +(504) 2651-4182

In the court yard of Twisted Tanya's and Copan Connections, only one room with DVD, Cable, coffee and huge bathroom! Great location right in town and very safe.

phone: +504 2651-4694

Funded through CONIMCHH, the indigenous Ch'ortí Maya organization, your stay here will help support Honduras' indigenous population. The facilities feature clean, private rooms with en suite bathrooms, free high speed wi-fi, hot showers, picturesque mountain views, free cable, and access to purified water. Just a five minute walk from the center of Copán Ruinas, down the block from La Iguana Azul. The rooms could use a fresh coat of paint and are sometimes stuffy, but get the job done.

Hotel San JoséThe cheapest place in town. The rooms are unattractive but clean with shared (and not so clean) bathrooms.

Hotel MarbellaClean rooms with private bathrooms and fans. Also has more expensive rooms with A/C.

address: Calle Rosalila

An excellent hostel a short walk from el Centro. Dorm beds in small rooms L170, private single US$16 private double L380. Run by an American couple, free purified water and good information on the area. Very quiet at night. Highly recommended!
Mid-range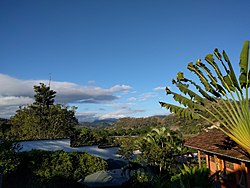 Hotel Graditas MayasLocated two blocks west from the central park. It offers 15 comfortable rooms.

Hotel Plaza CopánLocated on the square next to the church, this hotel surrounds a pool/ bar/ atrium area. 20 rooms with private bath, TV and A/C.

phone: +504 2651-4620

10 room B&B in two wings each with private hot water bath, wood paneled ceiling, ceiling fan, writing desk, night table w/ reading lamp and an oversized picture window which looks out onto a great view of the Copán River Valley, the distant mountains and La Casa de Café's own lovely tropical garden.

ViaVia Hostelrun by Belgians that offers great sleeping accommodations. They have very good food but can be quite noisy due to the karaoke bar next door.

Hotel los JaguaresSmall family run hotel on the main plaza with about 10 rooms. Large rooms with TV, AC and private bath with hot water. Fast wifi. Parking. Free purified water. Very pleasant, helpful and friendly staff. (504) 2651 - 4451 or 2651 4075. jaguares@copanhonduras.org or hotellosjaguares@yahoo.com
Splurge
Go next
A highlight of any trip to Central America, Antigua Guatemala is that country's beautiful colonial capitol. Its cobblestoned streets and graceful architecture are guaranteed to charm.
Spend a few relaxed days exploring the lush area around Lake Yojoa. It's kind of like Lake Atitlán, except without any of the tourist infrastructure, for better or worse. A wide range of climates (lakes, jungles, cloud forest, and volcanoes) each harbors their own biodiversity to discover.
While San Pedro Sula isn't high on many wish lists, it nevertheless owns a modern, gigantic, and well connected bus station. Secured just outside the city center, thousands of folks pass this way daily.