Copenhagen/Østerbro
Østerbro
is a mainly residential district of
Copenhagen
, just north of the
inner city
. With its quiet cobblestone and tree lined streets, and its excellent shopping and cafe life, it makes for a good excursion from the downtown area.
Understand
Along with
Frederiksberg
in the west, Østerbro has long been considered the posh or upper class district of Copenhagen. These days this is mainly due to the demographic of young, liberal leaning, well paid academics, which has earned Østerbro nicknames like
the Latté district
and
2100 Spelt
. But it has been a neighborhood of the upper middle class since modern Østerbro's inception, when Copenhagen expanded beyond the old fortifications in the 1850s.
The district takes it name from being near the old eastern gate of the city, and translates roughly into the
Eastern borough
, and before the city's defenses were dismantled, the area were largely dominated by grazing cows and grassy meadows, traces of which is still visible in the huge park;
Fælledparken
, dominating the area. When Copenhagen was finally allowed to grow out over the ramparts following a cholera epidemic, Østerbro was not build up as quickly and disorganized as its neighbours Nørrebro and Vestebro, and it was mainly the bourgeoisie who moved here in pompous villas in green surroundings, a heritage which has stuck to the district, many of the mansions still stand today, and a lot of them are occupied by foreign embassies. When development finally took hold at the turn of the century, it was better planned, and more upscale than its counterparts, and with its big apartments and nicely crafted ornamented buildings. Even the construction of a new and dirty harbor by the waterfront and new factories could not quite take the bourgeoisie aura away from the district, something it has retained to this day. And while Østerbro is still trailing behind
Frederiksberg
and its posh northern neighbour, Hellerup in terms of wealthy residents, visitors should still expect it to be fashionable, rather than "hip" or "cool", but watch out for the swarms of expensive prams parading the neighbourhood!
Get in
Østerbro is almost entirely located within Zone 1 of the common ticketing system that covers both the Metro, Buses, and Trains in the Copenhagen area.
By train
Østerbro is served both by the S-train suburban services that are grouped together through the central part of Copenhagen, as well as several regional lines that terminate on Østerbro's main station; Østerport. All S-Train lines except line F stop at the three S-stations on Østerbro:
Østerport
, , and
Svanemøllen
, while lines A and F also have stops on station in the northern part of Østerbro. Svanemøllen and Ryparken stations are in Zone 2, so a northbound ticket might be cheaper from those.
By bus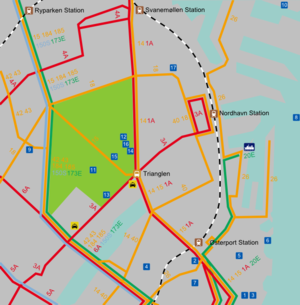 The backbone of bus transport in central Copenhagen are the A buses operated by
Movia
, which run every few minutes throughout the day. The S Buses are express buses that operate on longer lines, with fewer stops.
Trianglen
square connects five major streets on Østerbro and hosts bus stops for several lines.
Trianglen
can be recognized by its unusual building called
the soup terrine
by the locals.
1A Starts at Avedøre station in the western Copenhagen, and runs through all major areas of downtown before entering Østerbro at Esplanaden close to the Kastellet citadel. From here the next stops are at Østerport station and Trianglen before running along Østerbro's main street — Østerbrogade, to Svanemøllen station. The line terminates at Hellerup station.
3A This line does a half loop around downtown. Starting on Nordhavn station, and stopping at Trianglen, Rigshospitalet (the National hospital) and Panum university campus, before entering the Nørrebro district.
4A Begins at Svanemøllen station, and services the northern part of the district, before it crosses Lersøpark Allé to enter the Nørrebro district. It loops all around the city center, to terminate on Amager.
6A Starts in the suburb of Rødøvre west of Copenhagen, and passes the central station in downtown, before it enters Østerbro by the lakes with stops at the Rigshospitalet, the medical faculty of Copenhagen University, and the Jagtvej/Tagensvej intersection, before it enters the North-West district and continues north.
150S Starts at Nørreport station in downtown, and runs through Østerbro with stops at the Rigshospitalet, Frederik Bajers Plads, The Østerbro university campus, and Ryparken station before continuing north along the highway to Kokkedal in northern Zealand.
By boat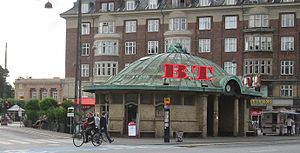 Canal tours Green line is waterbus that starts in the famous Nyhavn canal downtown, and stops at some of Østerbro's main attractions: the Little Mermaid, Langelinie, and Trekroner fortresses (summer only). Tickets are 60 Kr for a single journey, and 75 Kr for a one day ticket. Runs between 10:00-17:30
The Arriva-operated 901 & 902 water buses are part of the public transportation system, and start at Nordre Toldbod, near the southern entrance of Kastellet, from where they cruise the inner harbour towards downtown. Prices and tickets are the same as on other buses and trains, but only if you use Rejsekortet or already have a valid ticket.
Get around

You can reach most of Østerbro by foot, but as almost everywhere in Copenhagen, biking is really the best mode of transport.
Bus 1A runs every 5 minutes and stops close to most attractions and places to eat and drink.
Østerbro is the area of all of Denmark that has the fewest parking spaces relative to the number of cars owned by residents, so it can be difficult to find a place to park a car after 16:00. And if you do find a place to park your car, think twice about using it if you will be returning in the evening.

See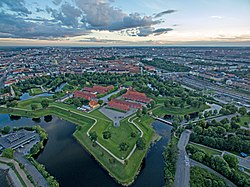 While most visitors head straight to the top attraction, the little mermaid statue, they are mostly left baffled on how to react by the rather unremarkable tiny statue, but all is not lost. One tip is to actually read Hans Christians Andersen's fairy tale, the statue is meant to evoke the feeling of Ariel's longing and melancholy, not impress tourists. If you have not read the fairytale you can safely queue up with the tourists, get the ritual photo over and done with, and head for the other nearby attractions.
phone: +45 35 43 14 08

Brumleby is a small quarter nestled in a triangle between Trianglen square and the National Stadium. It was built in the 1850s by the Danish Medical Association, as answer to a recent cholera epidemic, as a showcase on how to make healthy but affordable housing for the working class. It has been awarded Europa Nostra award for conservation, and it is a nice place for a brief stroll if you are in the area.
address: Brumleby 134 (block N)

Small museum in the old cooperative shop and library. It is run by volunteers living in Brumleby and they are happy to tell you everything about the museum and Brumleby.
address: Churchill Parken 6

King Christian IX's daughter Alexandra, who was became the Queen of England was the driving force behind the erecting of this church, which is home to the English congregation in Denmark. The church was completed in 1887, and was built with some impressive flint stone walls.
Kastellet

phone: +45 33 47 95 00

A superbly preserved and restored star-shaped citadel. First built in 1626 as St. Anne's Bulwark and completed in 1664, it was the stronghold at the northern end of the East Rampart, which arched through the city and remains in the form of the many parks extending down to Tivoli. The Citadel now houses the Danish Defense Intelligence Service, and is a popular spot for picnics. As well as two small museums with limited opening hours: Livjæger Museum and the museum in the North Gate which displays Garrison's Historical Collections .
Den lille Havfrue

address: Langelinie

This little lady is one of the most photographed in the world. Designed by Edvard Eriksen, Her statue was erected in 1913 to commemorate a play of the Little mermaid. The poor lady has lost her head several times, and is often subject to vandalism connected with political statements. Many visitors are often surprised by her modest size (1.25 m (3.3 ft) high). The Little Mermaid is a semi official symbol of Copenhagen.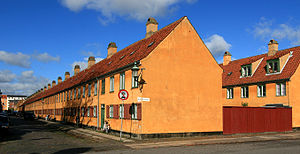 Nyboder MindestuerThis mini-district was built in the 17th century, and consists of long rows of beautiful 2 story yellow brick buildings. It was built to house sailors from the Navy, as it was useful to have sailors in the fleet living in a confined space, so they could quickly be called to duty. Today the houses are still owned and managed by the Danish Defence, although servicemen from all three branches are allowed to rent a flat. All streets except for two are named after animals. On Sankt Pauls Gade 24, Nyboder mindestuer showcases everyday life in the neighborhood from its inception in 1631, every Sunday between 11AM-2PM.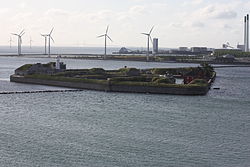 phone: +45 38 25 44 44

This 18th century fort was built to guard the sea approach to Copenhagen's harbor in 1786. It has a special atmosphere, and some gorgeous views over Øresund. There are several well preserved military buildings and fortifications. A restaurant and a café have been opened in a newly renovated building. The only access is via Canal Tour's green hop on hop off route (summer only).
Museums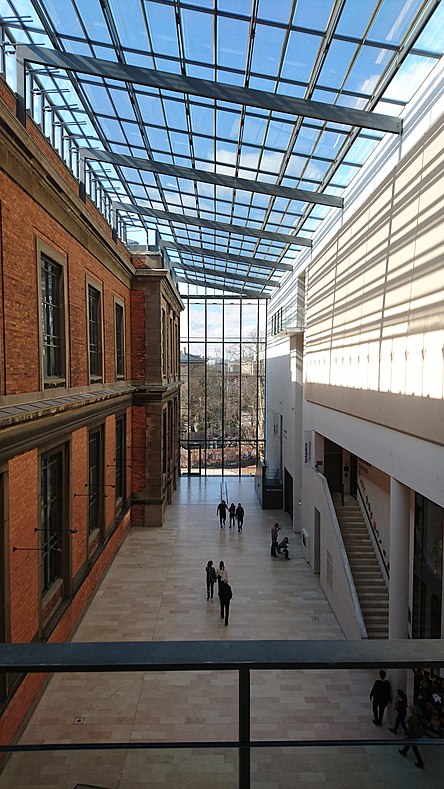 Do
FiskerihavnenLocated on the eastern tip of Nordhavn (North harbour). Because of the traffic on Øresund, commercial fishing is not allowed. But the amateur fishermen at Fiskerihavnen can fish from their small fishing boats. The fishermen have tiny sheds, all different, a bit messy, but colorful. To get there you have to zig-zag past Frihavnen (Freeport, closed to the public), mountains of containers, scrap metal, interesting industries. Bus 26 goes there. There is a store that sell fishing equipment, but also ice cream and cold beers. "Krølle" sells smoked herring and salmon from his 1914 boat, "Kællingen".

Buy
Due to the young and rather wealthy demographic, there are many small stores catering the local crowd with designer clothes and home décor. There are also several small galleries and antique stores. These are mainly located on the main drags: Østerbrogade, Nordre Frihavnsgade and their side streets. On Saturdays year round there is an organic farmers market, Bondens Marked, on Jakobs Plads (Østebrogade). Groceries can be bought in
MENY'
on Østerfælled Square which hosts a good delicatessen and a bakery. The Irma supermarket at Østerport station is convenient for travellers.
Eat
Budget
There are some reasonable priced restaurants at the sailing clubs in Svanemøllen Harbour. For example:
Mid-range

Splurge
Drink
Østerbro is not the place for raving nightlife, apart the Office and partly Café Bopa. Most places on Østerbro are low key, cozy places where you go to have a
hyggelig
conversation with friends, over a few snacks and beers or wine with quiet music playing in the background. Most locals head downtown for a big night out. As is the case with almost every bar in Copenhagen, expect draft beers to set you back 40-50 Kr.
phone: +45 35 43 05 66

address: Bopa Plads 1

A café during daylight, this place morphs into a crowded bar with DJs spinning records during the weekends. Relaxed atmosphere and great for socializing

phone: +45 39 30 03 05

address: Løgstørgade 2

hands some reasonably priced cocktails (a flat 65 Kr) over the counter, Outdoor seating on the small square, and Brunch, Lunch, Tapas and an evening menu if you want to fill up your stomach before indulging. Pixie is the name for a series of well know children's books, and the owners have kept true to the name with pretty neat colorful childish interiors.

phone: +45 35 27 63 00

address: Dag Hammarskjölds Alle 36

Located on a small square, colloquially known as the little Triangle, this cafe is popular for its huge outdoor serving area, at the end of the lakes, it is a bit overpriced, but the coffee is top-notch and they have a decent collection of Danish and foreign beers.

phone: +45 39 29 92 00

address: Færgehavnsvej 35

With a huge outdoor area and an artificial beach, it is perfect for chilling on warm days. But they also house a restaurant, and the two large raw industrial storage buildings, houses exhibitions and concerts all summer long.

phone: +45 35 26 86 38

Cafe with extensive whiskey menu, Kruts absinth, good beers, and sandwiches.

phone: +45 61724487

address: Østerbrogade 122

Small cosy place that has 10 interesting beers on tap and make good cocktails.

Bubbles

address: Århusgade 14

Champange and cocktail bar

Strandlyst

phone: +45 27207169

address: Nygårdsvej 1

Old-fashioned brown danish bar with cheap beers, a digital jukebox, dice-games. But non-smoking.
Sleep
The options for staying at Østerbro are rather limited, as most hotels in Copenhagen are located in the
downtown
area — most of the surrounding neighborhoods, including Østerbro, are mainly residential. An alternative, often offering better value for money, are the numerous bed & breakfasts in private apartments.
Hotels
phone: +45 31686245

address: Ryesgade 115

This is a small local boutique hotel with a cozy atmosphere serving homemade organic breakfast, feels like a real apartment.

phone: +45 70 12 46 46

address: Oslo Plads 5

really central with most trains in and out of Copenhagen just a minute away, direct trains to the airport, it is close to most of Østerbro's main attractions, and right at the outskirts of downtown.
Apartment rentals
Private apartment rentals and semi-bed & breakfasts are by large the main type of accommodations on Østerbro. These are often spacious and classic apartments from the 19th century, with high, decorated ceilings, and huge windows facing the street—as is the norm on Østerbro.
Connect
The postal code for Østerbro is 2100 (
København Ø
)
Østerbro Post office

phone: +45 80 20 70 30

address: Øster Allé 1

Offers the normal range of postal services, as well as Western Union transfers, currency exchange, and selling tickets for concerts plays etc. nationwide.

phone: +45 35 38 16 48

address: Dag Hammarskjölds Alle 19

Has 11 computers available for internet surfing, it is possible to book a PC online at library's website.
Cope
phone: +45 35 55 60 20

address: Århusgade 38

Along with its sister cafe on Nørrebro, this bar and café is a perfect match for a traveler. Combining a coin laundromat with a café where you can sit and enjoy a coffee, beer, lunch or brunch, while reading one of the 3000 paperback titles or abusing the free wireless internet, and waiting for your laundry to finish.

phone: +45 35 45 35 45

address: Blegdamsvej 9

Although the largest and most important Hospital in the country, this hospital's ER only takes in patients arriving by ambulance, or referred by a doctor. This is due to large number of patients preferring to be hospitalized here, rather than one of the other Copenhagen Hospitals. Should you require hospitalization, patients on Østerbro are referred to Bispebjerg hospital in the North-West district.

phone: +45 35 38 32 00

address: Nordre Frihavnsgade 3

Large and well stocked chemist.