Copenhagen/Christiania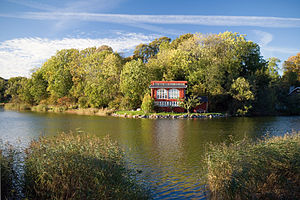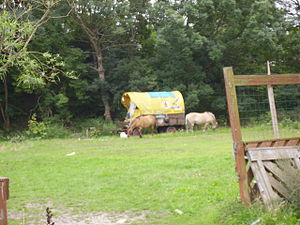 Christiania was also a historical name of Oslo, capital of Norway.
Christiania
is a self-governing "free town" established in 1971, a city within the city, on the site of a military barracks as an alternative to mainstream culture. Cannabis is sold openly on stalls, and smoked openly throughout the area, despite it being illegal in Denmark. Nonetheless it's quite safe and popular as a tourist site.
Get in
Christiania is car free, and parking conditions outside can be hellish on good weather, so do what everyone else does and jump on a bike, if that doesn't cut it, take public transit; there are two options:
Take the metro to Christianshavn station, from there it is about a 6 minute walk (500m), when you exit the metro station continue straight ahead (south) until the 2nd intersection (there is a furniture store on the corner) turn left down (east) Prinsessegade and walk a couple of hundred meters, you won't miss it, if you have any sort of idea what you are looking for.
You can also bus opt for bus 9A, which stops right outside the entrance, it leaves from both Vesterport and the central station, about every 10 minutes for most of the day.
See
There are hundreds of buildings on Christiania, in all sorts of imaginative shapes, sizes and colours ranging from old army buildings dating back to the by-gone barrack days, to elaborate self-build homes. The best way to see them is just walking around sucking in the atmosphere. There is graffiti art everywhere, too. All the buildings have their own story. If you are friendly, open minded, a bit lucky, and outside the main tourist season, you can sometimes get locals to tell you the, often amazing, stories of their particular house; otherwise the regular walking tours are a good introduction to the main sights.
Fredens Ark

address: Fredens Eng

The Ark is not only the largest building on Christiania, it is also the largest half-timbered house in Northern Europe. Built in 1837, It was originally the main building of the barracks, with sleeping and officers quarters. Today around 80 people live in the protected building, and the lower levels are home of the 'Rockmaskinen' club which has occational events and the community's social counseling (Herfra og videre)

Mælkebøtten

address: Langgaden

This cluster of buildings a good walk up Langgade, dates back to the middle of 19th century, and was previously the laboratory of the country department (Landetaten). The impressive gate-building is probably the finest of the old buildings on Christiania, and the wonderful contrast of the Buddhist Stupa in front makes a good photo, above the gate is King Christian IIV's gold monogram. The whole complex is protected.

Vilhelms Bastion

address: Nordområdet

Is one of the old bastions of the fortification on which Christiania is built, and has a set of protected buildings. Kommandørhuset is a pretty, yellow, half timbered house which used to serve as a guard building, the eave on the eastern side was extended to allow for the soldiers to stay dry during rain. It was supposedly built and constructed by an Italian architect. Another protected building here is the Krudthuset, the oldest building on the mound from 1665, which used to be a gunpowder store but is now used as a residence. The area is now used for many activities for the local kids, with a riding school, stables and playgrounds.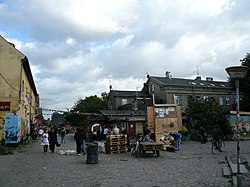 address: Sydområdet

A pun to the much more conformist "Statens Museum for Kunst" in downtown, Stadens (which is the colloquial name for Christiania) Museum for kunst is a gallery and book café with changing art exhibitions. It's in the 2nd floor of the Loppen building which was a military storage building when it was constructed back in 1863. A good call, since the quite large and rustic exbition space, is a really pleasant place to breeze through.

Galleri Leonard

address: Sydområdet

Painter's workshop and exhibition in the ground floor of the "Loppen" building. It's run by a local artists, and sometimes a makeshift stage for small concerts.
Do
Christiania is something of a powerhouse in Copenhagen's cultural life, especially on the alternative scene, and there will almost always be something going on, in one of the many club and venues dotted around the central part near Pusher street, or the open air scene on Café Nemoland (listed under drink). One of the most popular activities is simply buying some weed and consuming it at a chill spot.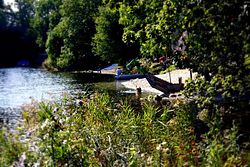 ALIS in Wonderland

address: Prærieområdet

From humble beginnings with a small skate ramp founded by a skater-oriented community on Pusher street (ALIS), this skate ramp - crafted by local skaters who were invited to build whatever they wanted after their old ramp was forced to relocate from noise complaints. The efforts turned into roll-ins, pool corners and oververts, and after a harsh winter took its toll with the ramp was in dire straits, friends were called back in - and many hours later the ramp was indoor, with inside and outside balconies and an exotic atmosphere with Hawaiian paintings and hammocks. The outside 'Wonderland' mural drawing from the familiar fairytale is an attraction in its own right.

address: Mælkevejen

This Jazz club, housed in Christiania's children's theatre, has an amazing atmosphere. If you play any instruments, often you can go to stage and jam away at the late hours of the night after the band of the night have finished.

Den Grå Hal

phone: +45 21 22 98 74

address: Refshalevej 2

Christiania's biggest cultural venue with room for 1500 people, 'Den Grå Hal' is something of an authority on the Danish music scene, and despite its somewhat modest appearance, has hosted some big stars in music such as Metallica, Bob Dylan and Rage Against the Machine. There are other events like markets, theatre or parties. Events are usually listed on Christiania's website.

phone: +45 32 57 84 22

address: Sydområdet 4B

Is a rock club where various alternative bands play live. The room in the old artillery storage with low ceilings and sturdy dark wooden support pillars can fit up to 450 people. The low stage takes you face to face with the bands playing, creating an intimate atmosphere, much appreciated by local bands who often forgo bookings at bigger stages elsewhere to play there.

Energiværkstedet

phone: +45 20 84 87 12

address: Mælkevejen

Part of a local association working with spiritual energies: Yoga, T'ai Chi Chuan, Aikido, massage, Shiatsu, body consciousness etc. There are a lot of lectures going on, but at no particular schedule except for regular Tai Chi sessions.

phone: +45 32 57 29 09

address: Gaden

The Opera on Christiania, not to be mistaken by the more conventional Operahouse nearby, is a combined music venue, restaurant and bar, with a wide variety of bands playing. Hosts a blues night on Sundays.
Buy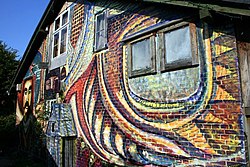 Christiania offers some truly unique shopping, apart from its (in)famous major export item:
cannabis
. If you want to bring home a really unique souvenir from Copenhagen, there are a bunch of interesting options here. In addition to stores listed below, there is also a Bazaar at the entrance to Pusher street where you can buy everything from cannabis posters, to bongs and Jamaican clothing.
Despite efforts by the police to shut down the cannabis trade here, the selling is still going on relatively openly. The cannabis market in Copenhagen is estimated to around 1 billion kroner (€134 million) annually, and with Christiania still being the epicentre, neither is there much chance of the trade disappearing any time soon. But potential buyers should be aware that police occasionally patrol the area, and you could potentially be fined if you are caught possessing hashish. Harder drugs are however frowned upon on Christiania, and requesting them is a
faux pas
.
phone: +45 32 54 87 48

address: Mælkevejen 83A

Produces some unique handcrafted bikes, their signature bike has a boot in the front for goods, children or groceries.

phone: +45 32 96 15 51

This store sells mostly organic groceries, some produced locally, e.g. organic cosmetics

phone: +45 32 57 76 58

address: Mælkevejen 83 E

An iron workshop run by 3 women, mostly selling interior decorations and furniture cast of iron and glass.
Eat
With some of the best vegetarian food you'll find anywhere in town, the residents love for everything organic, and the social responsibly (and socialism) so enshrined in the fabric of Christiana culture, that prices are kept at quite reasonable levels — especially considering the quality, Christiania is an excellent place for lunch and dinner. Often there is an open barbecue up on Pusher street dishing some yummy burgers and hot dogs.
phone: +45 3257 1456

Relaxed café with room for both Christianites and people dropping by for a cup of coffee, a game of table football or billiards. Has some decent sandwiches and good cakes from time to time, but does not serve alcohol as joints are welcome.

address: Fabriksområdet 134

Morgenstedet is a vegetarian eatery, and all the food here is made from organic and fresh vegetables from a Danish farm. Nice outdoor seating along benches in the garden, and nice rustic interiors inside. The service is can be really laid back, and the place is mostly self-service, but the open kitchen and talkative chefs make up for it,

phone: +45 32 57 95 58

A nice restaurant where the menu changes daily, and according to what fresh foods are available during the different seasons. There is always a fish and a vegetarian dish on the menu, and the ethnic mix in the kitchen usually ensures an amazing variety throughout the week

phone: +45 3295 8931

address: Fabriksområde 52

This lovely place is part outdoor beer garden, part concert venue, part indoor café, with possibility to eat outside. Creative decoration, and the most varied crowd you are likely to see anywhere in Copenhagen.

Sunshine Bakery

address: Pusher street

A kiosk and bakery hybrid with bread, cakes and sandwiches, coffee, tea, dairy products, soft drinks, cigarettes etc., both for take away, or enjoying at the outdoor benches in front of the bakery.
Drink
phone: +45 3295 8931

address: Fabriksområde 52

This lovely place is part outdoor beer garden, part concert venue, part indoor café. Creative decoration, and the most varied crowd you are likely to see anywhere in Copenhagen.

Woodstock

address: Pusher Street

A Public house with occasional live music. Breakfast, sandwiches, beer, soft drinks, alcohol, coffee and tea.

phone: +45 3257 1456

Relaxed café. Has some decent sandwiches and cakes, but does not serve alcohol. Many organic available, and joints are welcome.
Sleep
There is no public option for sleeping, unless you bump into someone willing to lend you a couch. The nearest hotels are in
Amager
or
Downtown
Stay safe
This area presents a dramatic shift of mood from the rest of Copenhagen. Cannabis is being openly sold and consumed throughout Christiania, especially on Pusher Street, so be aware of that if you decide to bring children.
Some of the cannabis sellers are employed by gangs. Do not take photographs in or near Pusher Street, or you will be confronted by a local pusher or gang member, with threats of violence. None of them wants to be identified by the police, which means they have to keep a low profile. They keep an eye out for policemen or journalists working undercover. That said, if you respect the nature of this unusual environment and its rules, you should be okay. Exercise common sense by keeping an eye on your surroundings and belongings, and keep a low profile.
Keep in mind that no matter how relaxed Christiania might seem, possession and sale of cannabis are still illegal in Denmark. While the police very rarely manage to make their way into Christiania proper, those wishing to take cannabis out with them should be careful: if you don't want to risk arrest, don't bring anything illegal outside the Free State's borders.

Respect
What was mentioned about respecting the criminal activities is more for your own safety. These rules also apply, but mostly not to get into bad company:
Possessing hard drugs makes you absolutely unwelcome.
No taverns, venues, cafés or restaurants allow the smoking of cannabis inside their buildings. Smoking outside is fine though.
Behave well, even if a person might seem uncomfortable. At last, they are very nice and respect you being here, no matter what you're up to or doing.