Copenhagen/Indre By
Indre By
(literally
the inner city
) is the central area and the historical heart of
Copenhagen
, bounded by the lakes circling the inner city and the harbour, it reflects the entire city's extent during the reign of King Christian IV, when the town was fortified. All the neighboring districts were only founded when the king allowed construction outside the fortification in the 1850s. Referred to by locals simply as
City
, it is the home of most of Copenhagen's attractions, nightlife options, and hotels.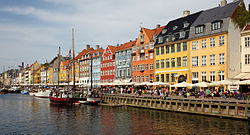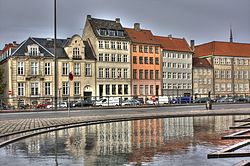 Understand
The old fortifications are still evident in the two strings of lakes circling the downtown area. The outer lakes are known to the locals simply as Søerne or The Lakes in English, and they do not only define the border to the inner city, they are also immensely popular with joggers. The inner lakes are laid out in a zigzag pattern, and are what remains of the old fortifications, if you look at a map or satellite photo this is still very visible. The remaining lakes, which used to completely circle the city, are now a string of parks; Østre Anlæg, with the National gallery, the Botanical gardens, Ørsteds Parken and finally Tivoli. The names Østerport (eastern gate), Nørreport (northern gate) and Vesterport (western gate), now associated with the stations carrying the same names, are actually the locations of the old gates leading through the fortifications, and into the city.
The heart of the district is the medieval city, shaped like a square with Rådhuspladsen, Kongens Nytorv and Nørreport as its corners. It is dotted with historic buildings, church spires and narrow streets. Many of them has been pedestrianized and is commonly known as Strøget, Copenhagen's main shopping area. But it gets much more interesting if you venture into the narrow streets and squares, since it hides some interesting shops, restaurants and old traditional bars hidden away for the curious traveler.
South of the medieval district is Slotsholmen, an artificial island, the name translates to the castle islet at the site where Copenhagen's founder, the archbishop Absalon's built first
fortification in the city. The ruins thereof are visible under the present day parliament, housed in the massive Christiansborg palace. Slotsholmen is also home to a cluster of museums and the national archives. Børsen, the former stock exchange from 1640, is another striking Renaissance building located here, with its signature dragon spire.

Get in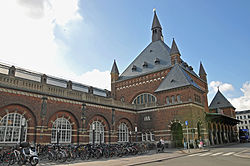 Being the center of the capital, the majority of bus, train and Metro lines run through Indre By. From the airport you can opt for either the regional Öresundstog to the Central Station or Nørreport, the Metro with stops at Kongens Nytorv and Nørreport or, if you want to take it slow and enjoy the views, the buses 2A or 5A. All of the options cost the same in terms of ticket fares - you need a three-zone ticket, as the Indre By is Zone 1, the Airport is in Zone 4 and you have to cross Zone 3 on your way.
From the DFDS and Polferries terminals take bus 26 or 20E to Kongens Nytorv.
(Hovedbanegården) lies on the border between the inner city and
Vesterbro
, and acts as a central hub, with all S-train, regional and intercity lines stopping here, as well as a large number of bus lines at the terminal between the station and the Tivoli Gardens. Served by the following bus lines:
1A (stops at the bridge south on the tracks),
2A and 5A (for Christianshavn, Amager and the Kastrup Airport)
6A,
250S,
10, 15, 26, 30, 40, 66.
station also has all S-train lines, as well as several regional lines stopping here, and acts as an interchange between these lines, and the Metro. It is also a major bus terminal for many lines going north and northwest from the city center. It lies at the northern end of the pedestrian district
Strøget
.
Bus lines: 5A, 6A, 150S, 350S, 174E, 14, 42, 43, 184, 185
is a major square at the eastern end of
Strøget
and where Nyhavn begins. It has a Metro station and a bus terminal.
Bus lines: 1A, 350S, 20E, 15, 26, 29 (stops behind the royal theater)
is Copenhagen's central square and features a large bus terminal. It is also the western access point to
Strøget
, and a short walk from the Central Station.
Bus lines: 2A, 5A, 6A, 250S, 173E, 10, 12, 14, 26, 29, 33, 67, 68, 69.
For information about where these lines go, please refer to Movia's homepage or the many signboards around the terminals.
Get around
By foot
The Indre By is easily walkable and in fact a large part of it has been pedestrianized and is devoid of both motorized and bicycle traffic.
By public transport
Public transportation is not of much use unless you want to travel between the extremities, and both the metro and the railway lines circle the Indre By with only two stations each.
By bicycle
Biking may be a good option - in case you do not want to bring your own bike or hire one permanently, you can take advantage of the city's
Bycyklen
bike-sharing scheme - as of 2014,
Bycyklen
stands in the Indre By are around the Central Station and by the Amalienborg.
See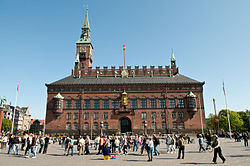 Key sights
phone: +45 33 66 25 82

address: Rådhuspladsen 1

The City Hall is open to the public, so you can stroll through the hallways, stairs, and study all the paintings, frescoes, and other decorations on your own. City Hall guided tours in English M–F at 13:00, Sa 10:00, 50 kr. Visit the tower: M–F 11:00 and 14:00, Sa at 12:00, 30 kr or free with Copenhagen Card. There is a nice little garden that cannot be seen from outside the city hall. The city hall is also home of Jens Olsen's World Clock - this mechanical masterpiece of a complete astronomical clock is in the foyer.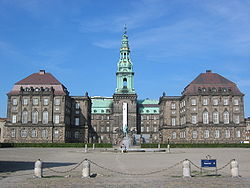 phone: +45 33 92 64 92

address: Prins Jørgens Gård 1

This Neo-baroque palace, completed in 1928, after 11 years of construction - is unique in the world, housing both the executive power, the legislative power, and the judicial power of Denmark, in a single building. It is the 5th construction at the site, and the ruins of the original castle dating back to the 12th century - was excavated during the construction of the current palace, is open to the public (adult 50 kr, student 40 kr). Apart from the ruins there are a few other places that can be visited: free guided tours of the parliament building are conducted during summer months; Parliament's tower can be visited free of charge Tu-Su 11:00-21:00; the Royal Reception Rooms (including the Great Hall with the tapestries) 90 kr; the Royal Kitchen 50 Kr, the Royal Stables 50 kr; the Palace Chapel - free admission. Besides, there is a combination ticket which allows entrance to all of the aforementioned sights - 150 kr.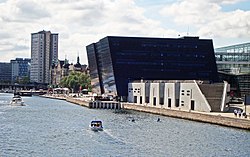 phone: +45 33 47 47 47

address: Søren Kierkegaards Plads 1

The library was founded in the 1650s and have an impressive collections of rare books and manuscripts, which includes a Gutenberg Bible, tormented philosopher Soren Kierkegaard's original manuscripts and "Out of Africa" author Karen Blixen's diaries, as well as a newer collection that includes most of the original drawings of the controversial Mohammad cartoons. Changing exhibitions of books and art, often from the libraries own collection, are displayed in a new striking building overlooking the harbor, called the black diamond.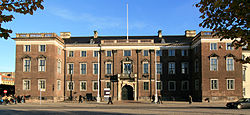 address: Nyhavn 2

This classical mansion on Kongens Nytorv, is home of several cultural institutions, like the Royal Danish school of Visual arts, and has an art exhibition space, with changing, often world class, expositions - check the schedule at their website.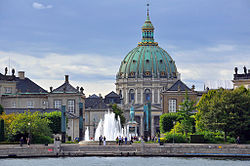 phone: +45 33 12 08 08

address: Amalienborg Slotsplads

Amalienborg is the Royal residence and consists of four identical classical mansions, each facing an octagonal courtyard. On the Queen's birthday (14th of January) and for other highlights in the lives of the royal family, the square is jam-packed with people waving the Danish flag and greeting the Queen. There is a museum in the Christian VIII Mansion displaying exhibitions of the period 1863-1972, and four generations of the royal family. There is changing of the guards each day at 12:00. (Marches from Rosenborg Castle barracks)

phone: +45 33 15 01 44

address: Frederiksgade 4

Officially called Frederikskirken, this impressive church imposes a massive presence on the Copenhagen skyline, with its 31 m. diameter dome. Because of financial turmoil in the country, it took over 100 years to complete. The church takes it name from the original lower part of the structure which is made from Norwegian marble. Guided tours of the dome: adults: 35 kr, children (under 18) 20 kr (cash only); June 15-Aug 31: daily at 13:00; at other times: Sa Su at 13:00. Tickets are sold from 12:50. Visits might be cancelled due to services or concerts. Services in Danish on Sundays and holidays at 10:30.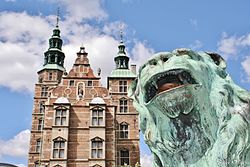 address: Østre Voldgade 4A

A former royal residence, Rosenborg is not only a beautiful Renaissance proper castle, with a moat and all, today it is also a fascinating museum of cultural history. Rosenborg houses some of Denmark's greatest cultural treasures, not least the Crown Jewels and the Danish Crown Regalia, and includes exhibits about the Danish monarchy over 300 years.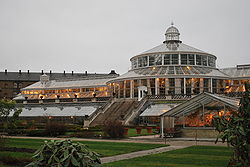 The University of Copenhagen Botanical Garden

phone: +45 35 32 22 22

address: Øster Farimagsgade 2 B

The Botanical Gardens are one of several parks, dotted along the string of lakes, which used to form part of the old city fortifications. Run by the University of Copenhagen, the garden hosts Denmark's largest collection of living plants, including an impressive collection of orchids. The signature palm house is a huge greenhouse, with large tropical trees, and a sky walk in the canopy.

NyhavnNyhavn is a canal leading from the main harbourfront all the way to the Kongens Nytorv square, lined with colourful historic buildings. It was built to originally be what the name says - Copenhagen's new harbour. Over time, it became too small and lost its commercial and transportation importance, and in the 1970s it was designated as the historic port area, where historic boats and their replicas are moored. It is immensely popular with tourists and locals due to its picturesque nature and is full of restaurants, cafes and bars offering waterside gardens.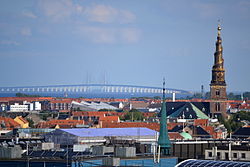 address: Købmagergade 52A

Climb the spiral, cobbled road up to the observation platform of this tower, for a wonderful view of the city.
Museums and galleries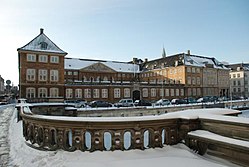 phone: +45 33 13 44 11

address: Frederiksholms Kanal 12

This museum portrays the national history and cultural heritage of Denmark and is widely regarded as one of the best in Europe. The permanent collection is well laid out, an informative collection of national artifacts, perhaps the most impressive being those exploring Danish prehistory from the Bronze Age through to the Vikings. The museum also holds a collection of Classical and Near Eastern artefacts. The children's museum in the basement is a blast for the kids.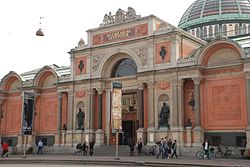 Do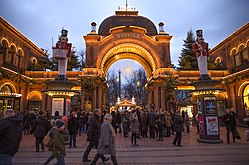 Tivoli
address: Vesterbrogade 3
Tivoli is a garden built around a lake stemming from the old fortification of the city. It was opened in 1843 by its founder Georg Carstensen, just outside the city walls. Since then Copenhagen has grown up around it, and today the world famous gardens and amusement park, is literally a magic and green oasis smack in the center of the city, between the central station and the city hall square. The magic is particularly obvious after dark, when the lights and lanterns in every color of the rainbow, lights up everywhere. Main season is mid-April to late September. From mid November to late December there is
Christmas in Tivoli
. Tivoli is especially beautiful at night when coloured lamps light up everywhere. Pop/rock concerts every Friday night, sometimes with internationally known names. Some evenings end with fireworks, consult the program. Also brass bands, pantomime theater etc. on the program.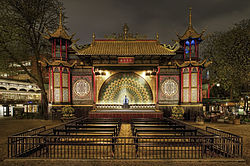 Event venues
GlassalenA beautiful theater designed by Poul Henningsen in 1946, which hosts plays and varietes

Tivolis KoncertsalTivoli's big concert hall, hosts everything from plays, to classic, jazz and opera concerts.

The Pantomime TheaterA beautiful Chinese style open air stage, where the curtain is designed as feathers of a peacock. Famous pantomime plays of HC Andersen stories, Pjerrot and Harlequin.

Store SceneThe big stage, Rock/pop concerts every Friday night.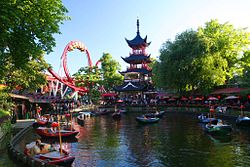 Rides
Balongyngen You will find very few locals who have not kissed a date on this slow-going ferris wheel, with a romantic view of the city after dark.
Den Flyvende Kuffert Hop on into a suitcase, and run through puppet exhibitions of HC Andersen's tales in a leisurely pace.
Det gyldne Tårn is a 63 meter tower, where you can have a splendid view over Copenhagen before you are dropped to the ground in free fall, with a speed of 65 km/h and 1.5 G's
Dragen a flic flac ride, that twirls you around, in irregular moves, at a rather fast pace.
Dæmonen is a 600m roller coaster, running at 77 km/h, and through 3 loops.
Himmelskibet is not just a carousel, it is the world's tallest, where you are carried up to the top, 80 meters above Tivoli, and taken for a spin.
Odin Expressen is a fast roller coaster ride, with a big helix loop, and a peak speed of 60 km/h
Monsunen A rather big, flying carpet type ride - watch for the first and law row, sometimes you get wet when it is windy.
Rutchebanen is the worlds oldest running wooden roller coaster, running through an artificial mountain terrain since 1914.
Snurretoppen break dance, round and round, get's you a bit dizzy at times.
... and 15 other rides, mainly for the kids.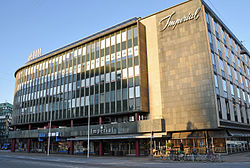 Cinema
phone: +45 70131211

address: Ved Vesterport 4

On a rainy day, you can go for a movie, in the largest single movie theater hall in Northern Europe, seating a staggering 1102 people. Movies are with original language with Danish subtitles. Good quality regarding projector and sound systems.

phone: +45 33 74 34 12

address: Gothersgade 55

Part of the Danish film institute, this is a paradise for any cinephile. There are 3 movie theaters playing classics, cults, documentaries, art movies and exam projects from the film school. The basement houses a Videotheque, with over 3500 titles, that you are free to watch. There is also a book and video store with special movie titles, and books relating to cinematography. Lastly the building also has a restaurant and café.
Theatre
phone: +45 33 69 69 69

address: Kongens Nytorv 1

A majestic old building on Kongens Nytorv, houses ballet, for which the theater is world renowned - and drama performances. There is a 65% discount for those under 30 on selected performances, to encourage young people to see the classic arts.

phone: +45 33 69 69 69

address: Sankt Annæ Plads 36

A 1000-seat national stage for the dramatic arts, with 3 stages. Opened in 2008, its beautiful piece of modern architecture overlooking the harbour. Even if you are not going for a play, the cafe in the foyer, Ofelia, is a nice place to sit and enjoy the view over the water and Christianshavn.
Parks and recreation
phone: +45 33 13 47 65

address: Øster Voldgade 4 B

This park adjacent to Rosenborg is the most frequented park in the city. It is a place for a stroll, a picnic, drinking beers in the sun, or whatever you feel like doing. The topless sunbathers often inject a shock into foreign visitors. Also the marionette theatre in the eastern corner is doing plays every day at 14:00 and 15:00. Great for kids.

NyhavnOn a sunny day, this is a top spot for oozing in the sun - on the bulwark with a beer from the supermarket, or at the outdoor serving areas of the many (rather expensive) restaurants and cafe's dotted along the "sunny side" of the canal. For any self-respecting Copenhagener, this is a top priority on the first day of spring - while at the height of the tourist season, it is mainly left for the visitors to populate. Often there will be street performances, mostly improvised music concerts, somewhere along the canal - take a seat, and relax.
Museums & educational
phone: +45 33 12 12 24

address: Gammel Kongevej 10

Named after the Danish astronomer who formed the basis for the discovery of planetary motion, this planetarium features a small but good free exhibit on astronomy, a 4000-star projector, OmniMax theatre, and a restaurant.
Buy
The best place for shopping in Copenhagen, is without a doubt
Strøget
. A set of connected pedestrian streets in the heart of the medieval city. It is claimed to be the biggest outdoor pedestrian shopping area in the world, regardless of whether this is true or not, it is a shoppers paradise, and the historic buildings as far as the eye can see, makes it a welcome alternative to any shopping center. The really interesting shopping however, is found in the small shops, in the many narrow side streets to Strøget, colloquially known as
pisserenden
or the
Latin quarter
. If you are out for traditional souvenirs, there are several shops on the section if Strøget running between the city hall, and Amager torv.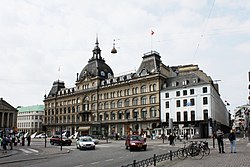 Department stores
phone: +45 33 11 44 33

address: Kongens Nytorv 13

Housed in a former grand hotel on Kongens Nytorv, marking the entrance to Strøget, and with over a 100 years of history on its back, Magasin du Nord is the grand old dame of shopping in Copenhagen. Although not as exclusive as it used to be, it is still the premier department store in the city.

phone: +45 33 14 40 02

address: Østergade 52

Illum is an 8-storey department store, smack in the middle of Strøget, founded in 1891 and it has competed with Magasin ever since. Unlike Magasin, it is mostly made up of small independent stores.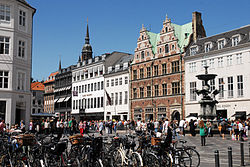 Royal shopping is a group of 3 stores, connected to each other to make it feel somewhat like a department store for exclusive Design products. Royal Copenhagen and Georg Jensen are the top brands of Danish design, with a rich history, while the third store, Illums bolighus, handpicks other design products. The super store takes it name from the fact that all thee are purveyors to the royal Danish court.
phone: +45 33 13 71 81

address: Amagertorv 6

The flagship store of the world famous Royal Copenhagen porcelain factory, tracing its history back to 1775. It is really exclusive (and expensive) stuff. On the 2nd floor there is a museum, portraying the history of the company, with exhibitions of its porcelain products.
phone: +45 33 11 40 80

address: Amagertorv 4

Georg Jensen was a Danish silversmith (1866-1935), today it is a company producing some exquisite products in silver, like watches, jewelry and interiors.
phone: +45 33 14 19 41

address: Amagertorv 10

The best, most expensive and most exclusive of Danish interior, decorative and furniture design.
Danish design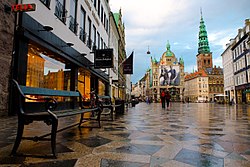 An option for bringing home some unique and useful souvenirs is buying furniture, lamps or industrial design from one of Copenhagen's own superstar architects and designers like Arne Jacobsen, Poul Henningsen or Børge Mortensen, who helped to turn Danish Design into a world wide brand in the first half of the 21st century - but don't expect it to be cheap, there are other options however, Kitchen accessories by Bodum and glassware by Holmegaard are some options that can be found in many stores throughout Copenhagen.
Interiors
Other options are Illums bolighus and the Danish Design Center store, both listed above.
phone: +45 33 32 38 77

address: Store Kongensgade 73

Carries furniture, lamps and accessories by both Danish and international designers

phone: +45 33111415

address: Østergade 18

A flagship store for Danish electronics producer Bang & Olufsen, who makes exclusive design products of high quality - like TV's, Stereo's, Speakers and home integration products. They are well known, for the high quality of sound in their products.

phone: +45 33 32 38 37

address: Bredgade 32

Dansk Møbelkunst is a gallery of first class vintage design. Specialized in Scandinavian furniture design from 1920 to 1975, with particular focus on Danish design classics.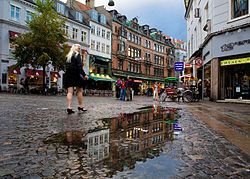 Fashion
The Danish fashion industry has long been lagging behind the interior and furniture design industries, where Danish design is a recognized brand in itself. But this has all started to change in recent years, and Copenhagen is fast establishing itself as a fashion center. Many of the important names in the industry, runs their own independent stores in central Copenhagen.
Music
Shop for some of Copenhagen's music stars in these stores. Good buys of local bands from Copenhagen with international quality include;
Kashmir
and
Mew
for rock music, and
Trentemøller
is an international electronica superstar,
phone: +45 33 14 14 95

address: Studiestræde 27

The country's only specialty store for Rap, Hip Hop and R&B music. And a friendly and knowledgeable owner.
Eat
Bakeries
Denmark, especially Copenhagen, is home to hundreds of traditional bakeries serving 'wienerbrød' (literally, bread from Vienna), the traditional and famous Danish pastries. While many are closing due to competition from 7-Eleven kiosks, a traditional bakery is still good to find and hard to beat. Look for signs with a pretzel on them or shaped like a pretzel, usually with a crown on top. The major department stores listed above also have bakeries, although they can be pricey.
phone: +45 72 14 47 00

While the original "layer cake house" is in Christianshavn, the famous bakery, one of the best in Copenhagen, has expanded all over the city (and Denmark for that matter), with no less than five outlets in Indre By.
Strøget

phone: +45 72 48 47 77

address: Frederiksberggade 21

Kultorvet

phone: +45 33 11 29 00

address: Frederiksborggade 6

Vesterbrogade

phone: +45 33 11 36 07

address: Vesterbrogade 4A

Ny Østergade

phone: +45 72 14 47 37

address: Ny Østergade 12
phone: +45 33144646

address: Skoubogade 3

Has been serving cakes, ice cream and hot chocolate since 1870, Their specialty is the Sports Cake.
Skt. Peders Bageri

phone: +45 33 11 11 29

address: Sankt Peders Stræde 29

Located in the wallet-friendly Latinekvarteret (The Latin Quarter), Skt. Peder's has a special every day and 10 kr take-away coffee. Don't worry about knowing the names for anything (none are posted anyway), the clerks are friendly and used to English-speaking customers.
7-Eleven

address: many street corners, especially near train stations

Yes, it's 7-Eleven, mass-produced and all, but the price usually can't be beat, and there is frequently a pastry and coffee special for around 20 kr.
Royal Warrant holders
When in Copenhagen, you have the opportunity to visit a Royal Warrant holder.
The Royal Warrant holder is a predicate dating back to the 19th century, it is only awarded to companies and individuals who have had long-term and regular trade of a certain extent with the royal family and the royal household.
Only a few handpicked companies are appointed this special title. Visiting stores labeled Royal Warrant Holder will give you a sense of the historical heritage of Copenhagen.
phone: +45 33 15 35 62

address: Kronprinsensgade 5, 1.sal, 1114 København K

A classic tea room serving more than 150 different tea variants. In the tea room, there is also served different locale cakes and sandwiches. Tea has been served in this location since 1835.

phone: +45 33 12 60 46

address: Nørregade 36B, 1165 København K

A historic drop-boiler started in 1891, here former times craftsmanship is celebrated and kept alive. Watch how the professionals cook drops and make colorful lollipops or engage yourself. Good variety of drops, known as bolcher in Danish. Particularly great with kids as they can see the candy being made. Has been owned by the same family since it first opened more than 125 years ago.
Budget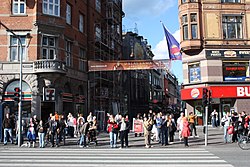 Frederiksberggade, the part of Strøget nearest to Rådhuspladsen, is packed with cheap burger joints, Shawarma places, and China boxes - which all shell out quick food, until very late at night on the weekends. Burger King on the corner of Strøget and Rådhuspladsen operates 24 hours.
Mid-range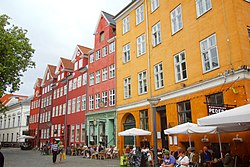 There are many opportunities. The area around Gråbrødre square is popular.
phone: +45 33 33 00 30

address: Jernbanegade 4

If it ain't in Australian, it's not on the menu, goes the advertising on this place. And for homesick Aussies or curious guests you can both get Kangaroo, Barramundi, crocodile satay and of course a proper steak, and down it with a VB or a glass of Australian wine - or in the Oz cocktail bar.
Splurge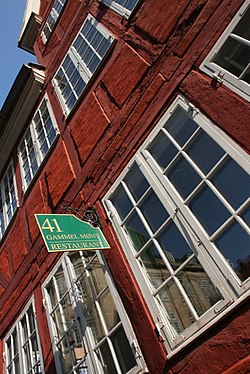 phone: +45 3342 6161

address: Hammerichsgade 1, 1611 Copenhagen Denmark

A new level of simplicity and lightness. Lead by Head Chef Søren Selin and Restaurant Manager and Sommelier Werner Nymo, Alberto K offers a tailored menu that follows the seasons and fuses Italian influences with Danish ingredients. Alberto K recently won praise from the New York Times' writer Seth Sherwood. Advance reservation recommended.

phone: +45 33 11 68 68

address: Vingaardsstræde 6

Michelin starred French restaurant, open since 1976 and located in the oldest building in Copenhagen. The setting is amazing, with Gothic arches and a medieval atmosphere.

phone: +45 33 15 89 15

address: Gammel Strand 38

Historical seafood restaurant open since 1920. The restaurant environs are a taste of classical Copenhagen and can make you feel like you stepped back in time. Food is high quality, with fresh fish from Danish waters.
Drink
Brewery pubs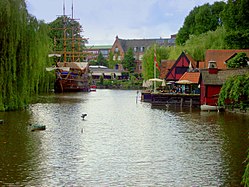 These listings are some excellent options for starting your night in Copenhagen, offering good food and excellent beers produced in the places' own micro breweries.
Bars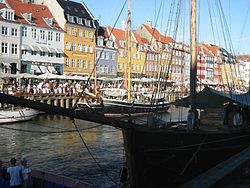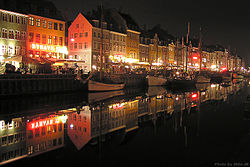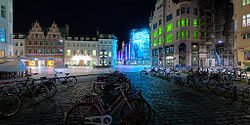 Clubs & venues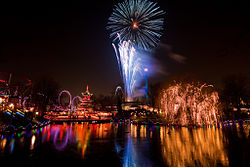 Coffee
If you are in dire need of some caffeine the following morning, here are some places that should (could?) sharpen you up.
Sleep
Budget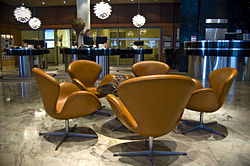 phone: +45 6142 6146

address: Nyhavn 63

Nice hostel in an old builiding with friendly staff. Breakfast is optional and costs 55 kr. There is a bar with reasonable prices and an happy hour.
Mid-range
Splurge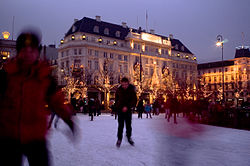 Connect
The postal code for central Copenhagen ranges between 1000-1499 (
København K
), and is quite confusing compared to the rest of the country, since almost every street here has its own postcode.
phone: +45 33 73 60 60

address: Krystalgade 15

The central library is not far from Rundetårn, and has internet terminals, as well as Wi-Fi available.
Cope
Møntvask

address: Nansensgade 84

Coin laundry.