Coral Bay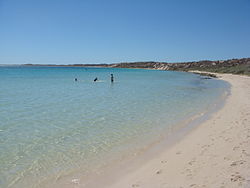 Coral Bay
is a small beach resort in
Western Australia
, renowned for Ningaloo reef.
Understand
Early European settlement from 1884 was some 3 km further north at "Maud's Landing" - little more than a jetty and a shed for shipping supplies in, and wool and sheep out. It remained an isolated undeveloped place until 1968, when water sports became popular and road links improved. Then the Coral Bay Hotel opened, to form the nucleus and give its name to the present small town.
Ningaloo is a 300 km fringing reef, which hereabouts lies about 1 km offshore, enclosing the placid lagoon of "Bill's Bay". All of Ningaloo is a protected marine park with restricted activities, and Bill's Bay is a "green zone" with no boats permitted except a couple of glass-bottomed sightseeing boats. So the corals within the lagoon are protected from much natural and human damage and are superb, within easy snorkelling distance from shore. One monster coral is believed to be 4000 years old.
The resort is family-oriented and has a noise curfew. Serious rowdiness, drunkenness or similar misconduct will get the offender run out of town.
The climate is dry tropical - by road from the south you'll have passed the sign for the Tropic of Capricorn, latitude 23°26ʹ south. (That means that the noon sun is directly overhead Coral Bay on midsummer's day, Dec 21, and pretty close to directly overhead at noon for a few days either side.) Fresh water is very limited and expensive, and all toilets, basins and showers source their water from bores - expect a salty taste on your lips after having a shower.

Get in
By plane
The nearest airport is Learmonth, 40 km south of Exmouth and 120 km north of Coral Bay. Skywest and Qantas fly daily between Learmonth and Perth. Shuttle transfer to Coral Bay is available (Coral Coast Tours 0427 180 568, reckon 80 mins and $100 pp), but must be booked in advance.
You can bring your own light aircraft into Coral Bay (YCOY) airstrip, with the landowner's permission as it's the Cardabia Station's private strip. The surface was upgraded in 2009 but there's no landing lights or Avgas, just a bit of rope to tether your Cessna against the winds.
By road
It takes at least 2 days, and best allow 3, to drive here from
Perth
, 1145 km away. Follow NW Coastal Highway 1 north past Carnarvon to Minilya then branch off down the Exmouth road. A few km later, a sign marks the Tropic of Capricorn. Eventually you'll reach the turnoff left for Coral Bay; follow it for 12 km to town. All these roads are tarmacked.
From Exmouth it's 150 km, simply head south past the airport until you see the Coral Bay turn-off.
From the north coast, e.g. Karratha or Port Hedland, take the NW Coastal Highway south, and turn off for Exmouth along Burkett Road. Then, south along the Exmouth-Minilya Highway, until you see the Coral Bay turnoff.
As you enter town, Banksia Ave turns off left to a 24 hour filling station (unstaffed) and the boat-launching area 2 km south of town. The main drag (now called Robinson Street) continues past a little shopping arcade, a couple of cafes and a caravan park, to dead-end on the shore outside the Ningaloo Reef Resort.
Get around

From the Ningaloo Reef Resort at the road's end, to the shopping arcade at the edge of town, will take all of ten minutes to walk.

See
See the corals from a glass-bottom boat, especially for visitors too young, frail or disinclined to snorkel. Extended trips of 3 hours include snorkelling, the one hour trip without will do fine for non-swimmers. The boats leave from the shore at road's end, booking is in the arcade or the caravan park, reckon $25 a head for the one hour trip. The lagoon is placid so you won't need sea-sickness tablets.

Do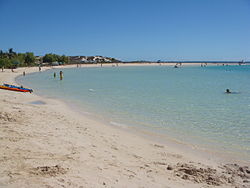 From shore:
the beach around the bay is sandy with shallow entry, and the lagoon is calm. The tidal range is only about a metre so the currents are seldom more than a gentle onshore drift, and the absence of motor boat traffic or jet skis adds to safety. But there are no lifeguards, and watch out for jellyfish.
Snorkelling or swimming,
stay in the "green zone" of Bill's Bay. For the best coral formations walk around the headland and then south for 200-500 m, you can then enter the water and drift-snorkel back to the bay. Further south you risk boat traffic, and north end of the bay (called "Skeleton Beach") is exposed to the winds and gets choppy. In spring this north end is also a nursery for reef sharks, which cluster very close to shore. You're permitted to wade, swim or snorkel with them, but occasionally people get nipped, and the sharks are probably best admired from shore.
Kayaking and stand-up paddle-boarding:
these are available for rent starting at $20 per hour. The hire shop is by the caravan park.
Line fishing
from shore is permitted in Bill's Bay.
From a boat:
Any boat-based activity (except the glass-bottomed boats) will involve a minibus pick-up at the shop in town, then a short ride down Banksia Ave to the jetty 2 km south.
Snorkelling & diving:
this is where you really see why Ningaloo Reef ranks as a
world heritage
site. The quality, variety and quantity of coral and marine life is impressive: turtles, dolphins, mantas and reef sharks are common. The sheltered lagoon enables hard coral to thrive in shallow water close to shore, whereas on most shores (without a barrier reef) wave action wrecks anything shallow and only soft pliable species survive. There is little evidence here (as of Nov 2017) of the common scourges of other famous reefs (such as GBR): bleaching, human damage, trash, or invasive species.
Most boat trips stay within the lagoon, visiting reefs a few hundred metres out that are beyond shore range. The water is shallow, seldom deeper than 10 m, and currents are light. So these trips are suitable for indifferent swimmers and novice and trainee divers, and experienced divers will surface from a one-hour dive with most of their air tank unused. The higher energy sites are found at the cuts, where open ocean water funnels through gaps in the reef into the lagoon, back and forth according to the tide. Rufty-tufty divers and big marine beasts tend to prefer these sites.
There's a considerable variety of these big beasts, top rank being the
whale sharks
which congregate here from late March to July each year. They're on many people's bucket list and tour places are restricted, so book early and expect to pay over $400 per person for these trips. Spotter planes guide the boats to whale sharks that are close to surface and appear suitable for encounter. The boats manoeuvre ahead then drop snorkelers in, to fin like fury as the whale shark effortlessly trucks on by and out of sight. Don't encumber yourself with a camera in the water unless you're really slick, which the boat photographer will be, and she'll take better shots.
On land:
guided tours with Quads (4-wheel motorbikes). Usually 2 hours long, these tours take you around sand dunes to snorkel, see turtles, or just see the sunset. A valid driving license is necessary, prices start around $75 per bike. (Coastal Adventure Tours, Phone: +61 8 9948 5190)
Buy

Coral Bay shopping arcade is ranged around a pleasant courtyard. There is a dive shack, boutique, bakery, photo shop, an ATM and a supermarket in the complex. The supermarket is open daily from 7.30 am to 7pm selling general groceries as well as locally caught fish. There's also a gift & crafts shop in the People's Park Caravan Village opposite.

Eat
Within the arcade are two cafes and a bakery - visit the supermarket for self-catering. Opposite the arcade is a pizza place, and Fins Cafe next to the caravan park. Within Ningaloo Reef Resort is Sails Restaurant, licensed.
Fins Cafe

phone: +61 8 9942-5900

address: 30 Robinson St

A tiny cafe (BYOB) serving superb seafood.
Drink
Fins Cafe doesn't sell alcohol, but is BYO. There is a little store which sells alcohol within the bar of Ningaloo Reef Resort. The bar is cash only, there's an ATM next door.

Sleep
Accommodation can be a problem when you are travelling during school holidays. Book in advance if you want to avoid spending the nights in your car.
phone: +61 8 9942 5934

address: 1 Robinson Street

"Castaway units" are motel rooms with kitchenette, $150; self-service apartments $200. Pool, bar, "Sails" restaurant, ATM.
People's Park caravan & camping site with cooking facilities. Powered sites are available from $30-$60, simple apartments from $180.

Ningaloo ClubA youth hostel providing single and double rooms, dorm rooms, internet access and a laundry. Expect to pay $95 for a double room with shared bathroom. Dorm rooms start at $27 per night.
Go next
The road north leads past Learmonth Airport to
Exmouth
. For points further north towards Port Hedland and Broome, take this same road then turn east onto Burkett Road to rejoin the NW Coastal Highway - you don't have to backtrack to Minilya.
Heading south via Minilya, the main places of interest and overnight stopovers are
Carnarvon
,
Shark Bay
and Monkey Mia, and the softer pastoral country between
Geraldton
, Greenough and
Dongara
. Two or three days later,
Perth
looms into view.