Coral Gables
Coral Gables
is a city in
South Florida
, in the
United States
.
Just south of
downtown Miami
is beautiful
Coral Gables
, or simply "The Gables" as it is known to natives. The city is perhaps best known as the home of the
University of Miami
.
Understand

The University of Miami is well known for its top academic programs in business, marine science, medicine, music and other fields. It also is well known for its premiere athletic programs. With five national championships since the early 1980s, the University of Miami football team has won more national championships than any other Division I football program. Its baseball team also is a national powerhouse and has won the College World Series numerous times.
This planned section of town is an oasis of quiet stately homes, shopping and Miami restaurants in the heart of Miami. If you're tired of South Beach and the downtown scene and are looking for some classy fun, take a trip to the Gables.
The city is home to many historic landmarks as well as 22 parks, 33 public tennis courts, two public golf courses, and other first-class recreation amenities. Among them: the largest tropical botanical garden in the continental United States, a spring-fed grotto swimming pool made of native coral rock with underwater caves, tree-lined bike paths and walking trails, and more.
In the past three decades, the city has experienced healthy growth, which has bolstered the economic base. Today, Coral Gables is home to 175 multinationals, 26 consulates and trade offices and more than 30 fine art galleries. It is also known as the Fine Dining Capital of South Florida and has the highest concentration of live theater in Miami-Dade County. Growth in the commercial sector has brought a wealth of new activities for residents, including nighttime entertainment, live music, casual and fine dining, and new retail options. It has also helped maintain low property taxes. At the same time, the residential areas have remained protected from commercial intrusion.
The city supports both the residential and business sectors with excellent city services, having attained the highest possible standards in every field. In fact, Coral Gables is the only city in the state of Florida and one of only two cities nationwide to have a Class 1 Fire Department, a fully-accredited Police Department, and the highest awarded Building and Zoning Department rating. In addition, Coral Gables has been named a "Tree City USA" for 14 consecutive years, it has an award-winning Communications Division and offers one of the most comprehensive Parks and Recreation programs in the state.
Coral Gables is well-known for its outstanding restaurants. With more than 40 great places to eat, all within walking distance in the downtown area, the hardest decision will be which one to try first. There are places to meet for a casual outdoor lunch as well as elegant, top-rated restaurants for fine dining.

Get around
Miami-Dade Transit runs buses around Coral Gables and to nearby MetroRail stations.
The
Coral Gables Trolley
is a free circulator through the city. It runs primarily north and south along Ponce de Leon Boulevard with stops at the central retail district, Miracle Mile. It also connects to the Douglas Road MetroRail station and local buses.
See
Coral Gables House

address: 907 Coral Way

Former home of George Merrick, founder of Coral Gables, dating from 1907.

Coral Gables Congregational Church

phone: +1 305 448-7421

address: 3010 De Soto Blvd

Historic church built by George Merrick, founder of Coral Gables, in the Spanish Renaissance style.

Matheson Hammock Park

phone: +1 305 665-5475

address: 9610 Old Cutler Rd

Open daily from 6am to sunset. Man-made atoll with scenic walks, boating and picnic area.

phone: +1 305 284-3535

address: 1301 Stanford Dr

With many antique art, ceramics, pottery and sculptures ranging from Greco-Roman times, Renaissance, Baroque, Art of Asia, Art of Latin America, and ancient potteries, the Lowe Art Museum offers a great range of art through the centuries.

phone: +1 305 460-5306

address: 2701 DeSoto Blvd

Public pool in a Venetian style, with natural grottoes and a sunbathing area. In the 1920s Denman Dink transformed this limestone quarry into a pool with a waterfall, an area for kids and an area for adults. The water in this pool comes from a spring and is drained daily. In addition to the swimming facilities there is a snack bar (you cannot bring outside food into the Venetian Pool) and lockers. Swimming lessons are also offered here. The Venetian Pool is best known for having Esther Williams and Johnny Weissmuller (the silver screen's first Tarzan) swim here.

University of MiamiThe main campus for this premiere university is situated in the city, including the Convocation Center, Hurricane Sports, Lowe Art Museum, Cosford Cinema, Gusman Concert Hall, Jerry Harman Ring Theater and John C Gifford Arboretum.

Fairchild Tropical Botanic Garden

phone: +1-305-667-1651

address: 10901 Old Cutler Road, Coral Gables, Florida 33156

An 83-acre (34 ha) botanic garden, with extensive collections of rare tropical plants including palms, cycads, flowering trees, and vines. It is a museum, laboratory, learning center, and conservation research facility. It is home to the only outdoor rainforest in North America, several famous outdoor art installations (including world famous Chihuly glasswork), the January Chocolate Festival, and world-famous Mango Festival (every June or July featuring information on and samples of hundreds of different mango varieties). It is also home of the American Orchid Society.

Matheson Hammock MarinaGrassy park with a man-made atoll pool, which is flushed naturally with the tidal action of nearby Biscayne Bay. The park has a full-service marina, snack bar and restaurant built into an historic coral rock building, picnic pavilions and nature trails.
Buy
Miracle Mile

phone: +1 305 569-0311

address: 224 Miracle Mile

The main shopping district.

address: 358 San Lorenzo Ave

Fairly new outdoor shopping mall. Very similar to Bal Harbour Shops. This mall features mostly designer stores such as Jimmy Choo, Neiman Marcus and is the home of Miami's first Nordstrom. Restaurants and small boutiques abound as well.

address: 200 Bird Road

Whether you're in the market for a new car or simply like to drool over Ferraris, Porches, and Maseratis, The Collection helps fulfill your need for speed.
Eat
Ortanique on the Mile

phone: +1 305 446-7710

address: 278 Miracle Mile

New World. One of three Ortanique restaurants (the other two are located in Washington, D.C. and Las Vegas). The food has a mixture of Caribbean and French influences. Reservations are requested. $19-$36 per person, per meal.

address: 2299 Ponce de Leon Blvd

Mexican. Talavera is not your average local Mexican dive. It's cuisine is a bit more refined (think chicharones with the guacamole) with a full bar. The margaritas are highly touted.
Drink
The Bar

phone: +1 305 442-2730

address: 172 Giralda Ave

The Bar's kitchen is open late and the food has been voted "Best Bar Food in Miami." Another accolade comes from Maxim Magazine 2002 claimed The Bar was the "Best Bar in America.". Has drink specials every night of the week.
Sleep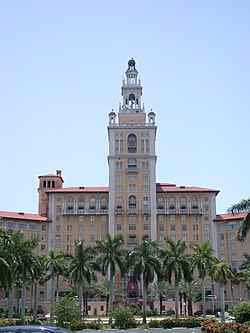 address: 1200 Anastasia Avenue

Four star hotel and South Florida's only National Historic Landmark resort.

phone: +1 305 441-1234

address: 50 Alhambra Plaza

Mediterranean-style hotel.

Terrace Inn

address: 1430 South Dixie Highway

Good location for the university campus.
Cope
Consulates
Most consulates in the area are in
Miami
, and a few honorary consulates are in
Fort Lauderdale
.
Go next
Coral Gables is in the metropolitan area of
Miami
. Nearby is Crandon Park Beach in
Key Biscayne
(on an island in the Biscayne Bay) and Parrot Jungle Island in Miami (close to the port).