Cordillera Administrative Region
Cordillera Administrative Region (CAR)
of the
Philippines
consists of the provinces of
Abra
,
Benguet
,
Ifugao
,
Kalinga
,
Mountain Province
and
Apayao
.
Baguio
is the regional center. The Cordillera region encompasses most of the areas within the Cordillera Central mountain range of Luzon, the largest range in the country.
The region is home to indigenous cultures of different tribal ethnicity such as the Igorot, Kalingan, Ifugaos, Kankanaeys, Illian, Baliwon and many others spread in isolated communities in the various parts of the region. Despite differences in tribal ethnicity, the Cordillera peoples have commonalities in costumes, music, dances and even customs.
In the central part of the Cordillera Mountain Range, rice terraces abounds - from Ifugao to Mountain Province, famous of which is the Banaue Rice Terraces. The UNESCO Heritage Site declared five clusters of rice terraces in various towns in Ifugao. Other hidden rice terraces can found in Natonin, Mountain Province. Scenic terrains of cornfields can be found in Paracelis, Mountain Province, a town next to Natonin.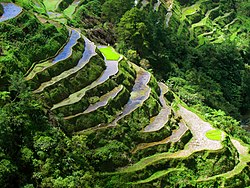 Understand

In 1987, the Cordillera Administrative Region was created from provinces which used to be part of the Old Mountain Province.

Get in
Despite being centrally located between
Ilocos Region
and
Cagayan Valley
, the region has limited entry points from neighboring regions and provinces due to its topographic configuration mostly of steep slopes and mountain ranges.
By air
The region's only operating airport is
Loakan Airport
(
BAG
) in Baguio. However, due to its short runway, most commercial airlines stopped flying to the city, but small charter airlines with regular schedules fly to Baguio City from other airports in Cagayan Valley.

By land
By land, major bus companies in Manila ply the route Manila-Baguio.
From Cagayan Valley, buses ply the route from Solano to Banaue. From Santiago City, buses operate from the city to Paracelis.
From Ilocos Region, buses from Manila plies to Abra via Ilocos Sur.

See
Tourist attractions in the region include the world famous
Banaue
Rice Terraces in the province of Ifugao. This is supposedly considered as the "Eighth Wonder of the World". Natural attractions of the region include the Sumaguing Cave in
Sagada
and the mummy caves of Benguet and Mt. Province. There are four National Parks: Cassamata Hill, Mount Pulag (the third highest mountain in the Philippines with an elevation of 2,922 m above sea level), Mt. Data and Balbalasang-Balbalan, located in the province of Kalinga.
Do
Climb Mt. Pulag: Pulag is the highest mountain on Luzon and the third highest mountain in the Philippines. It has an elevation of 2922 m or 9587 feet. Several trails can be used. The most difficult being Akiki and the easiest being Ambangeg. You will need at least two days to climb Mt. Pulag.
Outfitters:
Pulag Climb : This package includes round trip transfer from Manila, meals, tour guide and entrance fee. For more information check
Drink
Tapey or rice wines.

Stay safe
Landslides are a major danger, especially during the typhoon season. Roads in the region have more curves owing to the geography, and driving is clearly not for the inexperienced.