Corozal Town
Corozal Town
in
Northern Belize
lies on the Caribbean Sea, 9 miles from the
Mexican
border. It has a population of approximately 8,100, and is the capital of the district of Corozal.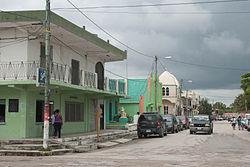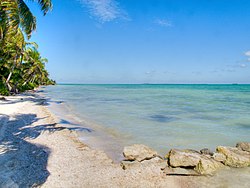 Understand
The people tend to be very friendly. Corozal is a small and sleepy town with great views of the bay. If you want to rest, this is a great stop. If you arrive on Sunday, you'll find most businesses closed, although a few of the small restaurants and general stores will be open. There are very few tourists, so it is a good place to see Belize off the beaten track, and consequently accommodation, food and drink, and other items are cheaper than in better known places.

Get in
By bus
Very regular buses are available between Corozal Town and Chetumal in Mexico, running about every 20 or 30 minutes during the day. The journey lasts about 1 hour and costs around US$1.25.
Fairly regular and inexpensive buses are also available to and from Belize City and Belmopan, as well as other destinations in the country.
By plane
Tropic Air and Maya Island Air offer flights on smaller prop-driven aircraft between Corozal and Belize City, San Pedro, and Caye Caulker, as well as many other less-traveled Belize towns.
By ferry
The Thunderbolt Ferry runs between San Pedro and Corozal (also stopping in Sarteneja if requested), leaving Corozal Town 7:00 A.M. and returning about 5:00 P.M. The trip takes about 1 1/2 to 2 hours.
Get around

Corozal is small enough to go around on foot. There are also taxis at the bus station.

See
Corozal Town Square
Corozal Town Park
Do
Visit a nearby butterfly farm
Visit the small Maya Ruins of Santa Rita, minutes away.
Boat trips to nearby islands (Some leave from the Thunderbolt Dock.)
Rest and Relaxation
Visit the Cerros Ruins across Corozal Bay. The easiest way to reach the ruins is by boat, usually hireable at the main dock east of downtown, but the site can also be reached by road. Follow the Cerros Ruins signs on the road to Copper Bank and Sarteneja, but be careful, it is about a 10-mile dirt road which can be very washed out following bad weather, especially hurricanes. The direction to Cerros may also not be terribly well marked, but if you take the left path at major forks in the road, you should find it fairly easily. Again, hiring a boat in Corozal will definitely be quicker and easier, but taking the road will give you a chance to ride one of the hand-cranked ferries seen throughout Belize (no charge for the ferry, but feel free to tip or buy juice or snacks the ferry pilots have for sale).
Buy

The town has a fairly wide selection of shops, it is possible to buy clothing, food, kitchen and garden equipment, electronic goods, bicycles and more. During the day there is a market close to the bus station selling a variety of local products, such as fruit.
There are three banks in Corozal, two of them foreign with ATMs, but these will only accept Visa or Mastercard. The local 'Belize Bank' also has an ATM and will accept other cards such as Maestro, but its reliability is questionable; you may end up having to wait inside the bank for an hour before they give you back your card and tell you its not working today. Within the banks you are likely to find very long queues.
It is possible to change Mexican and Belizean money on the street here, and this is legal and certainly safe if you do it next to the border checkpoint. You can also change money inside the customs office, but the rates are often less good, cash advances on credit cards are available here but a large "handling" fee is charged. If you are leaving the country and need to pay the exit tax it is a good idea to take money out in Corozal instead. Without a credit card you will have to withdraw money at the Belize Bank in Corozal or take out Mexican Pesos on the other side of the border, and change this into Belize dollars.

Eat
June's Kitchen, located on College Road, homemade Belizean breakfast and lunch daily. Served on June's veranda dining room. Just ask the locals for directions if you can not find it.

Cactus plaza Mexican food

phone: +501 4220394, +501 4220281

address: 6 6th street

#.Friday, Saturday and Sunday evenings from 6 til 9ish?
Patty's Bistro, Belizean and Mexican food #13, 4th Avenue, Tel:4020174.
Venky's Kabab Corner, 5th Avenue, tel: 4020 536. Provides vegetarian and non-vegetarian Indian food in large quantites. BZ$15 (US$7.50) for more than one person could eat. Opposite the immigration office, within a couple of blocks of 4th Street, not far from the Hok'ol K'in Guest house.

Marcelo's Pizza

address: 25 4th Avenue

# tel:4223275. Delivery.
Al's Cafe. Belizean and Mexican.
Marisol, beside Esso Gas station. Mexican.

phone: +501 422-3796

All foods prepared with EVO and high grade vegetable Oil. All foods are prepared fresh as you order. Dine in an air conditioned, elegant and non-smoking atmosphere. Situated on #7-4th Avenue Corozal town. Accepts all major Credit cards.
Drink
There are several bars around the town, beers cost up to US$2.50 for a half English pint bottle (284ml).
Cactus Plaza

phone: +501 422-0394

address: 6 South 6th Street

Best Mexican food in town
Sleep
As Corozal is easily reached from Mexico, many travellers from Mexico will cross the border to here, in order to re-enter Mexico and obtain a new tourist visa for additional time there. Corozal therefore has a very large amount of accommodation relative to its size and attractions. Since the town is not very big, one is sure to find several places after wandering around the center for a few minutes.
Budget
Corozal Guest House: One of the cheapest accommodation in the town, and located opposite the bus station. A double room costs around BZ$45 (US$23), but if it's quiet you can haggle this down. The rooms are fairly clean, if basic and somewhat run down. You may get bitten by mosquitoes during the night, so if you find a lizard in the room, leave it there to eat them.

phone: +501 422-3051

address: 23, 1st Avenue

Located on the shoreline, this friendly hotel has 6 rooms with queen-size beds, en suite bathrooms with hot water, Internet WiFi and, upstairs, a beautiful wooden bar and a balcony where you can enjoy the view of the Corozal Bay while having your breakfast.

phone: +501 4220189

A new hotel in front of the bay offers clean and spacious rooms at very reasonable prices. A room for a couple with fan cost US$35, and air conditioning US$50. All rooms have private bath (hot/cold), television, and free wireless internet access. 24 rooms. Facilities: restaurant, tours arranged, internet cafe, terrace, free wake up service, parking, and phone booth.
The Hok'ol K'in Guest House costs BZ$90 (US$45) for a double with air conditioning and a view of the bay. Clean, quiet, and friendly, right on the street that runs along the waterfront. 89 4th Avenue, www.corozal.net, 422-3329 (as of July 2007).

phone: +501-422-2416

Waterfront, thatched-roof cabaña rooms. Air-conditioned, cable TV, mini-fridge, private bath with hot water and walk-in showers, private veranda, high speed WiFi internet, swimming pool, sand beach.

phone: +501 662-5281

address: Copper Bank, Corozal District
Splurge
Cope
Internet:
Mirador Hotel offer internet service for the public US$2 an hour and free wifi access in room for guest accommodating in the hotel.
Hok'ol K'in also has wireless internet available.
Corozal Bay Resort free high speed Wifi available for guests.
Sea Breeze Hotel also has free Wifi for guests.
Banks:
phone: +501 422-3473

phone: +501 422-2087

With ATM and pesos, provide passports or permits

Scotia Bank

phone: +501 422-2046
Go next

The area next the Mexican border, 9 miles from the town features a large casino and hotel, as it is free of some taxes.