Costa Norte (Colombia)
The
Costa Norte
(North Coast) is a region in northern
Colombia
along the Caribbean Sea.
Departments
Cities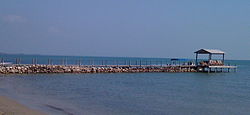 - the Gold Port and fourth largest city in the nation isn't necessarily that exciting most of the year, but its Carnival is the second biggest in the world after Rio's, and is both an amazing cultural experience and one heck of a party!
- the Heroic City, Capital of the Bolívar department is Colombia's tourist city par excellence. The colonial architecture and the skyscrapers can be seen together in this city that offers a unique experience of festivals, historic attractions, restaurants, and hotels.
- a village with beautiful calm beaches.
- the capital of the department of La Guajira on the Caribbean coast
- a friendly colonial town on an island on the Magdalena river
- a popular base for adventure tourism in the beautiful areas surrounding, and unique in the sense that it offers you beautiful beaches one day, and the next one a walk to the foothill of a snowy mountain, the Sierra Nevada de Santa Marta, the highest in the country.
- a backpacker and hippie haven in a one-time peaceful little fishing village just north of Santa Marta.
- a popular weekend and holiday destination for Colombian tourists and the gate to the magnificent Islas de San Bernardo.
Other destinations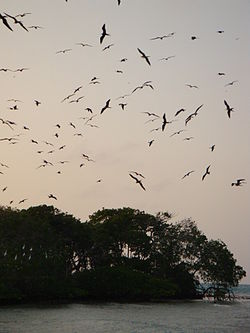 — beautiful gold-sand beaches on the desert Guajira Peninsula
— lost city of the Tayrona Indians, deep in the Sierra Nevada de Santa Marta National Park
— northern-most point of mainland South America, at the northern tip of the Guajira Peninsula
— virgin beach paradise against jungle covered cliffs
Get in
One of the best ways to see the southernmost Caribbean islands or surrounding South American islands is via a cruise.