Cotswolds
The
Cotswolds
are a range of rolling hills in south central
England
. Designated an
Area of Outstanding Natural Beauty
in 1966, it has unique features derived from the local golden-coloured limestone known as Cotswold stone. The predominantly rural landscape containing stone-built villages, historical towns, and stately homes and gardens, is known worldwide. Many consider the Cotswolds as representative of the archetypal English landscape.
The area is roughly 25 miles (40 km) across and 90 miles (145 km) long, stretching south-west from just below
Stratford-upon-Avon
to just beyond
Bath
. It is within easy reach of
London
and several other English urban centres. The Cotswolds lie across the boundaries of several English counties; mainly
Gloucestershire
and
Oxfordshire
, but also parts of
Wiltshire
,
Somerset
,
Worcestershire
, and
Warwickshire
. The highest point of the region is Cleeve Hill at 1,083 ft (330 m), just to the north of
Cheltenham
.
Cities and towns
– a village at the northern end of the Cotswolds
– a small Cotswold town on the A40
– largest town in the area, good shopping
– a small Cotswold town
– a friendly Oxfordshire market town; gateway to the Cotswolds from the east
– a busy market town
– the only city in the area, more alternative than Cheltenham, with fewer chain shops
– town in north Cotswolds
– a smaller town, with a bit more industry, improving town centre
– a market town, famous for its royal connections as the home of Prince Charles
– a small Cotswold town, home to Sudeley Castle and Hailes Abbey
– market town near Oxford, known historically for its woolen blankets
Villages
– country retreat of Victorian designer William Morris
– a small village seven miles north of Cirencester, famous for its Roman villa
– a small village near Cirencester, known for its wool and nearby RAF airfield
Five Valleys – the five valleys around Stroud including Nailsworth and Minchinhampton a small village, between Stroud and Cirencester. Old streets and a few nice shops
– a small village with train station near Cirencester
Understand
Geography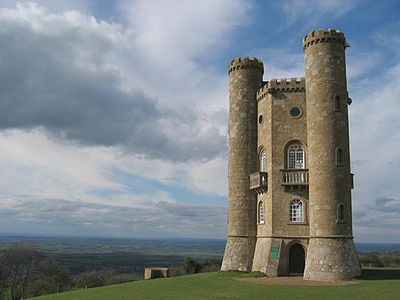 The Cotswolds run generally south-west to north-east, the northern and western edges marked by steep escarpments down to the valleys of the rivers Severn and Avon and the city of
Gloucester
, the eastern boundary by the city of
Oxford
(the university "city of dreaming spires"), the west by
Stroud
, and the south by the middle reaches of the Thames Valley and towns such as
Cirencester
,
Lechlade
and
Fairford
. Key physical features of the area, including the characteristic uplift of the 'Cotswold Edge' can be clearly seen as far south as
Bath
.
The Cotswolds are characterised by attractive small towns and villages built of the underlying rock, known as "Cotswold Stone" (actually, a yellow oolitic limestone).
History
During the Middle Ages, the Cotswolds became prosperous from the wool trade with the Continent. Much of this wealth was directed towards the building of churches, the area still preserving a large number of large, handsome Cotswold Stone "wool churches". The area remains affluent and has attracted wealthy Londoners and others who own second homes in the area or have chosen to retire to the Cotswolds.
Typical Cotswold towns are
Broadway
,
Burford
,
Chipping Norton
,
Cirencester
,
Moreton-in-Marsh
and
Stow-on-the-Wold
. The Cotswold town of
Chipping Campden
is notable for being the home of the Arts and Crafts movement, founded by William Morris at the end of the 19th and beginning of the 20th centuries. William Morris lived, occasionally, in Broadway Tower a folly now in country park.
Talk
Although this is central England, you may find locals speak with a heavy Gloucestershire accent although equally the area has a high % of RP residents from London and the South East - it's not known as 'Poshtershire' for nothing.

Get in
Kemble
(near
Cirencester
),
Stroud
,
Stonehouse
,
Gloucester
and
Cheltenham
all have train stations on a main line from
Swindon
and London Paddington..
Stagecoach has buses from different areas of the country (cheaper, although slower than the trains).
As you'll find all over
Great Britain
the cost of public transport is high (compared to mainland Europe, Asia, Africa, etc.). People under 25 can buy a Young Person's Railcard. This gives you 1/3 off standard rail fares, but costs £25, so it might only be worth it if you're planning to spend a long time in the UK. Railcards can be bought from any train station ticket office. You'll need a passport photo and proof of your age.
Get around
By train
Trains exist between some main towns, but the line from Cirencester was axed 30 years ago. The key lines are:
By car
As Bill Bryson said, this is the only option to see the Cotswolds. He was probably right. It's great walking country though - gentle hillsides not mountains.
Note: Take care of the cows on commons (they stand/lie in the roads at night time).
By bus
The bus services in the Cotswolds are very limited, although the first time visitor might have some luck exploring the Fosse Way by bus - a Roman road connecting Moreton in Marsh and various market towns to Cirencester. Research is definitely needed.
Many villages only get one bus a day, or some only one bus a
week
.
Even larger towns, such as Cirencester and Stroud, only get one bus every hour.
By cycle
The Cotswolds are hilly but there are well-marked cycle routes on quiet roads.
By foot
Perhaps Bill Bryson was wrong - there are lovely walks throughout all the Cotswolds, taking from a couple of hours for a gentle stroll between villages to a week or more on a walking tour. Local companies offer guided and self-guided walks and tours which explore the rich history of the area.
The
Cotswold Way
is a 102-mile long-distance walk, designated as an official National Trail in 1998, running from
Chipping Campden
to
Bath
.
See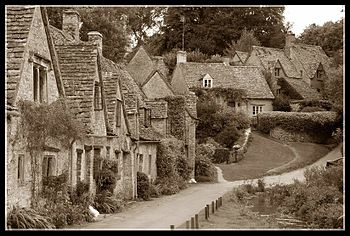 The Cotswolds attract people with a visual appeal derived from a long history and the charm of hundreds of honey-coloured stone villages spread over an area approximately 100 mi (160 km) north to south and 50 mi east to west. While lacking a single large attraction or theme park, it is a wealthy area that nevertheless retains something of the appeal of a working environment. For visitors, the area is particularly well known for historic gardens, pubs and inns, farm and outdoor attractions and retail – especially book and antique shops. There is a thriving arts and crafts scene, drawing on a legacy that includes William Morris and extends to new artists at work in hotspots such as the Stroud Valleys.
Historical houses
The Cotswolds are home to a number of important historical houses, often set in their own estates and therefore not part of a particular town or village. The
local tourist board
provides information on houses open to the public, which include Snowshill Manor, Chavanage, William Morris's house at Kelmscott, Sudeley Castle and Berkeley Castle. Some houses are closed but provide the setting for nationally important gardens such as Hidcote Manor, Painswick Rococo or Abbey House Gardens.
Do
Walk some or all of the Cotswold Way. Beautiful views over the Cotswold edge the entire way.

Cotswold Water ParkGreat Britain's largest water park, consisting of 133 lakes which were formed by filling old gravel quarries. It is about five miles south of Cirencester and offers many water sports and activities, including dragon boat racing.

Classic MotoringFor visitors wishing to tour the area in a classic car, the Cotswolds is home to Classic Motoring, a company specialising in the self-drive hire of Jaguar E-Type convertibles.
Buy
Weekly farmers market in Stroud
Eat
The Cotswolds has a strong food culture with frequent well-established Farmers' Markets, local organic producers and individual businesses such as bakeries and orchard drink producers. Look out for Double and Single Gloucester (and up to 100 other) cheeses, Old Spot Pork and local organic game and venison - plus soft fruits in season. The local food culture is extending to pub noticeboard menus.

Drink
Enjoy a pint at one of the area's excellent pubs.
Donington Ale in the north Cotswolds (brewed in Donington, near Stow-on-the-Wold)
Hook Norton Ale ('Old Hooky' and the like)
Battledown Brewery (Cheltenham Spa Standard, Premium and Porter)
Stroud Organic Ale in and around Stroud.
Sleep
The area has a long history of hospitality since being adopted by Londoners with newly available reliable motor cars a hundred years ago and there remains a concentration of high-quality hotels and B&Bs in the area.
Hotels and larger B&Bs are typically expensive in the more picturesque towns and villages. However, smaller B&Bs can be found for a reasonable cost. For a longer stay a cottage, barn or church conversion or other private accommodation can be rented - typically for a weekend up to stays extending several weeks.

Stay safe
The area is very safe, with little crime.