County Cork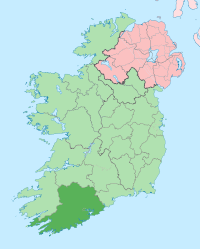 County Cork
(
Irish
:
Contae Chorcaí
), in
Southwest Ireland
is the largest county in the Republic of
Ireland
and also the location of the country's second largest city. This means that its inhabitants have a reasonable sense of their status. It also has a very long coastline and many items of interest for the visitor.
Regions
North Cork is a renowned destination for anglers, with several long rivers - notably the Blackwater, providing plentiful fish in a beautiful setting. This part of the county is the least touristed.
East Cork is known for the quality of its agricultural produce, the cookery school at Ballymaloe near Cloyne (the Enlightenment philosopher Bishop Berkeley lived in Cloyne) and the pretty seaside village of Ballycotton.
West Cork is more touristed, and it's easy to understand why - the southernmost coast of Ireland stretches for over 100 km from Cork Harbour through verdant farmland, to three peninsulas jutting out into the Atlantic. It may not quite have some of the drama of Kerry or Donegal, but the little villages and coves and rocky islands are surely some of the prettiest places in Ireland, or anywhere else. When the weather is bad it can be spectacular, or you can retire to the local pub for a Murphy's or a Guinness. When the weather is good, there are few better places to be. This is one of the most scenic parts of the country with a reputation as a quirky and relaxing area. West Cork extends along the coast through a variety of small towns and villages to the wild and rugged Beara peninsula, finally terminating in a barely inhabited island reached by a cable-car. There are many opportunites for pursuing of watersports, hill-walking and general relaxation. It is an area of small towns, a long and varied coastline, with drowned river valleys, long peninsulas, and offshore islands and an area renowned for its mild climate and exotic and luxuriant vegetation. As you travel west from Cork City the landscape gradually becomes more dramatic. It has become a popular area for holiday and retirement homes and amongst people seeking to live alternative lifestyles but this has been a slow development and the resulting houses are scattered and very individual.
Cities
(Corcaigh, "marsh") – southern transport hub and commercial, administrative and cultural centre for the county and the South of Ireland
Towns
(an Bhlarna, "the little field") – famed for the stone and it's verdant setting
(Cloich na Coillte) – West Cork's most vibrant town
(an Cóbh) – last port of call for hundreds of thousands of emigrants, as well as for the Titanic
— village with sailing opportunities, plenty of hiking trails, and spectacular views over the Cork Harbour
(Gleann Garbh, "Rough glen") – relaxed and scenic, on Bantry bay
(Cionn tSáile, "Tide Head") – historic town associated with sailing and good food
(Maigh Chromtha) – main town of the mid-Cork/Lee valley region, gateway to Cork's gaeltacht (Irish-speaking area)
(Magh Eala) – North Cork's largest town, with Cork's only horse-racing course
- a vibrant tourist and fishing village famous for Calves Week, its annual keelboat regatta; and the Fastnet International Schools Regatta, held annually in dinghies
(An Sciobairín) – gateway to Castletownsend, Baltimore, Schull and the Mizen
Other destinations
(Cuan Chorcaí) – is one of the finest natural harbours in the world and this is reflected in Cork city's motto - Statio bene fide carinis (a safe place for ships). The city encroaches on the western side of the upper harbour, which also stretches to Midleton in the East and includes Fota Island and Arboretum. Cobh lies in the centre of the harbour. This was the last port of call for the Titanic and was the port through which more Irish people emigrated to America than any other. The lower harbour contains the village of Crosshaven which has the world's oldest yacht club and hosts a week long festival of sailing every year. Much of the harbour area is taken up with residential and industrial areas, but there are also forests and beauty-spots. Some of the world's best-known cruise ships visit occasionally.
: a wild peninsula to the north of Bantry Bay. The only town here is Castletownbere (or Castletownberehaven) which is one of Ireland's leading fishing ports but has a population of less than 2000.
(or Clear Island): an Irish-speaking island 45 minutes by boat from Baltimore. The island (which is approximately 5.5 km long at its longest point and approximately 1.5 km at its widest) can make for a very pleasant visit in the summer if the weather allows.
Understand
Did you know?
The Fastnet Rock is Ireland's most southerly point. It was nicknamed the Teardrop of Ireland, and was the last bit of Ireland seen by people emigrating to the new world.
You can see the dramatic skeleton of an 18-m fin whale in Kilbrittain.
Glengarriff Woods Nature Reserve form one of the best examples of oceanic sessile oak woodland in Ireland.
Road bowling is a great sporting tradition in West Cork.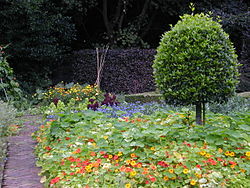 County Cork had a population of 542,000 in the 2016 census. Up to 400,000 are considered to be in the Greater Cork area - within about 20 miles (30 km) of the centre. The more distant parts of the county are sparsely populated. The harbour has a long maritime history and the area is part residential, part industrial. The farmland of the county is very productive and is a mixture of dairy towards the North, arable towards the East and sheep towards the West, with considerable overlap. Fishing is important all along the coast. Manufacturing tends to be centered in and around the city, while artists, artisans and small businesses can be found throughout the city and county.
Talk
There is definitely no shortage of chatting in County Cork. Try to concentrate and you will pick up most of English spoken word here.
There are a number of Gaeltacht (Irish-speaking) areas throughout West Cork including Baile Mhúirne (Ballyvourney), Béal Átha 'n Ghaorthaidh (Ballingeary), Cúil Aodha (Coolea), Cill na Martra (Kilnamartra) and Oileán Chléire (Clear Island). The Cork Gaeltacht, or Múscraí as it is known locally, has a population of 3,530 people, which is 4% of the total Gaeltacht population.

Get in
By plane
Cork Airport
(
ORK
) is south of the city center. Several airlines provide scheduled flights to many cities in the UK and Europe. Bus Éireann operate regular bus services between the airport and the city with the 226 (Timetable.

By bus
Eurolines also operate an overnight bus service from London to Cork, via Rosslare.

By boat
The port of Ringaskiddy is 7 miles (11 km) to the southeast of the city, on the harbour, and ferries take passengers to Roscoff in Brittany. A bus service operates between the port of Ringaskiddy and the city.

Get around
By bus
Bus Eireann
run dozens of services from Cork City bus station to all of the towns in the county and throughout Ireland. Direct services between the major towns and cities in Ireland will run several times daily and can be a very cost effective way of travelling around Ireland.
By train
Trains run from Kent station to Mallow, Charleville and Northwest parts of the County (on their way to Dublin and Tralee) and a commuter service runs to
Fota Island
and Cobh. It is possible to reach most major towns in Ireland by train, but many will require a change of train during the journey.
Irish Rail
run the rail network
By taxi
Metered taxis are available almost everywhere and non-metered hackney cabs also (try to find out the price of a journey beforehand). In general, taxis are not cheap in Ireland and can quickly become an expensive luxury while visiting Ireland.
By bicycle
Bicycling is very pleasant on the quieter roads and there is a nascent network of bicycle lanes in the city.
By car hire
Car hire is available from several agencies in the city and at the airport. The following car rental companies are listed as having a location at
Cork Airport
:
Alamo / National

phone: +353 21 431-8623

Avis

phone: +353 21 432-7460

phone: +353 21 431-4000

Dan Dooley

phone: +353 21 432-1099

Enterprise Rent a Car

phone: +353 21 432-7031

phone: +353 21 491-7300

phone: +353 21 496-5849

phone: +353 21 431-8644

phone: +353 21 497-7884
See
In Cork city, St Finbar's cathedral is an obvious architectural highpoint. A walk through the campus of University College Cork is well worth while. The Glucksman gallery, Crawford gallery and Triskel arts centre are the most important Artistic venues in the city. The English market is probably the best food market in either Ireland or Britain. Other obvious attractions are Cork city gaol, St Anne's church in Shandon and the Cork public museum. The city centre is very amenable to walking - there are over 30 bridges across the two channels of the river, and while few of the buildings from prior to the nineteenth century survive, the street layout is interesting and the Architecture can be also.
A visit to Blarney Castle would allow you to bend over backwards and kiss the stone of eloquence. This might give you a good chance of being able to better maintain conversations with the inhabitants of the county.
Midleton distillery is where most of the world-famous brands of Irish whiskey are produced - Jameson, Powers and Paddy, as well as others. The historic buildings house a museum. And a tasting centre.
Bantry house and gardens on the shores of Bantry bay is a glorious example of Georgian architecture in a stunning location.
Fota wildlife park and Arboretum in the upper harbour is a forested micro-climate where many endangered species from around the world are bred and protected. It is notable for it's success in breeding cheetahs.
The town of Kinsale boasts two seventeenth-century star forts on either side of the harbour. James' fort is overgrown and mysterious, while Charles' fort is probably the finest example of a military fortress in Ireland.
Itineraries
You could base an itinerary on any of several activities, including:
Fishing - Inland river-angling and Oceanic shark-fishing would cover this. There are several places to do both.
Horseriding - Many horseriding facilities are available throughout the county.
Golfing - A good variety of courses are available, topped by the magnificent (if pricey) Old Head of Kinsale course.
Diving - Mostly offshore, but there is Lake diving at Lough Ine near Skibbereen.
Surfing - It can get rough. Popular spots include Garretstown near Kinsale, Castlefreke near Clonakilty and Barleycove on the Mizen peninsula.
Sailing - Visit Crosshaven, home to Royal Cork Yacht Club. Holidays and lessons with SailCork at East Ferry in Cobh.
Do
Try to get off the beaten track and have some unique experiences. Head West. West is best.
Try the seafood. And try washing it down with some Murphy's or Beamish.
Try to learn a few words of Irish every now and again. (Dia dhuit a chara - Hello friend).
Visit Crosshaven every two years for the bi-annual Cork Week sailing regatta at the world's oldest yacht club or come to East Ferry in Cobh for lessons in sailing or powerboating with SailCork

phone: +353 21 481-1237

address: East Ferry Cobh

Have fun learning sailing, powerboating and navigation. Enjoyable courses for adults and juniors under the guidance of Eddie English and his team of professional instructors.
Cork city has several multi-screen 'Multiplex' cinemas in the centre and suburbs which show popular films. There are similar cinemas in Clonakilty, Midleton and Mallow. For more alternative and international movies, try the
Kino
Arthouse cinema on Washington St in Cork, or occasionally, the
Triskel
Arts Centre on Tobin St, Cork.
There are several Theatres in Cork city, providing a wide variety of stage-based entertainment. The
Cork Opera House
on Emmet Place is the largest, and among the others are the
Everyman Palace
on MacCurtain St, the intimate
Granary Theatre
on Mardyke Parade and the
Triskel
Arts Centre on Tobin St.
Eat
Cork has a good reputation for food. Beef, lamb, bacon and poultry are raised to a very high standard. The dairy produce is as good as any in the world. The sea is full of fish and shellfish. These products are served up in both traditional and innovative ways throughout the county, and are complemented by dozens of ethnic restaurants cooking food from all over the world. There are over 500 restaurants in the yellow pages and many are world class. Some examples are:
The Ambassador

address: Cook St, Cork

One of the finest Chinese restaurants around.

Cafe Paradiso

address: Lancaster Quay, Cork

One of the best vegetarian restaurants anywhere.

Quay Coop

address: Sullivan's Quay, Cork

Top quality vegetarian wholefoods, especially good lunches.

Wylam

address: Victoria Cross, Cork

Excellent Chinese food.

Gingerbread House

address: Paul St, Cork

Large daytime café with large selection of cakes.

Bully's

address: Paul St, Cork

Possibly the best pizza in Cork.

Bracken Cafe

address: Paul St, Cork

Nicest scones in the city.

phone: +353 21 477-2541

address: Market Quay, Kinsale

A crowded local favourite with €20-30 dinner only meals in romantic area, or €12-19 meals in the bar, steaks, seafood, & vegetables, cheaper than other restaurants.

phone: +353 21 470-0415

Big with spacious indoor, balcony and terrace seating. Phone for reservations.

Kennedy's at the West Cork Hotel

phone: +353 28 21277

Focuses on freshly caught seafood and locally sourced produce.

Ballymaloe House

address: Shanagarry, Midleton

Top-quality, wholesome Irish food (as seen on TV, regularly).

Blair's Cove

address: Durrus, Bantry

Gorgeous food, gorgeous location.

Rivers End

address: Crosshaven

Cafe style snack bar.
Drink
Irish pubs are an important part of Irish life and Cork has lots of them. There is at least one in every little village, and sometimes they don't even need a village, they're just there. Cork city has a selection worthy of the second city, and they tend to be more intimate and friendly than those you might find in bigger cities. Do try Murphy's and Beamish at least once each.
There are usually a couple of dozen clubs running in the city at weekends, perhaps a dozen during the week. Ask around or check out the flyers in pubs to see if there is something you like on - there probably will be.
Most of the towns in the county have a club or two at weekends. These tend to try to please as many people as possible and serve the purpose of providing late night alcohol, rather than cutting-edge music. But you never know.

Stay safe
For emergency assistance (Gardai , Ambulance or Fire-brigade), phone 112 or 999.

Go next