County Laois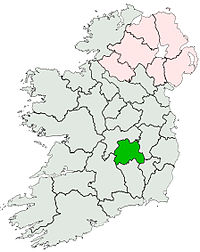 County Laois
(pronounced
leesh
) (
Irish
:
Contae Laoise
) is in
Ireland
's
East Coast and Midlands
.
Towns and villages
Towns
(Port Laoise) – the county town of Laois
(Mainistir Laoise, "Laois Abbey")
(Móinteach Mílic)
(Maighean Rátha, "Precinct of the Ringfort")
(Cúil an tSúdaire, "nook of the tanner")
(An Sráidbhaile, "the (one) street town")
Villages
(Achadh Bhó, "Ox's Field")
(An Baile Fionn, "the fair/white town")
(an Bealach Mór)
(Baile Uí Laigheanáin)
(Baile an Chaisleáin)
(Cluain na Slí)
(Cúlchoill or an Chúlchoill, "the back of the woods/behind the woods")
(Darú|wikidata=Q1267497)
(Ioma)
(Tigh Mochua, "House of Mochua")
Other destinations
Understand
The area now known as Laois (pronounced "Leesh") was originally inhabited by the O'Mordha Clan (later known as O'More and then Moore). In ancient times the O'More tribe-name of Ui Laoighis (Pronounced Leesh) was applied to their territory, and that it is derived from a famous Ulster ancestor named Lughaidh Laeighseach (Lewy Leesagh), son of Laeighseach Canvore, son of the renowned Conall Cearnach, chief of the Red Branch Knights of Ulster in the first century.
The county itself was created in 1556 by Mary I of England as Queen's County, Laois received its present Irish language name following the Irish War of Independence. Portlaoise (previously Maryborough) is the county town.
Laois was the subject of two Plantations or colonizations by English settlers. The first occurred in 1556, when the Earl of Sussex dispossessed the O'More clan from the area and attempted to replace them with English settlers. However, this only led to a long drawn out guerrilla war in the county and left a small English community clustered around garrisons. There was a more successful plantation in the county in 17th century, which expanded the existing English settlement with more landowners and tenants from England. Neither plantation was fully successful due to a lack of tenants and because of continuous raids and attacks by the O'Mores.
Finally, the county became home to a community of French Huguenots in the 1690s, who were settled in Ireland after their service to William of Orange in the Williamite war in Ireland. In addition to this, large numbers of Quakers settled in Mountmellick and developed the area.
The population of County Laois is expanding rapidly, given its easy commute to Dublin and affordable housing in pleasant surroundings. In the 2006 census the population had increased by 14% to 67,000 people.
The county is landlocked and, uniquely amongst Irish counties it does not border any other counties with a sea coast. It is therefore considered to be "the most landlocked county in Ireland"

Get in
See
Even though Laois is not the most popular tourist destination in Midlands, there are a number of various tourist attractions scattered around County Laois.
address: Abbeyleix

Featuring a 3.5km long boardwalk with access to the "High Bog" which is habitat that is otherwise difficult to enter in Ireland. It encompasses an area of almost 500 acres of diverse habitats including raised bog, lagg, cutaway, wet carr woodland and meadows.

Ballyfin House

address: Ballyfin

address: Ballintubbert

.

address: Borris-in-Ossory

.

address: Durrow

.

Emo Court

address: Emo

.

address: Castletown

.

Grantstown Lake.

The Heywood gardens

address: Ballinakill

.

Poet's Cottage

address: Camross

.

The Rock of Dunamase

address: Dunamase

.

Stradbally House

address: Stradbally

address: Timahoe

.
County Laois also has a mixture of castles, mansions, forts and old structures that are now in ruins but are still worth visiting, see the
map here
.
Do
Dunamaise Theatre and Centre for the Arts

address: Portlaoise