County Londonderry
County Londonderry
or
County Derry
(
Irish
:
Contae Dhoire
) is located in
Northern Ireland
. The name of the county is a point of political dispute, with unionists advocating the longer name, and nationalists advocating the shorter. A common attempt at compromise is to refer to the county as "Londonderry" and the city as "Derry", but this is not universally accepted.
Cities, towns and villages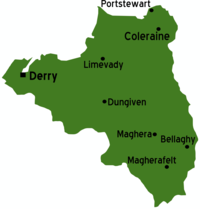 Cities
Derry/Londonderry (Doire Cholmcille, "Maiden City") – the second city of Northern Ireland
Towns
(Cúil Rathain, "nook of the ferns") – main town of the world famous Causeway Coast
Limavady (Léim a' Mhadaidh, "leap of the dog") – with one of the most beautiful beaches in Northern Ireland
(Machaire Fíolta, "plain of Fíolta") and Springhill House (17th-century plantation house) near Moneymore.
Portstewart (Port Stíobhaird) – scenic coastal town
(Baile na Croise)
Villages
(Baile Eachaidh, "Eachaidh's Town")
Castlerock (Carraig Ceasail) – seaside village and location of Downhill Demesne and Hezlett House
(Dún Geimhin, "Gevin's fort")
Eglinton (An Mhagh)
(Machaire Rátha, "plain of the ringfort")
Understand
Derry has a 70% Roman Catholic majority, avoid wearing clothes with Rangers or Celtic football shirts on, equally try and avoid wearing anything at all with a Union Jack flag (UK Flag) on it.

Talk
The common language of Northern Ireland is English, however Irish maybe spoken in certain areas, it is not necessary to understand Irish to get by. It is best to be respective to both cultures (Nationalist and Unionist) in Londonderry, and it is wise not to refer to Londonderry as such in largely Nationalist areas, particularly at night - with simply Derry the preferred, safe term.

Get in
By far the easiest way to Londonderry is by road access from throughout Ireland (Northern Ireland to the East and South) and the Republic Of Ireland (the near West - Donegal). There is also an international airport offering both seasonal and scheduled flights. There are frequent bus services from various locations throughout Ireland (see Bus Eireann) and there is also a less frequently used rail service from Belfast.

Get around
Car is the most convenient method.
There is a rail connection between Londonderry Waterside and Coleraine railway stations.

Go next