County Louth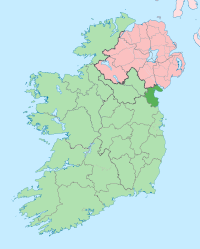 County Louth
(
Irish
:
Contae Lú
) is in
Ireland
's
East Coast and Midlands
.
Towns
(Dún Dealgan, "Dalgan's fort") – county town
(Baile Átha Fhirdhia, "townland of Ferdia's ford")
(Cairlinn)
(Ceann Chlochair, "rocky headland")
(Droichead Átha, "bridge of the ford")
(Dún Léire)
Understand
This is a county steeped in myth, legend and history, going back to the pre-historical days of the Táin Bó Cúailnge (Cooley Cattle Raid, see Cú Chulainn). Later it saw the influence of the Vikings as seen in the name of Carlingford Lough. There are a number of historic sites in the county, including religious sites at Monasterboice and Mellifont Abbey. In the early fourteenth century the Scottish army of Edward Bruce (brother of Robert of Bannockburn fame) was defeated in the Battle of Faughart near Dundalk, Edward losing not only his claim to the High Kingship Of Ireland, but also his life. The sixteenth and seventeenth centuries featured many skirmishes and battles involving Irish and English forces. Oliver Cromwell attacked Drogheda in 1649 slaughtering the Royalist garrison and hundreds of the town's citizens (Siege of Drogheda). Towards the end of the same century the armies of the warring Kings, James and William, faced off in South Louth during the build-up to the Battle of the Boyne - the battle takes its name from the river Boyne which reaches the sea at Drogheda.
In 1798 the leaders of the United Irishmen included Bartholomew Teeling, John Byrne and Patrick Byrne, all from Castletown; Anthony McCann from Corderry; Nicholas and Thomas Markey from Barmeath, Arthur McKeown, John Warren and James McAllister from Cambricville. They were betrayed by informers, notably a Dr. Conlan, who came from Dundalk, and an agent provocateur called Sam Turner, from Newry. Several leaders were hanged.
In 1816 the Wildgoose Lodge Murders took place in the west of the county.
The priest and scientist Nicholas Joseph Callan (1799–1864), from Darver, was a famous son of the county.
Get in
By car
The
M1
from Dublin to Belfast passes through the county. Get off at Exit 8, 9 and 10 for
Drogheda
, and Exit 16, 17 and 18 for
Dundalk
.
By train
The towns of
Dundalk and Drogheda
are on the Dundalk - Dublin - Arklow and Dublin Connolly - Belfast train lines.
By boat
County Louth is beside the sea. Getting there by boat shouldn't be too difficult.
Get around
The easiest way to get around Louth is by car. The M1 motorway goes up straight through the middle of the county which brings you anywhere.
If you're going between the two main towns, Drogheda and Dundalk, then you can use the train.
Bus Eireann run regular Bus Service to Dundalk and Drogheda.
See
The Cooley Mountains
Heritage site of Old Mellifont Abbey
Do
Sailing in Carlingford
Golf Courses at Dundalk and Greenore
Learn
Dundalk Institute of Technology
Go next