County Roscommon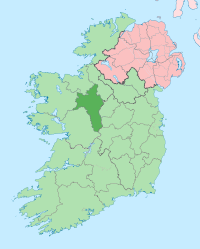 County Roscommon
(
Irish
:
Contae Ros Comáin
) is in
West Ireland
.
Towns
(Mainistir na Búille)
(Ros Comáin, "Saint Coman's wood") – county town
Understand
The name Roscommon is derived from Coman Mac Faelchon, who built a monastery near Roscommon town in the 5th century. The woods near the monastery became known as Ros Comáin (English: Coman's Wood). This was later anglicised to Roscommon. The town is the location of a notable archaeological find in 1945 when a lunula, a gold necklace, and two discs were discovered. Both items are dated to the period 2,300 and 1,800 BC.
It was the homeland of The Connachta dynasty, and included such kingdoms as Uí Maine, Delbhna Nuadat, Síol Muirdeach, and Moylurg. In addition, it contained areas known as Trícha cét's, Túath and is the homeland of surnames such as Ó Conchobhair (O'Connor), Mac Diarmada (McDermott), Ó Ceallaigh (Kelly), Ó Birn (Beirne, Byrne, Burns), Mac Donnchadha (McDonough) and Brennan (Mac Branáin and Ó Branáin).
Roscommon has no real wilderness but most of its farmland is poor. The most notable feature is the river Shannon and its lakes which stetch along the eastern border of the county.
The population is sparse and the county has had a long history of decline and emigration along with most of the west of Ireland.

Get in
By train
Roscommon Town and Castlerea are on the Dublin Heuston - Ballina/Westport intercity line.
Boyle is on the Dublin Connolly - Sligo intercity line.
By car
Roscommon is near the major road networks in Ireland (N60, N61 and N63).
By bus
Bus Éireann runs regular bus services to other major towns.
Get around
By car
The easiest way around the county.
The M6 is the only motorway that runs through Roscommon. The junctions in the county are near Athlone (12 and 13) and Ballinasloe (14)
The N4, N5, N60, N61, N63 and N83 are the main roads through the county.
Various R roads will bring you everywhere the N ones don't.
See
phone: +353 90 662-6231

address: Racecourse Road

The track itself is an oblong right-handed track 2 km (1.25 mi) in length, and the course has stabling for up to 95 horses.

Mote Park

address: Athlone Road

Mote Park was the former home estate of the Crofton family (now demolished); now it's a woodland area with mature hardwood trees covering several miles, popular with walkers.

Roscommon Castle

address: Castle Street

The castle was built in 1269 by Robert de Ufford, Justiciar of Ireland, on lands he had seized from the Augustinian Priory. The castle had a most chequered history. It was besieged by Connacht King Aodh O'Connor in 1272. Eight years later it was again in the hands of an English garrison, and fully repaired. By 1340 the O'Connor's regained possession of it, and, except for a few brief intermissions, they held it for two centuries until 1569, when Sir Henry Sidney, Lord Deputy seized it. It was granted to Sir Nicholas Malbie, Elizabethan Governor of Connaught, in 1578. Two years later the interior was remodeled and large mullioned windows were inserted in the towers and curtain walls. Again, in 1641 the Parliamentarian faction gained it until Confederate Catholics under Preston captured it in 1645. It remained in Irish hands until 1652 when it was partially blown up by Cromwellian "Ironsides" under Commissary Reynolds, who had all the fortifications dismantled. It was finally burned down in 1690, and, from the closing years of the 17th century, it gradually fell into decay. A symmetrical moat some distance from the curtain walls surrounded the entire castle and safeguarded it. It s now a national monument.

phone: +353 90 662-6171

address: The Square

Once the site of a 17th century sessions house, which collapsed with great loss of life, it was remodeled in 1762 by Ensor and converted into a court house and market house. It is built in the classical architectural style. It was purchased for use as a catholic church in 1863, at which time it was extended to the south with a cupola above.. After 1903 it became a recreational hall to commemorate Dr John Harrison (who was a physician in Roscommon town's workhouse, during the famine of the 1840s) it was used as a dance hall, cinema and theatre before it was sold to the Bank of Ireland who adapted the old building for use as a bank in 1972.

Old Gaol

address: The Square

The Old Gaol now houses a modern shopping centre. The facade is all that remains of the original structure. The original building is thought to have been designed by Richard Cassells in 1736. The gaol had the distinction of having a hang woman 'Lady Betty', a criminal who had her sentence withdrawn on the provision that she perform the unpaid task of hang woman. In 1822 it was taken over for use as a lunatic asylum. In 1833 it became a 'Lazaretto' – a place where outcasts who suffered from small pox were confined. Sometime after 1840 the building was converted to residential and commercial use.

phone: +353 90 662-5613

address: The Square

Formerly a Presbyterian Church built in 1863, the building now houses the County Museum and the Tourism office. The building is of cut limestone with a large recessed door, circular headed windows and fenestration on the wheel window over the door is in the form of the 'Star of David' to commemorate its Welsh Builders. The building was renovated in 1991 and now contains many exhibits and artifacts illustrating and interpreting the history of Roscommon. Among the artifacts on display are a 9th century grave slab from St Comans Abbey and a Sheela na Gig from Rahara church.
Rathcroghan in the village of Tulsk, midway between Roscommon and Boyle, is an extensive archaeological site occupied from Neolithic to Iron Age times, with burial mounds, ringforts and medieval field patterns. Notable sights are the Rathcroghan Mound, the cave of Oweynagat, the Mucklaghs earthworks, and the Cairns.
Arigna Mining Experience a centre dedicated to the coal mining history of Arigna over a period of 400 years, local geology and coal, as well as new forms of renewable energy. It is Ireland's first museum dedicated to coal mining. Upgrade works have recently been completed.
Do
GolfRoscommon Golf Club was founded in 1904, the course, set in parklands filled with mature sycamore, beech, whitethorn trees and ash trees, was extended to eighteen holes in 1996 and now measures 6,390 meters (6,900 yards)

See GAA matchDr Douglas Hyde Park, with a capacity of 30,000, is an important Gaelic Athletic Association (GAA) venue in Ireland and is home to Roscommon GAA and Roscommon Gaels GAA Club which is the local club for Roscommon Town.

Leisure CentreRoscommon has a leisure centre which opened early 2002 and has a 25 m (82 ft) deck level pool with a learner swimming pool and spectator gallery and fully equipped gymnasium. Situated next to the swimming pool is the home of Roscommon's most successful sport - St Coman's handball club. Established in 1930 the club has produced many All-Ireland winning handballers.
Eat
Restaurants
Jackson's

address: The Square

Italian Restaurant.

Gleeson's

address: The Square

Traditional Irish food.

La Trattoria

address: Stone Court Shopping Centre, The Square

Italian Restaurant.
Pepper Mill, County Home Road, Roscommon Town.
Keenan's, Tarmonbarry
Fast Food
Magnum's

address: Main St

Norio's, Circular Road. Traditional Italian fish & chip shop
Drink
Traditional Irish Pubs
J.S. Murray's

address: Knockcroghery

The Clay Pipe

address: Knockcroghery

Ned's Bar

address: Knockcroghery

Creightons Bar, Boyle. Lively pub with regular live music.

J.J. Harlow's

address: The Square

Roscommon Town. Impressive selection of craft beers/spirits, with a focus on Irish producers. Live music most weekends.
McCrann's, Castle St. Roscommon Town. (Opens from 9pm onwards, Wednesday - Sunday). Original mid-20th century interior, with a simple drinks offering. A must for those after a genuinely traditional pub.
Modern
The Hollywood

address: Castle Street
Nightclubs
Rockford's

address: Castle Street
Sleep