Coventry
Coventry
is a large city in the
West Midlands
region of
England
, part of the
United Kingdom
. It has a population of just over 300,000, making it the eleventh largest city in the country. Locally, the city is known as 'The Three Spired City', named for the church and cathedral spires that form the most striking aspect of the city's landscape. Coventry is perhaps best known for its association with the 11th century legend of Lady Godiva and for its two cathedrals, one of which is preserved as ruins after heavy bombing in the Second World War. Although an old city, visitors should not expect much in the way of medieval architecture or old-world charm. Extensive rebuilding of the city following the war in the 1940s and 1950s replaced much of the city's pre-war appeal with questionable concrete structures and a highly pedestrianised city centre.
Understand
History
The area that Coventry now occupies has been inhabited for over 1,000 years. The city's most notable claim to fame is its association with Lady Godiva, who rode naked through the city streets in order to gain a remission of the oppressive taxation imposed by her husband on his tenants. Lore has it that the term 'Peeping Tom' is derived from this tale, describing a man named Tom who did not cover his eyes as she rode through the streets. Coventry has been an economically important city in the past, being a hub for the cloth trade in the Middle Ages and for the burgeoning automotive industry in the late 19th and early 20th centuries. The city's industrial prowess helped Britain's war efforts in the early 20th century; it also however made it an obvious target in the Second World War. A series of German bombing raids from 1940-42 (the Coventry Blitz) destroyed much of the city's infrastructure, although the single night of bombing in November 1940 dealt the largest damage, killing more than 500 people.
In the succeeding decades after the war, most of the old medieval dwellings were not rebuilt in lieu of more modern constructions, which at the time consisted of brutalist concrete structures. Subsequent to these, Coventry has undergone extensive remodelling most notably within the city centre, making it more pedestrian-friendly. Major regeneration projects such as the Stirling Prize shortlisted Phoenix Initiative (completed in 2004) have attempted to make the city a more attractive place.

Climate

In common with most of the UK, Coventry experiences cool winters and mild summers with moderate annual rainfall. Winter temperatures seldom drop below -10°C (14°F) and the summer months rarely exceed 30°C (86°F). Moderate but occasionally disruptive snowfall is likely in January or February.

Get in
By road
Coventry is at the centre of the UK Motorway network. The M6 passes the north of the city. The M1 is easily accessible via the A45 towards london and the M69 northbound. The M40 is accessed along the A46.
To enjoy the drive into Coventry approach along the A46, exiting at
Kenilworth
. Drive through central Kenilworth and past the Abbey Fields park before turning right towards Coventry. The broad tree-lined Kenilworth Road offers a beautiful boulevard into the city.
The city also provides a Park and Ride facility, see
National Park and Ride Directory
You can reach Coventry from London using Megabus which starts at roughly £13 return, but it arrives in Cannon Park, near Tesco, not the city centre. National Express has buses arriving at the Bus Hub (Pool Meadow), which can sometimes be cheaper at some times, though on average, Megabus proposes more options that are almost as cheap as the cheapest, yet less common National Express's equivalents.
One possible problem visitors to Coventry City centre may encounter is the infamous
Coventry ring road
. It can be very confusing to first time users, with its single on/off ramps. Speed is limited to 40 mph, but don't be surprised to see cars pass by at much higher speeds, racing to get off at the next junction! If you plan to come to Coventry (and want to visit the city centre), it's advisable to have someone who understands the ring road drive you around first.
By rail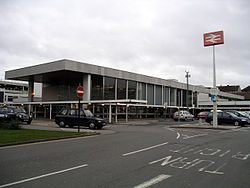 Coventry station
is on the main
London Euston
to
Birmingham
rail route operated by Virgin. There are usually three trains to and from London Euston station every hour from platform 1. The journey takes about an hour and (as of July 2011) costs about £41 for an adult off peak return. Significantly cheaper advance single tickets may be found if booking far enough in advance, and Megatrain also offer tickets on a few of the emptier of these trains (generally Monday-Thursday only) for as little as £2.50 return, again if booked far enough in advance. Alternatively London Midland offer an hourly service to and from Euston that takes about 1 hour 45 minutes, but has cheaper off peak and super off peak tickets compared to those valid on Virgin's trains.
Trains to central Birmingham are even more frequent, with a 25 minute journey time. Birmingham International, serving the NEC and Birmingham Airport, is just 10 minutes away.
By plane
Birmingham Airport (BHX

) is closer to the centre of Coventry than it is to central Birmingham and a drive should not take much longer than 30 minutes depending on the traffic situation. A taxi from the airport costs around £20. Another option is to take the free AirRail Link to the Birmingham International rail station from where trains to Coventry depart several times each hour.

Coventry Airport (CVT

) is a private airport that has no scheduled flights.
By taxi
Many firms operate within Coventry. Black Cabs can be flagged down on the street but private hire taxis must be booked.
Popular firms include:
phone: +44 2476 555 555

Operating since 1938.

phone: +44 24 7633 3333

Offers student rates.

phone: +44 2476 100 100

Like black cabs, but yellow.
By boat
The Coventry canal terminates just outside the ring road. It joins the Trent and Mersey and the rest of the main English and Welsh canal network near Lichfield. Operating a boat in the canal requires a licence from the Canal and River trust. Boats are available for hire from various providers on the canal network.
Get around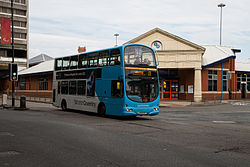 By bus
There are a plethora of buses serving Coventry all run by
National Express
, although first time users or those unfamiliar with city bus transport can find the sheer number of different routes intimidating. Cost within the city boundaries is standardised at £2.10 per journey, apart from single journeys within the ring road, which are £1. Daysaver tickets for unlimited travel within the Coventry area for one day are £4 for adults and £3.10 for those under 16.
If you plan on travelling frequently by bus, travelcards are available.
Adult Coventry Faresaver allows unlimited travel at any time around Coventry. 1 week costs £13.00 (available only from participating agents) and 4 weeks costs £45.25.
Adult Coventry Off-Peak Faresaver are valid in the Coventry area all day Saturdays, Sundays and Bank Holidays. Travel on weekdays (M-F) is limited to between 9:30AM and 3:30PM, and from 6PM onwards. 1 week costs £9.50 (available only from participating agents)
By car
Coventry's city centre is not very car-friendly. With the pedestrianisation of large tracts of the central business district, travelling in the confusing patchwork of roads winding around the pedestrian quarters can be very frustrating. The ringroad surrounding the city centre is a very quick method of getting around, but its frantic pace and multiple sudden exits make it notoriously difficult for visitors. There is ongoing construction work outside the town hall and Herbert Art Gallery which will further restrict accessibility by car, narrowing the road down from two lanes to one.
In contrast, the city's suburbs are much better suited for car transport, although as expected of a city rush hours tend to be very busy.
Parking
By taxi
By bike
By foot
See
Historic
address: Cathedral Quarter

The mediaeval Gothic Cathedral of St Michael was built in the late 14th-early 15th century, but largely destroyed by the German Luftwaffe on the night of 14 November 1940 in an incendiary bombing raid - only the tower, spire and outer walls remained. A new cathedral was built 1956-1962 next to the old (which now forms a memorial garden) to a design by Basil Spence. The cathedral is noted for its striking post-war modern design, the large tapestry of Christ enthroned, its innovative stained glass windows and various items of sculpture. These include (on the façade) the striking sculpture of St Michael's Victory over the Devil by Sir Jacob Epstein. Recent archaeological digs have uncovered the remains of the original monastic settlement founded by Lord Leofric in 1043, these have been incorporated into the priory gardens and an interpretive centre exhibits some notable finds.

phone: +44 24 7630-3567

address: Coventry Road, Baginton

Based in the nearby village of Baginton, this is a partial reconstruction of a Roman fort that stood on the site from c. 60 - 80 CE, erected in response to Boudicca's revolt. Exhibits include a museum of Roman period life (based on finds excavated at the site between 1965 and 1973), a model of the fort and occasional full costume re-enactments of Roman military manoeuvres.

address: Central Coventry

A historic street that was once part of an important trade route from London to Shrewsbury and Holyhead. In the 18th century it was one of the world's major centres of watchmaking. Since the end of the Second World War the street has halved in length due to the construction of the city's ring-road. Some historic buildings that survived the Coventry Blitz were relocated here in the 1960s. Today the street is home to 26 shops and forms a large concentration of the city's medieval structures.

phone: +44 24 7683-3328

address: Bayley Lane

A medieval guildhall built in the 14th century across the way from the Cathedral ruins. A notable visitor was Mary, Queen of Scots, who was stayed here when she was detained in Coventry in 1569. The room she was traditionally thought to have stayed in is open. Also includes Godiva Café, a café-restaurant, open 11AM-3PM year-round.
Arts and Theatres
phone: +44 24 7655-3055

address: Belgrade Square

A live performance venue with a 1,158 seating capacity. It was the first civic theatre to be built after the Second World War and is now a Grade II listed building.

phone: +44 24 7652-4524

address: University of Warwick campus

On the University of Warwick campus, it is the second largest arts complex in the UK, with regular leading theatre, film, music, comedy tours, dance events and more. There are also two bars, a café, and a bookshop with over 30,000 titles.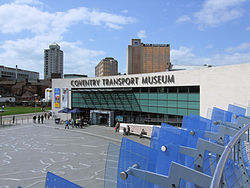 Museums
phone: +44 24 7623-4270

address: Millenium Place, Hales Street

A museum hosting the largest collection of British road transport in the world with over 230 cars and commercial vehicles, 250 cycles and 90 motorcycles. Closed 24–26 December and 1 January.

Herbert Art Gallery and Museum

phone: +44 24 7683-2386

address: Jordan Well

Moderately large local museum with exhibits on local and natural history. Has exhibits related to Lady Godiva and the Coventry Blitz, among other things.

phone: +44 24 7630-3567

address: Coventry Road, Baginton

Star exhibits include the Avro Vulcan bomber and a heritage centre dedicated to the work of Sir Frank - pioneer of the jet engine.
Parks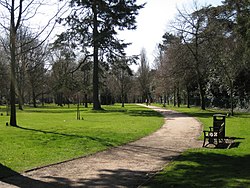 Sports
phone: +44 24 7663-0674

address: Croft Road

A multipurpose centre for public ice-skating, ice dancing and home to the Coventry Blaze and Coventry Phoenix ice hockey teams. Also houses a multiplex cinema.

phone: +44 24 7654-2395

address: Rugby Road, Brandon

A small stadium in the nearby village of Brandon, Warwickshire, hosting motorcycle speedway (the Coventry Bees) and greyhound racing.

phone: +44 84 4873 6500

address: Phoenix Way, Foleshill

A multi-purpose venue hosting sporting events, music concerts and business exhibitions. Home to the football club Coventry City and the rugby union side Wasps, the latter of which now owns the stadium.

phone: +44 24 7623-1001

address: Butts Rd

A small stadium home to Coventry Rugby Football Club, Coventry Bears Rugby League, and the Coventry Jets American Football team.

The Ivor Preece Field

phone: +44 24 7654-1070

address: 105 Rugby Road, Binley Woods

A very small stadium (250 seats) home to Broadstreet Rugby Football Club.
Other
Christmas Lights Switch-On, city centre. This annual event is usually around mid-November, and features a line-up of music acts, presenters, fireworks and various other things. There is also a parade through the City Centre, with businesses and schools alike contributing to the floats that that travel through the streets.

Lady Godiva Statue

address: Broadgate

A statue commemorating the legend that the 11th century Lady Godiva rode nude on horseback through the city in protest of excessive taxes imposed by her husband, Leofric.

Whittle Arches

address: Millenium Place, Hales Street

An impressive pair of arches spanning 60m across Hales Street, opposite the Coventry Transport Museum. They were built as part of a regeneration scheme in the area and named after the Coventry-born jet engine pioneer Sir Frank Whittle.
Do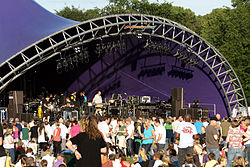 Events
Learn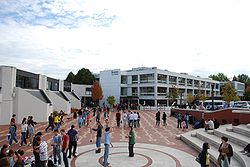 There are plenty of opportunities to learn in Coventry. The Herbert Art Gallery and Museum runs classes for adults in vocational subjects and sometimes in unusual topics. Classes in skills such as maths, English, and computing along with British qualifications such as NVQs are run in the
city's central library
. For slightly younger learners there are four further education colleges in the city: Henley College Coventry and City College Coventry (both in the north-east of the city), Hereward College (in the west) and Coventry University College (in the city centre).
Coventry is home to two universities:
The University of Warwick (est. 1965) is a highly regarded institution that is consistently ranked as one of the top 10 universities in the UK. It is on a 290-ha campus in the southern suburbs of the city and takes its name from the neighbouring town of Warwick.
Coventry University (est. 1992) is located across the city centre. Traditionally strong in engineering and design, the university's reputation has recently grown to one of the best modern universities in the country.
Buy
Coventry has a variety shopping complexes in and around the area. These range from retail parks, to the pedestrian Coventry City Centre -one of the first of its kind. Shopping in Coventry mainly consists of the high street chain stores, although there are independent record shops and clothes shops dotted about here and there and there is also the large indoor Coventry Market, which are well worth the visit.
Shopping centres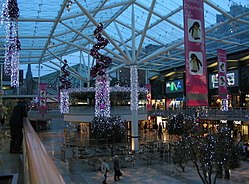 phone: +44 24 7663-4710

address: Lower Precinct, CV1 1NQ

The lower precinct was completed in the 1950s as part of the redevelopment plan of Coventry after heavy wartime bombing. It is home to a variety of retail shops across two floors, ranging from Next to T.J.Hughes, as well as a coffee bar, the Caffe Nero.

phone: +44 24 7623-1133

address: Smithford Way, CV1 1QX

A large indoor shopping centre with more than 40 retail shops largely dedicated to clothing and accessories. There is parking for 650 cars with electric charging outlets on the fifth floor, and a food court that seats more than 700. Although popular all-year-round, it can get particularly busy during the festive season. Parking costs from £1 for 1 hour to £6 for 5 hours.
Markets
phone: +44 24 7622-4927

address: Queen Victoria Road, CV1 3HT

Full of independent traders manning the 170 stalls that occupy this rotunda. The traders are mainly dedicated to selling fresh food, of which the fruit and vegetables are always high quality. The staff are friendly and personable, providing the market with a more human element which contrasts with the hustle and bustle found elswhere.

Coventry Farmers' Market

address: Broadgate

Held on the third Friday of every month, the Farmers' Market brings a bit of rural flavour into the city centre. There is usually a good range of produce on offer, as well as hot and cold takeaway snacks. Some of the items for sale can be a bit expensive however.
Eat
Coventry is host to a range of award-winning eateries. From cafés to restaurants, and from Thai to Italian, all can be found here. One particular cuisine that is overrespresented is Indian, and as such you can find a large variety in the quality of Indian food available. Most of the restaurants and establishments are in the city centre, but there may be a few surprises in the suburban areas if you are willing to look and travel out.
Budget
Mid-range
Bombay Joe's

phone: +44 24 7644-5697

address: 277 Walsgrave Rd, CV2 4BA

Bombay Joe's is very highly rated amongst Coventrians, offering a range of Indian and Bangladeshi cuisine. Look beyond its location in the less prosperous part of Coventry and you will find a rich culinary experience. Their chairs are also rather comfortable.

phone: +44 24 7622-6603

address: 166 Medieval Spon Street, CV1 3BB

Stylishly themed Indian restaurant within in a medieval building, Turmeric Gold boasts authentic Indian food and helpful and patient staff. Waiting times for food may sometimes be long, but the quality of the food makes up for it. Perfect for an evening out.

phone: +44 24 7659-2112

address: 87-89 Radford Road, CV6 3BP

The best Greek restaurant in the city, and the prices reflect this. Visit at the right time and you might hear a musician playing Greek songs and the waiters treating you to some Greek dancing.
Splurge
phone: +44 24 7622-0669

address: 142 Far Gosford Street, CV1 5DY,

Better Lebanese food will not be found in Coventry. The atmosphere and the staff are as equally inviting. One downside is the service being a bit on the slow side.
Drink
Sky Dome Complex, Croft Road, Coventry. A flagship mixed-use urban entertainment complex, featuring:
Multiplex cinema
Night clubs
JJ's

Lava/IgniteLarge City Centre club in Skydome complex

phone: +44 24 7655-4473

address: Primrose Hill Street, CV1 5LY

Formerly the Colosseum. Dingy indie rock club which attracts some fairly well known live acts
Bars
Coventry's bar scene is mostly concentrated along reconstructed medieval Spon Street on the western edge of the city centre. This includes the adjacent Skydome complex which includes popular nightclubs.
The Old Windmill, Medieval Spon Street: Cosy traditional English pub with good crowds and numerous cask ales.
In the centre of the city you will find the usual pub chains as well as some new bars that have recently been established close to Millennium Place.
The Flying Standard

phone: +44 24 7655-5723

address: 2–10 Trinity Street, Coventry, West Midlands

Franchise of the ubiquitous Wetherspoons chain is set in a spectacular timbered building
Flamingo, Priory Place. bar & grill
The Yard, a gay club in the Bull Yard.
Inspire
Towards the eastern side of the city centre close to the University campus buildings can be found another concentration of pubs and bars that are popular with students centred close to Jordan Well and Gosford Street.
For a more sedate experience, try Craven Street, set amongst Victorian-era watchmaker's cottages in the suburb of Chapelfields, has several traditional pubs.
There is an extremely limited gay scene in Coventry: the city is not very gay-friendly and lacks any real gay nightlife. For a much better scene, head out to Birmingham's Gay Village.
Sleep
phone: +44 871 221 0191

address: Fairfax Street, Coventry, CV1 5RP

It sits amidst the hustle and bustle of Coventry's city centre adjacent to the city's two cathedrals. It offers 211 bedrooms, a restaurant, a bar and conference facilities for 450 people. Pets are allowed (rate: £25 per pet per stay).
Connect
Telephone
Coventry's landline area code is 024. Dial 024 from within the UK or +44 24 from outside the UK.

Internet
Free public wifi is available at all Coventry public libraries as well as the train station.

Stay safe
Like the rest of the UK, in emergencies you should call 999 or 112 with ambulance, fire and police services available.
For a city of its size, Coventry has a rather low crime rate, particularly in the city centre. This can be attributed to its well-lit pedestrian sections. Take general precautions as you would in any other city in the United Kingdom.

Go next
Take a short trip into the attractive
Warwickshire
countryside to:
Head north-west into the metropolitan West Midlands county to:
Solihull, an attractive town home to some of the West Midlands' richest citizens no more than 14 miles (22 km) away
Birmingham, the United Kingdom's second largest city and the West Midlands region's travel and economic hub only 23 miles (37 km) away.
Wolverhampton, a former industrial city and the gateway to the Shropshire countryside just over 33 miles (53 km) away.