Covington (Kentucky)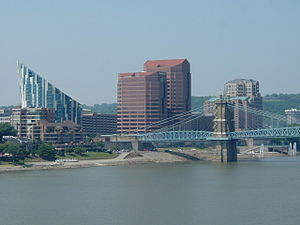 Covington
is a city in
Kentucky
's
Northern Ohio River Region
, located across the Ohio River from
Cincinnati
,
Ohio
. It is the largest city in Northern Kentucky.
Covington is pretty much the southern side of Cincinnati, with similar architecture (though far better preserved if not in the best of shape) and a shared history linked by the historic
Roebling Suspension Bridge
and the
Ohio River
. Like is eastern neighbor
Newport
it has profited from recent revitalization.
Get in
By plane
Cincinnati/Northern Kentucky International Airport. (Exit 4, State Route 212) Phone: +1 859 767-3151 (), . Cincinnati/Northern Kentucky International Airport (CVG

) is in nearby Hebron, Kentucky.

John Glenn Columbus International Airport (CMH) in Columbus, Dayton International Airport (DAY) in Dayton, and Louisville Muhammad Ali International Airport (SDF) in Louisville are also options for travelers.
By car
Covington is accessible by Interstate 71/75 via Exits 192 (Fifth Street—Covington/Ludlow) and 190 (Twelfth Street—Newport/Covington). Covington's street grid numbers
southbound
— away from the river — whereas Cincinnati's grid numbers
northbound
. That causes confusion for some travelers coming in from the interstate. The first Fifth Street ramp, when traveling northbound (from Kentucky) is Covington. The next one, labeled "Fifth Street Downtown", is Cincinnati's Fifth Street.
By train
Amtrak
offers passenger train service from key U.S. cities. The nearest station is in Cincinnati, at Union Terminal/Cincinnati Museum Center.
By bus
Greyhound offers passenger bus service from many U.S. cities. Buses arrive and depart from Greyhound's station in downtown Cincinnati.

address: 4th Street at Race Street

Megabus is a budget bus company offering service to Cincinnati from Chicago, Indianapolis, and Columbus. Fares start at $1. Covington is close enough to the stop that it should be pretty easy to get to by public transportation or taxi
Get around
The Southbank Shuttle which is provided by TANK provides regular bus service from Downtown Cincinnati to the Covington and Newport Riverfronts. For more information on times and stops check the Southbank Shuttle website here.
TANK Sales Office; Mercantile Building; 120 East 4th Street, Cincinnati, OH; Hours: Monday – Friday: 6:30AM – 6PM;
See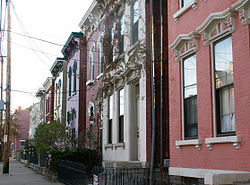 Cathedral Basilica of the Assumption

phone: +1 859 431-2060

address: 1140 Madison Avenue

Daily: 10AM - 4PM (Mass held Mon. - Fri. at 10AM; Sat. at 4:30PM; and Sun. 10AM, 12:30PM, 5:30PM) the Diocese of Covington's home cathedral and inspired by several French cathedrals. The front is a version of Notre Dame Cathedral in Paris without the High towers. They could not be accommodated by the soil at that location. Guided tours can be arranged by contacting the cathedral.

Railway Exposition Museum

phone: +1 859 491-RAIL

address: 315 W. Southern Avenue

The Ascent at Roebling's Bridge

address: 1 Roebling Way

Unique condo tower designed by famous architect Daniel Libeskind who designed the original concept for the replacement for the World Trade Center. Though it is a private residence, one should see it from the outside as it is one of the most unique buildings in the entire region.

address: From about 5th St to Pike on Main Street

MainStrasse Village is a festival/entertainment district known for numerous bars, historic architecture, its famous Goebel Park Bell Tower and its German Heritage. A walking tour is available on its website.

Riverside Drive Historic DistrictOne of the oldest neighborhoods remaining in the Cincinnati area, with many charming houses dating from the early to mid 1800s. Because it was built on a bluff and less flood prone than many other places around the river, there are lots of stately old mansions with a blend of Antebellum South and early Mid-Atlantic style architecture. This area is known to house the birthplace of Boy Scouts of America founder Daniel Carter Beard (which there is a small memorial to, though the house is a private residence). Its also great for an afternoon stroll along the river with George Rogers Clark Park being a popular spot for weddings.
Do
Dog Costume Parade (Mainstrasse Village) Held in October, near Halloween. This listing will serve either as an enticement or a warning, depending on your personal philosophies.

Roebling FestEvery summer (see website for details 2015 was in July), there is a festival held in honor of Brooklyn Bridge designer (and its prototype the nearby Roebling Bridge) John Roebling. His bridge in the Cincinnati area was the longest suspension bridge in the world when it was built in the 1860s and visually bears a striking resemblance to its younger brother that crosses the East River in New York City. Food, drink and a series of tours highlighting the history of the bridge and of Covington are available. See website for details.
Buy
Second Sunday Antiques MarketplaceHeld from 9AM - 3PM on the second Sunday of most months (from May to August and also October), in the MainStrasse Village.
Eat
Budget
Anchor Grill

address: 438 Pike St

This 24-hour diner is known for its cheap food and unique clientele. The later you go the more interesting it gets. Not much has changed since this greasy spoon opened its doors in 1946. Pick a song on the table-mounted jukebox and see Barbie and her mechanized band perform it live!

address: 9 West Pike St., Old Town Plaza

Proudly bills itself as the cafe where the power brokers of Northern Kentucky eat — when they're in the mood for cheap sandwiches and burgers, that is. There's a Fish Fry on Fridays.
Mid-range
Splurge
address: 2500 Dixie Highway, Fort Mitchell

Established 1921 and located in a beautiful old building, but with very modern prices.

Riverview Revolving Restaurant

address: 668 W 5th St

Revolving restaurant over a hotel overlooking downtown Cincinnati. Come here for the view more than the food, though the menu does offer some local items such as Cincinnati Chili and Greaters Ice Cream.
Drink
Unlike Ohio, for better or for worse, Kentucky still allows
smoking
in its bars. Some bars in Ohio complained about bars in Kentucky stealing their business due to this ordinance, though if you don't like smoke be warned that it does exist here.
address: 27 W 7th St

Large garage-like lounge that by day brews excellent coffee and by night equally excellent beer. Come during the day to get work done with high speed wifi or at night to hang out with friends and watch a game while drinking very unique high quality beers which include flavors like "Tropical Stout", or "Hull Melon Hops". Hopefully this is a catalyst for Covington's downtown whose gorgeous dense old Victorian brick buildings would remind a well traveled person of Boston minus all the people.
Liquor Stores
People in the Cincinnati area flock to Northern Kentucky for its cheaper and more plentiful alcohol due to its looser liquor laws. As a result the riverfronts of both Covington and Newport have many large liquor stores that cater to Cincinnatians who are looking to stock up for a big party. Travelers who prefer to drink in their hotel room should check out some of these local stores, particularly for their excellent selection of
Kentucky Bourbon
.
Sleep
Covington's hotels draw a lot of visitors from Cincinnati. Many of them identify themselves as Cincinnati hotels in their names, despite their location in Covington.
Budget
Mid-range
Splurge
Marriott Cincinnati at RiverCenter

phone: +1 859 261-2900

address: 10 West RiverCenter Boulevard

Containing a Marriot and Embassy Suites, as well as the Northern Kentucky Convention Center is located near the foot of the historic John Roebling Suspension Bridge, which connects Cincinnati and Covington's downtown areas.
Go next
Newport is the other major Cincinnati-satellite over the Kentucky border.