Cranbrook
Cranbrook
is a city of approximately 20,000 (2016) (26,000 in the area) that is the primary administrative and commercial center for the
Kootenay
region in the southeastern corner of
British Columbia
,
Canada
. It serves the surrounding area of over 82,000 people.
Understand
History
The area was inhabited by Ktunaxa peoples. The land that Cranbrook now occupies was bought by European settlers, notably Colonel James Baker who named his newly acquired land Cranbrook after his home in Cranbrook, Kent, England.
In 1898, Baker had convinced Canadian Pacific Railway to establish its Crowsnest Pass line through Cranbrook rather than nearby gold rush boom town Fort Steele. Cranbrook became the major centre of the region, while Fort Steele declined; however, the latter is today a preserved heritage town.

Get in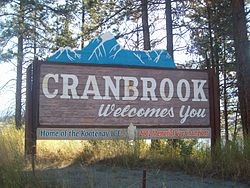 Cranbrook is often visited unintentionally since it's on British Columbia's Highway 3 that crosses the southern portion of the province. Cranbrook is easily reached in 4h of driving from
Calgary
, and about 10h driving from
Vancouver
.
Cranbrook can be reached from the
United States
from either
Idaho
by crossing at the Kingsgate/Eastport crossing on US 95 or from
Montana
at the Roosville crossing on US-93.
Cranbrook is also served by the
Canadian Rockies International Airport
which is about 15 km north of the city on Highway 95A. The airport is served by Air Canada Express and Pacific Coastal airlines which provide daily flights from
Vancouver
and
Calgary
, Delta Air Lines also has a seasonal 3 day a week service to
Salt Lake City
.
Get around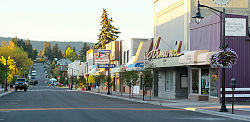 Being a small city, getting around Cranbrook is best done by automobile. Some roads in Cranbrook are in poor shape, especially side streets. Main arterial roads, however, have been given some much needed attention in the past couple of years and are generally in good condition.
Most restaurants and hotels are located on Highway 3/95, which is also known as Van Horne Street in the south end of the city and Cranbrook Street in the north end. The whole Hwy 3/95 going through Cranbrook is usually called "The Strip". Downtown is located along Baker Street.
Cranbrook is also served by a nascent transit system consisting of seven routes connecting residential areas of the city to the downtown area as well as shopping centres. The Cranbrook transit system is geared more towards residents and is not of much use to tourists.
Taxi service is readily available as an alternative to car rental and public transit.
Much of Cranbrook is pretty flat so biking around town would also be a reasonable option.
See
Cranbrook has as its backdrop the Rocky Mountains. Any visitor equipped with a camera will find no shortage of locations to photograph nature. Elizabeth Lake, located at the south end of Cranbrook, is a wildlife sanctuary and home to many different birds and animals, ripe for the photographing. Cranbrook dates back to the late 1800s and has lots of history to check out around downtown.
Canadian Museum of Rail TravelNo train buff's trip to Cranbrook would be complete without a trip here. Static exhibits of passenger rail cars built in the 1920s for the CPR and in the 1900s for the Spokane International Railway.

Fort Steele Heritage TownA ten minute drive north of the city, Fort Steele is a collection of heritage buildings set up as a North-West Mounted Police outpost. Staff in period costumes help illustrate how live was during that era.
Do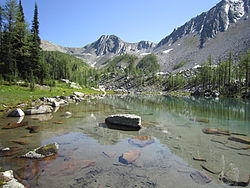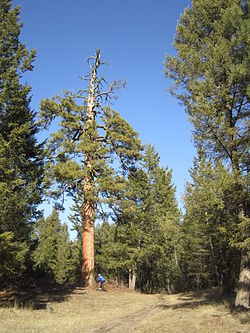 Cranbrook Golf ClubThey call themselves the "Hidden Gem of the Kootenays". Good golf at a good price.

Kootenay IceThe Kootenay Ice is a WHL (Western Hockey League) hockey team and part of the CHL (Canada Hockey League). Catch a good, fast and exciting game of hockey at the Cranbrook Rec Plex and cheer on the Ice!

There are a number of hiking and mountain biking trails in the Cranbrook area. A common place for mountain biking is the "community forest". For a map see here.
Buy
Baker Street has an interesting mix of clothing stores and specialty shops. As with many growing cities, the downtown seems to be suffering as more and more people shop at the malls and big box stores located at the north end of the city along the strip.
With its growing collection of big box stores, Cranbrook is a good place to stock up on supplies before you head into the wilderness. Wal-Mart and Home Depot, the Real Canadian Superstore and Canadian Tire are among the stores at the north end of the city.
The Tamarack Centre, along the north end of the strip, has a number of shops and fast food outlets: Winners at the north end, the Columbia Theatre and Staples.
Canadian dollars are the official currency here, but given Cranbrook's proximity to Idaho and Montana, US dollars may be accepted too. Just ask.

Eat
Cranbrook has most major fast food restaurant chains including 2 McDonald's, 1 Burger King, 1 Arbys, 2 Subway's, 1 Dairy Queen, 1 KFC, 2 Tim Hortons, 1 Wendy's, and 1 A&W. Casual dining is somewhat limited and includes chain restaurants like East Side Mario's, Pizza Hut, Denny's, Panago Pizza, Smitty's, Boston Pizza, Mr. Mikes as well as the exotic K's Amazon Eatery. You will find that fine dining is severely limited.
Some local favourites include:
Max's Place on Victoria

address: 301-535 Victoria Avenue N

Trendy coffee shop. A good place for lunch with fresh sandwiches, salads and desserts.
Pita Wrapbit, with locations on the Strip and at the College of the Rockies, Pita Wrapbit specializes in wraps, pitas, juices, soups and smoothies.
Rockwater Steakhouse, 300 Cranbrook Street N.,

East Side Mario's

address: 1201 Cranbrook Street N

East Side Mario's is everything you like about Italian. The warm welcome, the relaxed, fun and friendly atmosphere - this is the essence of Little Italy.
Frank's Place North end of Cranbrook, near Walmart. Good quality steak and prime rib.

address: 408 Cranbrook Street N

In business for 23 years, Perry makes homemade pizza, burgers, steaks and cold pints of draft. Fully licensed.
Drink
Cranbrook has its share of bars, most of which are in the downtown core, off Baker Street. The closest thing to a night club, Shotgun Willies, is just off 12th Ave.

Sleep
address: 590 Van Horne Street S

Sandman Hotel

address: 405 Cranbrook St N

Super 8 Motel

address: 2370 Cranbrook St N

Heritage Inn

address: 803 Cranbrook St N

Lazy Bear Lodge

address: 621 Cranbrook Street N

Prestige Rocky Mountain Resort

address: 209 Van Horne St S

St. Eugene Mission Resort

address: 7731 Mission Road

Flamingo Motel

address: 432 Van Horne St S

Heritage Estate Motel

address: 362 Van Horne St S

Almo Court Motel

address: 316 2nd Street S

Best Western

address: 1019 Cranbrook St N

Days Inn

address: 600 Cranbrook Street N

Mount Baker Heritage Hotel

address: 1017 Baker Street N
Cranbrook does not have any year round low-budget options other than the Salvation Army homeless shelter. The College of the Rockies provides hosteling services with its dorms with Hosteling International, but only during the school's off-season (summer).
Go next
Getting out is much the same as getting in. Other interesting places to visit in the area are
Kimberley
and
Fernie
.
A paved biking trail has been completed, connecting Cranbrook with Marysville, just south of Kimberley. This is a "rails to trails" conversion, running mostly parallel to the highway through pine forests and fields, about 25 km.