Crawley
Crawley
is a town in
West Sussex
, on the border with
Surrey
, in the
South East
of
England
.
Understand
Crawley was a small town until 1947 when it was designated a New Town. Its population boomed in the 1950s and 1960s. The biggest influence on the town, however, is
Gatwick Airport
, which lays claim to being the 6th-busiest airport in the world.
While not known for its open-mindedness, a traveller may find lots to see and do in Crawley. From its wide range of mediocre chain shops to watching a good old-fashioned fist-fight in a car park, there's something for everyone.
Get in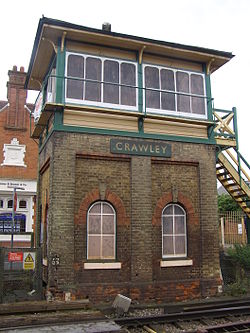 By car
Crawley marks the midpoint of the M23/A23, which links
London
in the north to
Brighton
on the south coast. The A217 leads north to
Reigate
, and the A264 heads east to
East Grinstead
and
Tunbridge Wells
, and west to
Horsham
.
By train
There are three relevant train stops for Crawley:
Crawley station
, (technically in Horley) and
Three Bridges station
.
While trains run directly and frequently from Gatwick and Three Bridges to Brighton, you will need to change in Three Bridges to Brighton when coming from Crawley Station. Fare and timetable information is available from
South East Trains
, tel. +44 8457 484950.
From Crawley trains run north to London, and south to Horsham, Haywards Heath and Brighton.
Regular fast trains run direct from Gatwick to
London Victoria
.
By air
(
LGW
), a major international airport and one of the world's busiest, is just outside Crawley.

By bus
Get around
Within the town centre, to the station, county mall and even the football stadium you can comfortably walk.
By bus
Local buses run by
Metrobus
: 10, 100, 200, 300.
From and to the airport take the number 10 Fastway service which runs almost always as a 24-hr service (not on Sundays and public holidays).
By taxi
Taxis available, e.g. at the railway stations. Fares from the station to the airport are around £14 and take 10 min (if no traffic jam). However, the Fastways bus 10 takes about 20 min and costs £1.60.
By bicycle
Crawley is small enough to reach all ends cycling and in town centre there are parking facilities. Increasingly cycle paths are marked and signed, but essentially the whole place is built for cars and especially the
Gatwick
airport area is not meant for cyclists.
See
Goffs Park

phone: +44 870 700 1390

address: Horsham Rd, RH11 8AX

There is a little model train Sundays in summer from 3PM, and the Crawley Museum with Stone Age and Bronze Age remains discovered in the area.

phone: +44 1293 862417

address: Vallance Byways Lowfield, Heath Rd, Charlwood, RH6 0BT
Do
Mostly, the town is known as a "shopping town" with the main attraction being the large County Mall. There are plans to open a new shopping center in Queens Square.
phone: +44 1293 542088

address: Horsham Rd, RH11 9HQ

Mostly known and used by dog owners, is south of Crawley starting at the Broadfield outskirts stretching to the village Pease Pottage. It has two former hammer ponds and some nice old trees. Really beautiful in autumn and at springtime when the floors are blue with bluebells.

Tilgate ParkIt's on the south side of the town and is a large area with lakes, grassy areas and woodlands, with plenty of pleasant walks. Attractions include various gardens, a maze and a nature centre with a range of animals and birds which is well worth a visit. The nature centre charges a nominal fee but other attractions are free of charge.
Proms in the ParkTake in the classical music at the annual Proms in the Park at Tilgate Park

Tilgate ForestAccessible from Tilgate Park and has miles of paths for walking and mountain biking. There are several signed short downhill mountain biking courses.
phone: +44 1293 826800

address: 59-61 Brighton Rd, Horley, RH6 7HJ

Formula 1 driving simulator.
Buy
phone: +44 1293 611975

address: Southgate Ave, RH10 1FP

Probably the largest shopping centre between Croydon and Brighton offering the typical selection of bland chain shops you will find on every UK high street.

Crawley Town CentreThe rest of the town centre is not too bad for shopping either.

Gatwick Airport South Terminal

address: RH6 0NN

Has quite a few shops with extended opening hours accessible also to the non-flying public.

Three BridgesHas a few small shops, and also a Lidl, Iceland and a large Tesco Extra Supermarket. This area is a 20-minute walk from the centre.

phone: +44 1293 663400

address: Pegler Way, RH11 7AH

Superstore in the town centre.

phone: +44 345 677 9179

address: Hazelwick Ave, RH10 1GY

Superstore near Gatwick Airport.
Eat
Along the High Street are pubs and restaurants featuring typical English pubs and bars, Italian chains like Pizza Express, Si and Bella Italia, two or three curry houses, Mexican, kebab kiosks and more. There are also a lot of cheaper
takeaways in Crawley
where you can order a meal for around £7 to £15 if you're on a budget.
Goffs Park InnWalk or drive the High Street southwards until it becomes Brighton Road, cross the railwail, still on Brighton Road until to the right turns Goff's Park Road. Follow Goff's Park Road until it ends onto another road and you see in front of you that nice pub, where you can sit outside and enjoy a pint with nice food.

phone: +44 1293 526197

address: 2-4 High St, RH10 1BJ

South of the High Street and west of Crawley railway station, this Indian restaurant serves great food in a pleasant and modern environment, at a reasonable price.

phone: +44 1293 519876

address: 3, 6-14 High St, RH10 1BH

This Chinese restaurant is just along the road from Taj Mahal, and serves good quality Chinese food. They specialise in sea food, although this is considerably more expensive than the rest of the menu. Best to go earlier in the evening if you haven't booked as it can get busy.

phone: +44 1293 525404

address: 89 Gales Dr, RH10 1QA

A restaurant and bar offering innovative à-la-carte English cuisine and a cocktail bar.

Troy Kebab House

phone: +44 1293 615593

address: 43 High St, RH10 1BQ

The best takeaway kebabs Crawley has to offer. The chili sauce, you will remember, perhaps not for the right reasons.
Drink
phone: +44 1293 565335

address: 6 Grand Parade, High St, RH10 1BU

Wetherspoon's pub.
Sleep
The Grange Hotel in Brighton Road, Southgate.
The Hedgehog Inn in Copthorne is a comfortable and affordable place to stay.
Arora International Gatwick/Crawley

phone: +44 1293 530000

address: Southgate Avenue Southgate, RH10 6LW

A 10-minute drive or 8-minute train ride from the Gatwick Airport. Parking is available for hotel guests.
Stay safe

Despite its reputation you should not encounter any problems in Crawley beyond what you would expect in any town. Treat people with respect and you will be treated likewise.

Go next
Map of places with Wikivoyage articles nearby
Other places of interest in the Crawley area:
Nymans Gardens, Handcross
Wakehurst Place, Ardingly
Cycle to Crawley Down, East Grinstead or Forest Row by the Worth Way traffic free path. This is mainly an old railway line so gradients are modest.
Cycle trip to Horsham going for example through the Buchan County Park and following the small country road going through St Leonards Forest south parallel to the A264. Have a rest at the Green Dragons Inn in Faygate.
By train to Arundel and spend a day there.
By bus to East Grinstead, historic and friendly town.