Creston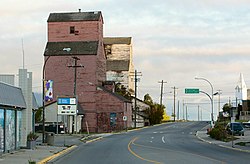 Creston
is a town of about 5,300 people (2011) in the West Kootenays, at the south end of Kootenay Lake in
British Columbia
.
Understand

Due to its proximity to the U.S. border, many businesses in the town accept American currency.
Creston is the eastern terminus of the Salmo-Creston highway constructed in the 1960s as a shortcut to avoid the long route north to Nelson and crossing Kootenay Lake by ferry between Balfour and Kootenay Bay. The Salmo-Creston highway, which is part of the Crowsnest Highway, connected with earlier highways eastward of Creston.
Creston is one of the few towns in British Columbia that does not observe Daylight saving (summer) time.
The Creston Valley's economy is largely resource-based with agriculture and forestry. Many are employed in the service sector, and tourism is increasingly prominent, while government services and education comprise a large portion of the labour force. Since 1959, Kokanee beer has been brewed in Creston at the Columbia Brewery. The town is also home to two grain elevators. Many apple, and cherry orchards grow in Erickson, British Columbia, an unincorporated area outside of Creston, and the valley is also an important dairy centre.

History
The Creston Valley has been inhabited, for at least 11,000 years, by the Ktunaxa people, known for their unique language, the distinctive sturgeon-nosed canoe, and cultural traditions that blend a dependence on fish, small game, and waterfowl with the annual bison-hunting traditions of the Plains nations.
European exploration of the Creston Valley began in 1808, when David Thompson passed through the region, followed by fur traders, prospectors, and government surveyors. European settlement began in the early 1880s, and two railways, the Canadian Pacific Railway and Great Northern Railway, built into the valley in the last years of the century.
Agriculture and forestry were the primary industries of the new community. Mining attracted many people, but, like many other communities around the Kootenays, the mineral deposits of the Creston Valley were not large enough to support a significant mining industry here.
Small fruits and tree fruits were the principal agricultural products of the early decades of the twentieth century, and the Creston Valley quickly gained a reputation for the quality, quantity, and variety of fruit. Reclamation of the flats alongside the Kootenay River, west of Creston, in 1935 led to large-scale grain production, again with outstanding quality and yields. Today, many livestock, dairy, and hay operations also contribute to the Valley's agricultural industry.
Growth of the community followed the development of local industry. By 1899 hotels, stores, and restaurants were established, along with the first volunteer fire department. Creston has a lot of buildings, downtown, that are or feature art deco architecture, and is one of the art deco capitals of western Canada (for its size).

Climate
Daily maximum temperatures are usually above freezing even in January, but the worst cold outbreaks may send temperatures below −30 °C (−22 °F) on rare occasions. Spring comes early by Canadian standards; trees usually start to leaf out before the end of April. A clear summer day is likely to have a daily maximum near or above 25 °C (77 °F).

Get in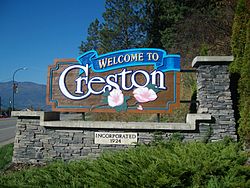 By car
Creston is on Hwy 3, the southern route through
British Columbia
, about an hour west of
Cranbrook
. It is also just north of the USA/Canada border crossing at Rykerts, BC, and Porthill, Idaho.
By bus
Get around

The downtown area isn't very big so you can easily walk around there, but the rest of the town is somewhat spread out so a bike or a car can be useful.

See
phone: +1 250-428-9262

address: 219 Devon St.

From the forestry, mining, and agriculture of the pioneer years to today, and the connections between Creston and the rest of the Kootenays. How Creston got its wacky time zone, the steamship that became a tractor (sort of), the first airplane to land in Creston, the teacher who refused to be fired, "The Great Railway Race" and the "Great Creston Bank Robbery."
Do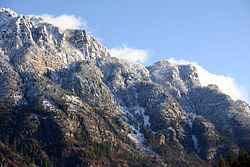 Creston Valley Wildlife Management Area

phone: +1 250-402-6900

address: 1760 West Creston Rd

A 7,000-hectare (17,000-acre) area of provincial Crown land along the Kootenay River system. A protected flood plain that has been returned into a productive wildlife and waterfowl habitat. The dykes that were intended to drain the marshes were expanded and modified to control the wide seasonal variation in water levels and create much needed waterfowl nesting and rearing habitat.
Buy
Creston has the normal selection of grocery stores, hardware and building supply stores and such, but is particularly noted for plant nurseries and agricultural produce stands.
The Creston Area produces the largest
cherries
grown in the Northern hemisphere and exports them globally. A primary market is Europe while Asia is second. A number of growers sell the same product they export to Europe at their road side markets.
phone: +1 250-428-6880

address: 215 North West Boulevard

phone: +1 250-402-6072

address: 139 10th Ave. N.

A store dedicated to yarn, fibre, local art, women's accessories, home decor and Oso Negro coffee.
Eat
phone: +1 250-428-8882

Burgers, steaks, pastas, curry, salads, fish and chips. Gluten-free and vegetarian choices always available.

Tims Fish and Chips

phone: +1 250-428-4008

address: 1108 Northwest Blvd

phone: +1 250-428-7200

address: 2808 Hwy 3

Offers traditional Polish cuisine: barszcz, żurek, pierogi, gulasz, schabowy, kiełbasa, placki ziemniaczane, łazanki, naleśniki, typically made of organic produce prepared by natural methods, cooked in the traditional home-made style without artificial ingredients.

The Bistro at Skimmerhorn Winery & Vineyard

phone: +1 250-428-4911

address: 1218 - 27th Ave South

Reservations recommended.
Drink
phone: +1 250-428-1238

address: 1220 Erickson St

Tours of the Columbia Brewery, home of Kokanee beer, and the Kokanee Beer Gear Store.

Jimmy's Pub And Grill At Creston Hotel

phone: +1 250-428-2225

address: 1418 Canyon Street

The Skimmerhorn Winery produces award-winning wines, and the valley includes other growers cultivating vines.
Sleep
phone: +1 250)-428-9823

address: 1809 Canyon Street (Highway 3)

High speed Internet and Wi-fi in rooms at no charge, individual air conditioning/heating, microwaves, fridges and courtesy coffee & tea, cable television, a variety of rooms with King and Queen size beds. From units with one bed, to a room with three beds. Full kitchen suites, and several mini kitchen units. All our rooms are non-smoking.

phone: +1 250-428-2238

address: 1218 Canyon Street

22 rooms in a variety of styles

address: 800 Northwest Blvd

All of the renovated rooms are furnished for comfort, with standard features of free high speed wireless internet, free local calls, alarm clock radio, microwave, fridge, keurig coffee maker, wall hanging TV and individually controlled air conditioning and heat.
Go next