Cromer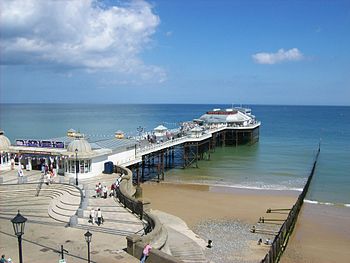 Cromer
is a town on the North
Norfolk
coast famous for its crabs, fishermen and lifeboats. The North Norfolk coast is one of the most rapidly eroding coastlines in Europe. A thousand years ago Cromer was inland ('Crow Mere' - the lake of crows - seen on the town's coat of arms), and the coastal village was called Shipden. This is now several hundred metres out to sea.
Modern Cromer is a mélange of architectural styles. Everything from charming brick-and-flint and stately Georgian, to 1960s carbuncular to modern bungalows and caravan sites. But the heyday was the 19th century, as witnessed by several streets of tall townhouses (now mainly B&B hotels), the growth stimulated by the coming of the railways and when the popularity of the town and environs was raised by the writings of Clement Scott .
Get in
The drive from
Norwich
on the A140 takes about 35-40 minutes. This is a much more dangerous road than it appears - at harvest time especially you should watch for farm vehicles emerging from side roads. Alternatively you might try the train. The Bittern Line is allegedly one of the great railway journeys of the world. Leaving Norwich, it crosses the broads via Salhouse, Hoveton & Wroxham (change for the wee Bure Valley railway to Aylsham), Worstead, North Walsham, Gunton and Cromer. The line extends to West Runton and Sheringham, where it joins up with the North Norfolk steam railway to Holt. You can also get to Cromer quite easily by bus from Norwich. The Coast Hopper operates throughout the year runs to Wells next the Sea with connections to Hunstanton. This is a great way to explore the coast. As you go west along the coast, especially after Sheringham, each village is more picturesque than the last. Lots of barn conversions and vernacular brick-and-flint architecture. By air, the nearest airport is at Norwich.
By bicycle
Regional Cycle Route 30 goes through the town.
On foot
Get around
Cromer is 23 miles from the centre of Norwich, and is a good base for exploring the north coast of Norfolk. Cromer is on several main roads - to Norwich, Holt, along the coast to Sheringham to the west and Overstrand to the west - it can get congested in the town centre especially during the summer months. Although Cromer bustles at all times of the year it is much busier in the summer, especially during Carnival Week in mid-August. There are several car parks inside the town, all of which are pay-and-display. Competition for the few free parking bays is fierce. On the 1st and 3rd Friday of each month, Cromer's Market is held inside the Meadow Car Park, reducing the number of available spaces.
In Cromer and in general in East Anglia, bringing or hiring a car is highly recommended as the area has many small villages and towns separated by long country roads. There are quite a few reasonably good local bus companies (Sanders is the main one) and although Cromer is remarkably hilly for Norfolk, cycling is a good way to get around.

See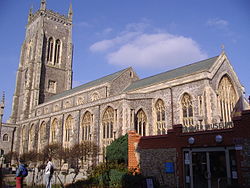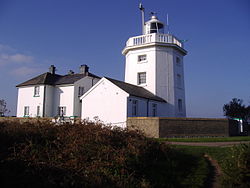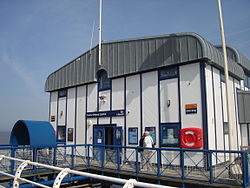 Do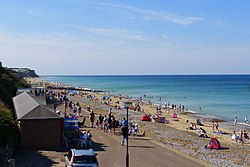 Cromer has three Amusement Arcades on or near the Promenade.
Surf - believe it or not, Cromer and nearby East Runton offer reasonable surfing.

phone: +44 1263 510151

address: 2-4 Hans Place, Cromer, NR27 9EQ

shows all the latest releases. Screen one still has a mighty wurlitzer in it. Screen four is hardly bigger than one's front room. If you like 3D and earsplitting surroundsound, go elsewhere - it's a popular local cinema, even more so when it rains (frequently) during the summer holidays. It's also much cheaper than big city picture houses.

phone: +44 1263 512884

address: 145 Overstrand Rd, Cromer, NR27 0JH

offers a course as challenging as it is spectacular.

phone: +44 1263 805005

address: Cromer Promenade, Cromer, NR27 9HE

Surf School, Paddle Boarding, Equipment Hire.
Buy
Shopping - Cromer has many of the usual chain stores, charity shops and so on, but has a selection of unusual independent gift shops, secondhand book stores, grocers, hardware stores and so on, and in the Crossways tobacconists, one of the last of its kind.

phone: +44 1263 515275

address: Holt Rd, Cromer, NR27 9SW

ATMs.

phone: +44 1263 511277

address: Middlebrook Way. Holt Rd, Cromer, NR27 9JR

ATMs.

phone: +44 1263 519703

address: 7 Tucker St, Cromer, NR27 9HA

Surf & skate shop.

phone: +44 1263-511418

address: 11b West Street, Cromer, NR27 9HZ
Cyclists
phone: +44 1263 822255

address: 28 Beeston Rd, Sheringham, NR26 8EH

Sales, service & repair, hire.

phone: +44 1263 510 420

address: Unit C, North Norfolk Retail Park, Holt Rd, Cromer, NR27 9ST
Eat
phone: +44 1263 519222

address: Beach Road, East Runton, NR27 9PA

phone: +44 1263 511926

address: 10 Hamilton Road, Cromer, NR27 9HL

Great local café.

phone: +44 1263 519126

address: The Gangway, East Promenade, Cromer, NR27 9ET

A room with a view, this is found on top of the lifeboat museum

Peggotty's

phone: +44 1263 511876

address: 6 Hamilton Rd, Cromer, NR27 9HL

Great when you need that all-day fry-up.

phone: +44 1263 513193

address: 1a Church St, Cromer, NR27 9ER

Homecooked Thai cuisine

phone: +44 1263 512320

address: 5 Bond St, Cromer, NR27 9DA

Formerly Aristocrats Tea Rooms.

Cromer Tandoori Restaurant

phone: +44 1263 513166

address: 29 Church St, Cromer, NR27 9ES

Dalia Spice

phone: +44 1263 519700

address: 36 Prince Of Wales Rd, Cromer, NR27 9HS

phone: +44 1263 511 208

address: 27-29 Garden St, Cromer, NR27 0AA

Take-away & restaurant.

phone: +44 1263 512543

address: Seafront, Cromer, NR27 9AS

Slightly posher than most, a short walk from the town centre.

Kanton Chinese Takeaway

phone: +44 1263 517171

address: 30 Church St, Cromer, NR27 9ES

Le Moon Chinese Restaurant

phone: +44 1263 511615

address: 5a Prince of Wales Rd, Cromer, NR27 9HR

phone: +44 1263 515 060

address: 28 Garden St, Cromer, NR27 9HN

Park Chippy

phone: +44 1263 513050

address: 37 Station Rd,Cromer, NR27 0DX

phone: +44 1263 833777

address: Thorpe Market Road, Roughton, NR11 8TB

Has a small attached cafe specializing in sweet and savory waffles. Many of the ingredients are fresh grown on the farm.
Drink
Sleep
Accommodation is plentiful and cheap, especially out of season.
phone: +44 1263 510923

address: 10 Alfred Road, Cromer, NR27 9AN

Satellite TV. Free Wi-Fi.

The White Housebed and breakfast on cliff drive.

phone: +44 1263 837 537

address: 100 Cromer Rd, West Runton, NR27 9QA

phone: +44 1263 513 398

address: 17 Macdonald Rd, Cromer, NR27 9AP

No pets.

phone: +44 1263 511170

address: 7 St Mary's Rd, Cromer, NR27 9DJ

No pets.

phone: +44 1263 512728

address: The Croft, Cromer, NR27 9EH

No children, no pets, no one night stays.

phone: +44 1263 513278

address: 33 Macdonald Rd, Cromer, NR27 9AP

3
*
Many of the private homes in Cromer are Holiday Homes and may be available for rental or time sharing, especially out of season.
Touring - there are many touring parks and campsites around Cromer, especially on the west side towards East Runton.
Visitor Centre. Next to the Meadow Car Park. Inside are some very nice loos - and all the information you'll need on local sights and accommodation.
Stay healthy
Nearest Accident & Emergency: Norfolk & Norwich University Hospital

address: Colney Lane, Norwich, NR4 7UY

Minor Injuries Unit, Cromer and District Hospital

address: Mill Road, Cromer, Norfolk, NR27 0BQ

Minor head injuries (with no loss of consciousness) simple wounds; Simple eye conditions, foreign body, corneal abrasions; minor burns; soft tissue injury; bites and stings, with no associated complications, or acute reaction; simple fractures; fingers that may be broken or dislocated

phone: +44 1263 513148

address: 48 Overstrand Rd, Cromer, NR27 0AJ

Corner House Dental Practice

phone: +44 1263 512390

address: 24 Norwich Rd, Cromer, NR27 0AX

Lloyds Pharmacy

phone: +44 1263 512171

address: 51 Church Street, Cromer, NR27 9HH
Connect
Post Office

address: 50 Mill Road, Suffield Park, Cromer, NR27 0AD
Go next