Cuernavaca
Cuernavaca
,
City of Eternal Spring
, is the capital of the
Mexican
state of
Morelos
. It is a city of 365,000 (820,000 metropolitan area) people 84 km (52 miles) south of
Mexico City
.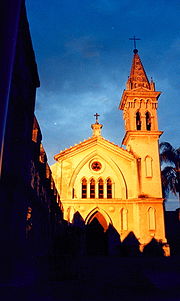 Understand
A popular vacation place due to its comfortable year-round climate, beautiful parks and gardens, and its convenient location within the country. This state capital comes to life on weekends, where local life is combined with the presence of the floating population that comes, mostly, from Mexico City. It's also home to many foreign people who come to learn Spanish, and most young people will have a fairly big understanding of English because of this. Be prepared for many micro-climates inside the city and surroundings, where there have been variations of up to 10°C in less than a 8 km radius; while the lower zones can have very humid weather, the northern forest area will most certainly be cold by night.
The heart of the city is the central plaza and palace. Each night of the week you can enjoy dancers, musicians, acrobats and a lot of locals who use the plaza both by day and night as a place to hang out, meet friends and be entertained by many local artists and entertainers. The square and adjacent area is full of street vendors selling everything from bead work to maize on a stick and tacos.

Get in
Getting to Cuernavaca is fairly easy but beware the traffic in the Mexico-Cuernavaca-Acapulco tollway on Friday (from Mexico City to Cuernavaca) and Sunday afternoons (from Cuernavaca to Mexico City). Many visitors tend to travel those days and you might spend more than 2 hours on the road. Plan accordingly or choose other days for your travelling.
By car
Take the Mexico-Acapulco tollway south from Mexico City for an hour and a half to two hours from the international airport. The toll road costs M$103 (pesos) or there is a free road which is very well maintained and is primarily single-laned. Normally it takes 20 minutes more traveling by this route.
By bus
Several bus companies operate routes to Cuernavaca. Buses run from Mexico City's Terminal de Autobuses del Sur, near Taxqueña metro station, limited runs operate from Terminal de Autobuses del Norte bus station and from Mexico City Airport´s both terminals (Pullman de Morelos to Casino de la Selva Terminal in Cuernavaca). It is also possible to catch a bus 1 km before the toll plaza at the south on the Highway to Cuernavaca. Buses run on average every 20 minutes and tickets cost around M$130 or M$235 from the airport. Pullman de Morelos runs the most frequent routes. Buses are modern and safe and come equipped with air conditioning, toilets, and a movie during the trip. When there is no traffic the trip takes around 75 minutes from Terminal de Autobuses del Sur, or about 2 hours from the airport. Once within Cuernavaca, the bus will drop you off in a few places along the route, except the one from the airport that is non-stop, It's called Ejecutivo Dorado.
By plane
The nearest major airport is in Mexico City.
Get around
Buses cover most of the city and surrounding areas and cost M$8 per trip, more for longer distances. These are not particularly comfortable, but are relatively safe and regularly used by the many foreign language students in the city. Alternatively, there are many taxis which can be hailed on the street or ordered by phone or board them at base stations. There are several radio taxis and there is Uber service. Radio taxis are safer if you call (as opposed to hailing) them, as a record of your pick-up is registered by a dispatcher. Independent taxis lack this documentation and are slightly more risky. Taxis in Cuernavaca do not have meters and prices need to be arranged before getting in the taxi. Most destinations during the day will cost M$35-55. At night prices sky-rocket (double) and trying to get a taxi in the early hours of the morning will often cost substantially more. Try and get some idea of how much a trip will cost from locals beforehand. Once you get an idea of the prices you will be able to
haggle
and bring them down to reasonable fares.
Citlali Radio Taxi

phone: +52 777 364-6420

Linea Turistica Cuernavaca Radio Taxi

phone: +52 777 317 8978

address: Calle Nicolás Bravo 206, zona 1, Prados de Cuernavaca

Radio Taxi Cuaunahuac

phone: +52 777 317 0056

address: Calle Cuesta Veloz #71, San Cristobal

Radio Taxi La Selva Miraval

phone: +52 777 310 5033

address: Calle Melchor Ocampo S/N, Bosques del Miraval

Radio Taxi Anahuac S.C.

phone: +52 777 317 0878

address: Venustiano Carranza 1, Carolina
See
address: Miguel Hidalgo 17, Cuernavaca Centro

During a recent remodelling, murals and paintings, some dating to the 17th century, were found. Masses are celebrated in the open-air chapel or in side chapels. (March 4, 2019)
El Castillito. Home of the Photographic Museum of Cuernavaca. Open M-F 09:00-15:00 and Sa Su 10:00-16:00. Free.
Robert Brady Museum. This private museum has a large collection of primitive art in what was once the bishop's residence. Open Tuesday-Sunday. There is a charge.
Papolote Children's Museum. Open Tu-Su 10:00-18:00. M$60 for children, M$50 for adults. (March 4, 2019)

XochicalcoThe architecture and iconography of Xochicalco show affinities with Teotihuacan, the Maya area, and the Matlatzinca culture of the Toluca Valley. The main ceremonial center is atop an artificially leveled hill, with remains of residential structures, mostly unexcavated, on long terraces covering the slopes. The site was first occupied by 200 BC, but did not develop into an urban center until the Epiclassic period (AD 700 – 900). Nearly all the standing architecture at the site was built at this time. At its peak, the city may have had a population of up to 20,000 people.

Salto de San Anton. Waterfall.
Zocalo. In the town square, there is danzon every Tuesday, Friday and Sunday night from about 20:00 to 23:30. There are many cafes in the area, as well as museums and souvenirs.
Borda Garden, downtown across from the cathedral. This 18th-century mansion has been converted to a cultural center and botanical garden. There are regular art exhibits, concerts, and folk dances as well. Open daily.
Juan Soriano Museum of Contemporary Art. This museum, dedicated to the artist, is located in Amatlan, Cuernavaca, near the main market. Open Tuesday-Sunday. Free.
Parish church of Tlateltango. This 16th-century church, which served as the chapel of Hernan Cortes's first hacienda, is said to be the oldest on the American continent. There is an interesting mural outside, and there is a fair in September.

Teopanzolco archaeological site

phone: +1 777 3 14 12 84

address: calle Río Balsas s.n., Colonia Vista Hermosa

This is a Tlauhica and Aztec pyramid site dating to AD 1300 or earlier. It features a pyramid built on top of another pyramid, which was abandoned and forgotten during the Spanish Conquest and rediscovered in 1914. There are also several smaller ceremonial platforms. Temporarily closed due to 2017 earthquake.
Chapultepec Park is in eastern Cuernavaca near Plan de Ayala and IMSS, 3 km east of downtown. There are crystal streams that flow into a small artificial lake. There is an exhibition hall, lush vegetation, paddle boats, a planetarium, and a petting zoo. There is a butterfly sanctuary and there are birds such as peacocks and ducks. The park is popular with joggers in the morning and families in the afternoon. Small admission fee. Open daily.
Solidarity Park (La Alameda) is located on Cuauhnahuac Blvd. east of the freeway. The park is popular with families, especially on Sundays. There is a fountain reminiscent of a pre-colonial ballpark, a large mural depicting the history of Morelos, playgrounds, soccer fields, roller skating rink, and artificial lakes with paddle boats. Parking available. Open daily, admission free.
San Miguel Ecological Park (Parque Ecológico San Miguel Acapantzingo) on Av. Atlacumulco in Colonia Acapatnzingo, 1 km southeast of the main market. Built on the site of the former state penitentiary, the park features a jogging path, playground, dancing fountain, Byzantine-type mural showing the geography of the state, and a science museum with hands-on activities and workshops for children. The park is open daily, 07:00-21:00 and admission is free. There is a small fee (M$10) to enter the museum. Tel. (777) 312 3979 ext. 6.

phone: +52 777 312-69-96 (ext. 258102)

The Spanish conqueror Hernan Cortes built this palace in 1533; his wife lived there, and his children were born there. Over the years, the palace has been expanded and used as a prison and a city hall. Today it is the regional museum, telling the history of the state of Morelos. There are rooms devoted to prehistoric finds, prehispanic settlements, colonial history, and the independence and revolutionary movements. There is an excellent view of downtown Cuernavaca from the second-floor balcony. In 1929-1930, Mexican muralist Diego Rivera painted the second-floor terrace. There are a souvenir store and rooms for temporary exhibitions. Guided tours in English are available, but you would be wise to call ahead.
Do
Cuernavaca has many local and nearby tourist attractions. Water parks are very popular and range from basic water holes such as "Las Huertas" with thermal waters, natural rivers as "Las Estacas" and large, multi-facility parks as "El Rollo" and "Six Flags Oaxtepec." You may also camp in many parks some of which feature other services such as hot baths, cabins and restaurants. About 16 km (10 miles) south of the city is Xochicalco, a large, beautiful and well-restored archeological site; other archaeological sites are in Coatetelco and Chalcatzingo. The nearby Tepozteco mountains and the village of Tepoztlan are very popular destinations for locals and tourists with attractions that include a 16th-century Dominican convent, museum, many restaurants and handicrafts. Fourteen 16th-century monasteries in Morelos have been declared World Heritage Sites, including those in Tlayacapan, Yecapiztla, Atlatlahucan, Tetela del Volcán, Hueyapan, and Ocuituco. Most were damaged during the 2017 earthquake and are closed to the public (March 2019), but visitors can appreciate the main features such as the facade, chapels, and atrium, as well as local food (cecina in Yecapixtla) and handicrafts (black pottery in Tlayacapan).
Cuautla is 55 km east of Cuernavaca. This city was the site of a major battle in 1812, during the War of Independence; the hero of the battle was Jose Maria Morelos y Pavon, who gave his name to the state. Not far from there, in Ayala, one can visit Anneculco and Chinameca, where Revolutionary General Emiliano Zapata was born and assassinated (1919).
There are several former haciendas in the area, many of which have been converted to hotels and/or restaurants. Ex-hacienda de Cortes, in Atlacumolco, Jiutepec, is just outside Cuernavaca. Also worth visiting in Jiutepec is the hotel/restaurant Sumiya, built by Woolworth heiress Barbara Hutton as a home in the 1930s. This is a replica of a Japanese Tea House.
Also only in season (check to see if it is available) is Rafting at the Amacuzac River with class III & IV white water rapids operated by - Plaza Dafne, Av. Morelos Sur #1602 int 8, Col. Chipitlan, Cuernavaca Tel. (777) 3 22 6555 and 01 800 728 4312.

Learn
Cuernavaca is a major center for study abroad students from around the world studying Spanish. Excellent schools are plentiful throughout the city.

Buy
Palacio de Cortes Handicraft Market. To one side of the Palacio de Cortés is a market selling a variety of Mexican souvenirs, particularly silver from Taxco. Among the cheap souvenirs aimed at tourists there are some pleasant items to take home with you.
Galerías Cuernavaca opened in October 2005. This mall, just off the motorway, contains a variety of shops, restaurants and a cinema and is proving popular and is often very busy.
Plaza Cuernavaca on Plan de Ayala Street is an open-air mall is that is still going strong and has a variety of shops, restaurants, and a cinema.
Averanda is the newest modern mall, opened in 2018. It is located next to the freeway, near Galerias.
Eat
Los Colorines

phone: +52 777 364 5567

address: Av. Emiliano Zapata 598, Col Tlatetango

Mexican, Latin cuisines. Vegetarian. Certificate of Excellence 2016, 2018 Winner. Tortilla soup and Chiles en Nogada recommended. This restaurant is popular with locals. Interesting decor.
Budget
Las Iguanas Green's

phone: +52 777 341-0613, +52 777 241-0613

address: Morelos 190, Colonia Centro

Affordable and varied 4-course real-Mexican meal: includes water, soup, a small dish of pasta, an entrée and a dessert (typically ice cream).
Tacos
If you are looking for a true Mexican meal be sure to try tacos where the locals eat them. Try the calle de los tacos (street of tacos), Nueva Inglaterra. This street is lined with taquerias with Grano del Oro being particularly good. On Plan de Ayala try the tacos at Los Orientales or have a torta (sandwich) at La Cubana. La Princesa has two locations on Teopanzolco plus a location within Plaza Cuernavaca and one near the village of Parres close to Mision del Sol and Camino Real Sumiya. A taco al Pastor (pork) will cost between M$3 and $8. Traditional
Tacos accorizados
, which are large tacos served with chicken or beef and rice, are offered at a number of family restaurants.
phone: +52 777 289 29 26, +52 777 100 10 60

address: Blvd. Gustavo Díaz Ordaz 117, Acapantzingo

"Arrachera" refers to skirt steak, a thicker cut of meat than "bistec." which is what one gets at most taco places. At Rey de Reyes you'll pay a little more than some other places, but the taste is far superior. They offer a wide variety of tacos, sausages, and other Mexican specialties. Located 3 km from downtown; take Ruta 6 to Diaz Ordaz. There are branches at Boulevard Cuauhnahuac Km. 3.5, Col. Tarianes, Jiutepec; Av. Par Vial No. 34, Col. Begonias, José G. Parres, Jiutepec; and one is proposed for Temixco.

Tacos Acorazados

address: Narciso Mendoza 23, San Miguel Acapantzingo

This offers the traditional-style taco from Morelostwo tacos, rice, bifstec or chicken, usually served with fruit-flavored water and dessert such as flan.

El Rincon Mazatleco "Tacos & Ceviches"

phone: +52 777 404 8110

address: Rufino Tamayo 52, Local 2, Acapantzingo

This is a Sinaloa-style seafood restaurant. "Ceviche" is a seafood cocktail.

Cecinas de Yecapixtla

phone: +52 735 135 7554

address: Av. Adolfo Ruiz Cortines 117, Acapantzingo

"Cecina" is salted beef; Yecapixtla makes the best cecina in the world. It is served with sour cream and sauce.
Pozole
Pozole
is a rich broth with meat, corn, and other vegetables.
Pozolería El Barco
, one block away from the cathedral, serves very good green
pozole
(with pipián sauce). Try their
tostadas de pata
as well (crispy tortillas topped with pickled pig's feet).
Tacotitlan, Pozoleria y Taqueria

phone: +52 777 316 98 27

address: Av. Plan de Ayala No. 347 Col. Santa Veracruz

Special price on pozole Tuesday and Thursday (M$53), discount on beer on Sundays. Delivery service. House specialties are "Alambre al Pastor" and "Alambre Vegetariano". Branches at Calle Orquídea No. 19 Esq. Nardo Col. Satélite and Av. Centenario 31, Col. Las Torres de CIVAC. Credit cards accepted.

Pozoleria Tixtla

phone: +52 777 312 9560

address: Himno Naconal 26, Miguel Hidalgo

Clean, good service, good food.
High-end
The center of town has some excellent restaurants.
Las Mañanitas
is a Relais & Chateaux hotel with excellent if somewhat dated cuisine on a menu that never changes. Famous for its large garden with free-roaming peacocks and other large birds, Las Mañanitas is well worth a visit for cocktails or a meal. On the main square facing the Palacio de Cortes is
Casa Hidalgo
also serving excellent food. These restaurants serve a variety of dishes consisting of traditional Mexican and international fare. Trattoria Marco Polo, across the street from the cathedral, serves good Italian food and pizza. For about $60 US, Marco Polo offers a very large pizza (about 1 m/3 feet wide) loaded with everything. Definitely not something would find in Italy, it is, however, a sight to see and excellent to try if you are eating with a large group there.
El Faisan
on Emiliano Zapata and on Rio Mayo is another excellent high-end restaurant featuring Yucatecan food that is worthwhile visiting when in Cuernavaca.
La Provence
in a boutique hotel of the same name a short distance south of the zocolo is Cuernavaca's leading French restaurant.
In the downtown 30m down the street Calle Fray Bart De Las Casas from Plazuela del Zacate, on the right hand side on corner, there is a small nameless place with open grill that has indescribably delicious arrachera and tortas/hamburguesas. M$135 for arrachera as of March 2011. For the best hamburgers in town, however, you'll need to go to either La Casa de Hamburguesa on Teopanzolco (inexpensive) or Meson Gaucho (expensive), on Domingo Diez across from one of Cuernavaca's Walmart stores, which features Argentine steaks in addition to the great burgers.
El Madrigal

phone: +52 777 100 7700

address: Calle Rio Sonora #115, Col. Vista Hermosa

This well-known restaurant offers Mexican, International, and Vegetarian food; Gluten free. Kid friendly. Free parking, wheelchair access, accepts credit cards. Wine list. Large garden.

phone: +52 777-318-3782

address: Calle Fray Bartalome de las Casas #110, Centro Esq. Benito Juarez

Inspired by Southern California's laid-back vibe, House puts an unexpected Modern-Mexican twist on an upscale California bistro. As casual as it is beautiful, dining alfresco amidst the whitewashed wood, lush greenery, and a classic Cuernavaca pool. House passionately interprets Mexican and Mediterranean cuisine like the delectable Pork Belly in Lavender Honey and the Sea Bass Carpaccio.
Seafood
Cuernavaca isn't particularly known for seafood, but you might try
Tia Lucha
on Rio Mayo in Vista Hermosa or in Polvorin.
Los Delfines
is also popular.
Drink
Bars
Los Arcos
on the Zocalo is popular on Tuesdays when students converge on the open bar/cafe with live salsa music and cheap drink. La Bola is a typical Mexican cantina with live Norteno and Mariachi music every night between 19:00 and 22:00. 2 for one promotions daily between 2 and 9PM and very cheap food/drink packages. On average M$400 buys a generous plate of food for the table to share and a bottle of alcohol or 20 bottles of beer.
La Taurina
and Crudalia are very simple bars that sell cheap booze by the litre. Expect plastic tables and chairs and very few frills but a good atmosphere.
McCarthy's Irish Pub
on Avenida Diana in Delicias offers Irish and Mexican drinks and food. As might be expected, it gets boisterous.
Pulqueria La Guayaba
on Juan Ruiz Alaracon (downtown, one block from the cathedral) offers this traditional drink at reasonable prices. Sunday afternoons are the best day to visit.
There are several informal bars that sell beer and snacks at
La Plazuela
, located between the cathedral; and the Cortes Palace. Traditionally,
La Plazuela
sold hay for muleteers on the Mexico City-Acapulco trade route, but hay hasn't been available since the opening of the railroad in 1890.
phone: +52 777 102 2831

address: Local C, Calle Pericón 112, Miraval

More than 150 brands, including both international and local craft beers. Very small, but a good place to talk to a friend. They advertise entertainment, but the place is so small it must be a flea circus. Free parking. Despite advertised hours, they actually close quite early.
Night clubs
On the weekends an influx of visitors arrive in Cuernavaca from Mexico City and head to the night clubs.
The door staff at high-end clubs are often quite difficult. Men arriving without female companionship at a club will generally have trouble getting although foreigners are often given preference. It is important to note that much of the violence associated with Cuernavaca takes place in its nightclubs.
Barbazul is a large indoor/outdoor venue with a cover charge of M$100 after midnight. Like Alebrije it is frequented by a young and wealthy crowd and many foreigners.
Taizz is the highest end club with a cover of M$200. As with the previous two it is frequented by a similar crowd.
Mambo Cafe is open Wednesday to Saturday with Salsa dance classes on Wednesdays between 6 and 9PM. The most popular night for Mambo cafe is Thursday when it is often very full.
The Store is a new club and very different from the first three. Very basic the club has no waiters and is self-service from the bar. It is popular and well attended.
In all the clubs either inside the grounds or directly outside are stalls selling hotdogs and hamburgers and tacos are never far away. Most clubs close their doors at 3AM and do not allow access after this hour. However, it is usual for the last person to leave the clubs at around 5 or 6AM. In most clubs in Cuernavaca women do not pay cover.
Enrique

phone: +52 6785163059

address: 2460 arbour trace terrace suwanee GA 30024

if you want to have a cheap dinner,go to VIP's is just down the street from zocalo on Benito Juarez street,servise is good and friendly.

Pimuco

phone: +52 777-3105853

address: calle Ignacio Rayon 22 - pasaje Florencia

500 m from the Cathedral,close to the Cine Morelos, there is this nice art cafe in an old traditional house, with a beautiful and green courtyard.They prepare good sandwiches and pastas.Good music and a long list of cultural events(live jazz concert,theatre,literature).

casa frida

phone: +52 7772795370

address: carretera fed a Mexico km 69

an old house full of art and colors,real Mexican food and prehispanic dishes like ,iguana ,wild pig, snake, etc. Local beers and pulque
Sleep
If you are in Cuernavaca, you can stay for example in the
Budget
Cuernavacas budget hotel row is in Calle Aragon y Leon. There are several inexpensive casas de huespedes:
Hospedaje Marilu, Calle Aragon y Leon, rooms from M$65 (2008).

phone: +52 777 3130157

address: Calzada de los actores 112 col. atzingo

All rooms with private bathroom free Wi-Fi, parking, barbecue area, swimming pool, 15 minutes walk from main plaza
Real Santa Maria Avicultura, Santa María Ahuacatitlán, 62100 Cuernavaca, Mor., has rooms beginning at M$351. An historical town, it is quite distant from downtown and there is little public transportation. Wheelchair access and child-friendly.
Hotel Bajo El Volcan carries the name of the novel by Malcolm Lowrey. Calle Humboldt 19, Centro. +01 777 312 4873. Restaurant, swimming pool, child-friendly. Downtown location. Prices start at M$805.
Mid-range
Las Lomas Bed & BreakfastOffers clean rooms starting at US$29. All rooms with private bathroom, free Wi-Fi, parking, swimming pool, jacuzzi, kitchen area. Air conditioning available.

Nuevo Hotel America (Aragon y Leon No. 14, col. Centro) offers small but clean and cool rooms for M$240 a night. It lies on a sidestreet 10 minutes' walk from the Plaza.

Las Villas de BellavistaTabachin 133 Colonia Bellavista (off of Ave Zapata). Has eight fully furnished typical Mexican colonial-style homes complete with fully equipped kitchens all on 1.5 acres of tropical gardens with heated 40°C swimming pool and pool house. Daily, weekly and monthly rates with cleaning, free Wi-Fi, garage, off-street parking, hotel-like service.
Splurge
Hotel La Casa de los Arboles La Casa de los Árboles is a holistic spa-hotel in which nature and the distinctive charm of old Mexican haciendas come together in the middle of an ancient semitropical forest. Developed on five hectares of land with more than 150,000 trees, shrubs, and flowers belonging to over 60 species, this exclusive property offers guests a unique opportunity to take long, relaxing strolls through a one-of-a-kind botanical garden. La Casa de los Arboles offers 60 guestrooms in four different styles.
Hotel Rio 1300 on Rio Mayo Ave. The main commercial street in Cuernavaca. Personalized treat with international touch. Swimming pool, lounge bar, etc.

address: Carretera Federal México-Cuernavaca Km. 71.5 #17 Col. Buenavista c.p.

They tout their facilities, services, rooms and restaurant.
Hosteria Las Quintas (Blvd. Gustavo Díaz Ordaz 9, Cantarranas, +01 777 318 3949) offers some of the most beautiful grounds in the city as well as large rooms, swimming pool, restaurant, meeting rooms, wi-fi, and restaurant. About M$1600 (March 2019). https://www.hosterialasquintas.com.mx/
Holiday Inn. Boulevard Diaz Ordaz, 86. 2 km from downtown in Acapantzingo, this hotel chain offers a swimming pool, gym, meeting rooms, restaurant, and Wi-Fi. Rooms start at MX$1300.
Go next